5 Best Free Adobe InDesign Alternatives
"A picture says a thousand words," is the old expression that pretty much states that what you do is more important than what you say. Think for a minute about some of the most famous logos in marketing. Pepsi. Mastercard. Nike. Target. What do they all have in common? None of their logos incorporate a single word. You see the logo and you know who they are and what they do. These companies have spent millions of dollars developing their branded image, trademarking their logos, and advertising for the sole purpose of being known around the world without ever having to say their name.
Also see our article How To Import a PDF into InDesign
Every company would love to design a logo that will make them the next Nike. Adobe has long been the graphic design software of choice for businesses and individuals looking to make their mark on the world. With each iteration, Photoshop and InDesign have gotten better and more detailed, allowing users to design everything from menus to book covers, websites to commercials.
In order to take full advantage of the Adobe design suite of software, users will have to spend no less than $52.99 monthly with additional features and capabilities available for an additional $29.99 monthly bringing the total subscription up to $82.98 every month just for the graphic design software.
For many businesses just starting out with low to moderate budget potential for software and marketing, $83 monthly is a lot to bite off. Fledgeling companies certainly don't want to take on more unnecessary expenses than they can chew and so an elite graphic design program often ends up on the chopping block until revenues increase.
Individuals that are using the programming for fun and personal use are even less likely to commit that type of an expense for something that is strictly hobby based.
That being said, there are several free alternatives to Adobe InDesign. Not to say that any or all of them are as good as what Adobe can be, but many more than meet the expectations and have functionalities that will leave their users satisfied for years to come. While there are several on the market, we have chosen what we believe to be the top five free alternatives to Adobe Indesign.
Our Recommendation: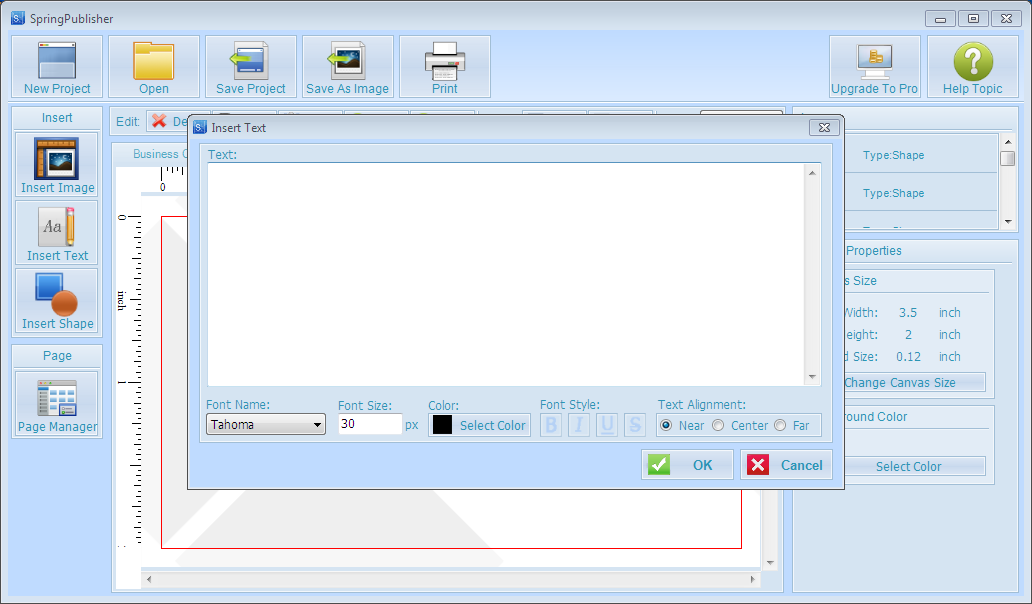 Perhaps one of the narrower Indesign alternatives to make our top five, SpringPublisher has identified a niche clientele they are reaching out to and prefer to hit those clients out of the ballpark. Focused on small business marketing, SpringPublisher gives users all the tools they need to design and publish business cards, letterheads, flyers, pamphlets, and more.
SpringPublisher offers a free service that is truthfully limited to low to medium print quality graphic design output (up to 180 dots per inch), but does give users a free portal through which they can meet their design needs without making a huge investment in software or hardware.
While SpringPublisher is a relatively basic dashboard, it does still grant users the ability to work off of templates to get you started. Once a template is loaded and begun, users can then work on the various layouts and even layer their images & designs to provide a deeper experience.
With the ability to upgrade to the SpringPublisher Pro at $23.95 monthly for additional template access and added features (higher dot per inch counts and higher quality prints), SpringPublisher can be a little more competitive with the overall offerings of Adobe Indesign, but even its free download will meet many business users needs without the price tag of their larger competition.
Runner Up: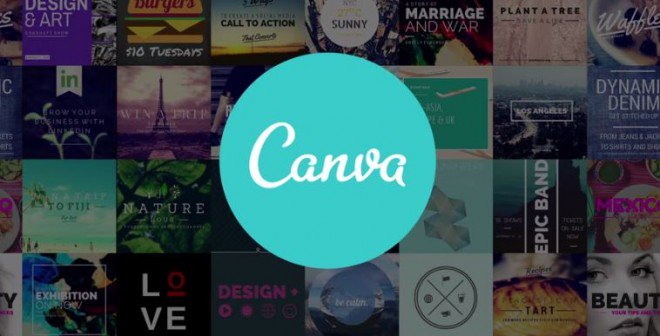 For those for whom SpringPublisher is not the best fit, allow us to recommend Canva as a free alternative to Adobe's InDesign. Designed with more of a presentation and graphic design focus than perhaps SpringPublisher, Canva's free programming offers a lot more versatility and design assistance for a lot more than just postcards, business cards, and flyers.
With an eye on what their customers are looking to build, Canva has built in graphical data designers. All the user has to do is plug in the name of their graph, input their values on each axis, and Canva will take care of the rest. Once the graph is created, users can change the type of graph (bar, pie, line, etc) as well as the aesthetics so they can make it appear however they want for their reports and/or presentations to look.
With many ready-to-use free templates including several submitted by actual Canva users, whether you're designing a high school sports team schedule or a bucket list of countries to visit, Canva can brighten your design without spending a dime in subscription costs and fees. With support for flowcharts, decision trees, and cycle diagrams among many other templates, rest assured that Canva provides the tools you need to get any graphic looking as high quality and professional grade as you would expect from the high priced Adobe InDesign.
Everyone else
In order to be a true alternative to Adobe InDesign, the competition on our list has to be versatile. Some of the alternatives we have looked at have a niche they service very well. Canva is web based and relies on users inputting their data/design into their editor and then putting out a quality page or .pdf for users to print or run off. SpringPublisher is based more on printing off physical business products. Enter VivaDesigner.
What makes VivaDesigner unique is its cross-compatibility with other softwares it shares the marketplace with. Whether you are looking to insert Adobe InDesign images and pages (IDML formatted) or add Microsoft Word or Excel sheets into your Viva designs, they make it easy to use any document you have stored and incorporate that into their design images. Upgrading to the paid version of Viva also allows users to create documents in the Adobe IDML format so that any design created through Viva can be opened with the Adobe InDesign software. This feature is not something that is commonplace, but is a welcome addition to any InDesign alternative.
The versatility and functionality of Viva is on display in their various applications – over 1,000 different designs so that everything from price lists to catalogues and more can be designed with a keystroke. What is remarkable and deserves mentioning is that despite having so many options on every project, the Viva program is still extremely user-friendly and easy to use.
To add to the advantages of Viva as the Adobe InDesign alternative of choice, add in the fact that it is one of the only competitors in the marketplace that offers a full version free of charge. While many of the free services have a lower quality dot per inch count or bind you to a specific printer company to get your graphics and projects printed off, Viva gives you the freedom to receive your graphics how you want when you want them; a welcome addition to an InDesign Alternative.
LucidPress hangs its hat on its simplicity. This Adobe InDesign alternative advertises on their front page they are the design platform that anyone can master. Some of our top 5 alternatives are more complex and have the ability to perform a wide variety of functions for those well-versed in the principles of graphic design.
LucidPress focus on a drag and drop design that leaves the user with a "what you see is what you get" feeling of graphic design and development. For those looking for a leg up on the competition, many of the professionally crafted templates will help users create everything from book covers to social media posts and more.
LucidPress also understands that sometimes graphic projects are a collaborative effort from many colleagues who may or may not be in the same room. For that reason, LucidPress gives its clients the ability to engage in multi-user editing in real time with a chat function. Leave notes for your co-worker on assignment in China they can read, edit, and rectify in seconds instead of sending out an email that can take days to arrive.
One of the other features about LucidPress that we love is their willingness to allow you to upload your documents and files anywhere. Whether you prefer to publish online, email as attachments, or embed your graphics directly in the body of the file itself, LucidPress gives you the freedom to send your files by any means necessary.
Because of LucidPress' dedication to collaboration, but also a desire to maintain security, your projects within LucidPress can be data encrypted with revision timestamps to ensure that you and your employees are the only ones able to access those files and be able to see who else might be making adjustments to your data without your knowledge.
Overall, LucidPress may just be one of the best free Adobe InDesign alternatives in the market.
Last but not least is Scribus, an open source desktop publisher vying for the title of best free Adobe InDesign alternative. Since 2001, Scribus has been hailed as one of the top desktop publishers in the marketplace. Part of the reason for the accolades is the fact that they are designed to function on just about any operating system. Linux, FreeBSD, PC-BSD, NetBSD, OpenBSD, Solaris, OpenIndiana, Debian GNU/Hurd, Mac OS X, OS/2 Warp 4, eComStation, Haiku and Windows are just some of the operating systems supported by the Scribus platform.
In addition to being available on just about any and all OSes known to man, Scribus allows you to remain in complete control of your file data. Some of the companies on this list will allow you to create documents, but not publish or print them without a paid subscription confirmation, whereas Scribus keeps their services free as they lobby to be one of the top Adobe InDesign alternatives.
Variety is key and sometimes the difference in shades of green can be the difference between a sale and not. Have you ever known someone who purchased something simply because of the color? With over 200 color identities in their color palette, Scribus puts their time and energy into making your documents look the way you want them to look in a way that will catch your consumer's (or colleague's) eye.
In no particular order, these are the top 5 free Adobe InDesign alternatives. Some of them are that way because of their niche, their value, or versatility. Any one of them will give you many of the same results you would expect from an Adobe product with none of the cost. Which one is right for you or your company would best be determined by how you would intend to use it. We encourage you to visit all of their sites, compare their services, and take the one that is most focused on your unique needs.
Disclaimer: Some pages on this site may include an affiliate link. This does not effect our editorial in any way.