The Best New Android Apps and Games – August 2018
The air is hot, the temperatures keep rising, and the days seem to stand still in the heat. We've entered the dog days of summer, and it can become unbearably hot outside, especially in dry and humid locations like the south or the east coast. If you're looking for ways to beat the heat, we've got a whole new set of Android games to celebrate the summer with, so you can safely stay inside the air conditioned haven you've built for yourself. Whether you're preparing to head by to classes at the end of the month, or you've just gotten back from a month filled with vacation time and find yourself bored with the day-to-day ongoings at work and home, some brand new apps and games can go a long way in helping you perk up through August and beyond.
Also see our article How To Delete ALL Photos from your Android Device
For this month, we have a whopping six new apps and games to look at, including games that'll help you waste your time away and apps that might help you keep your attention where it counts. Three new games, including a brand-new SimCity-esque city manager app, a new open world RPG that focuses on survival mechanics, and the biggest game in the world finally arrives on Android. Meanwhile, on the apps side, we have a brand-new customization app for Android, a new beta from Google for phones running their latest operating system, and an app designed from the ground up to help you avoid those terrible spoilers you often find on the internet. Let's dive into our picks for the six best new apps and games of the month—plus all of last month's games and apps, too.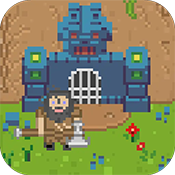 We're huge fans of RPGs at TechJunkie, especially on mobile devices and handhelds. There's something about taking a massive, multi-hour adventure game on the go to play in the back of a car or when you're lying in bed before heading to sleep that just feels right. We're not alone in this feeling either—the success of platforms like the Nintendo Switch has proved that people have fallen in love with portable experiences that offer plenty of things to do. At TechJunkie, we've published a whole list of the best RPGs on Android, and after this month, there's a good chance we can add a brand new game to the collection: Amethlion, a new open world RPG with a retro aesthetic and some lofty goals in what it sets out to accomplish.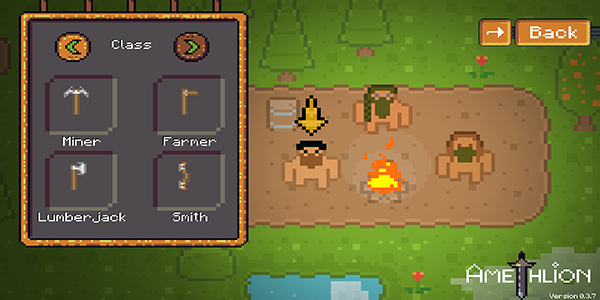 Amethlion is set in an ancient world, where you begin by designing your character' appearance and class. You can choose between hair and facial hair, color, and more, but the class system is where it gets interesting. Unlike the traditional class system in many RPGs (warrior, knight, mage, etc.), you can choose between one of four classes: miner, farmer, lumberjack, and smith. Whichever class you choose grants you a unique weapon and outfit, and controls the abilities of your character. From there, you set out in the world, either following the expansive story that Amethlion features (which follows a discovery that leads your character on an adventure based in survival and exploration) or in a survival mode, one that might remind players of Terraria or Minecraft.
As you explore the world, you'll find enemies, quests, items, dungeons, and plenty of resource crafting scattered around the world. The controls are simple enough, with a virtual joystick on the left side of the screen (movable depending on where you place your finger), and two buttons to the right: an action button and a run button. The run button is especially important, as the general movement in Amethlion is vaguely slow and difficult to move around. Still, the run button works well, and we'd rather be able to control the speed of our character than not move at all. If there was one issue with the controls, it came down to trying to make sure that the green select square was in the right position.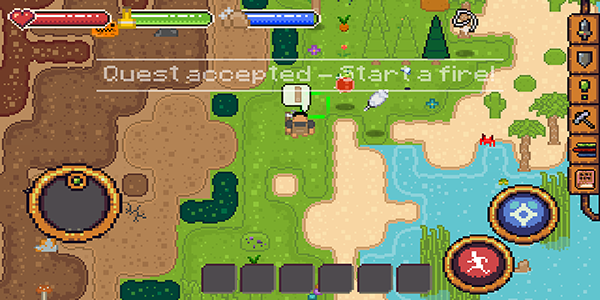 We'll be clear here: Amethlion starts slow, and we wouldn't recommend newcomers start the game in Survival mode. Still, it's an excellent RPG with plenty of content, and at $1.99, it's absolutely worth picking up and trying. The game is routinely updated by the devs, so there's no reason not to pick up the game for the price of a medium coffee and give it a shot.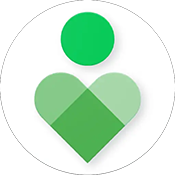 Earlier in August, Google finally rolled out their latest update to Android following months of announcements and beta versions. Officially called Android 9 Pie (continuing Google's naming structure of alphabetized dessert names, and advancing from Android 8.0 Oreo), the new operating system was pushed to Pixel devices and, in a surprise move, the Essential Phone on the same day, with the phones that participated in the beta promised to receive the update before the year is up. Like Oreo, Pie is a medium-sized update, with the update bringing forth a number of changes that doesn't revolutionize the phone, but doesn't quite keep things completely the same. From the new notification tray to features to improved security updates, there's a lot to focus on here, but one of the biggest upgrades is actually only rolling out now in a limited beta.
Called Digital Wellbeing, Google's brand-new service is an upgraded settings menu that is entirely focused on trying to improve your own usage of your smartphone. Both Google and Apple are using their 2018 software updates to focus on this, and with Android Pie rolling out a month before the expected ship date for iOS 12, we get to see Google's improvements first. It's worth noting that Digital Wellbeing is pretty limited right now. To get the app, you'll need to be on Android 9 Pie, which limits the usability down to Pixel and Pixel 2 users, and Essential Phone users. One that's done, you'll need to opt into the beta on Google Play for Digital Wellbeing, and with the app installed on your device, you'll gain access to the Digital Wellbeing menu in your settings.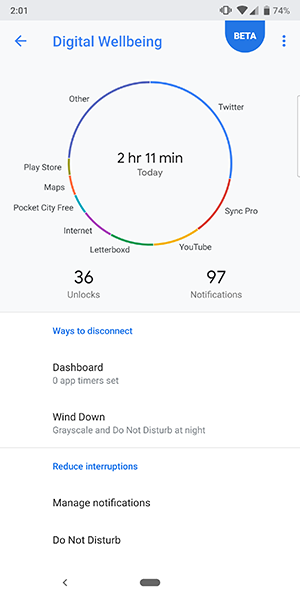 Okay, so what exactly does Digital Wellbeing allow you to do once it's installed? It's smart to think of Wellbeing as a dashboard, a way of viewing your usage and working towards curbing your smartphone addiction and habits. The main display of Wellbeing shows plenty of content from the get-go, but the main display is a pie chart (yes, a Pie chart) showing your usage of each app and your overall time. This helps you to see what app(s) you're spending the most time in. Whether that be Instagram, Reddit, Twitter, or something else altogether, you can see the display of your usage here. If you find yourself using much more of an app that you realized previously, it's easy to kick that app out of your life or to try to make an effort not to use it. Also listeds at the top of the display is your notification count—which, in our experience, is much higher than you might expect—and the number of times you've unlocked your phone.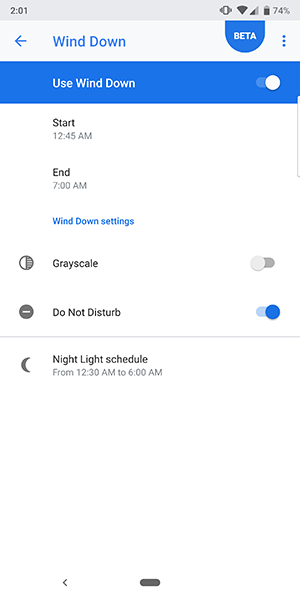 Below the chart, you'll find two menus: "Ways to Disconnect" and "Reduce Interruptions." Both are strong starts to helping to get your phone out of your life and to go on living a less tech-focused life, with Ways to Disconnect really taking the lead here. Selecting Dashboard takes you into a more-advanced look at your app usage, allowing you to view the previous week of screen time and see the apps that you're using most often. If you wish, you can easily disable and set timers on any of these apps, helping to free up your time and making it a whole lot easier to free up your own usage. Wind Down, meanwhile, allows you to select a start and end time to begin using three major features designed to help you disconnect at night: Do Not Disturb, which automatically turns on at night to silence your phone and, in a new change, hide your notifications altogether; Night Light, which turns the display yellow to eliminate blue light; and most notably, Greyscale, which turns the display black and white at your selected time to encourage you to turn off the display and head to bed.
These are some major changes that you'll either learn to love or leave disabled, but either way, it's an interesting idea. The entire dashboard is an interesting idea, as is the Reduce Interruptions option, which allows you to update and change the notifications you receive from specific apps. Digital Wellbeing is still in beta, and the final feature—the ability to flip your phone over to automatically silence phone calls and other notifications—has yet to ship, but even without it, Digital Wellbeing feels like a revelation. More than ever, in this current environment, Digital Wellbeing feels essential, like a tool that can and should continue to grow.
8. Fortnite: Battle Royale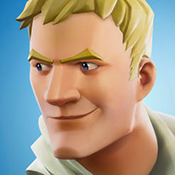 There is arguably no bigger game in the world right now than Fortnite, the popular battle royale game that has taken the throne from PlayerUnknown's Battleground as the must-play game in the genre. In fact, the battle royale genre as a whole has become the newest and hottest multiplayer craze, replacing hero shooters like Overwatch as the current gaming craze of the time. If you're unfamiliar with the genre as a base, the battle royale genre has a long and arduous history, spawning from years of iterative mods based on the video game ARMA 2. The game was well-known for its modding community, spawning a popular mod called DayZ, a survival zombie game set in a sandbox world. However, when the size of the map proved too large, Brandon Greene, known online by the alias "PlayerUnknown," developed the Battle Royale mod for DayZ and ARMA 2.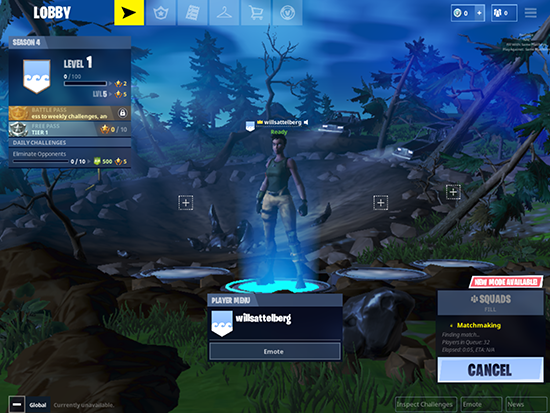 Every battle royale mode and game since has followed the basic idea built by Greene: a large number of players (typically around 100) are dropped into a map, either to fend for themselves or to fight in small groups. Whoever survives until the end (the last man standing) wins the game. Fortnite follows the same basic structure, but with the addition of some building techniques similar to what you might find in Minecraft. Despite the building techniques you can use as leverage to your own advantage, in the end, it comes down to how well you manage to go up against your fellow opponent. It's you versus 99 players, and you'll need to fight to be the last man standing.
The game spawns you into a main area where you can run around as you wait for other players, but once the lobby is full, you'll be spawned into the signature flying buss within Fortnite. If you've played a battle royale game like PUBG before, you'll know how this is going to go. You and the other 99 players choose a place to jump out of the bus that is cruising through the air. Once you've made your jump, you can start controlling your character, changing their movement and aiming for a place to land on the ground. To your right on the display, a button makes it easy to choose when you're going to pull your parachute to start landing. You won't want to pull too early or too late; instead, aim for a middle-ground in order to get to the land as soon as possible without harm.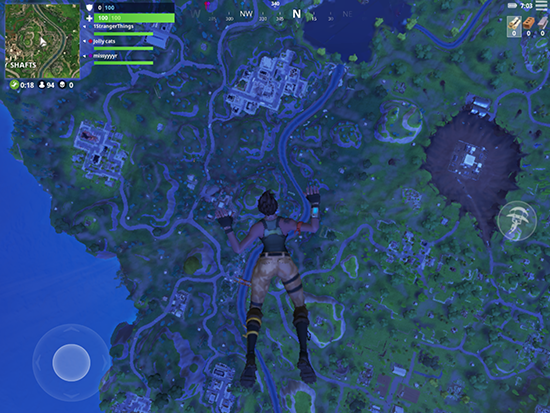 When you've landed, you'll gain access to the entire library of controls and abilities within the game. Every Fortnite player begins their journey to destroying the other 99 players with a large hammer as their melee weapon; everything else, you'll need to find on the ground. Your weapon switch icons are at the bottom of the display, in a layout similar to Minecraft's own item switching box at the bottom of the display. At the beginning of the game, you'll have your hammer and not much else, but that'll change as you explore the map. As you run around the world, you'll find items you can add to your bag, including weapons like guns and other melee weapons, potions, and more. Running around and exploring nearby buildings is the key to your survival in the game.
Despite being out and available for almost a full year now, Fortnite only makes it to the list this month because of its new arrival on Android in beta form—however, it's not available for everyone yet. On August 9th, at the Samsung Unpacked event in New York City, Samsung announced a number of new gadgets, including the anticipated Galaxy Note 9, the new Galaxy Watch, and a Galaxy Smart Speaker powered by Bixby. Most notably for gamers, however, was the announcement that Fortnite would finally arrive on Android starting today, albeit with a small catch at the end. So while Fortnite is now on Android, there's a chance you might not be able to play it until later this summer—or perhaps, even into the fall.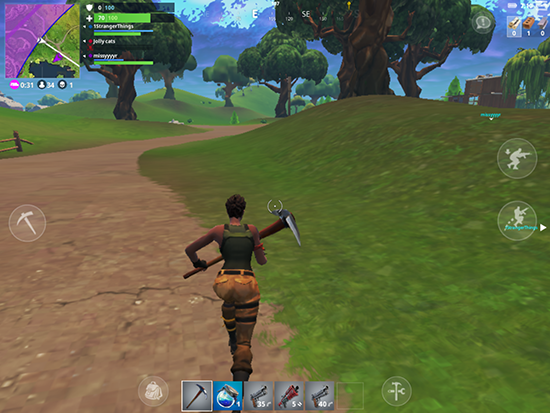 If you have a Samsung Galaxy S7, S8, S9 (and their variants), a Galaxy Note 8, or the Tab S3 or Tab S4, you can play the game right now, either through installing the APK directly from Epic or by grabbing it from a site like APK Mirror (it's also available through the Galaxy App Store). Everyone else, unfortunately, will have to either wait for the wider rollout sometime in the coming weeks. When the game does roll out wider, you'll want to check out this compatibility list to make sure your device will run the game. It's exciting to finally have Fortnite rolling out to Android devices, and though the temporary Samsung exclusivbity is disappointing, it won't last too long. To sign up for the non-Samsung beta, make sure to sign up at Epic's website.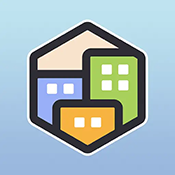 There's nothing more enjoyable or relaxing on a hot summer day than chilling out with a simulation game. Dating back to the 1980s, sim games have come a long way since their early days, like 1982's Utopia and 1989's seminal SimCity. The sim genre has expanded from building and construction games to include titles like The Sims, amusement park simulators like Rollercoaster Tycoon, and of course, the expansion of simulator features into sports games like Madden. These games can be challenging and relaxing at the same time, allowing for the perfect summertime playthrough. Even better, though, is that the style of gameplay is seemingly perfect for mobile platforms like Android, thanks to the usability of the touch controls for placing objects on a map.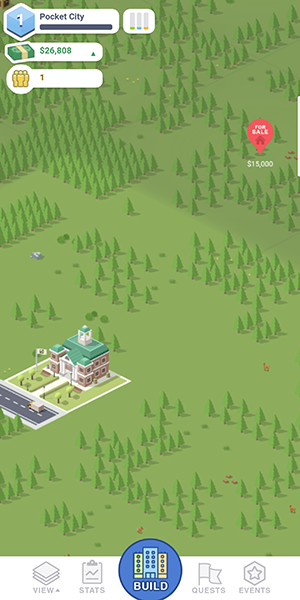 Unfortunately, the official SimCity games on Android have a habit of being pretty bad. The biggest sin comes from the free-to-play nature of most mobile titles, which SimCity: BuildIt does not escape from. Since you aren't paying any cash to purchase the game, you'll need to sit through wait times as your stuff builds. These aren't a few seconds to a minute, like in traditional building games. These are hours-long waits, the type that will have you twiddling your thumbs and wondering when you're going to be able to pick up the pace a bit more in-game, and the only way to surpass these wait times is—you guessed it—by paying up real cash to speed things up in a limited capacity.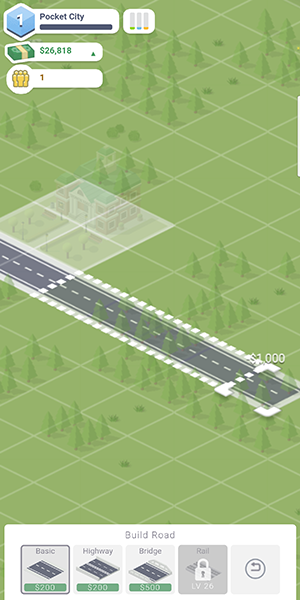 That's why we have to give a big thumbs-up and shout out to Pocket City this month, a brand-new game that helps to offer players looking for their city simulation titles on Android a much better option. Available as a free limited game or in a complete version for a one-time purchase of $4.99, Pocket City is everything any sim-fan would want in a SimCity-esque building game on mobile, but without all the frustrating aspects of the current game industry. The game looks great, especially for a game from an indie studio as opposed to EA, the publishers behind the official SimCity. There's a skippable tutorial that walks you through the game's control scheme and helps to make it easy to understand, and the touch controls will have you sliding your finger across the screen in no time in order to build roads, buy additions, and so on.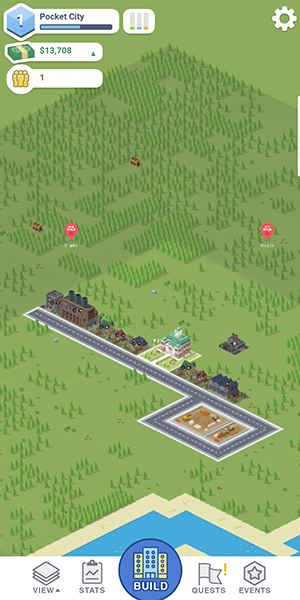 A full quest and level system allows you to play through the game without having to deal with the lack of a progression system, and events in the game from bankruptcy to environmental disasters help to change up gameplay on the fly. Perhaps the best part of Pocket City, however, comes from the lack of wait times within the game. Buildings and other construction is completed in seconds, without having to leave the app and return back to the game to complete additional tasks. Despite all this, Pocket City remains one of the deeper and better city simulation games on the market, allowing for sim fans to finally experience a game worthy of their dollars—and one that respects their time, too. The game is only at version 0.1.20 as of writing, so expect the game to continue to gain updates and improve over the coming months.
Android has always been about customization, even if that truth is slowly changing into something a bit more set in its ways. Still, even as that occurs, there are so, so many applications on the Play Store—for both unrooted and rooted devices—that allow you to change the way your device looks, feels, and operates. From launchers and icon packs to apps like Tasker that operate to disable or enable settings on your device depending on the time of day or your location, there is so much that can be modified at the base of Android. One of the things we don't see as often, however, is the ability to modify your notification tray. Typically, unless you're running stock Android, the notification tray and quick settings are themed by your manufacturer, changed to match the aesthetic of your phone's model.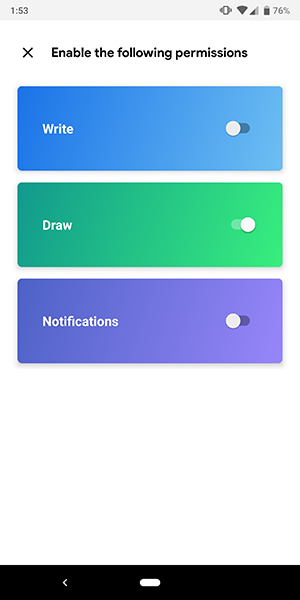 Power Shade is a brand new app designed with this function in mind, from the same developer behind the popular Material Notification Bar. The ideas presented here are basically the same: you can, using Power Shade, implement a brand new notification tray on any device that looks exactly like the brand-new Android 9 Pie notification tray that beta users have had for a couple months. That might seem like something small, but for anyone with a Samsung device looking to use launchers and other apps to make their phone look less like Samsung's version of Android and more like Google's, this is a big step.
So, how does Power Shade work? Basically, it begins with a number of permissions required to run on your device. Power Shade is basically a second notification tray, not a replacement, so the app places a small box on the side of your screen that you swipe on to trigger Power Shade. From there, you can view your notification tray. It's not a perfect system, but it's one you can get used to pretty quickly. The cool part of Power Shade comes from the ability to change basically everything about it, from every single individual color in the tray to the color of your notification cards. There is so much you can change and control here that it's basically a power user's dream come true.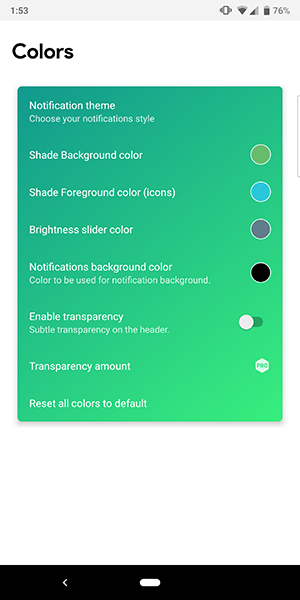 If there's one major limitation to Power Shade, it comes down to root. For the most part, the app can be used by anyone who doesn't have root without any issues. However, since the app isn't actually able to change the notification tray in your system, the quick settings options are pretty limited if you don't have root access. Android apps can't change basic core features on your smartphone without root access, largely as a security function put in the system by Google to ensure no one is breaking or hacking your phone, but if you want Power shade to control your mobile data, WiFi, or any other mobile settings automatically, you'll need to set it up so that you either have root access, or have to deal with the limits of having to open settings to do it.
Overall, Power Shade is a great start to a brand-new notification tray system that adds some solid functionality and customization options to your phone. It's not perfect, of course, but largely speaking, Power Shade is a must-have for anyone who loves customizing every single piece of their phone from top to bottom.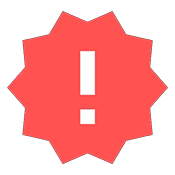 From Game of Thrones to Avengers: Infinity War, there's no shortage of "must-see" entertainment in our current times, and it can seem impossible to be caught up on everything just to discuss it with your friends at the bar or at the watercooler during work. What's worse, however, is the fact that sometimes there is specific content you want to watch or view, but you simply don't have the time to see it when everyone else does. There's no reason you should be punished for not having the availability to make it to the theater on opening weekend, or having time to binge-watch the newest Netflix original series as soon as it drops on a Friday night, and though there's a certain amount of time where culture dictates spoilers become okay to discuss (no one should be mad if you haven't found time in the last twenty years to watch The Sixth Sense or Fight Club), new releases can still be ruined by uncaring friends or co-workers.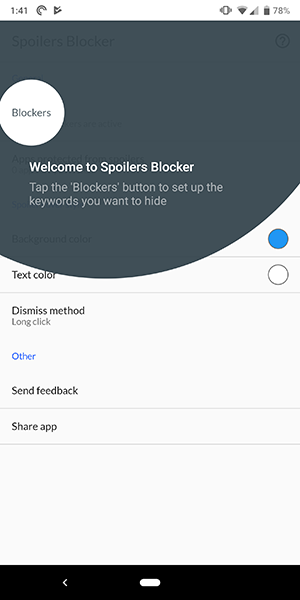 One of the worst places for this type of treatment is, as always, the internet. From Twitter to Facebook, plenty of users will tweet or share their thoughts on a brand-new release, from the ending scenes to what they thought of an explosive finale. This is especially bad for television, where live-tweeting becomes a thing that you're pushed to do by plenty of shows and channels to raise brand awareness. Thankfully, someone has finally developed an app that helps to curb this bad behavior—and helps you to avoid seeing spoilers for your favorite shows online when you're unable to watch them live. Spoilers Blocker does exactly what it says it does, helping to provide a way to avoid major spoilers for your favorite shows and brand-new movies.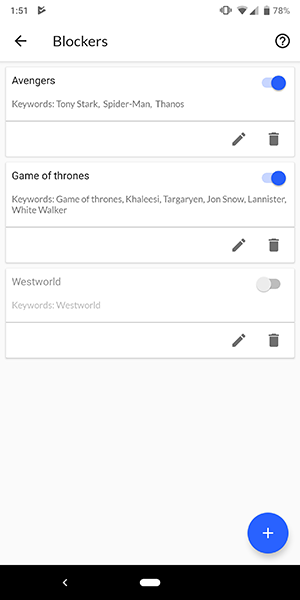 Shockingly, the app—which largely exists as a utility to set up your preferences—actually looks pretty great. It follows modern design rules from Google and has a good font for text. All of that helps to keep the app on your device without having to worry about it looking out of date. The app has a quick tutorial that shows you how to use it, but once you've got the app setup, it's shockingly easy to manage. After accepting the requisite permissions that allows the app to cover information on the display, you can add and select blocks based on tags you design on your own behalf. You can turn these tags on or off at any time, and deleting tags is also possible. The app gives two example tags (both off by default) to display how it works: one for Game of Thrones and one for Westworld. Using these as examples, you can create your own entries and tags to block spoilers.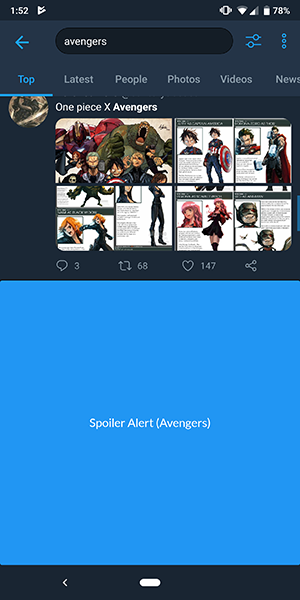 After you've created your tags, you'll want to select the apps you want spoilers to be blocked and hidden in. We tested the app in Twitter, and as you might imagine, the app worked perfectly, blocking searches for "Avengers" and "Spider-Man" after we added those to our tags. Though the boxes don't scroll perfectly when moving through the app, they're quick to appear and do a fantastic job in blocking posts with the various spoilers in them. Of course, there's always the possibility that you could accidentally block out information you want to keep on the page (for example, a friend's post about the 2004 film Spider-Man 2 was blocked out by our Avengers tag, despite not having a single reference to the Avengers, because we used "Spider-Man" as a tag), but for the most part, seeing less content is better than being spoiled along the way.
Overall, Spoilers Blocker is the perfect app for an environment in which everyone is obsessed with discussing the hottest new entertainment online. As an early start (the app is unreleased as of writing), the app is off to a great beginning. If you're looking for a way to stay online without the fear of future spoilers the next time a new season of your favorite Netflix show drops and you're unable to watch it, this is the perfect utility.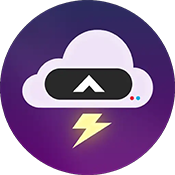 Weather apps are a dime a dozen on both Android and iOS, and often, they aren't very good. There are already dozens of apps you can use to forecast the weather available on the Play Store, and frankly, they often don't do nearly as much to win us over as just using the standard Google weather option on your home screen or through the Google app. Typically, either a poor design with outdated and older graphics, or a lack of sophisticated technology and weather prediction, stop us from recommending weather apps for Android. Outside of Weather Timeline and the iOS-port Dark Sky (which was controversial in its own right after being ported to Android in 2016), it's tough to think of an outstanding weather app worthy of recommendation.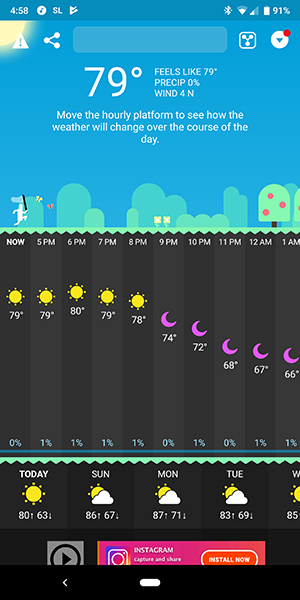 So color us surprised when this month saw the launch of the one-time iOS exclusive Carrot Weather (stylized as CARROT Weather). For a couple years now, Carrot Weather has impressed us on iOS as an excellent paid weather app, full of personality and humor. The arrival of the app on Android essentially brings everything most users would've wanted from the application in its Android form, from its topical and irreverent humor to the ability for the app to be completely vicious in its descriptions of the weather. We'll get to the app's humor and personality functions in a moment though, because first, it's important for us to talk about how good of a weather app Carrot actually is, thanks to its accurate reporting.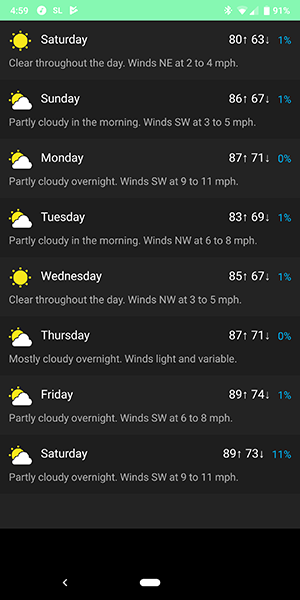 Like Weather Timeline, Carrot Weather uses Dark Sky as its data provider, a source that has quickly become our preferred method of weather data thanks to its accuracy and up to the minute reporting on precipitation and weather changes. There's no way to change this in the free version of the app; on iOS, users who join the monthly subscription offered by Carrot are able to change the data source to Weather Underground, and we would assume the same is available on the Android version of the app, though we didn't test the paid membership. Still, we love Dark Sky, so that source being available for free and by default is good by us. Weather predictions are accurate, with the hourly forecast available on the middle portion of the display, complete with a graph-like appearance, and the week's forecast available on the bottom of the screen.
Okay, let's discuss the marquee feature of Carrot Weather: the personality built into the app. Unlike Weather Timeline or Dark Sky, or really, any other weather app widely available, Carrot will read you the weather allowed when you open the app, complete with four personality settings that help to make it feel like a person weather assistant. The personality can be changed within the application settings, with options for Friendly, Snarky, Homicidal, and Overkill (the latter of which includes profanity). Basically, Carrot's character is a robot that hates humanity and everything about it, unless it's set on Friendly mode. There's also an option to set the politics of your Carrot-bot, with options for everything from Liberal to Conservative, Libertarian to Communist, and Centrist to Apolitical. It's an interesting twist on the weather app, something that makes it a really fun app to open and use on a regular basis.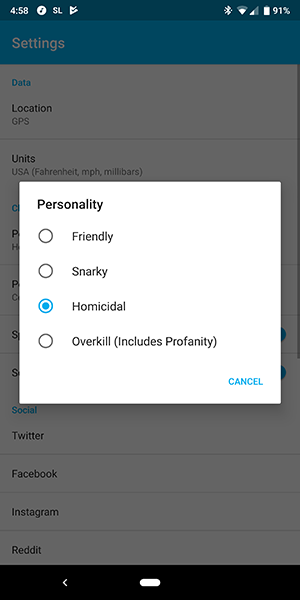 Unlike on iOS, where Carrot Weather is a paid application, Carrot is free for Android users, with some ads and limitations. We didn't see any full-screen ads though—just banners—and you can unlock the paid features through a monthly Premium Club option that gives you a time machine feature, capable of viewing weather from up to 70 years in the past; widget support for your home screen; and the option to remove ads, plus any new features that slowly make their way to the app as time goes on. At $.99 per month or just $3.99 per year, Carrot is a fairly-affordable unlock for Android, especially since the app is free to begin with.
Overall, Carrot is a unique and new source for weather on Android, one we have no reservations about using on our phones. While the visual design isn't our favorite—though it isn't bad by any means, it just isn't as clean as something like Weather Timeline—the app itself is an excellent and humorous way to receive your weather every day. Whether you want something to yell at you about the heat or the cold, or a friendly robot to tell you when it'll rain, Carrot Weather is one of our favorite new weather apps in a long time.
The first of two of July's blast-from-the-past applications is here with Fatal Flap, a game that revisits the ideas behind 2014's smash success Flappy Bird and recreates the app's style and gameplay structure. We've seen a lot of apps use the gameplay first perfected in Flappy Bird in new and creative ways, from Terry Cavanagh's fantastic browser game Maverick Bird, to Noodlecake's Bouncy Hoops, which put the tap-to-hop gameplay into a basketball-themed mobile game. Fatal Flap follows closely with this general aesthetic, offering the same basic control scheme as the original game, but with one major twist: Fatal Flap has pre-designed levels, instead of randomly generated ones.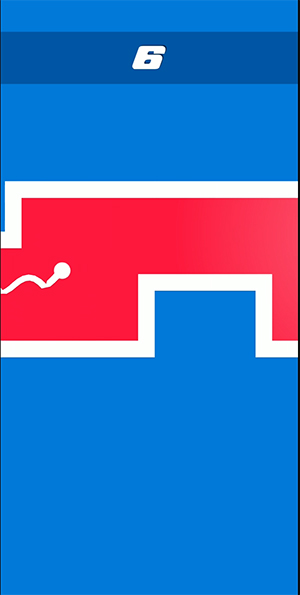 As you might imagine, the gameplay is simple enough. Each level begins with with the ball you're controlling on a small field, as the level begins to move and the platform falls away. You have to tap on the display to keep the ball up in the air, in order to not let it fall to the ground. As with Flappy Bird and any other tapping game like this, the goal is to figure out the physics as quickly as possible, in order to get the ball to go as far as you can throughout a level. It's not the easiest game in the world, but thanks to the predesigned levels, we ran into impossible or near-impossible challenges far less often than we otherwise would have.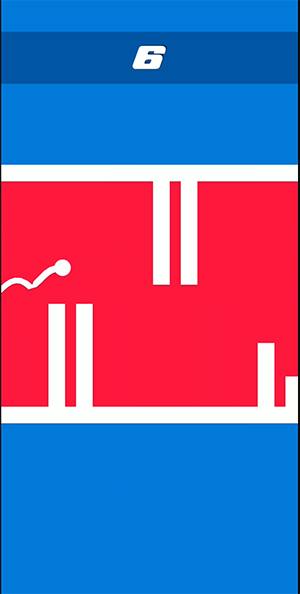 The visual design of the game is flat and minimal, another common similarity with these games. The game uses color schemes with rotating frequency to make it more appealing when playing through a massive amount of games. More interesting than this, of course, is the three gameplay modes available in the game. From the get-go, you have gain access to classic mode, a basic mode where you gain levels to play through at a slow pace. Race mode can be unlocked in the settings, which allows you to play a bit of a different game, where you're trying to finish as many of the stages and levels in one go to score points. The final game mode, four challenge modes labeled Emperor, Purple, Slate, and Pearl, are available for purchase with in-game currency you can gain either by playing the game or by purchasing coins in the store.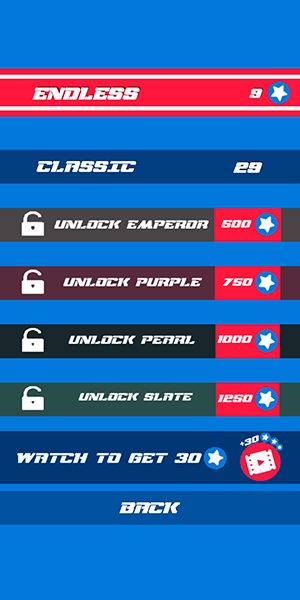 Overall, Fatal Flap isn't doing anything radically different than other Flappy Bird-esque games we've seen in the past, but if you're hungry for a new game in this genre, you'll want to try out Fatal Flap. As a free game, it's not revolutionizing mobile titles on Android, but it's yet another fun, minimal distraction to play in short bursts or, for those who are dedicated to their craft, for hours at a time. Either way, it's a fantastic game to keep on your phone, for fun at home or on the go. We've long said that the simplest mobile games are often the best, and this continues that trend today.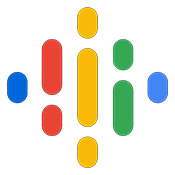 Google Play Music has had the ability to play podcasts for a couple years now, but unfortunately, that app is slowly making its way out the door, to be replaced by YouTube Music. After years of being ignored by Google, the company has finally exported the ability to subscribe and listen to podcasts from its original source in Google Play Music, and it's finally returned with a proper application. Google Podcasts reminds us a lot of Apple Podcasts when it first launched several years ago, as an app not quite ready for primetime, but one with promise. With some solid visual appearances and fantastic Google Assistant integration, Google Podcasts is a unique and new look at a podcast app, available for free without ads and straight from Google.
The general idea behind Google Podcasts is simple: the app is built around the new Material design guidelines Google has slowly been rolling out to apps like Google Home and Google Pay, with the title of the app at the top of the page and a brand new font built into the app. Everything from the "For You" section to the search icon at the top of the app screams Google design, and you'll either love or hate how this looks. We found the actual design of the app to be a solid offering, and some of the discover tools were better than our favorite podcast app, Pocket Casts, but the player UI was a bit too basic to us, appearing as a sliding drawer rather than as a full screen player. This interface basically made it impossible to actually leave the player app open, which was unfortunate compared to the gorgeous player screen in apps like Pocket Casts or Castbox.
That said, the player does have most of the features you'd want from a podcast app. When you slide it open on the bottom of the screen, you can gain access to the play and pause command, the skip ahead and behind options (set, by default, to the standard 10 seconds back and 30 seconds ahead), an info button that will automatically open the show notes for the episode, and an option to adjust the speed in which you'll receive playback from the app, with speeds ranging from 0.5x all the way to 2x. Unfortunately, two big features are missing from the app. First, the show notes page doesn't have hyperlinks enabled, so you can't open the link to a story or skip to a specific timecode linked within the app. Second, and perhaps more importantly, the player doesn't have a sleep timer as of yet, which means those of us who fall asleep to a podcast can't do so here. There's also no Chromecast support as far as we can tell, an odd admission for a Google app.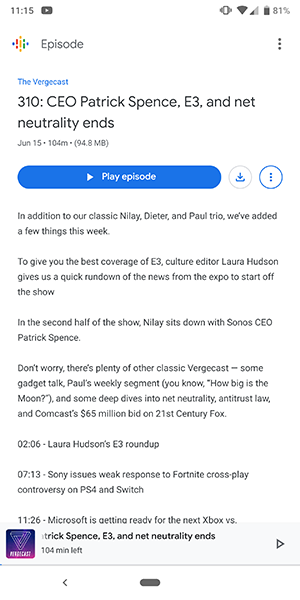 One of the best things about this app, however, is its ability to sync with Google across your devices. Though it's newly a dedicated app on Android, this podcast feature has actually been sitting in the Google app properly for a few months now, waiting to be spun out on its own. This means you can open the app anywhere that features the option to use Google, including (as we tested) on iOS devices. Your playback is synced between any device that can run Assistant as well, including any Google Home device lying around your house. If there's one major disappointment with the app, it's the lack of any advanced settings menu, and the inability to view a full list of your subscribed episodes easily and quickly.
Ultimately, Google built a decent podcast player here, with some interesting design and player choices. We have no doubt the app will only get better, especially as Google builds features like podcast recommendations into the app. We'd also love to see them bring some of the podcast stations built for Google Play Music to this app, but we'll have to wait and see how this new application improves over the rest of the year.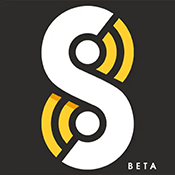 If Fatal Flap is the recreation of a mobile hit from years and years ago, then Silph Road is our second nostalgia trip application for your phone. Two years after the launch of Pokemon Go, and nearly two years following the launch of the Silph Road (named for Silph Co., the building you must make your way through in Saffron City in the first generation of Pokemon games), Silph Road finally gets its own mobile application. The Silph Road, for those who weren't fanatical about Pokemon Go two years ago, works as a grassroots social network designed to be used by Pokemon Go players to make the most of their gameplay. Using data mining and player-sourced information, you can learn about eggs, stats, and so much more right from the Silph Road.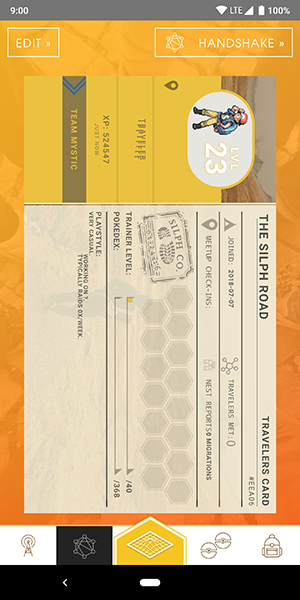 Some may be wondering why, two years after the launch of Pokemon Go, would Silph Road finally gain a mobile application, but the truth is simple: Pokemon Go has been slowly making a comeback. The app certainly died off of popularity two years ago after the summer of 2016, as the air got cold and others moved onto focusing on other things. But Go has been adding new features overtime, slowly making the app a must-play this summer. The Field Research quests helped to make the game have a direction, rather than simply catching things or battling in gyms for gyms sake. The addition of raid battles, likewise, helped to add a new goal that even players on opposing teams could use to play together without having to fight, and both friends lists and trading finally rolled out in June, completing two much-requested features that, once more, made the game feel much more alive than it had previously.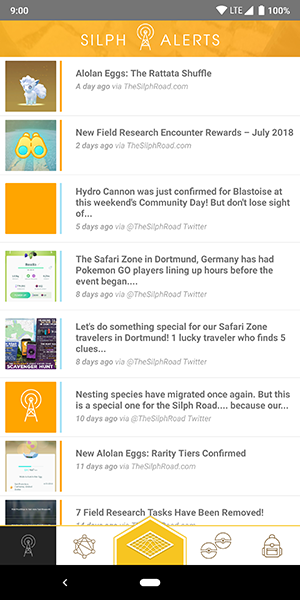 Okay, so you're back into Pokemon Go, or maybe you never left. What does Silph Road grant you that you didn't have before? Well, the app is currently unreleased and has some serious work left to be done on it, but there's still a lot of neat things here. The app has a trainer card feature, like in the games, allowing you to share your information with other Silph Road users and Go players alike. A handshake feature allows you to register those you have and haven't met in real life through the Silph Road, using codes, though the new friends feature in Pokemon Go makes this less of a draw than previously. There's a full news service that allows you to view updates on hatch rates and other content, and placeholders for new content coming soon, like a trading marketplace (presumably locally-based listings will appear here), a "scope" feature that doesn't work quite yet, and a (currently broken) map feature that should help you discover specific places that things can hatch within.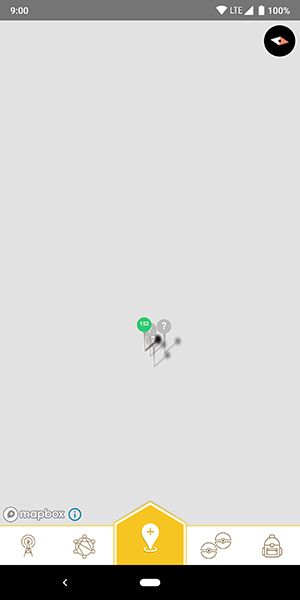 It's an early work-in-progress, but the app is coming along nicely. A lot of third-party apps for Pokemon Go haven't managed to stay around for very long, making it a solid sign that Silph Road is here on Android for the time being. The site and the Reddit that correspond with Silph Road continue to become major tools that all Go players should take note of, and this new app is a nice addition to any continuing—or returning—Pokemon Go player.