The Best New Android Apps and Games – October 2018
The days are getting shorter, the nights are getting longer, and the air is getting chillier. Autumn has finally arrived, turning the colors of the leaves on every tree a collage of reds, yellows, oranges, and browns, and highlighting the changing of the seasons. More and more, people will move back inside, escaping from the growing cold air and preparing for the upcoming winter. Summer has officially left, and while we're sad to see it go, autumn is the favorite season of many for a reason. Halloween, Thanksgiving, and the build-up to Christmas put a sense of excitement in the air. And even if you aren't a "fall" person, you can still take refuge in the celebration that it is once again new Android phone season! Between the recently-released Galaxy Note 9, the upcoming LG V40, and the just announced Google Pixel 3 and Pixel 3 XL, there's plenty of gadgets to get your hands on.
Also see our article How To Delete ALL Photos from your Android Device
But what good are those gadgets to you if all of your apps are old and outdated? You'll need some fresh new apps and games to go with those new phones, and luckily, it's the perfect time of year for new app releases. This month, we have five brand-new applications for your enjoyment, including a new way to get your news from an old, trusted brand; the long-awaited port of a once-iOS exclusive game from one of our favorite developers; the arrival of a spin-off game of one of gaming's most popular franchises; a new minimalist launcher; and an app designed to improve your device's security while also allowing you to test and try new apps that contain permission prompts. All that, plus last month's best new apps and games too. Let's dive in!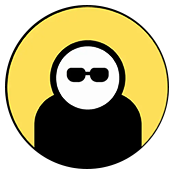 App permissions are a tricky subject these days, not least because of the constant privacy concerns one can feel while using technology in 2018. Some apps require no permissions at all, while others ask for seemingly innocuous things: camera apps need to use your phone's hardware to use the camera; weather apps need to use your GPS location to figure out where you are at any given time; same goes for any Maps application that is trying to track your location to give you directions. However, when it comes to some applications, certain permissions can be suspicious to say the least. When a utility app, for example, asks to view your call log and track your location, that's when things raise suspicion. Being cautious when you install a new app to your device is always the smart decision, and watching for what permissions you accept is the best way to use your device.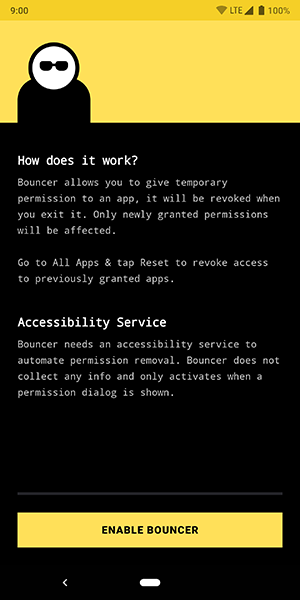 That said, sometimes it's the apps you least expect that end up ruining your day. Sometimes, an app that you have to give a permission to in order to properly use ends up screwing you over, and that can be a serious problem. That's where Bouncer comes in, a new app from Sam Ruston, noted Android developer and the voice behind apps like (the now defunct) Weather Timeline and Hurry, one of our favorite countdown apps on Android today. Ruston has become known for his excellent sense of design and a solid talent for making great Android applications, and Bouncer is no exception. As an app designed primarily for a utility, it has a strong sense of design, a black and yellow color scheme that looks striking and a great bouncer logo.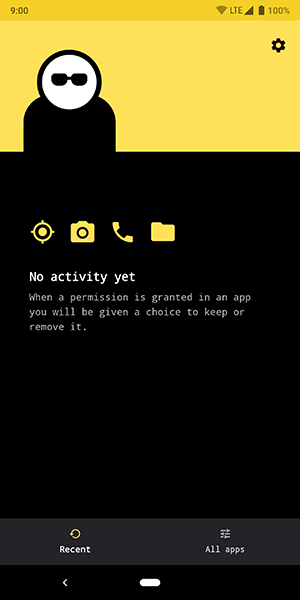 The main idea behind Bouncer, currently in beta but available for download, is simple. The app allows you to give other applications on your phone the ability to use permissions, but only temporarily, which allows you to increase the security on your device by revoking those permissions when you're done with them. You select the apps within Bouncer that you wish to grant temporary permissions; when you leave the app, Bouncer automatically revokes those permissions so that they can no longer access your phone log, location, messages, or anything else you choose to revoke on your own terms. And while Bouncer is primarily focused on increasing your security, it's also an app that allows you to improve your battery life, since those revoked applications can't do anything in the background of your device.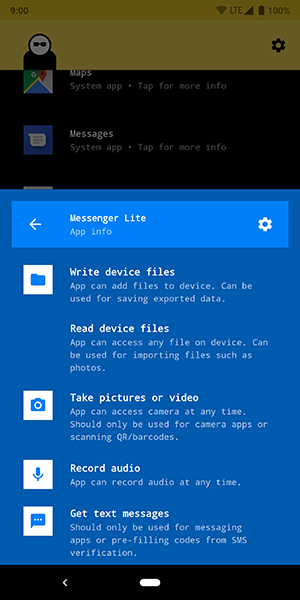 Bouncer works as an accessibility service, which means its setup is as quick as flicking a switch on your device. Bouncer itself requires no permissions, and it can't see any information within your own lineup of apps outside of the settings application, where it turns off your permissions for other applications. And, as Sam Ruston points out in the description of his app, since Bouncer isn't able to access the internet without its own permission, it can't phone home in any way. Everything is done locally on the device. Bouncer is still in beta, but there's so much to love here that we have to give it a strong recommendation. For just 99 cents, Bouncer makes it easy to take control of your data back from the apps on your device.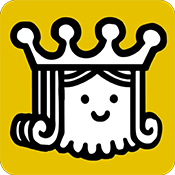 Late in 2017, Zach Gage released a new game for iOS titled Flipflop Solitaire, and finally, the Android port of that game has arrived this month. Any mobile gamer who keeps up on the hottest mobile games has likely become familiar with Gage's name; his games, both on iOS and the assortment of Android ports that have made their way to the platform, are constantly excellent, offering up twists on classic games or uniquely new challenges in ways you never expect. From Really Bad Chess, a game that takes the simple concept of chess and shuffles the arrangement of the pieces to break the game, to Pocket Run Pool, a game that requires you to get certain multipliers to get high scores when sinking balls in pockets, Gage has created so many award-winning games, it's hard to keep track.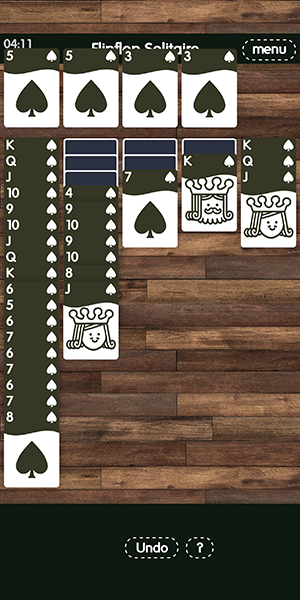 Flipflop Solitaire is Gage's second crack at creating a perfected solitaire game, following his efforts on Sage Solitaire. That game combined solitaire and poker into a single title, creating a specific element of strategy he felt had been missing from the game previously. Now, in Flipflop Solitaire, Gage has returned to the famous single-player card game to find a new way to create new forms of playing centered around stacking cards. The game, as most Zach Gage games do, breaks the entire rulebook for Solitaire, removing the game's central mechanics and reinventing them along the way. Flipflop Solitaire is based primarily on Spider Solitaire, which involves 10 stacks of cards in total. Flipflop, however, reduces the stacks to five to help maintain a portrait mode on mobile devices, and also allows you to place cards in both descending and ascending order.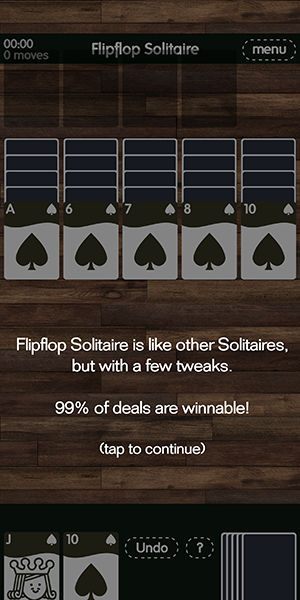 When you begin the game, Flipflop claims that 99 percent of deals are possible wins, which means almost every game you play is winnable if you're careful. Of course, as you might imagine, things aren't quite so simple. You'll need to pay attention to your moves in order to succeed, and simply clicking around the screen won't end with you winning any games anytime soon. There's a real challenge to Flipflop Solitaire, but that's one of the things that makes it so easy to play over and over and over again. And though the game begins with a single suit, making it simple enough overall, eventually you'll come to balance suits that can only match with each other. The game gets more and more difficult as you play, helping to add a real sense of challenge to the game.
As a free download, Flipflop Solitaire is a must-have for anyone who loves solitaire, Gage's former games, or unique mobile challenges in any way. As usual, the free portion of the game is generous in basically every way, offering plenty of gameplay even if you're unwilling to pay. If you can, however, absolutely consider dropping the in-app purchase to unlock the full game, which comes with the fifth suit and a special extended suit within the game. Overall, Flipflop is a must-have on Android. From the visual design to the wonderful ambient music to the charming vibrations when you move cards around the game, Flipflop Solitaire is incredibly special.
8. Monster Hunter Stories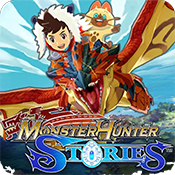 Originally released on the 3DS in 2016 in Japan and 2017 throughout the rest of the world, Monster Hunter Stories is a spin-off title from Capcom's critically-praised Monster Hunter series that takes the series to all new places. While the typical core gameplay has been entirely changed, Monster Hunter Stories still remains purely based within the world of Monster Hunter, making it the first game in the series to arrive on Android. With all-new graphics, revamped gameplay based around touch controls, and a demo that takes you through the first chapter of the story for free, it's time for all Monster Hunter fans and RPG-lovers alike to check this one out.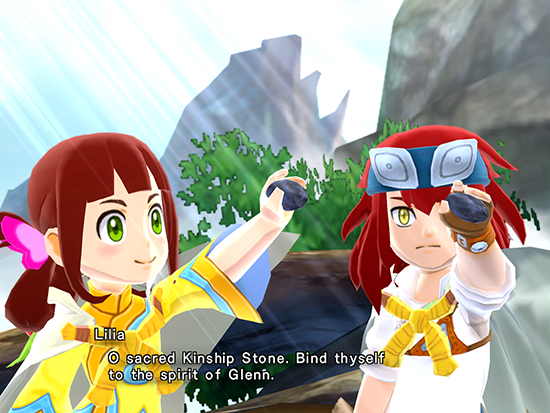 At its core, the gameplay is completely different from the standard series. Unlike the traditional real-time action battles in most series that see you taking on monsters four times your size, you take the role of a younger rider, one who befriends monsters by helping to hatch their eggs. The babies you help to hatch can be taken into battle, where the main gameplay mechanic takes place: instead of real-time battles, you'll find a turn-based RPG system here, built on top of a combat system that fuels both you and your companion monster into attack the enemy. That's right: Monster Hunter Stories plays, effectively, like Monster Hunter crossed with Pokemon, and that's just one reason to jump into the game.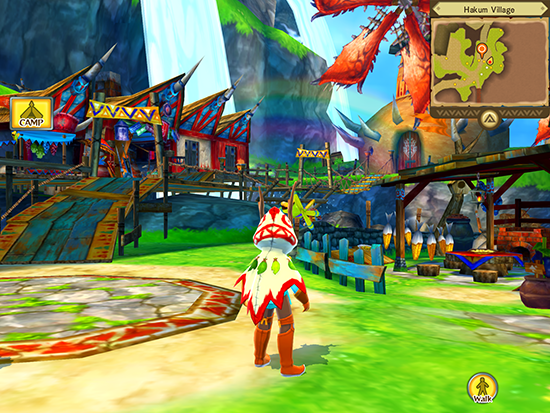 Here's how the battle system works: as the player, you control your rider and your monster, both of whom have attacks that are based on power, speed, or technique. Each of these defeats another, similar to rock-paper-scissors or the classic grass-fire-water starters in each generation of Pokemon. The player has a choice of four weapons (narrowed down, unfortunately, from the wide array of weapons we're used to seeing in Monster Hunter; thankfully, the Hunting Horn, a personal favorite, makes an appearance here), that allow you to attack in specific ways and access various skills on your device.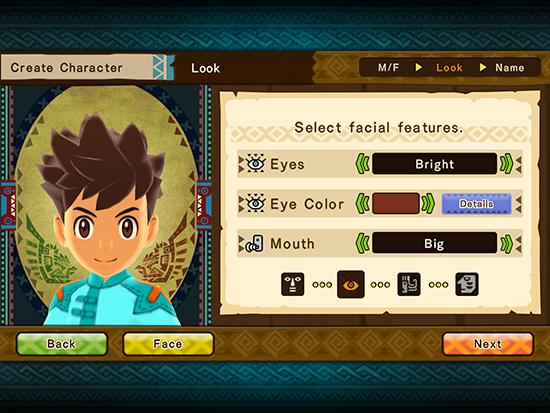 This battle system is excellent, and it comes accompanied by your typical array of RPG elements. Like most Monster Hunter games, there's a full character creator available, though the choices aren't quite as customizable as in the mainline games. A full story surrounding the mythology of the Monster World is here as well, and while it's nothing groundbreaking, we quite enjoyed what we saw. Whether you're new to the Monster Hunter world or you're looking for a new experience within a series of games you love, it is absolutely worth picking up on Android. At just $20 for a full RPG that was originally sold for $39.99, it's an excellent deal. Plus, with that trial available for download, you can check out the first chapter of the game before dropping down some cash.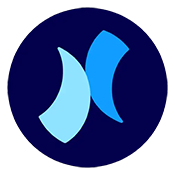 Launchers are a dime a dozen these days; every month seems to have a new one rise to prominence, and that's no different today. In fact, this is the third month in a row where a new launcher has arrived on the Play Store, only for us to find it fascinating and absolutely worth putting in the spotlight. This month, we're happy to feature Niagara Launcher, a brand new (and technically unreleased) launcher from Peter Huber, seemingly his first app on the platform, and so far, it's intensely promising. This isn't your standard Nova-esque launcher that takes the Pixel or stock Android ideals and allows you to add them to any device. Niagara Launcher is much less, and yet, much more than that.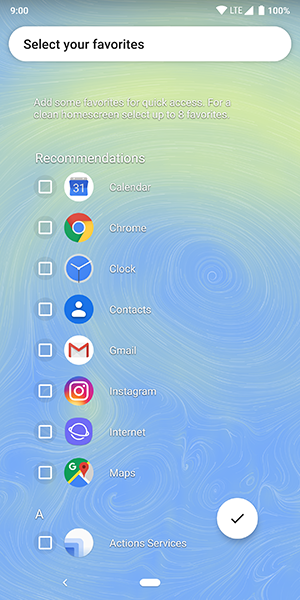 Once you've installed the app and set it as your default launcher, you're greeted with a gorgeous, minimal launcher that promises to make using your phone a simple task. Niagara starts by asking you for your favorite apps on the platform, so that it can use this knowledge to set you up with your own home screen. The home screen inside of Niagara Launcher allows you to feature up to eight favorite apps, and Niagara gives you suggestions on which apps you should set. Obvious choices like Chrome, Instagram, Messages, and more appear in the recommended tab, but you can set any single option you want.  After choosing your apps, you've basically completed your own personal settings for the app, and you're brought to your brand-new homescreen through Niagara.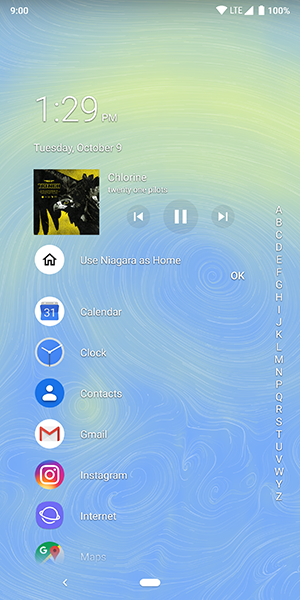 The main home screen in Niagara is simple: you can view the time; your favorite applications set within the app; recent notifications (so long as you grant notification access), including your messages, currently-playing music, and more; and a scrolling wheel on the right side of the screen with the full alphabet available to pick from. The idea is simple: to reach the rest of your applications, simply scroll your finger or thumb along the side of the display to access content that you can view on your device. This idea of scrolling through an alphabetical list of your apps isn't new, but it's done so well here that's it's hard not to recommend try for yourself. The way the letters wrap around your finger and the screen as you scroll through your content is immensely satisfying, making it an easy pick for an alternate launcher.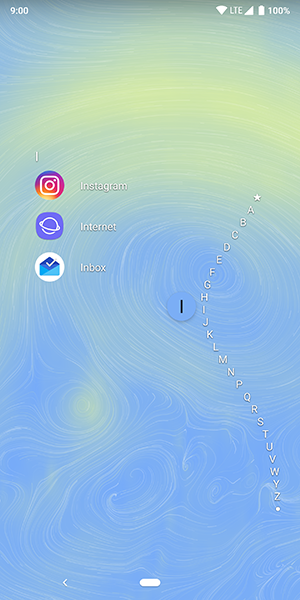 Outside of those touches, there isn't much else to Niagara. You can hide your apps within settings, use notification dots, and more, but for now, Niagara remains in an early beta state. It's totally usable, but if you're looking for additional customization like icon pack support, folders, and more, you'll need to wait for those to arrive on the platform sometime in the future. Still, Niagara is an excellent alternate browser, especially if you're looking for a clean, minimalist, and absolutely modern design. Don't sleep on this one; it's legitimately an excellent launcher and a great way to add a whole new flavor of usefulness to your phone.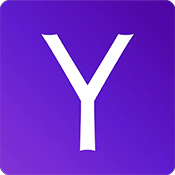 Google News relaunched earlier this year to some amount of claim, thanks to an improved visual design inspired by Material Design 2 and a focus on providing curated news that better applies to your own life. With the ability to stop certain news sources from appearing in your news feed, the option to link your online subscriptions to read right in the application, and the option to watch videos and other content without leaving News, it became obvious that Google had a hit on their hands with the new app. And while Google News isn't perfect—the app is in desperate need for a dark mode, which, in fairness, does seem to be slowly rolling out to some users over the coming weeks.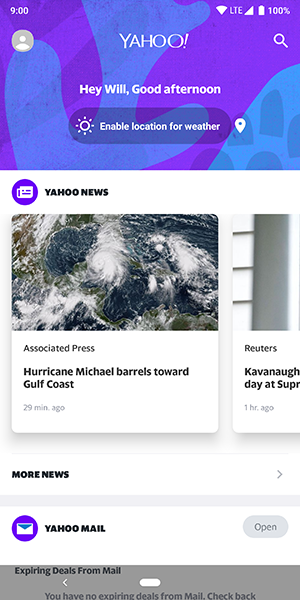 Still, there's room for challengers to Google News in terms of dominating the game, and while Apple News on iOS seems to be the main comparison point for many people, Yahoo has seen it feasible to throw their own hat in the ring with a revamped version of their own application. Simply called Yahoo, the app is designed for anyone who prefers Yahoo to Google when it comes to using their computer, and while we can't guarantee there's a whole mess of people who feel that way, there's definitely some utility to choosing to use Yahoo for your news reading over Google News—especially if you have a Yahoo account that you keep regularly updated.
When it comes to logging into Yahoo, you won't be able to use the app just by reading whatever news is in the platform. Yahoo requires you to have a Yahoo account to access anything within the app, be it news, weather, or anything else. This is, more or less, very unfortunate, as not everyone has access to a Yahoo account. On Android, especially, the most common form of login is simply using the standard Google login, which makes it easy to type in your information and forget about it. Still, you can create a burner Yahoo account if you don't have one, so long as you're willing to give off your phone number for confirmation. We wouldn't care as much about signing up for a Yahoo account, but considering the lack of constant security for Yahoo accounts in the past, we get worried about giving up our own personal information to Yahoo.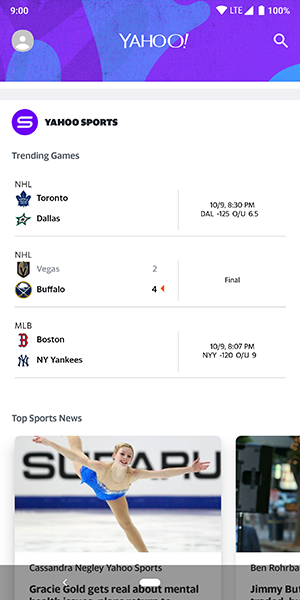 That said, once you're in you're in, and the app is actually pretty solid. While visual design might not be what you think of when considering the concept of Yahoo, there's actually some serious quality control here. The signature Yahoo-purple serves as the backdrop of the app, with a solid pattern behind it. The app delivers your local weather at the top of the page (so long as you give the app permissions to use your location), and breaking news below that. Unlike Google News, every news story here is pulled from Yahoo's own news service; in addition to their own news service, Yahoo also sources from content like AP.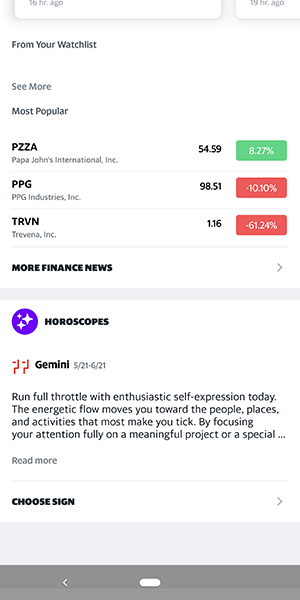 Below the news sources, Yahoo presents you with the rest of your Yahoo hub. You can view all sorts of information here, from your inbox (a great feature, and one Google should consider using inside News as an optional add-in), Yahoo Sports, which displays highlights from games, stocks, and even horoscopes that match up with your inputted birthday. This helps to make Yahoo not just a curated news service, but an entire hub for starting your day. Overall, the relaunched version of Yahoo impressed us, and if we were Yahoo users like we were ten years ago, there would absolutely be a drive to stick with it. As it remains right now, however, it's a challenge to recommend over other platforms.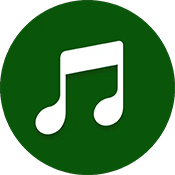 Looking up lyrics to your favorite songs can be a serious hassel, whether you're looking for the words and meaning to Eminem's latest diss track or you want to sing-along to an old favorite. Lyrics websites are in no shortage online, but it can be a challenge to find the right lyrics to your favorite songs. Some sites work well, like Genius, which gives you access to user-contributed meanings to lyrics online. Other sites give you constant ads and pop-ups, making it a frustrating experience to browse online. And no matter which site you use, you'll have to turn to a Google search or an outside app to find the content. Luckily, 1lyrics has come to Android to help you find the best lyrics automatically online, all without having to deal with ads or turn to an outside site.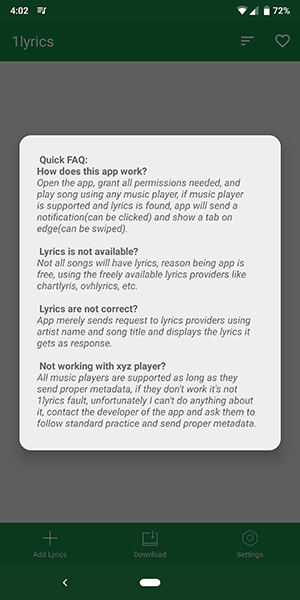 Using 1lyrics is simple enough. As with most apps that display visuals over your home screen or other applications, it begins by turning to the settings of the app. You'll need to enable a number of options and menus to make sure the app is ready to work, but once you do, it's easy to use. That said, if you're uncomfortable giving an app permissions on your device, this might not be the service for you. With the permissions granted, you can begin by turning to any music application of your choice. Spotify, Google Play Music, YouTube Music, Amazon Music, and much more are all supported within the app, which makes this an easy choice to pick up and begin using with no problems.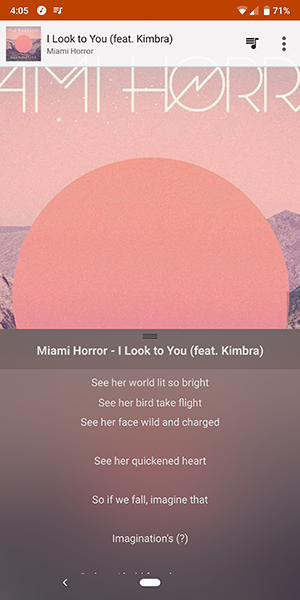 Once the app has the required permissions necessary to continue forth and begin allowing you to use the app, it's as easy as booting up the music app of your choice. With the song playing, you can slide along your display to make the lyrics appear and disappear as necessary. The lyrics were right most of the time in our testing, though there were a few notable slip-ups (like listing "Midnight City" by M83 as an instrumental song, which it is not). We aren't sure where the app is pulling its lyrics from, but it's unfortunate that it wasn't able to always be right. Still, it's a solid application, and though the permissions may seem overbearing at first, we've continued to use it on our device past the normal testing period.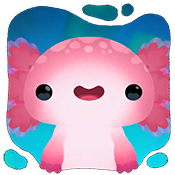 Back in the 1990s and 2000s, there was no bigger trend than Tamagotchi, a fad toy from Japan that invaded America with a massive explosion. The small digital pets were everywhere, eventually being banned from some schools on the grounds of the distractions they caused in the classroom (if only those teachers knew how futile their efforts were to keep digital electronics out of the classroom). The Tamagotchi fad faded with time, as most fads do, but plenty of people never forgot about their small digital pets and the treats and care they could offer them. It always seemed like Tamagotchi was a perfect fit for the smartphone market, but unfortunately, the official My Tamagotchi Forever app doesn't quite recreate the full experience—plus, it's riddled with in-app purchases and microtransactions.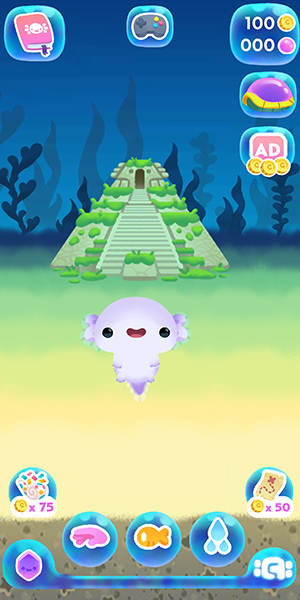 So instead, consider checking out Axolochi, a combination of the popular axolotl fish and Tamagotchi-like care and gameplay that makes it easy to recreate the experience of playing with your digital pets in no time. Currently in beta, Axolochi is a solid timewaster, a game designed around taking care of your new axolotl baby and raising it into becoming an adult fish. Petting, showering, and showing affection for your Axolochi makes it drop coins, and you can use those coins to purchase new objects and items for your little pet. There are a ton of options and content to do here, and though the game does have in-app purchases now, they aren't nearly as overbearing as what we've seen from My Tamagotchi Forever.
If there is one thing frustrating about the Axolochi, it might be that it recreates the experience of using the older Tamagotchi toys a bit too well. If there's one thing we hated about those toys, the one thing that has become a constant pop culture reference when discussing the toys, it's the annoying notifications and buzzing that came with the older toys. Axolochi carries that over from the toys of yesteryear by sending your phone notifications where your Axolochi is hungry, tired, or needs some love. While we understand that, to create an authentic experience surrounding the Axolochi, this has to be here, it doesn't stop it from being frustrating along the way.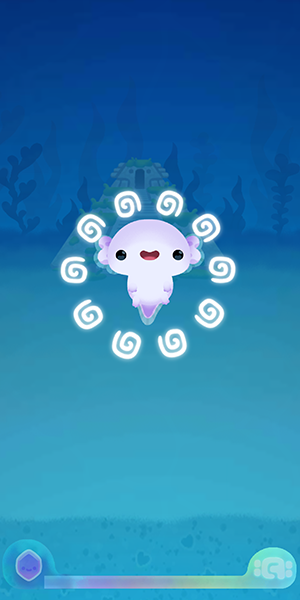 Still, if that experience is what you're after, we recommend picking up Axolochi. The game is great for what it is, offering a better progression system than Tamagotchi ever had, which wasn't nearly as level driven, and the ability to grow your Axolochi up and start over once more is a really fun way of improving the game and keeping you playing. Overall, Axolochi doesn't break the mold, but it offers enough to keep us hooked on playing.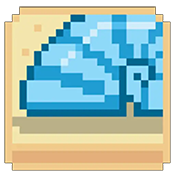 Last fall, a game called Golf Story was released on the Nintendo Switch, acclaimed by critics and players alike. In the game, you make your way through the world of golf, beginning at your old club before moving onto the big leagues. While many of the mechanics are based around golf, the game doesn't take itself seriously, and not every quest involves playing a typical game of golf. The game was quirky and unique, though ran a little long for our tastes. In many ways, Beach Hero RPG reminded us of a similar style of game as Golf Story, an odd, pixelated adventure that adds RPG elements to a typically more straightforward genre—in this case, the classic adventure game.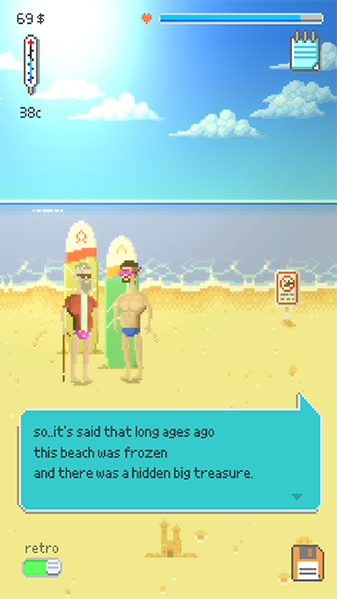 In Beach Hero RPG, you take control of a typical beach hero to begin exploring Sunny Beach. The tale begins with your wife asking you to bring her a drink, but as you explore the area, you'll find a cavalcade of interesting characters along the beach to talk to, each with their own unique story and quest. Whether you're buying sunscreen or looking for clues along the beach, there's plenty to do in Beach Hero RPG to sink some time into. And thankfully, it both looks and sounds great, with that now-classic retro style appearing in both the look and the sounds.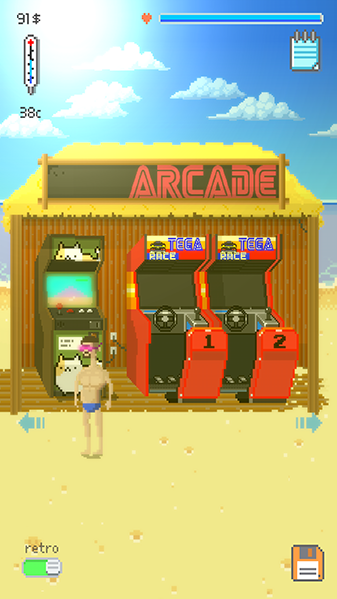 Of course, the game is far from perfect. If we have one major complaint about the game, it comes down to movement. Point-and-click games have never worked all that well on mobile when you have to move from screen to screen (there's no autoscroll here). We wish the game had buttons to move from left to right, instead of having to click along the edge of the display. On device's like Samsung's curved flagships, this is likely even more difficult. Still, we appreciated that the game didn't hold our hand through our playthrough, even if that might frustrate some players. All in all, Beach Hero RPG is an excellent addition to your device, and well worth checking out. As a free game with ads and no in-app purchases, it's an easy recommend.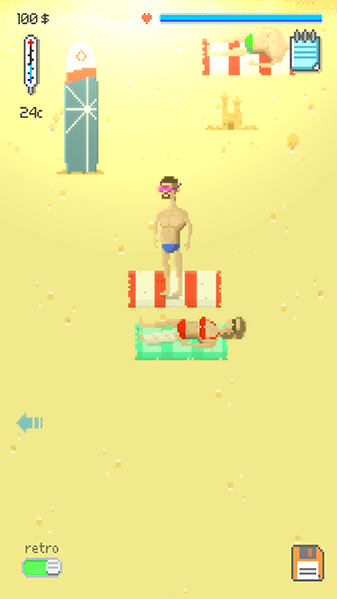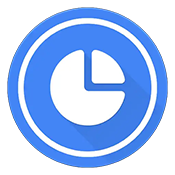 Consider Pixel Shortcuts a bonus recommendation for the month, because the list of readers it well help is likely low. Still, if you're a Google Pixel or Pixel 2 owner, or you happen to have one of the few other phones currently upgraded to Android 9 Pie, you'll enjoy using Pixel Shortcuts thanks to its utility and the small function it adds to your phone. Though Android 9 is out and ready to be used, one of the marquee features—Digital Wellness—is currently in beta. You have to opt into the beta to receive it on your phone, and even once you do, displaying the Digital Wellness statistics on your phone (screen usage, app data, etc.) requires you to dive into the settings menu. Thanks to Pixel Shortcuts, you can make using your phone a little bit easier.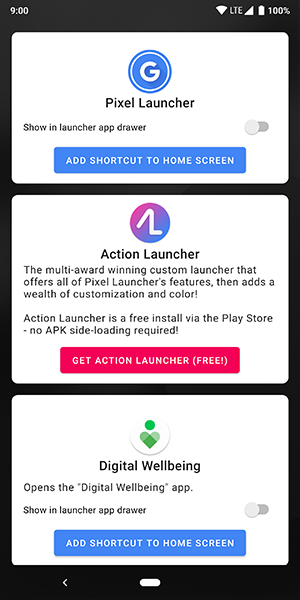 Basically, Pixel Shortcuts allows you to add a few new options to your home screen and app drawer, making it easier to use your phone. You can enable an option to show the Pixel Launcher in the app drawer, or add a shortcut to it on your home screen. Same goes for Digital Wellbeing, which you can place either in your launcher's app drawer or on the home screen. Digital Wellbeing also has a Dashboard that makes it easy to jump right into your stats, and this can be both added to your home screen and placed in your launcher. As the app makes clear when you install it, this app doesn't give you access to Digital Wellbeing if you don't already have it; it merely provides a shortcut for you to load into your device.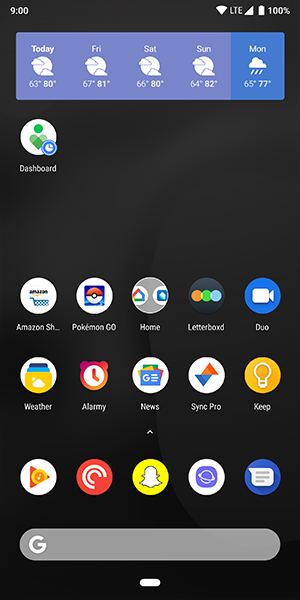 Ultimately, Pixel Shortcuts won't be of major use to plenty of Android users, but for those who are looking to make better use of Digital Wellness, it's a must-have application. And if you're curious about Digital Wellbeing, check out our review below!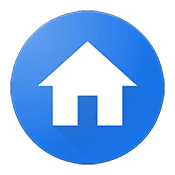 There's a lot to love about Google's Pixel Launcher, but the fact that it's currently locked to the Pixel phones exclusively is pretty disappointing. There's no doubt that, though the utility of third-party launchers, you can build a comparable experience on any phone, be it manufactured by Samsung, LG, or any other phone-maker. Still, nothing quite compares to the experience of having the standard Google experience on your device, and thankfully, with the addition of Rootless Launcher to the Play Store, you can finally add a Pixel-like launcher to your device without having to root your phone.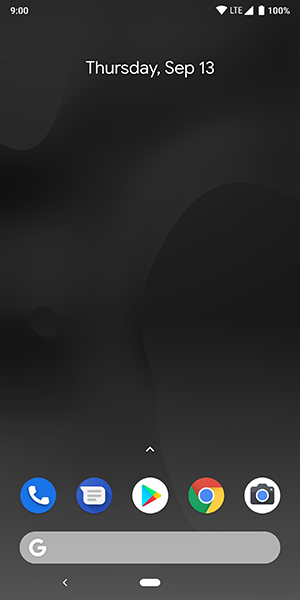 We'll start with the basics: Rootless Launcher has been around for a while, hosted (and celebrated by) the fine folks at XDA-Developers. Despite this, it only recently was placed on the Play Store after reaching the correct point in development (it's also worth noting the app was briefly pulled down from the Play Store; more on that in a moment). Available for free as a fully open-source launcher, this helps to make Rootless Launcher the best free launcher you can get on the Play Store today. At its core, Rootless Launcher is a near-copy of the Pixel Launcher seen on the Pixel 2 and Pixel 2 XL. It features an At a Glance widget on your home screen that shows the date and the weather, along with the Google search bar at the bottom of your screen. The biggest enhancement comes in the form of icon pack support, which allows you to customize your home screen with much more flexibility than you otherwise would have.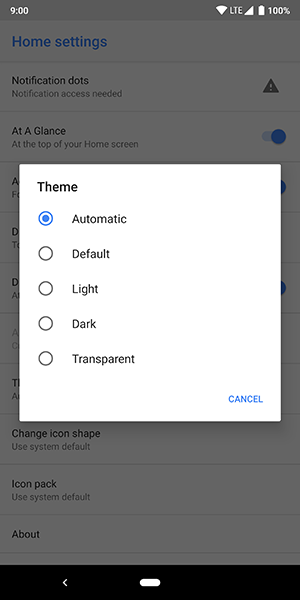 One of the only missing features for Rootless Launcher is the Google Feed to the left side of your home screen, and it's this functionality that got the app in trouble in the first place. Though Rootless Launcher originally had a link in the app to download Pixel Bridge, the necessary application to be able to run the Google Feed inside of the launcher, this outside link was deemed inappropriate by Google. When the app was reloaded to the Play Store, the link was no longer there. That said, you can still find the Pixel Bridge APK online, and you're encouraged to do so by Rootless Launcher. Installing the app allows you to add support for the feed.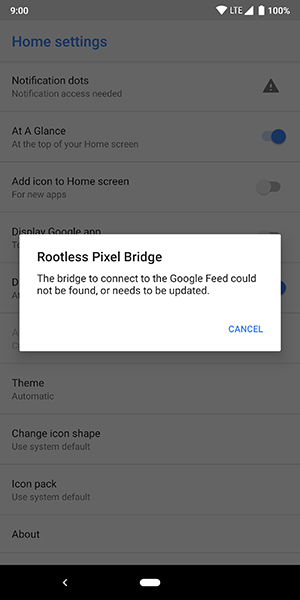 Overall, Rootless Launcher is ideal for anyone who wants a Pixel-like experience should absolutely choose to stick with Rootless Launcher as their pick. Though it's still in development in certain places (especially bug fixes), it's ideal for anyone looking for a stock-esque experience without having to pay, or without having to shell out for a Pixel 2 in the first place. We'll have to wait and see if Google makes any changes to the stock launcher with the Pixel 3, but if they do, you can bet that Rootless Launcher won't be far behind.