Where To Download Free and Legal Piano Sheet Music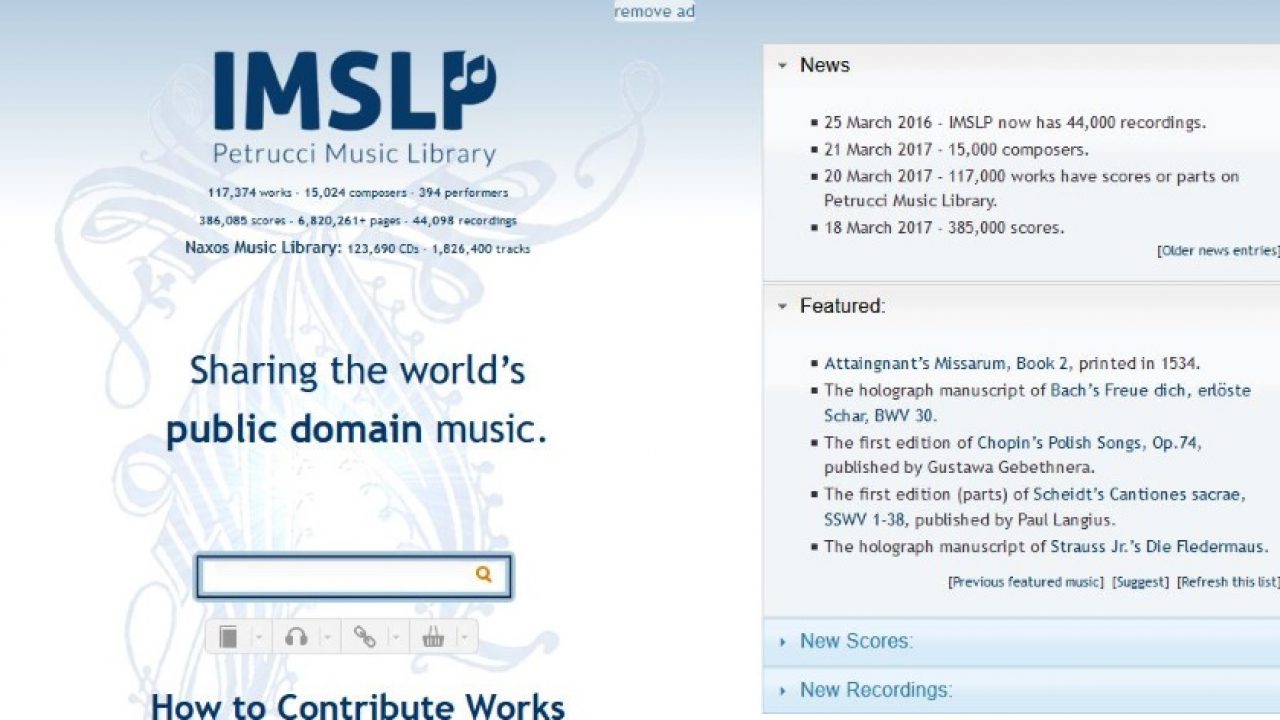 The first true piano was invented somewhere around the year 1700. Sheet music, surprisingly, has been around in the form of musical annotations since 2000 BC. In previous decades, pianists had to comb local music stores for sheet music to study. Sometimes, you could borrow or copy sheet music from another fellow student, or special order it from the publisher. The modern Liberace, Chopin, or Gershwin, however, needs only to look to the internet to find sheet music that can be downloaded and printed on demand. Whether you're just starting to tickle the ivories, or you're looking for a grand piece to play at your next concert, we'll help you find and download legal piano sheet music on a piano wire budget.
There are hundreds of websites out there offering free sheet music, but not all of them are created equal. Some are thinly disguised search engines that just want to sell you music related stuff, while others are just ad portals. For this article, we have scoured them all, looking at the range of music, quality and speed of the download and for anything nefarious that might be tucked into those downloads.
The websites listed below are simple to use, free or low cost, and will only download the sheet music in its entirety.

The International Music Score Library Project
One of the most popular places to download free and legal piano sheet music is The International Music Score Library Project. It is a project that collects sheet music and compositions that are public domain or creative commons. There are thousands of pieces there, including audio recordings to scores from all eras and composers. The simple search options allow you to search for scores by composer, genre, composer nationality, composer time period, or melody. Just click on the buttons below the search bar to refine your search. There's also an option that connect you to other sheet music resources. It is well worth supporting if music is one of your true passions!

Musescore
Musescore is a great place to find hard to locate sheet music. It seems to have a wide range of pieces that other sheet music websites don't. If you're looking for something obscure, old or niche, this is the place to come. It is a trading site, so to download piano sheet music, you need to share sheet music. There's also an entire community of like-minded musicians willing to share and discuss their current trials and tribulations. If you're a composer, you can also use their software to create and share your own unique compositions. It is an excellent resource for anyone serious about music.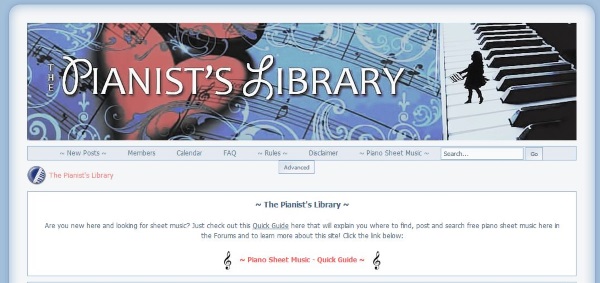 The Pianist's Library
The Pianist's Library contains a wide range of sheet music from quite the selection of composers. It is a direct download site, so find what you want and download it free and legal. Simple. It doesn't have the breadth of the Library Project or the hard to find pieces of MuseScore but it does have a very respectable range of sheet music. It also offers a large forum with musicians around the world, who might also have a rare piece they can share with you.

8notes
8notes is a good looking website that allows you to download free piano sheet music; in fact, they offer sheet music for nearly every instrument! It is a very deep site with a search function and categories to help make finding what you're looking for slightly easier. You can search by instrument or music genre, and even pick out some lessons and resources to help you along the way. Many of the pieces featured on 8notes have an audio clip that accompanies the sheet music so you can listen before you download. It's a neat feature that allows you to double check you have the right music.

Virtual Sheet Music
Virtual Sheet Music requires paid membership to access everything, but does feature free sheet music too. With its many features, this would be a great resource for music or piano teachers, who might need to access a whole variety of sheet music all at once. It features piano, guitar, vocal, violin, flute and more with a broad collection of sheet music covering most composers and music types. Navigate to the Free Stuff s. You will still have to log in to download the free sheet music but won't have to pay anything for it.
Musicnotes
Musicnotes is not free but the sheet music is very reasonably priced. For around $5, you get a digital print of classical and contemporary piano sheet music which you can download. The quality is excellent, downloads fast and each piece is available in a range of keys which is ideal if you're learning or developing your skills. Musicnotes also does everything in its power to make sure you're comfortable with the piece before you buy it, allowing you to play an audio sample, and even print a sample of the sheet music before you buy the whole piece.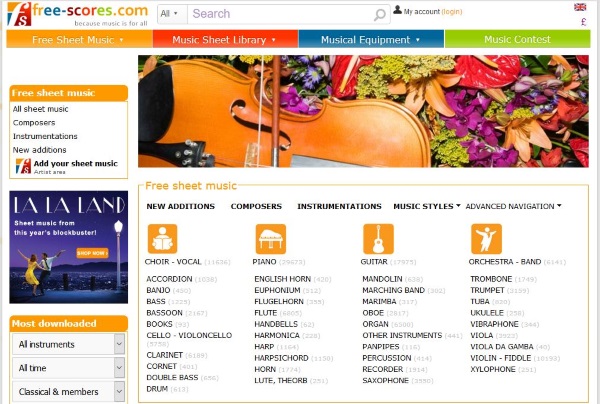 FreeScores
FreeScores is not totally free, but is mostly free. There is a mix of public domain and premium sheet music on this site that covers a wide range of genre, instruments, eras and composers. This site is especially useful for learning duets or quartets as it lists sheet music by instrument or combination of instruments. It is a simple but very effective feature than makes FreeScores well worth trying. The site itself is a bit busy, due to the sheer amount of offerings available, but it's definitely worth a look when you're trying to find inspiration.
Mutopia Project
The Mutopia Project is another open source music repository but this time, it features modern, popular, gospel, folk, jazz, baroque and all eras and genres of music. Over 2000 pieces of music for nearly any type of instrument you can imagine is featured here. You can search by Instrument, Composer, or Style, and check out the many collections compiled and shared by other musicians. It's all free and you can contribute, too, if you have something that isn't already there. Once you find a score that interests you, you're able to download it as a PDF file, LilyPond file, or MIDI.

Musicianeo
Musicianeo lets you download free and legal piano sheet music from a range of composers and musical types. It includes modern, classical, baroque and all manner of styles. There are over 244,000 individual pieces on the site, all of which can be accessed through a brief search. Most pieces also allow you to choose the type of score you're looking for, so if you're looking for piano with voice, or for cello and piano, a select bar on the right side of the screen will help you find the best version. There are also other resources and an active community too.
Sheet Download
Sheet Download does exactly what it says it does. It is a resource for downloading piano sheet music for free. It isn't as large or as deep as some of the sites featured in this guide but it does have some decent music. It's a mix of eras including fairly modern/pop music. If you're looking for something specific, this is definitely a site to try.
Isabella Stewart Gardner Museum
The Isabella Stewart Gardner Museum website has a range of piano sheet music to download. The sheet music part of the site isn't massive but it does have a nice selection of pieces from a range of composers. The site itself is absolutely gorgeous, and can help you find and listen to a wide variety of gorgeous performances and pieces that you might not be familiar with elsewhere. This is definitely a great resource for inspiration!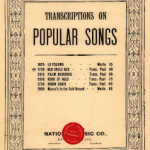 Duke University Libraries
Duke University Libraries has over 3,000 piece of sheet music that are free to download. They specialize in American music published between 1850 and 1920, which means there are thousands of potentially unexplored titles for you to discover. If you like finding and resurrecting obscure or forgotten pieces, this is definitely a website to try. From Irving Berlin to Fred Buckley, there is a little bit of everything from homegrown composers.
Making Music Fun
Making Music Fun is for younger musicians. It is a community that supports a wide range of musical activities from finding a piano teacher to developing skills. There is also a repository of free sheet music on the site that covers piano and other instruments. Each piece is graded according to difficulty and listed accordingly. This is an excellent idea for those learning music, as it helps coach you through those difficult moments in the learning curve. An excellent resource!
Musicnotes.com
Musicnotes.com has a selection of free sheet music to download. It is a subscription site that offers a selection of free downloads alongside its premium music. The range is wide and includes piano, strings, vocal, wind, brass and more within the site. The selection of free music isn't huge but it is respectable; additionally, if you're looking for plenty of music for future pieces, this might be a good subscription to have!
Classic Ragtime Piano
Classic Ragtime Piano is another self-descriptive website that gives more than a clue as to what you'll find here. If ragtime is your thing, this is the place to come. The selection isn't huge but it does contain a range of the more popular ragtime tunes from a golden era of our musical history.
Rag's Rag
Finally, Rag's Rag builds on what Classic Ragtime Piano does by featuring over 200 ragtime sheet music downloads. It also includes an audio clip of the piece so you know what you're downloading. The site is simple and the collection narrow, but if ragtime is what you love this is another site you won't want to miss.
Got any other websites that let you download free and legal piano sheet music? Share with the crowd!
How to Change Your Hulu Plan and Upgrade or Downgrade Easily
Read Next