Where To Find the Harry Potter Font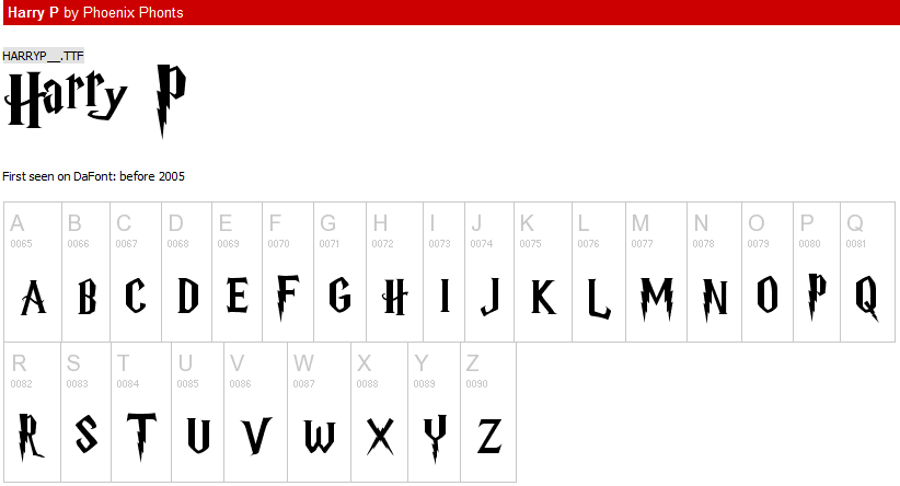 The Harry Potter series of books and movies have attracted a diehard collection of fans worldwide. More than 500 million Harry Potter books have been sold in eighty languages, and the series of hit films based on the movies has achieved enormous global success. With all those fans and all that interest in the franchise, it's no surprise to find that creative types everywhere have built huge businesses and hobbies based on Harry Potter-themed items. One of the more unique and fun manifestations of this phenomenon are the Harry Potter font collections that are available for computers and smartphones.
The Harry Potter series uses a variety of different fonts, both in the books and in the movies. Avid fans will happy to learn that many of these fonts are freely or easily available. In this article, I will list some of the best Harry Potter fonts and tell you where to find them.
The Cochin font
The first and arguably most famous Harry Potter font is the font used on the covers of the books. This font is actually relatively old; it is called Cochin and was invented in 1912 as a print font, based on a much older copperplate font invented in 17th century France by Nicolas Cochin. Cochin is a built-in font on the MacOS; for other platforms you can download it free for personal use from FontsMarket.com.
Harry P font
The Harry P font bears a resemblance to the artistic versions seen in the movies. It's a font with a Gothic look, with the lighting-style jagged edges typical of Harry Potter. I'm no expert, but each letter and number looks just like those from the world of Harry Potter.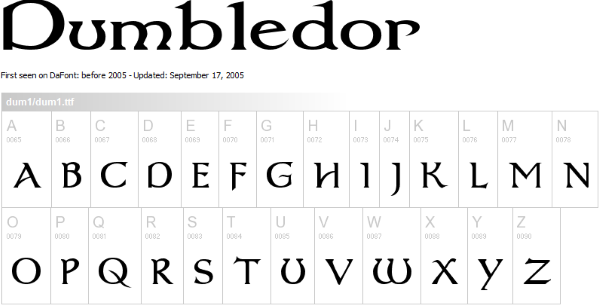 Dumbledor
The Dumbledor font family contains a range of Harry Potter-like fonts for the PC. Some are very much like some of the fonts used within the products, books and movies while some are not. It doesn't take long to identify which are worth using and which are not.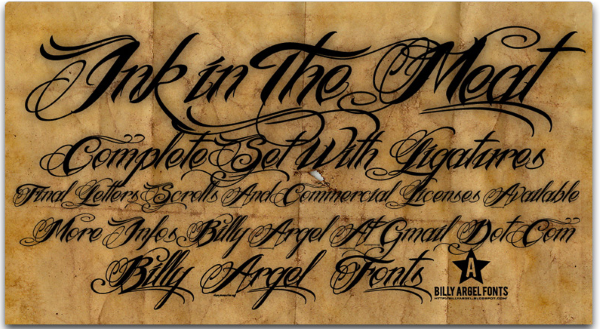 Ink In The Meat
The Ink In The Meat font is very accomplished. While not mimicking any of Harry Potter headline fonts, it does look remarkably like some of the documents using within the movies and some products within the world. Even without the Harry Potter link, these are excellent fonts for anyone who likes old world style writing.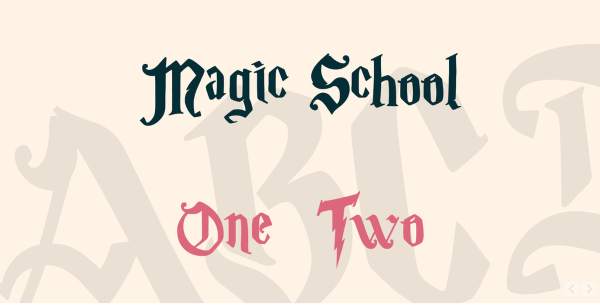 Magic School
Magic School is another Harry Potter-like font. It isn't an authentic one used in the movies or books but it has the same look and feel of those that were. It has the advantage of looking a bit cartoony too which will appeal to some. The font is very well designed and looks the part both in letters and numbers.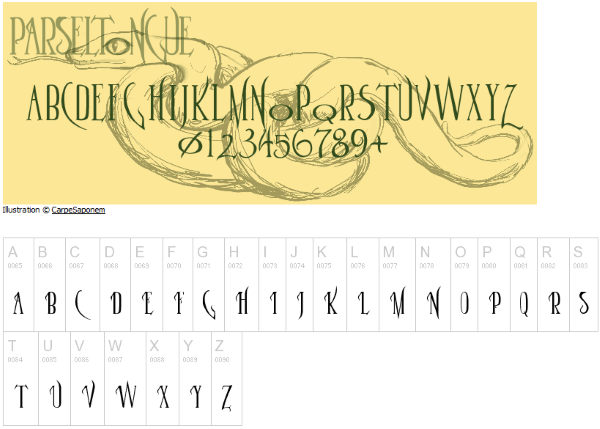 Parseltongue
Parseltongue is obviously inspired by the movies yet also manages to look different from it. It is quite a balance to strike. It is easy to imagine the font being used in books in potions class or in one of the many bookshops down Diagon Alley. The font is whimsical but clear and easy to understand, making it an ideal candidate for any fan.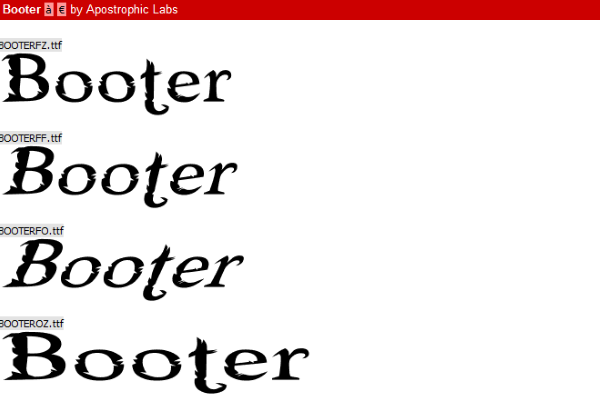 Booter
Booter is also quite Potter-like in some of its iterations. There are quite a few variations with Booter that vary the angle, size and thickness of the fonts. Like Ink In The Meat, this manages to be both like Harry Potter but also a bit piratical too. It is a multi-use font that is well worth checking out.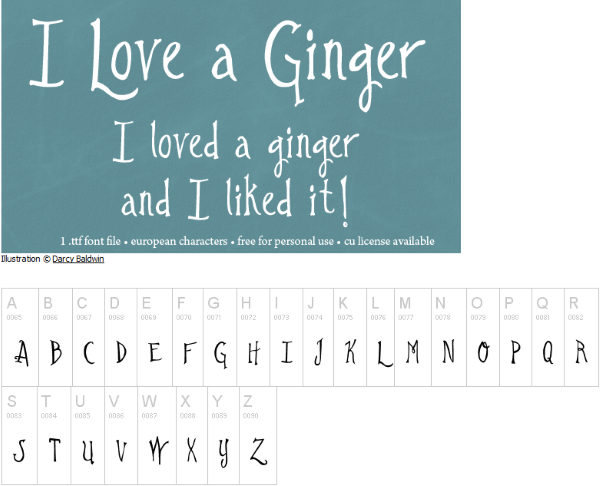 I Love a Ginger
I Love a Ginger is obviously inspired by the Weasleys and again, is a competent font with or without the Harry Potter link. The letters are interesting and clear while also having little flourishes that add interest. This is one of my personal favorites out of all of these.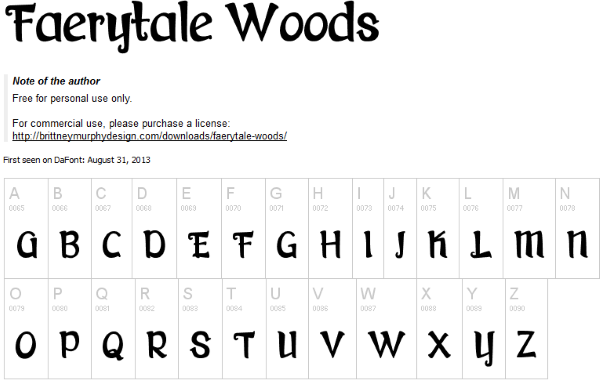 Faerytale Woods
Faerytale Woods is a very clear Harry Potter-style font that works very well. It has that fantastical theme which you could imagine within the world while also a wider appeal that could work in many other situations. The font has a little cartoon-like appearance too which makes it lighthearted and a bit playful. I like it.
How to install your Harry Potter fonts
You can use custom fonts on both Windows and Mac OS. The process of installation is quite painless.
In Windows 10:
Type 'fonts' into the Cortana/Windows Search bar and hit Enter.
Download your font of choice from one of the sources above.
Right click the .ttf file and select Install. It should now appear in the Fonts window.
Change the font option in your programs and navigate to the font you downloaded.
In Mac OS:
Download your font of choice from one of the sources above.
Double click the .ttf or .otf file from the download and select Install Font.
Open Finder and Applications.
Select Font Book to make sure the font appears.
Change the font option in your programs and navigate to the font you downloaded.
I have only hit on some of the better-designed fonts in this article; there are literally hundreds of other Harry Potter fonts for you to download. Some are much better than others and while none of these are 'official' fonts of the franchise, they could be if they wanted to. None of them would look out of place in one of the movies or on your computer, which was the acid test for any that appeared on this list.
Got any other Harry Potter fonts to suggest? You know what to do! Share it with us below.
How To Find your Printer IP Address
Read Next