The Best Lego Star Wars Sets [November 2019]
The holidays are right around the corner, which means you'll need to start thinking about gifts for your family and closest friends. Some years, that might seem tough—certain people are absolutely impossible to buy for—but for the right person, 2019 is not one of those years. As with 2015 and 2017 before it, 2019 brings forth a brand new chapter in the Star Wars saga, the definitive chapter in the story of the Skywalkers. Star Wars: The Rise of Skywalker is one of the most anticipated movies of this winter (eat your heart out, Cats), so if you're ready to combine Christmas, Star Wars, and Lego into the ultimate Christmas gift, you've come to the right guide.
Lego offers building sets based on dozens of beloved, cherished properties, but none of them are as popular as their Star Wars sets. With the arrival of a new movie comes brand-new sets and redesigned ships. Whether you're shopping for loved ones this holiday season, or you're looking to buy yourself something for under the tree, these are the best Lego Star Wars sets you can find this holiday season.
7

LEGO Star Wars: The Rise of Skywalker - Kylo Ren's Shuttle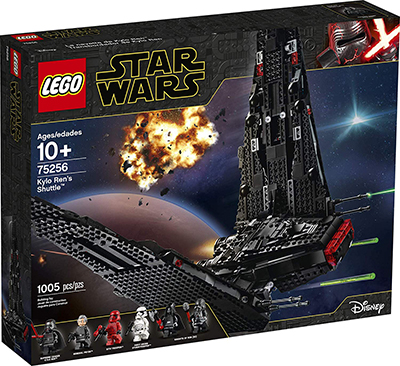 It seems only right to kick this list off with one of the newest sets on the market, and of the Rise of Skywalker kits, Kylo Ren's shuttle is without a doubt the most impressive. We have yet to see the set piece that fuels the design of this kit, but the all-black finish and grand wingspan promises it'll be nothing if not cool. Coming in at just over 1,000 pieces, this is the perfect middle tier set for anyone who wants a challenging, time-consuming build without breaking the bank. It includes six figurines: two members of the Knights of Ren, General Pryde, a Sith trooper, a First Order trooper, and Kylo himself, and with room in the cockpit for up to three characters, anyone can have a blast mixing and matching the included figurines. This set isn't the cheapest on our list, but at $130, it's far from out of budget for inspired Lego collectors.
6

LEGO Star Wars: The Last Jedi - Porg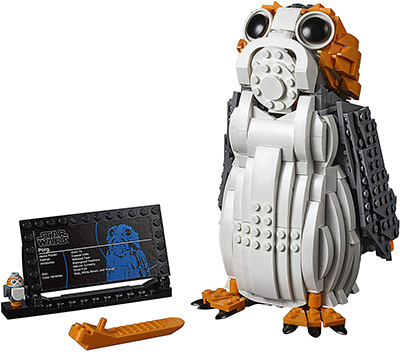 We know that The Last Jedi gets a lot of hate online, even as we near two years since its release. Outrage aside, there's one thing we hope everyone can agree on: porgs rule. The cute, cuddly penguin-like birds that call Luke's island home were one of our favorite additions to the saga, and with their Lego release, you can finally build your own porg right at home. There's a lot to love about this guy: at 811 pieces, he's complex enough to challenge novice and intermediate builders while keeping the price down to just $54. He also comes with moving pieces, as both his wings and his mouth are able to flap and move, respectively. This porg set also includes a stand, which makes him the perfect display piece for your Star Wars-focused room. While this hard, plastic porg might not be fluffy and cuddly, we'd be hard-pressed to find someone who can resist just how cute their big, wide eyes are.
5

LEGO Star Wars: Attack of the Clones - Yoda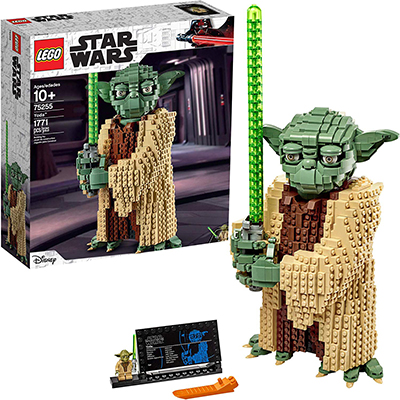 If you're looking for a Star Wars favorite that has a bit more complexity than your average Lego Port, Yoda from Star Wars Episode II: Attack of the Clones is without a doubt the best option you can find. Yoda's our biggest build on this list so far, coming in at a whopping 1,771 pieces total while costing buyers just $99. Yoda features a posable head and eyebrows, adjustable fingers and toes, and of course, the signature lightsaber that looks fantastic in fluorescent green bricks. Attack of the Clones Yoda isn't our favorite Yoda—he becomes such a trickster by The Empire Strikes Back—but it's still cool to see him in full Jedi Master action.
4

LEGO Star Wars: The Last Jedi - First Order Heavy Assault Walker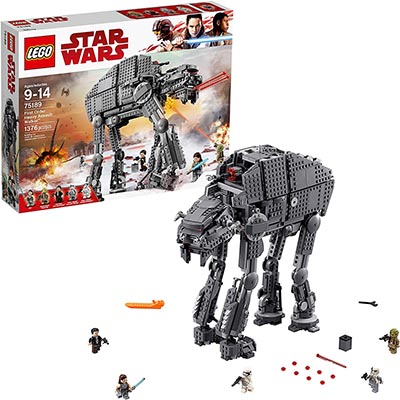 Moving away from characters, we're back to full sets with the Heavy Assault Walker from Star Wars: The Last Jedi. Set during the thrilling finale where the last members of the Resistance flee to Crait, these Heavy Assault Walkers feature posable legs and heads, along with an opening minifigure cockpit and spring-loaded shooters. Along the top of the Walker is a rapid-fire stud shooter, while detachable canisters on the front and back of the ship allow you to store ammo when not in use. The Walker isn't the only thing you'll find in the box: this kit includes five minifigures, including Poe Dameron, Rey, and a Resistance Trooper, while piloting the ship is a First Order Walker Driver and a First Order Stormtrooper. At 1,376 pieces, this is a great mid-sized set for the tweens and teens in your life. Just be prepared to drop $149 on this set when all's said and done.
3

LEGO Star Wars: The Rise of Skywalker - Millennium Falcon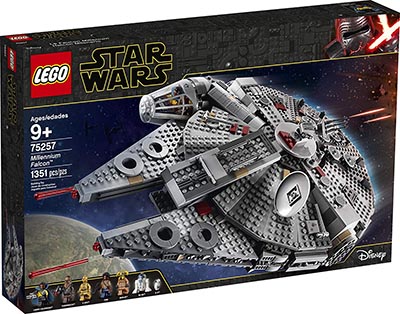 Nothing in the Star Wars universe has been made and remade over and over again into a Lego set as much as the Millennium Falcon—in fact, it's not even the only Millennium Falcon on our list. Han's instantly-recognizable ship has continued to be present throughout the sequel trilogy even with Han no longer around, so if you're ready to imagine what adventures our crew will get up to come The Rise of Skywalker, you'll need the newly-redesigned ship from the new film. With 1,351 pieces, this Millennium Falcon is complex enough to not be completed in a single hour, while also being much more user friendly than the Falcon we have coming up on our list. It includes a whopping seven figurines, including Finn, Chewbacca, Lando Calrissian, C-3PO, and Boolio, along with BB-8 and the new D-O droid. Plus, with rotating gun turrets, two spring-loaded shooters, and an opening cockpit, the adventures don't have to end once you've finished your build.
2

LEGO Star Wars Death Star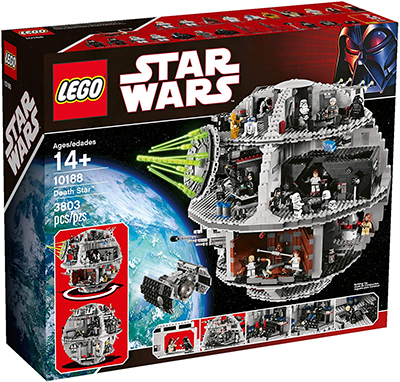 The Millennium Falcon might be the most recreated Lego Star Wars set, but the Death Star isn't far behind. At $500, it's our most expensive set thus far, but for the money, you're getting a complex, large set that measures in at 16″x16″ and has just over 4,000 pieces. This isn't just building the outer shell of the Death Star, either. Instead, you're working on both the outer perimeter and the interior, complete with plenty of Lego figurines and small details familiar to the Star Wars super-fans inside of all of us. With over 23 mini-figures, a control-room for the laser, hangar bay with a movable launch rack, and even a detachable TIE Fighter for Lord Vader, the Death Star set is one of our favorite Star Wars sets ever constructed. It's no secret when it comes to Lego kits, it's the little details that count, and the Death Star is full of hidden easter eggs that'll leave even the most dedicated fans of George Lucas' space opera series giddy with glee. It might sound expensive, but for the Star Wars fan in your life, this is a must-have gift.
1

LEGO Star Wars Ultimate Millennium Falcon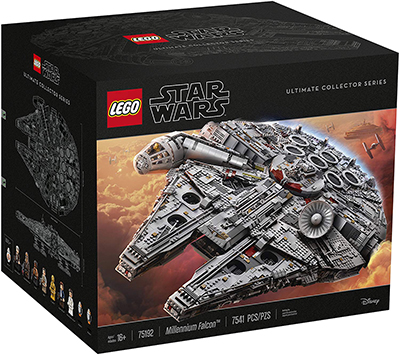 If money's absolutely no object, the Lego Star Wars Ultimate Millennium Falcon is the set you're looking for. This isn't so much a toy as a puzzle and collector's item—that much becomes clear the moment you see the matte black box that looks unlike any other Lego Star Wars we can remember. Lego sells this as the perfect set for adult Star Wars fans and expert builders, and they aren't kidding. With 7,541 pieces, it's by far the largest set on this list. Once fully built, the Millennium Falcon comes in at a whopping 8 inches high, 33 inches long, and 22 inches wide that makes the ship perfect for displaying around your house.
The build includes two separate crews of minifigures to switch in and out of the cockpit, including Han Solo, Chewbacca, Princess Leia, and C-3PO, plus Older Han Solo, Rey, and Finn. The attention to detail on this set is absolutely breathtaking, with a seating area, a Dejarik holographic game, the classic combat training helmet, and an engineering station. In the back of the ship is an engine room, along with the hyperdrive and two escape pod hatches. The boarding ramp can lower, the hull panels are removable, the blaster cannon can be concealed, and the classic sensor dishes can be removed or changed between round and rectangular. This is 100 percent a collector's dream, and while it's price is far from cheap, you'd be hard-pressed to find a better Lego set this holiday season.
That wraps up our guide to the best Lego Star Wars sets for this holiday season, but if you're still in the mood for some Lego fun, make sure to check out our guide to the best Lego sets you can buy for any adult—not just Star Wars fans.
Disclaimer: Some pages on this site may include an affiliate link. This does not effect our editorial in any way.