The Best Android GBA Emulators – May 2019
The Game Boy Advance and Game Boy Color may look old school now but they changed the world of gaming when they were released. They were the right devices at the right time in the right place and found their way into many a gamer's heart. If you want to relive the glory days of Nintendo gaming, this page is going to list the best Android GBA emulators for 2019.
Emulators have come a long way since those early versions that would only work half the time, would crash all the time and would let you get almost to the end of a level before dumping you back to the desktop or home screen. Modern emulators are incredibly stable with tight code and excellent compatibility.
As usual, Android is very well served with GBA emulators and I have selected some of the best right here.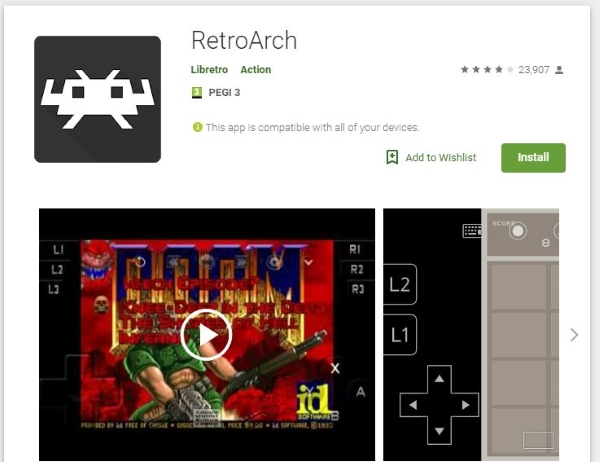 RetroArch
RetroArch is one of the most established emulator applications around. It isn't merely an emulator, it's like a gateway app to emulators, called 'cores' that enables you to play hundreds of games on your phone or tablet, including GBA games. It takes a little setting up and a few downloads but once you get it working you will have more games than you could play in a lifetime available for your Android device.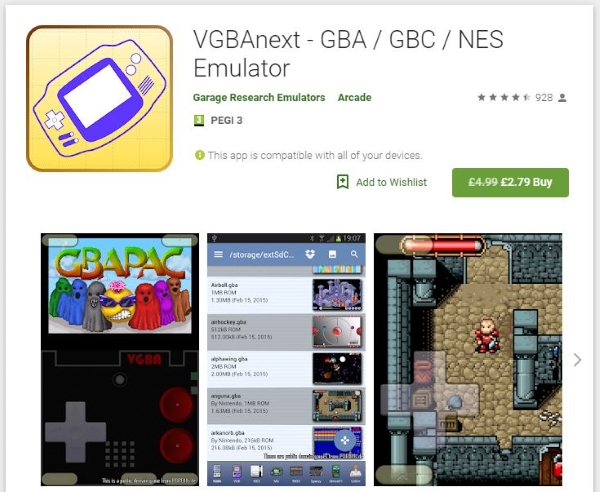 VGBAnext
VGBAnext is a dedicated GBA emulator and a very good one. It is very stable and includes compatibility for GBA, Game Boy Color and NES. The design is simple and uncluttered and makes getting to your game simple. It is very stable and works with a bunch of controllers which not every emulator does.
With a cool rewind feature and the ability to play multiplayer over a network this is a top Android GBA emulator. It costs $2.99 right now.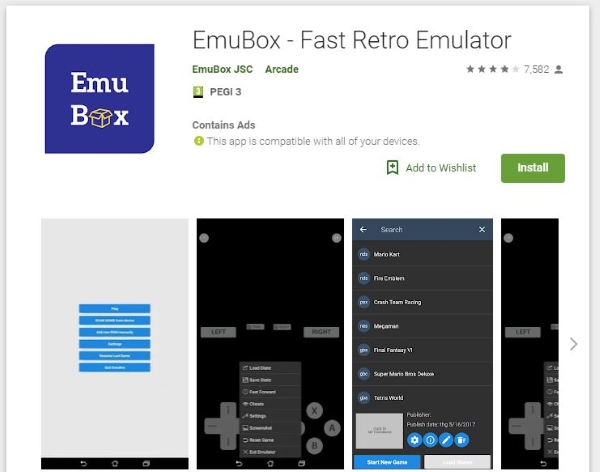 EmuBox
EmuBox is a top emulator that offers a little more than usual. It can play Nintendo DS, PlayStation, SNES, Game Boy Color and Game Boy Advance games, not just GBA. It's stable, has controller support, cheats, saves and all that good stuff. The design is simple, easy to use and offers fast access to games and settings. The entire program seems very well thought out. It's free although ad supported.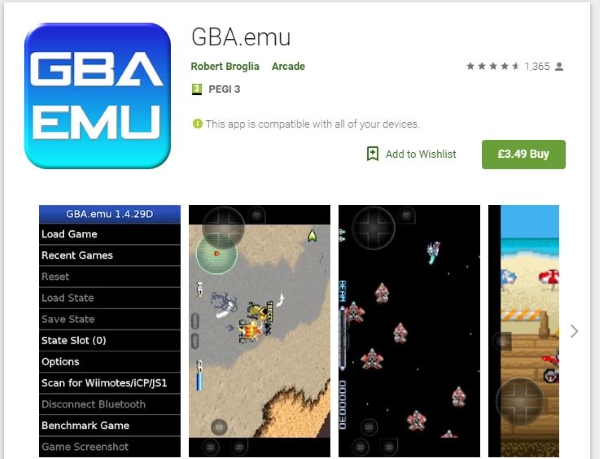 GBA.emu
GBA.emu offers a free and a premium version. They have the same features but one has ads and the other doesn't. The emulator is solid, compatible and works very well. I had no compatibility issues, crashes or anything and considering this is open source, it is well designed too. The emulator is stable, well designed and everything you want from a GBA emulator.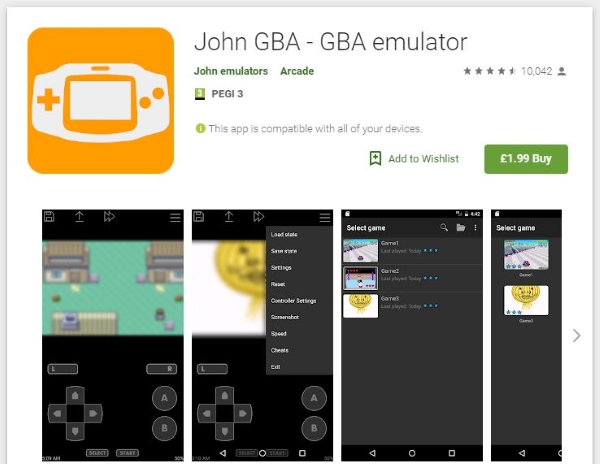 John GBA
John GBA doesn't have the design flair or neat UI that some of these other emulators do but in terms of compatibility and stability, it's hard to beat. It is one of the oldest emulators here and has been steadily improved over its time. It plays a bunch of GBA games and works with Dropbox for loads and saves. It can work offline and has the usual cheats and controller options. It's a paid app at $2.99 but there is also a John GBA Lite version if you want to try it first.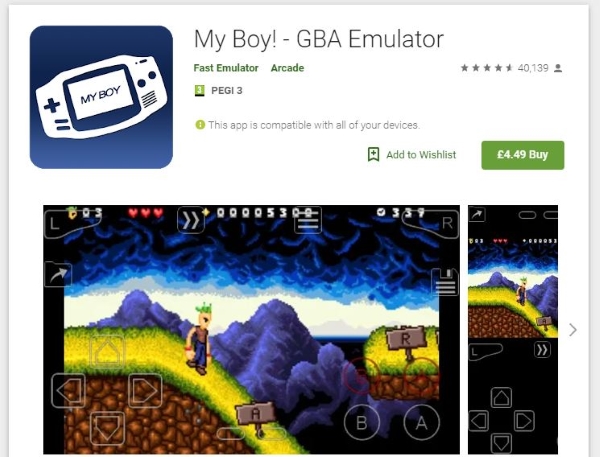 My Boy!
My Boy! is a very accomplished GBA emulator for Android. It looks good, offers lots of options, enables multiplayer over WiFi or Bluetooth and works with the usual breadth of GBA games. It is stable too, with very few crashes over multiple hours of play. The interface is tidy and makes using it easy and with access to cheat codes and lots of options, it is everything you need. It does keep asking for access to your phone data though which is troubling. No problem if you just ignore it. My Boy! is currently $4.99.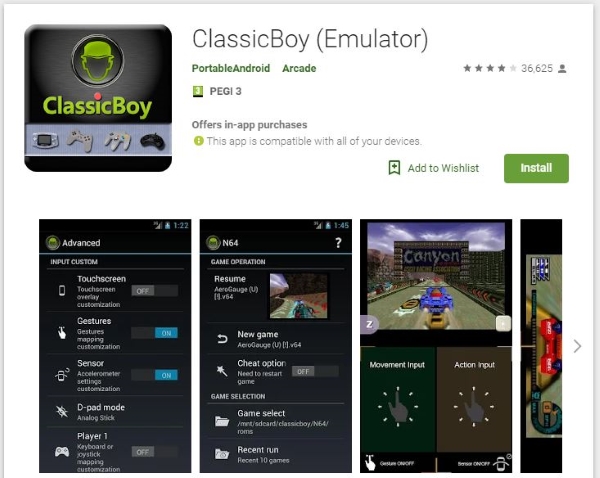 ClassicBoy
ClassicBoy is a GBA emulator and then some. It plays PlayStation, Sega Genesis, NES, Game Boy Color, Game Boy and Game Boy Advance games in one package. It works with a wide range of games and devices, allows rewind and fast forward, has cheats, controller compatibility, gesture compatibility and a ton of other features. The design is clean and easy to use and well worth checking out at only $3.99.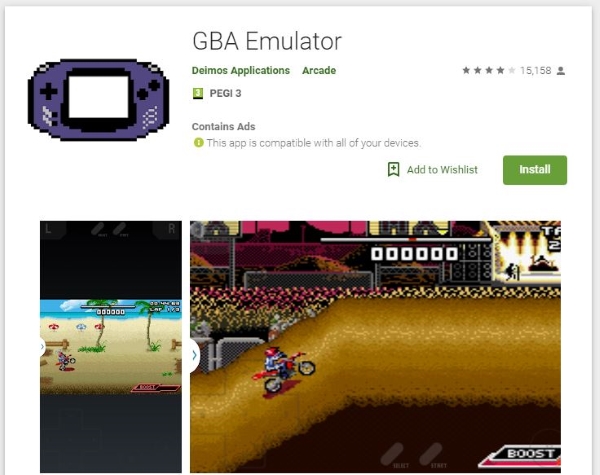 GBA Emulator
GBA Emulator may be last on this Android GBA emulator list but it isn't least, not by a long shot. This emulator works well, has great compatibility and stability and a neat trick up its sleeve. As well as working with your own game files, GBA Emulator also offers to download games from within the app. As long as you double check the source, it provides the simplest way to play any game you have a mind to. The app is free and ad supported.
Those are what I think are the best Android GBA emulators around right now. Got any suggestions for others? Tell us about them below if you do!
The Best Places to Buy Tik Tok Followers
Read Next