25 Best Comedies Streaming on Netflix – March 2019
Of all genres of film, there's no type of film more difficult to recommend than comedies. While a well-produced drama can keep most viewers glued to their seats, and a quality horror film can produce frights and scares without resorting to jump scares, what constitutes a "good" comedy is far more subjective. Everyone finds different things to love about a comedy, be it the outrageousness of what's happening in a situation, the romance between the two leads, or the witty wordplay exchanged between characters. Comedy can be broad, based on physical stunts or laughing at the poor decisions of the characters in a film, or it can be subtle, focused on hidden details in the backgrounds or double entendres in the script. And while a horror film can be universally looked at as "poor" or "not scary," even the worst-received comedies have their defenders, with a solid amount of fans defending the work for being truly hilarious.
Still, we can't simply ignore the need for comedy recommendations, especially when you're looking for something easy to laugh at on a night in with Netflix. The world's most popular streaming service offers hundreds of comedies for you to choose from, from broad and slapstick comedy to subtle and dialogue-based humor. We've gathered a small selection of the best that Netflix has to offer, with everything from raunchy, provocative humor, to gallows-based dark comedies, to family-friendly films that can make anyone ages 5 to 105 smile. Make sure to take a look at the description of each film, where we've done our best to designate each film with a certain style of humor to better allow for our readers to find a film that will fit their sensibilities. Let's dive into the 25 best comedies streaming right now on Netflix!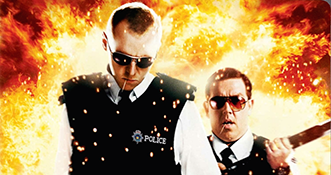 Director Edgar Wright's (Scott Pilgrim vs. the World, Baby Driver) second theatrical film and the middle entry in his Three Flavours Cornetto Trilogy stars Simon Pegg and Nick Frost, returning from Shaun of the Dead and the television series Spaced. In Hot Fuzz, Pegg plays Nicholas Angel, a London officer who is transferred to the small town of Sanford when his fellow officers realize his excellent police work will put them out of a job. While there, Angel begins to suspect a violent conspiracy is erupting from within the town, and together with police constable Danny Butterman (Frost), he attempts to crack the case behind a series of deadly "accidents" to bring the culprit to justice. Part parody and part homage, Hot Fuzz is a hilarious sendup to American action films with a British sensibility, even going as far to directly parody Bad Boys 2 and Point Break. It's a must-see.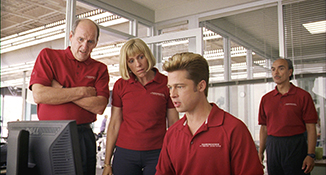 A classic example of modern black comedy, Burn After Reading is a crime-comedy film brought to you by Joel and Ethan Coen (Fargo, No Country for Old Men). In this absurdist, deadpan film, a massive conspiracy begins following the loss of a disc containing the memoirs of a former CIA analyst (John Malkovich). Found by two gym employees, Linda Litzke (Frances McDormand, Three Billboards Outside Ebbing, Missouri and Fargo) and Chad Feldheimer (Brad Pitt, playing a dumb beefcake of a jock), the disc is mistaken for containing secrets from the United State government. Thrilled that the two can use the disc as a way to gain a monetary reward, they attempt to return the disc to the CIA analyst and, upon his furious rejection to their offerings, attempt to sell the disc to the Russian Embassy. That barely scratches the surface of this caper comedy, which also stars George Clooney, J.K. Simmons, Tilda Swinton, and Richard Jenkins.
23. Sleeping with Other People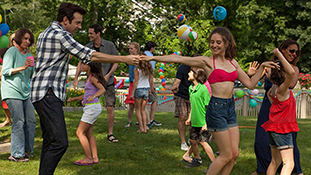 The best-friend-or-romantic-partner conundrum has been a mainstay of Hollywood romantic films since When Harry Met Sally charmed audiences upon its release in 1989. Since then, the romantic comedy has gone through its ups (Sleepless in Seattle, Pretty Women, Clueless) and its downs (New Year's Eve, Ghosts of Girlfriends Past, The Ugly Truth). Thankfully, we've seen the genre make something of a comeback in recent years, with films like Obvious Child bringing back the classic hilarity and romance of those 1980s and 1990s classics. Sleeping with Other People is a bit raunchier than When Harry Met Sally, but it follows the same formula: guy and girl agree to be friends instead of lovers, and romantic hijinks ensue. With an all-star cast including SNL's Jason Sudeikis, Community and GLOW's Alison Brie, Adam Scott, Jason Mantzoukas, and Adam Brody, there's plenty of fun to be had with this dark romantic-comedy.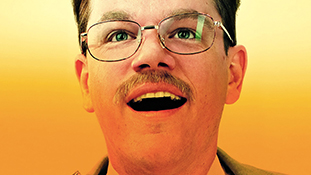 Directed by Steven Soderbergh (Ocean's 11; Sex, Lies, and Videotape), The Informant! tells the true story of Marc Whitacre (Matt Damon), the rising star of Archer Daniels Midland in the mid-1990s. When Whitacre discovers that his company has been participating in a price-fixing scheme, Whitacre decides to blow the whistle on the company, becoming an informant for the FBI despite his less-than-qualified nature. Thanks to his own internal struggle with bipolar disorder, Whitacre begins acting erratically, possibly risking the entire operating and consistently risking the case of the agents he's been working for. As he continues to struggle in acting for both himself and on behalf of the FBI, Whitacre's case spirals out of control in truly insane ways.
21. The Meyerowitz Stories (New and Selected)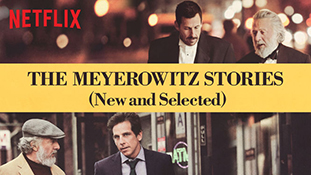 From director Noah Baumbach, The Meyerowitz Stories (New and Selected) tells the story of three children: Danny, Matthew, and Jean Meyerowitz, played here by Adam Sandler, Ben Stiller, and Elizabeth Marvel, respectively. Danny and Jean are siblings, with Matthew as their half-brother, all tied together by their rocky relationship with their father Harold (Dustin Hoffman). Though the three children are relatively estranged from each other, their father's upcoming career retrospective brings all three to New York City to reunite, bicker, and deal with their life's problems. Despite the prominence of Sandler and Stiller, don't expect this to be a broad comedy. Like Baumbach's other tales, this is drama first, comedy second, though critics have praised Sandler's dramatic turn here as his best since Punch Drunk Love.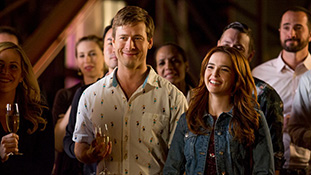 Set It Up is one of Netflix's many new releases in the romantic-comedy genre, something it seems desperate to bring back to life regardless on whether the studio system will allow it. Like many old-school rom-coms, Set It Up has a pretty basic plot: two assistants to rich, self-important bosses (one the editor of an online sports empire a la Deadspin or SB Nation, the other an investment and venture capitalist) decide that, in order to get their bosses to calm down for a bit, will use their loneliness to set up dates for each other. With a cast including Zoey Deutch, Glen Powell, Lucy Liu, Taye Diggs, and Joan Smalls, Set It Up is perfect for a Friday night in or for a lazy Sunday morning.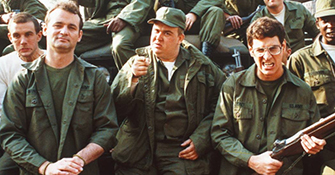 Ivan Reitman and Bill Murray's second time working together on a film came together in Stripes, the 1981 comedy about joining the army. In Stripes, we get our first taste of the pairing that would be Reitman, Murray, and Harold Ramis, a pairing that would come together in 1984 to produce Ghostbusters, with Reitman behind the camera, Ramis writing the script, and both Ramis and Murray on screen. Stripes began life as a Cheech and Chong film about joining the army, but when the duo demanded full creative control, Stripes translated into a comedy about signing up and shipping out. When John Winger (Murray) loses his job, car, girlfriend, and apartment all in one day, he decides to throw it all away and join the army. Accompanied by Russell Ziskey (Ramis), the two head to a recruiting office and soon find themselves at basic training. The film features Warren Oates, John Candy, John Larroquette, Sean Young, and Judge Reinhold in supporting roles.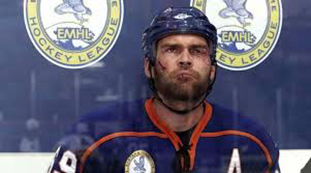 Another sports comedy in the spirit of Cool Runnings, Goon tells the story of Doug Glatt, a bouncer-turned-minor league hockey player who takes up the position of enforcer on the Halifax Highlanders after finding success on his local team. Seann William Scott (American Pie) portrays Glatt as a kind-hearted, dimwitted man who tries to do the right thing when he can, and finds hockey as giving him a shot to be successful in a world that he feels he doesn't belong in. After joining the Highlanders, Glatt—now nicknamed Doug the Thug—starts to find meaning in his life, becoming successful as an enforcer (the muscle of the team) and meeting Eva (Alison Pill), whom he falls for immediately. Things get complicated when Doug meets his hero, Ross "The Boss" Rhea, a major-league player demoted to playing in the minors following a slashing incident, only to have to face him on the ice.
17. Scott Pilgrim vs. the World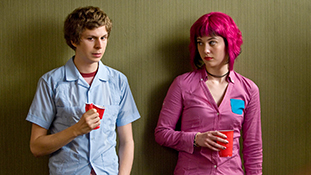 One of the most underrated films of this decade, Edgar Wright's (Hot Fuzz, Baby Driver) Scott Pilgrim vs. The World is a visual triumph, a funny and charming story that wears its heart on its sleeve. The film follows bass guitarist and 22-year-old Scott Pilgrim (Michael Cera, in a pitch-perfect casting), who is floundering in his adulthood without a job after being crushed by his ex-girlfriend. Now dating a high schooler, he seems content in just letting his life pass him by, when he runs into Ramona Flowers (Mary Elizabeth Winstead), a girl new to Toronto who seems to be, quite literally, the girl of Scott's dreams. A visual triumph, pulling direct inspiration from video games, anime, and the graphic novel this series is based on, Scott Pilgrim vs. The World is a perfect action-comedy.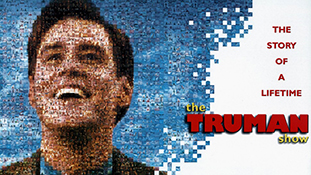 If there was ever a movie that hits harder today than it did when it was first released, The Truman Show might be that film. Directed by Peter Weir (Witness, Master and Commander) and starring Jim Carrey, The Truman Show is at once a comedy, a science-fiction drama, and a social satire, following the life of Truman Burbank, a man taken as a baby by a corporation to star in the first always-on reality show about a single man. Truman lives his life inside a dome located in Hollywood known to Truman as "Seahaven," where everything from his wife to his parents and even his friends are simply actors reading from a script or reciting lines fed to them through an earpiece. In the era of reality television and always-active online social media presences, The Truman Show constitutes a must-watch piece of media.
The 30 Best Thrillers Streaming on Netflix – Spring 2019
15. To All the Boys I've Loved Before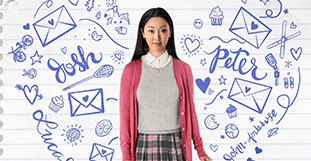 Based on the book of the same name, To All the Boys I've Loved Before follows Lara-Jean, a half-Asian, half-Caucasian 16-year-old high school student who begins her first year of high school without her older, now-graduated sister, Margot. Lara-Jean has never had a boyfriend, but has had multiple crushes, including on her sister's now-ex-boyfriend Josh and the popular boy at school, Peter. She keeps a series of five letters to her former crushes in her room, a method that allows her to clear out her love of these boys without having to worry about keeping her feelings bottled up. When her younger sister mails the letters, she's forced to reconcile with her feelings now being out in the open.
14. A Futile and Stupid Gesture
Directed by David Wain (Wet Hot American Summer) and starring an ensemble cast of comedians and actors like Will Forte, Joel McHale, Domnhall Gleeson, Seth Green, Annette O'Toole, Max Greenfield, and Ed Helms, A Futile and Stupid Gesture tells the story of Doug Keeney, the founder of National Lampoon magazine in the 1970s. The film follows the life of Keeney as a comedy writer, following his childhood through his time at Harvard and the founding of National Lampoon. Though Doug Keeney is obviously brilliant to the people around him, his behavior and troubled mind often lands in in hot water, and his drug problems follow him throughout his life, up to and including at the press conference surrounding Caddyshack, a film he co-wrote, that had received negative reviews. A Futile and Stupid Gesture is a Netflix Original, so you can be sure this film will always be ready to stream on Netflix at your heart's content.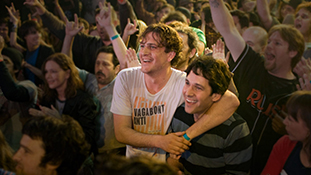 I Love You, Man is a romantic comedy that follows Peter Klaven (Paul Rudd), a real estate agent located in Los Angeles who proposes to his girlfriend Zooey (Rashida Jones), only to find he doesn't have a large group of friends to share the news with. Realizing he lacks any kind of close male friends—something he overhears his fiancee's friends complaining about. Realizing he has to find someone to be the best man at his wedding, he begins to hunt for someone to fill the position of best friend. After some failed encounters, including some advice from his brother Robbie (Andy Samberg), he meets investor Sydney Fife (Jason Segel), and the two bond over their love of the prog-rock band Rush. I Love You, Man explores the relationship between two close friends while also showing how friendships can have a strain on relationships if not reigned in.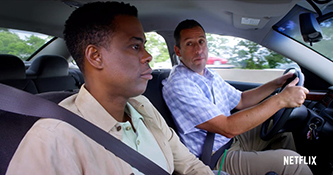 The newest installment in Adam Sandler's ongoing Netflix deal also happens to be the best one released on the streaming service yet not directed by Noah Baumbach. The Week Of is by no means high art, but it's a surprisingly realistic take on a father's hopes of paying for his daughter's wedding while simultaneously having to budget the entire thing out of pocket. The film follows fathers of the bride and groom Kenny (Sandler) and Kirby (Chris Rock), as they attempt to put aside their differences in views in order to present their children the perfect wedding. Directed by longtime Sandler contributor Robert Smigel (the writer of You Don't Mess With The Zohan and the voice of Triumph the Insult Comic Dog), the film manages to score more laughs than the majority of Sandler's recent projects, thanks to effort on Sandler's part and the supporting cast featuring Rachel Dratch, Steve Buscemi, Allison Strong, Noah Robbins, and more.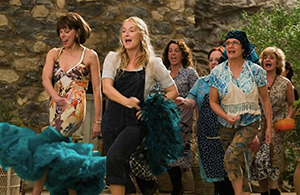 Based on the Broadway show of the same name, Mamma Mia! is a jukebox musical comedy based on the songs by Swedish pop group ABBA, with the title originating from the group's 1975 chart-topping hit. Mamma Mia! largely follows the plot of the stage musical, taking place on a Greek island and following the 20-year-old bride-to-be Sophie Sheridan (Amanda Seyfried). She reveals to her bridesmaids that she's invited three men to her wedding without telling her mother, Donna (Meryl Streep), in order to try to figure out which of the three is her biological father. The three men—played by Colin Firth, Pierce Brosnan, and Stellan Skarsgard—each arrive at the wedding, only to stir up unfamiliar emotions in both themselves, Donna, and Sophie. The film is treat for fans of all musicals or romantic comedies, and you can catch the sequel, Mamma Mia! Here We Go Again on home video and digital this fall.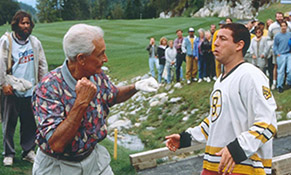 There's plenty to critique about Adam Sandler's career, but most people seem to agree his early films are pretty solid efforts. Though never a critical darling, Happy Gilmore is one of his fans' favorite films of his, thanks to the absurd and outlandish hijinks that occur throughout the film. Sandler stars as Happy Gilmore, an aspiring hockey player who is really only good at one thing: slapshots. After a failed hockey tryout, he learns his grandmother owes back taxes of nearly $300,000, he begins hustling golfers at a local course, thanks to his powerful swing. When Gilmore meets Chubbs Peterson (Carl Weathers), a club pro, he offers to tutor Gilmore to earn him a spot on the PGA Pro Tour. Fueled by the desire to win back his grandmother's foreclosed house, he accepts, but will face massive trouble when pro-golfer Shooter McGavin (Christopher McDonald) makes it his goal to get Gilmore kicked off the tour. The film also stars Julie Bowen, Francis Bay, and memorable cameos from Ben Stiller and Bob Barker.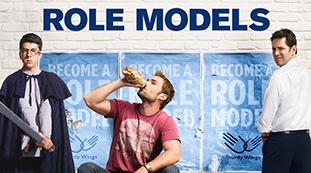 Written and directed by David Wain (Wet Hot American Summer), Role Models is the director's first big commercial hit, with critical praise along the way. The film follows Danny (Paul Rudd) and Wheeler (Seann William Scott), two salesmen who work for an energy drink company, who accidentally trash a company truck after trying to drive it off of a tow truck. Given the choice of jail time or community service, the two men find themselves paired with a nerdy teenager and an angry fifth-grader. Though not our favorite film made by Wain (again, Wet Hot American Summer is endlessly quotable), Role Models turned ten years old in 2018, and the film holds up surprisingly well a decade later.
Leaves March 16th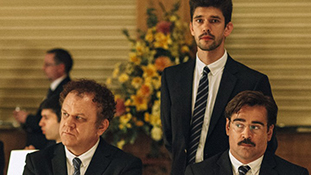 Yorgos Lanthimos mastered the balance of absurdist humor and dystopian fiction in his 2015 film The Lobster, starring Colin Farrell and Rachel Weisz, after managing to grab the attention of critics and moviegoers alike with his 2010 film Dogtooth. The Lobster is set in a dystopian universe where single people are given just 45 days to find a romantic partner before being turned into animals. When David's wife leaves him for another man, he attempts to form a relationship in his hotel to avoid being turned into a lobster, his animal of choice. At the hotel, he makes acquaintances who are also attempting to find love at the hotel, all while living in a society with byzantine rules. Anyone with a desert-dry sense of humor will enjoy this.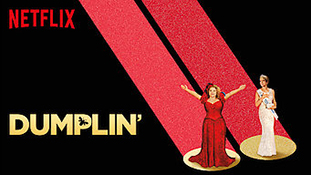 A brand-new Netflix original film, Dumplin' was released at the tail end of 2018 quietly onto Netflix. Unlike a film like Bird Box, which saw massive promotion during the holidays, Dumplin' went more unnoticed by fans, and it's time to correct that. Based on a young adult novel of the same name, Dumplin' follows a plus-size teenage daughter (Danielle Macdonald) whose mother is a former beauty queen (Jennifer Aniston). When she signs up for her mother's pageant as a protest against the idea of mainstream beauty contests. When other contestants follow in her footsteps, however, things escalate quickly, leading to a full-on revolution of the pageant in Dumpin's small Texas town.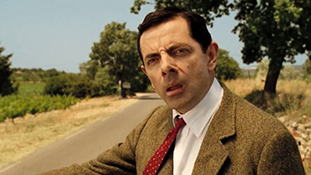 The second film based on Rowan Atkinson's wildly-popular Mr. Bean franchise, Mr. Bean's Holiday is a great time, full of laughs and plenty of physical comedy. Picking up right where the television series left him, Mr. Bean finds himself the winner of a raffle, where he wins himself a trip to Cannes. What happens next should be no surprise to anyone who's seen the series: Mr. Bean finds himself constantly getting into mishaps and poor situations with the people of Cannes—once he gets there, that is, since the trip takes some unexpected twists and turns. Mr. Bean's Holiday is a solid film, and a great continuation of one of the better physical comedy series of the 1990s.
5. Monty Python and the Holy Grail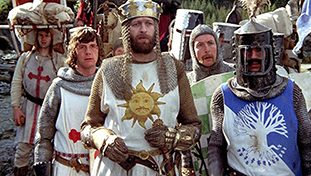 Following the conclusion of Monty Python's Flying Circus, the group didn't wait long to begin releasing theatrical films expanding on their now-legendary comedy chops. The first of three original films, Monty Python and the Holy Grail continues to be praised for being a groundbreaking film in the world of independent comedy. Though original reviews of the film were mixed upon release, the group's loving parody of the legend of King Arthur has become beloved for its weird sense of humor, it's ability to spin out of control at all times, the meta-awareness of the film, and its legendary ending. Though some viewers prefer the successor, Life of Brian, if you've never seen Holy Grail, now is the time to do it.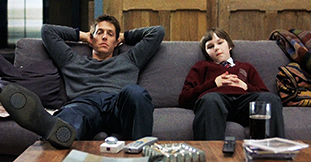 From directors Chris and Paul Weitz (
American Pie
) comes
About a Boy,
a romantic-comedy starring Hugh Grant and Toni Collette, the film follows Will (Hugh Grant), a rich, child-free and irresponsible Londoner in his thirties who, in search of available women, invents an imaginary son and starts attending single parent meetings. As a result of one of his liaisons, he meets Marcus, an odd 12-year-old boy with problems
at school. Gradually, Will and Marcus become friends, and as Will teaches Marcus how to be a cool kid, Marcus helps Will to finally grow up.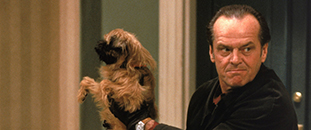 James L. Brooks has had a prolific career, from his work on television shows like The Mary Tyler Moore Show and The Simpsons to his debut feature Terms of Endearment and the landmark Broadcast News, but one of Brooks' best films came in 1997 with the release of As Good as It Gets. Paired yet again with Jack Nicholson, one of Brooks' most common collaborators, the film follows Melvin Udall (Nicholson), an obsessive-compulsive writer of romantic fiction who's rude to everyone he meets, including his gay neighbor Simon (Greg Kinnear), but when he has to look after Simon's dog, he begins to soften and, if still not completely over his problems, finds he can conduct a relationship with the only waitress (Helen Hunt) at the local diner who'll serve him.
2. Nick and Norah's Infinite Playlist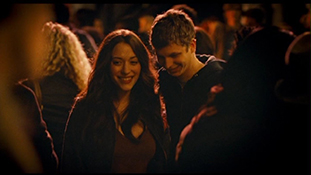 Based on the novel of the same name, Nick and Norah's Infinite Playlist is a 2008 romantic comedy-drama film set in the indie music scene of New York in the 2000s. The film begins with Nick (Michael Cera) dealing with the heartbreak of his ex-girlfriend Tris, whom he continues to make breakup mix CDs for despite the breakup happening more than three weeks ago. Tris, who attends a private Catholic school in Manhattan, throws these CDs in the trash—but not until they're fished out of the trash by Tris's classmate, Norah. When Nick's band plays a club on the Lower East Side, Tris, Norah, and Caroline, the friend who holds them together. When Norah, trying to convince Tris she has a boyfriend, kisses an unexpecting Nick, the two end up on a wild adventure through New York hunting for their favorite mutual band, "Where's Fluffy?". The soundtrack features all of the 2000s indie rock you could ever hope for, from bands like Vampire Weekend, We Are Scientists, Band of Horses, and Modest Mouse.
1. Wet Hot American Summer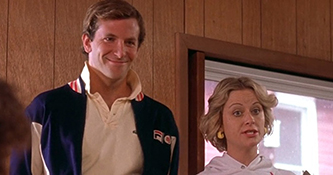 Once a critical and commercial flop, Wet Hot American Summer has undergone a transformation in the public eye since it premiered nearly two decades ago in 2001. Roger Ebert famously tore the film apart with a parody of "Hello Muddah, Hello Fadduh," and audiences failed to show up at the theater. Slowly, however, the film began to grow an audience online, becoming a cult classic thanks to its irreverent humor and over-the-top ridiculous satire of the summer-camp comedies of the 1970s and 1980s. The cast here is stacked, including Paul Rudd, Amy Poehler, Bradley Cooper, Elizabeth Banks, Christopher Meloni, David Hyde Pierce, and so many other incredible, recognizable comedians and actors. In addition to the original film, two Netflix Original miniseries have been produced, including First Day of Camp and Ten Years Later, a prequel and sequel series respectively. As for the plot, the film is fairly bare: Wet Hot American Summer chronicles the last day of camp as the counselors try to have one final romantic encounter at camp.
Disclaimer: Some pages on this site may include an affiliate link. This does not effect our editorial in any way.