25 Best Comedies Streaming on Netflix [November 2019]
Of all genres of film, there's no type of film more difficult to recommend than comedies. While a well-produced drama can keep most viewers glued to their seats, and a quality horror film can produce frights and scares without resorting to jump scares, what constitutes a "good" comedy is far more subjective. Everyone finds different things to love about a comedy, be it the outrageousness of what's happening in a situation, the romance between the two leads, or the witty wordplay exchanged between characters. Comedy can be broad, based on physical stunts or laughing at the poor decisions of the characters in a film, or it can be subtle, focused on hidden details in the backgrounds or double entendres in the script. And while a horror film can be universally looked at as "poor" or "not scary," even the worst-received comedies have their defenders, with a solid amount of fans defending the work for being truly hilarious.
Still, we can't simply ignore the need for comedy recommendations, especially when you're looking for something easy to laugh at on a night in with Netflix. The world's most popular streaming service offers hundreds of comedies for you to choose from, from broad and slapstick comedy to subtle and dialogue-based humor. We've gathered a small selection of the best that Netflix has to offer, with everything from raunchy, provocative humor, to gallows-based dark comedies, to family-friendly films that can make anyone ages 5 to 105 smile. Make sure to take a look at the description of each film, where we've done our best to designate each film with a certain style of humor to better allow for our readers to find a film that will fit their sensibilities. Let's dive into the 25 best comedies streaming right now on Netflix!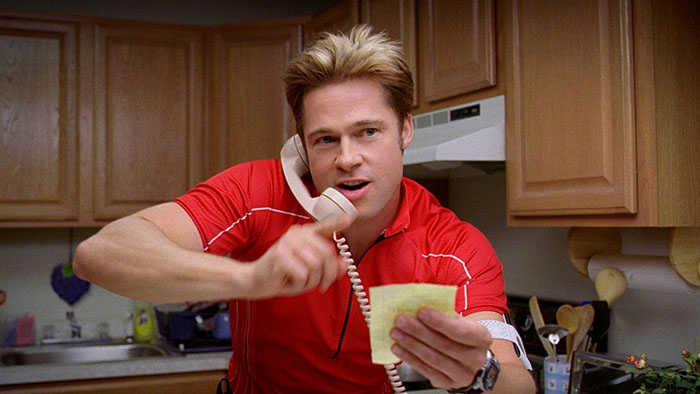 A classic example of modern black comedy, Burn After Reading is a crime-comedy film brought to you by Joel and Ethan Coen (Fargo, No Country for Old Men). In this absurdist, deadpan film, a massive conspiracy begins following the loss of a disc containing the memoirs of a former CIA analyst (John Malkovich). Found by two gym employees, Linda Litzke (Frances McDormand, Three Billboards Outside Ebbing, Missouri and Fargo) and Chad Feldheimer (Brad Pitt, playing a dumb beefcake of a jock), the disc is mistaken for containing secrets from the United State government. Thrilled that the two can use the disc as a way to gain a monetary reward, they attempt to return the disc to the CIA analyst and, upon his furious rejection to their offerings, attempt to sell the disc to the Russian Embassy. That barely scratches the surface of this caper comedy, which also stars George Clooney, J.K. Simmons, Tilda Swinton, and Richard Jenkins.
24. Sleeping with Other People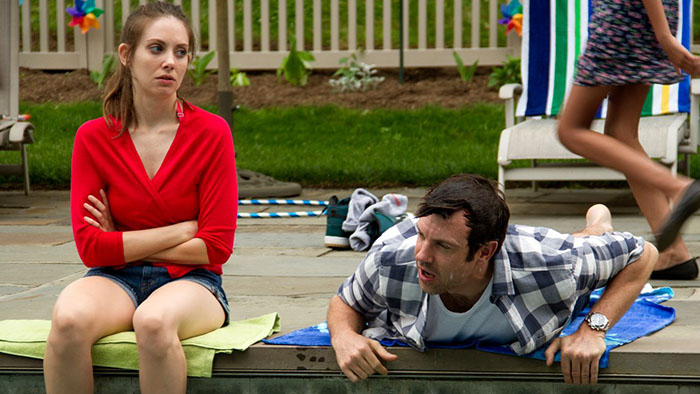 The best-friend-or-romantic-partner conundrum has been a mainstay of Hollywood romantic films since When Harry Met Sally charmed audiences upon its release in 1989. Since then, the romantic comedy has gone through its ups (Sleepless in Seattle, Pretty Women, Clueless) and its downs (New Year's Eve, Ghosts of Girlfriends Past, The Ugly Truth). Thankfully, we've seen the genre make something of a comeback in recent years, ranging from indie darlings to box office hits. Sleeping with Other People is a bit raunchier than When Harry Met Sally, but it follows the same formula: guy and girl agree to be friends instead of lovers, and romantic hijinks ensue. With an all-star cast including SNL's Jason Sudeikis, Community and GLOW's Alison Brie, Adam Scott, Jason Mantzoukas, and Adam Brody, there's plenty of fun to be had with this dark romantic-comedy. Director Leslye Headland went on to co-create the acclaimed Netflix Original Russian Doll, so if you liked her work there, make sure to check this out.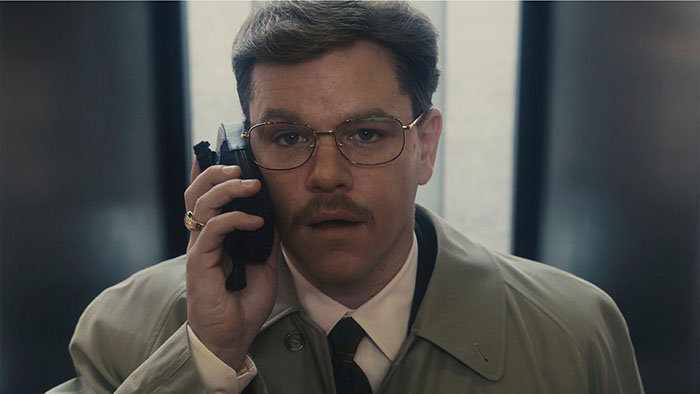 Directed by Steven Soderbergh (Ocean's 11; Sex, Lies, and Videotape), The Informant! tells the true story of Marc Whitacre (Matt Damon), the rising star of Archer Daniels Midland in the mid-1990s. When Whitacre discovers that his company has been participating in a price-fixing scheme, Whitacre decides to blow the whistle on the company, becoming an informant for the FBI despite his less-than-qualified nature. Thanks to his own internal struggle with bipolar disorder, Whitacre begins acting erratically, possibly risking the entire operating and consistently risking the case of the agents he's been working for. As he continues to struggle in acting for both himself and on behalf of the FBI, Whitacre's case spirals out of control in truly insane ways.
22. The Meyerowitz Stories (New and Selected)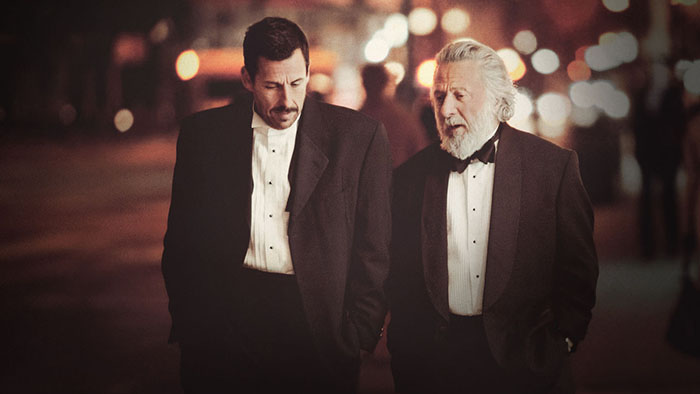 From director Noah Baumbach, The Meyerowitz Stories (New and Selected) tells the story of three children: Danny, Matthew, and Jean Meyerowitz, played here by Adam Sandler, Ben Stiller, and Elizabeth Marvel, respectively. Danny and Jean are siblings, with Matthew as their half-brother, all tied together by their rocky relationship with their father Harold (Dustin Hoffman). Though the three children are relatively estranged from each other, their father's upcoming career retrospective brings all three to New York City to reunite, bicker, and deal with their life's problems. Despite the prominence of Sandler and Stiller, don't expect this to be a broad comedy. Like Baumbach's other tales, this is drama first, comedy second, though critics have praised Sandler's dramatic turn here as his best since Punch Drunk Love.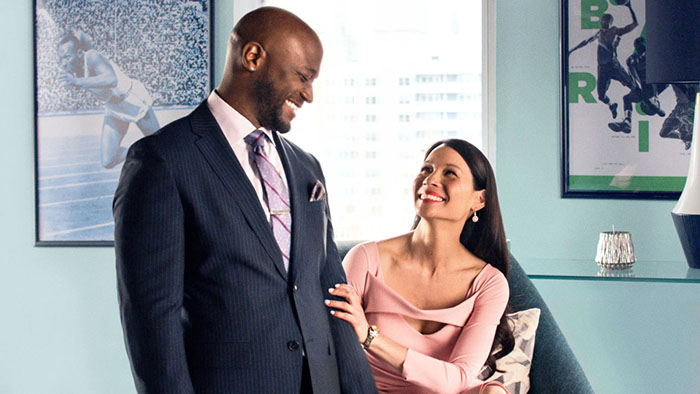 Set It Up is one of Netflix's many new releases in the romantic-comedy genre, something it seems desperate to bring back to life regardless on whether the studio system will allow it. Like many old-school rom-coms, Set It Up has a pretty basic plot: two assistants to rich, self-important bosses (one the editor of an online sports empire a la Deadspin or SB Nation, the other an investment and venture capitalist) decide that, in order to get their bosses to calm down for a bit, will use their loneliness to set up dates for each other. With a cast including Zoey Deutch, Glen Powell, Lucy Liu, Taye Diggs, and Joan Smalls, Set It Up is perfect for a Friday night in or for a lazy Sunday morning.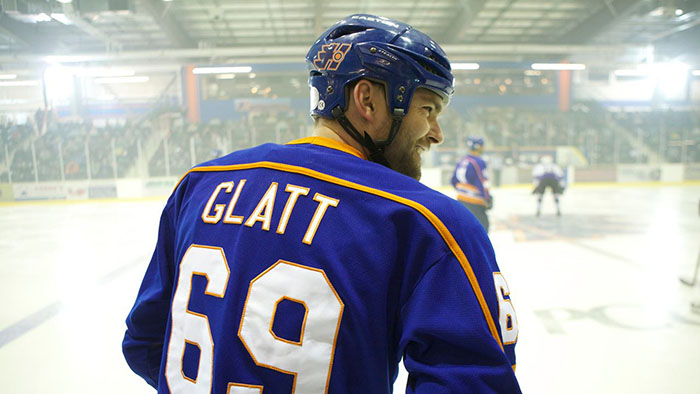 Another sports comedy in the spirit of Cool Runnings, Goon tells the story of Doug Glatt, a bouncer-turned-minor league hockey player who takes up the position of enforcer on the Halifax Highlanders after finding success on his local team. Seann William Scott (American Pie) portrays Glatt as a kind-hearted, dimwitted man who tries to do the right thing when he can, and finds hockey as giving him a shot to be successful in a world that he feels he doesn't belong in. After joining the Highlanders, Glatt—now nicknamed Doug the Thug—starts to find meaning in his life, becoming successful as an enforcer (the muscle of the team) and meeting Eva (Alison Pill), whom he falls for immediately. Things get complicated when Doug meets his hero, Ross "The Boss" Rhea, a major-league player demoted to playing in the minors following a slashing incident, only to have to face him on the ice.
19. Scott Pilgrim vs. the World
One of the most underrated films of this decade, Edgar Wright's (Hot Fuzz, Baby Driver) Scott Pilgrim vs. The World is a visual triumph, a funny and charming story that wears its heart on its sleeve. The film follows bass guitarist and 22-year-old Scott Pilgrim (Michael Cera, in a pitch-perfect casting), who is floundering in his adulthood without a job after being crushed by his ex-girlfriend. Now dating a high schooler, he seems content in just letting his life pass him by, when he runs into Ramona Flowers (Mary Elizabeth Winstead), a girl new to Toronto who seems to be, quite literally, the girl of Scott's dreams. A visual triumph, pulling direct inspiration from video games, anime, and the graphic novel this series is based on, Scott Pilgrim vs. The World is a perfect action-comedy.
18. To All the Boys I've Loved Before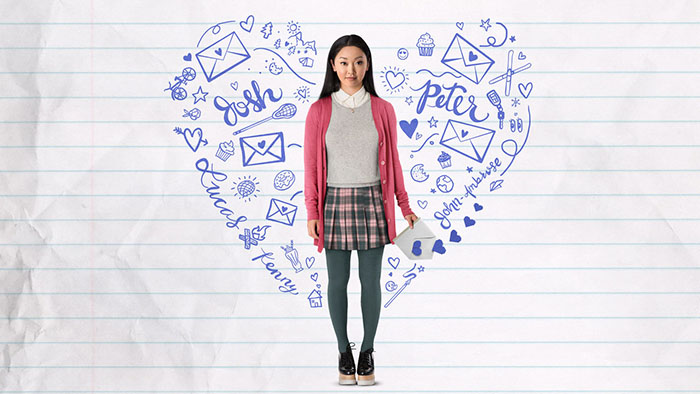 Based on the book of the same name, To All the Boys I've Loved Before follows Lara-Jean, a half-Asian, half-Caucasian 16-year-old high school student who begins her first year of high school without her older, now-graduated sister, Margot. Lara-Jean has never had a boyfriend, but has had multiple crushes, including on her sister's now-ex-boyfriend Josh and the popular boy at school, Peter. She keeps a series of five letters to her former crushes in her room, a method that allows her to clear out her love of these boys without having to worry about keeping her feelings bottled up. When her younger sister mails the letters, she's forced to reconcile with her feelings now being out in the open.
17. A Futile and Stupid Gesture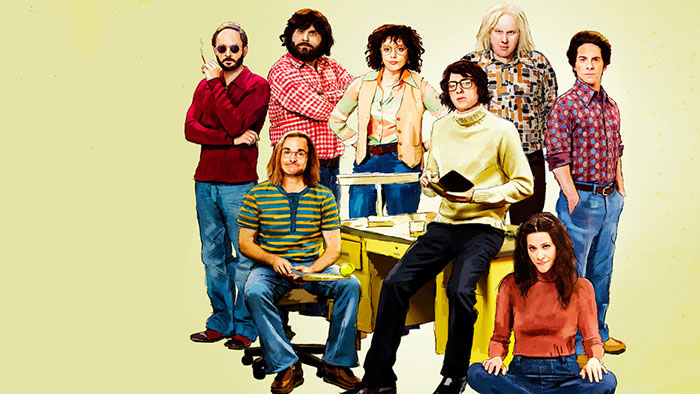 Directed by David Wain (Wet Hot American Summer) and starring an ensemble cast of comedians and actors like Will Forte, Joel McHale, Domnhall Gleeson, Seth Green, Annette O'Toole, Max Greenfield, and Ed Helms, A Futile and Stupid Gesture tells the story of Doug Keeney, the founder of National Lampoon magazine in the 1970s. The film follows the life of Keeney as a comedy writer, following his childhood through his time at Harvard and the founding of National Lampoon. Though Doug Keeney is obviously brilliant to the people around him, his behavior and troubled mind often lands in in hot water, and his drug problems follow him throughout his life, up to and including at the press conference surrounding Caddyshack, a film he co-wrote, that had received negative reviews. A Futile and Stupid Gesture is a Netflix Original, so you can be sure this film will always be ready to stream on Netflix at your heart's content.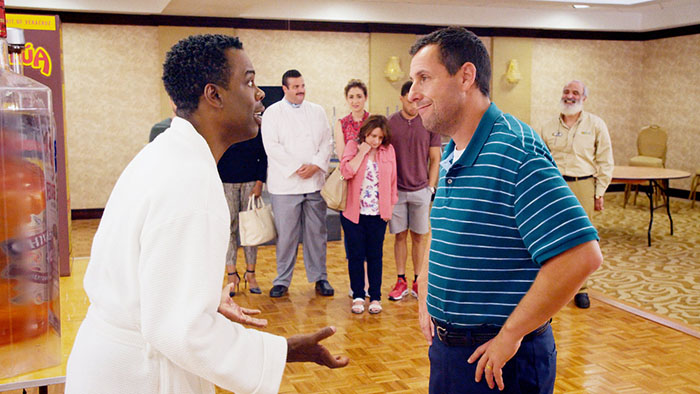 The newest installment in Adam Sandler's ongoing Netflix deal also happens to be the best one released on the streaming service yet not directed by Noah Baumbach. The Week Of is by no means high art, but it's a surprisingly realistic take on a father's hopes of paying for his daughter's wedding while simultaneously having to budget the entire thing out of pocket. The film follows fathers of the bride and groom Kenny (Sandler) and Kirby (Chris Rock), as they attempt to put aside their differences in views in order to present their children the perfect wedding. Directed by longtime Sandler contributor Robert Smigel (the writer of You Don't Mess With The Zohan and the voice of Triumph the Insult Comic Dog), the film manages to score more laughs than the majority of Sandler's recent projects, thanks to effort on Sandler's part and the supporting cast featuring Rachel Dratch, Steve Buscemi, Allison Strong, Noah Robbins, and more.
30 Best Kids Movies on Netflix [Fall 2019]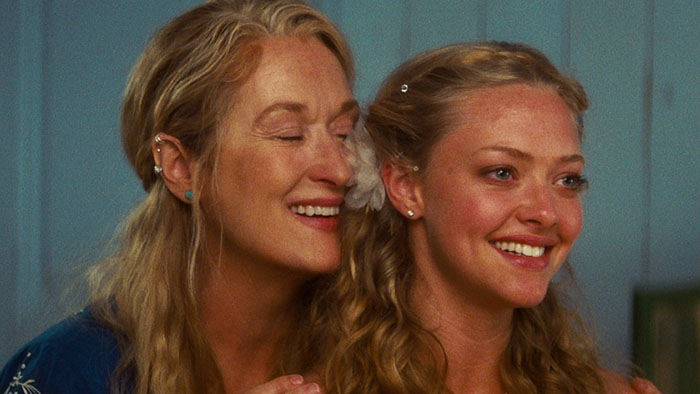 Based on the Broadway show of the same name, Mamma Mia! is a jukebox musical comedy based on the songs by Swedish pop group ABBA, with the title originating from the group's 1975 chart-topping hit. Mamma Mia! largely follows the plot of the stage musical, taking place on a Greek island and following the 20-year-old bride-to-be Sophie Sheridan (Amanda Seyfried). She reveals to her bridesmaids that she's invited three men to her wedding without telling her mother, Donna (Meryl Streep), in order to try to figure out which of the three is her biological father. The three men—played by Colin Firth, Pierce Brosnan, and Stellan Skarsgard—each arrive at the wedding, only to stir up unfamiliar emotions in both themselves, Donna, and Sophie. The film is treat for fans of all musicals or romantic comedies, and you can catch the sequel, Mamma Mia! Here We Go Again, on iTunes.
*Leaving November 16th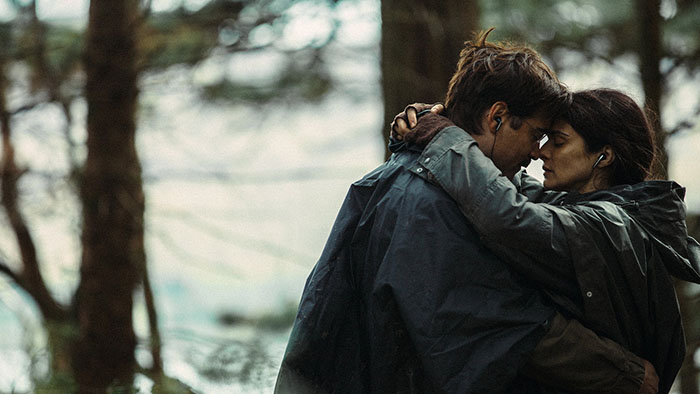 Yorgos Lanthimos mastered the balance of absurdist humor and dystopian fiction in his 2015 film The Lobster, starring Colin Farrell and Rachel Weisz, after managing to grab the attention of critics and moviegoers alike with his 2010 film Dogtooth. The Lobster is set in a dystopian universe where single people are given just 45 days to find a romantic partner before being turned into animals. When David's wife leaves him for another man, he attempts to form a relationship in his hotel to avoid being turned into a lobster, his animal of choice. At the hotel, he makes acquaintances who are also attempting to find love at the hotel, all while living in a society with byzantine rules. Anyone with a desert-dry sense of humor will enjoy this.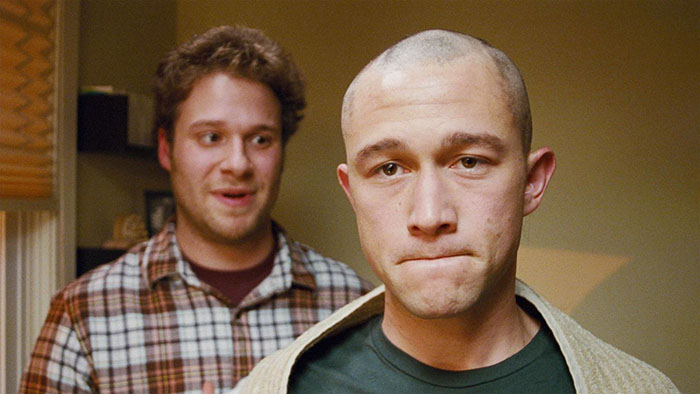 Adam Lerner (Joseph Gordon-Levitt) has always tried to take good care of his health, so it comes as a cruel surprise when he learns that he has malignant tumors along his spine. His doctor gives him a 50/50 chance of survival, but Adam tries to remain upbeat, though his mother (Anjelica Huston) and
his friend Kyle (Seth Rogen), react badly to the news. Adam starts seeing a therapist (Anna Kendrick), but their relationship threatens to cross the boundary between doctor and patient.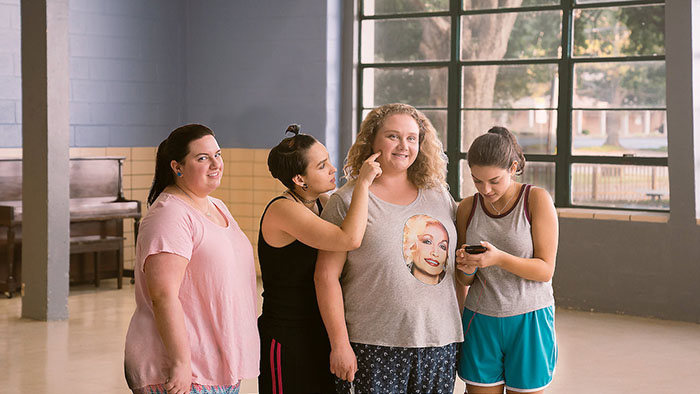 A brand-new Netflix original film, Dumplin' was released at the tail end of 2018 quietly onto Netflix. Unlike a film like Bird Box, which saw massive promotion during the holidays, Dumplin' went more unnoticed by fans, and it's time to correct that. Based on a young adult novel of the same name, Dumplin' follows a plus-size teenage daughter (Danielle Macdonald) whose mother is a former beauty queen (Jennifer Aniston). When she signs up for her mother's pageant as a protest against the idea of mainstream beauty contests. When other contestants follow in her footsteps, however, things escalate quickly, leading to a full-on revolution of the pageant in Dumpin's small Texas town.
11. Monty Python and the Holy Grail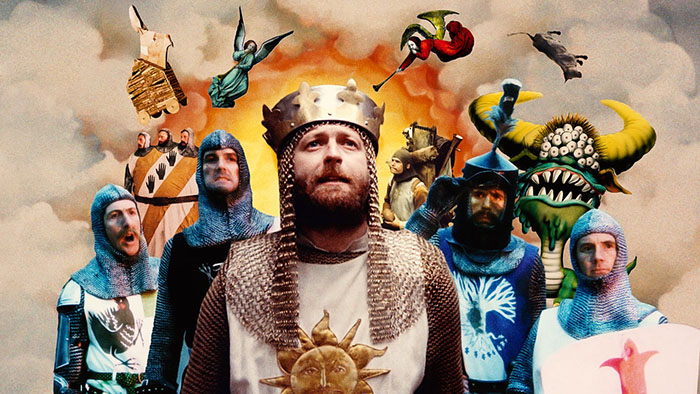 Following the conclusion of Monty Python's Flying Circus, the group didn't wait long to begin releasing theatrical films expanding on their now-legendary comedy chops. The first of three original films, Monty Python and the Holy Grail continues to be praised for being a groundbreaking film in the world of independent comedy. Though original reviews of the film were mixed upon release, the group's loving parody of the legend of King Arthur has become beloved for its weird sense of humor, it's ability to spin out of control at all times, the meta-awareness of the film, and its legendary ending. Though some viewers prefer the successor, Life of Brian, if you've never seen Holy Grail, now is the time to do it.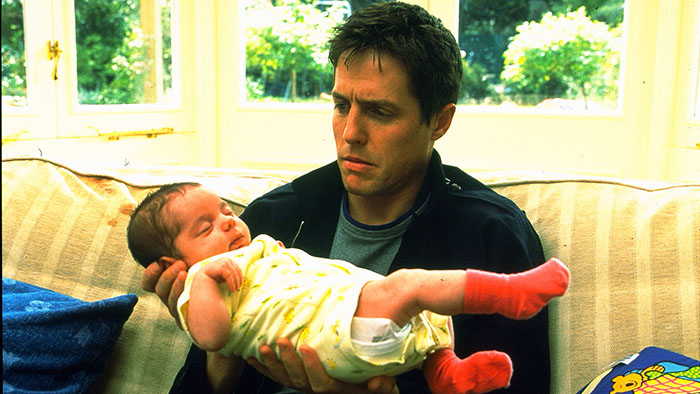 From directors Chris and Paul Weitz (
American Pie
) comes
About a Boy,
a romantic-comedy starring Hugh Grant and Toni Collette, the film follows Will (Hugh Grant), a rich, child-free and irresponsible Londoner in his thirties who, in search of available women, invents an imaginary son and starts attending single parent meetings. As a result of one of his liaisons, he meets Marcus, an odd 12-year-old boy with problems
at school. Gradually, Will and Marcus become friends, and as Will teaches Marcus how to be a cool kid, Marcus helps Will to finally grow up.
9. Wet Hot American Summer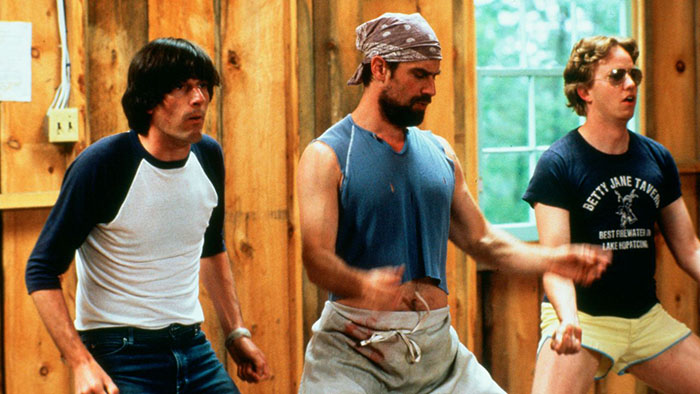 Once a critical and commercial flop, Wet Hot American Summer has undergone a transformation in the public eye since it premiered nearly two decades ago in 2001. Roger Ebert famously tore the film apart with a parody of "Hello Muddah, Hello Fadduh," and audiences failed to show up at the theater. Slowly, however, the film began to grow an audience online, becoming a cult classic thanks to its irreverent humor and over-the-top ridiculous satire of the summer-camp comedies of the 1970s and 1980s. The cast here is stacked, including Paul Rudd, Amy Poehler, Bradley Cooper, Elizabeth Banks, Christopher Meloni, David Hyde Pierce, and so many other incredible, recognizable comedians and actors. In addition to the original film, two Netflix Original miniseries have been produced, including First Day of Camp and Ten Years Later, a prequel and sequel series respectively. As for the plot, the film is fairly bare: Wet Hot American Summer chronicles the last day of camp as the counselors try to have one final romantic encounter at camp.
8. Tucker and Dale vs. Evil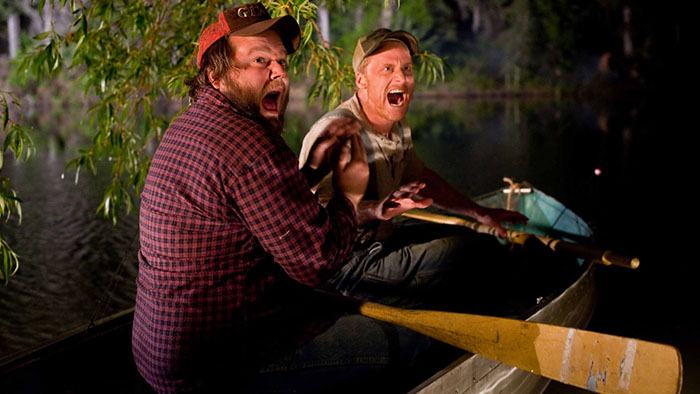 Yes, Tucker and Dale vs. Evil is a horror film, designed to be as bloody and graphic as possible. It's also an incredibly funny film, a horror-comedy that's just as focused on delivering frights as it is laughs. The film stars Alan Tudyk (Firefly, Rogue One: A Star Wars Story) and Tyler Labine (Reaper, Deadbeat) as two well-meaning hillbillies who purchased a lakefront cabin together in the woods. At a gas station outside of camp, the two run into several college students going camping for the weekend. Tucker (Tudyk) pushes Dale (Labine) to talk to Allison, one of the main girls, but ends up simply frightening her instead. While Tucker and Dale work on reconstructing their cabin, the nearby campers go skinny-dipping together, only for Allison to hit her head and be saved by Dale. While she's recuperating with Tucker and Dale, the rest of the college students trick themselves into believing that she's been kidnapped, and attempt to rescue her—only for everything to go wrong.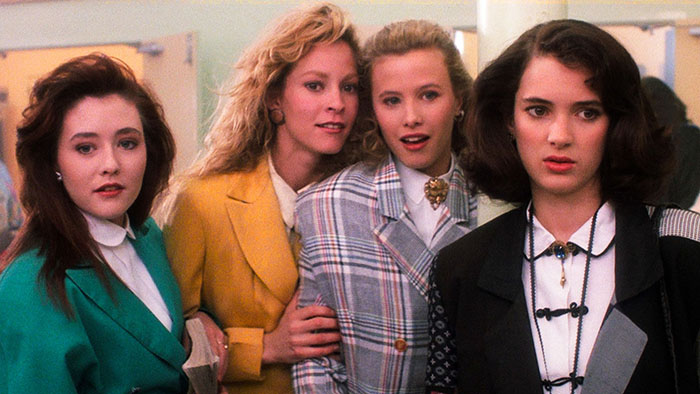 Now 30 years old,
Heathers
continues to be a provocative cult comedy, one that stands in the face of other 80s high school comedies and makes fun of them behind their back. Veronica (Winona Ryder) is part of the most popular clique at her high school, but she disapproves of the other girls' cruel behavior. When Veronica and her new boyfriend, J.D. (Christian Slater), confront clique leader Heather Chandler (Kim Walker) and accidentally poison her, they make it appear a
suicide. Soon Veronica realizes that J.D. is intentionally killing students he does not like. She races to stop J.D. while also clashing with the clique's new leader, Heather Duke (Shannen Doherty).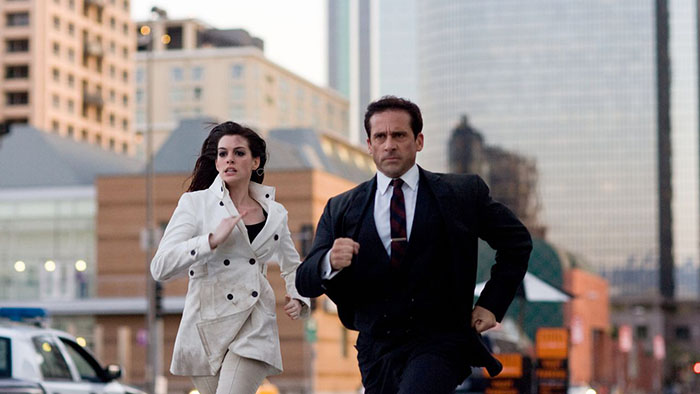 An adaptation of the 1960s sitcom created by Mel Brooks, Get Smart recasts Steve Carell as Max Smart, the bumbling spy who works for CONTROL, the secret spy agency in the United States. Smart becomes a field agent at the beginning of the movie, but his bumbling attitude and constant mistakes make him more of a headache than an asset for his teammates, Agent 99 (Anne Hathaway) and Agent 23 (Dwayne Johnson). The film was supposed to feature a follow-up after the success of the first one, but unfortunately, issues with the script and delays from the cast and crew made the film unlikely to ever happen.
25 Best Sci-Fi & Fantasy Movies Streaming on Netflix [Fall 2019]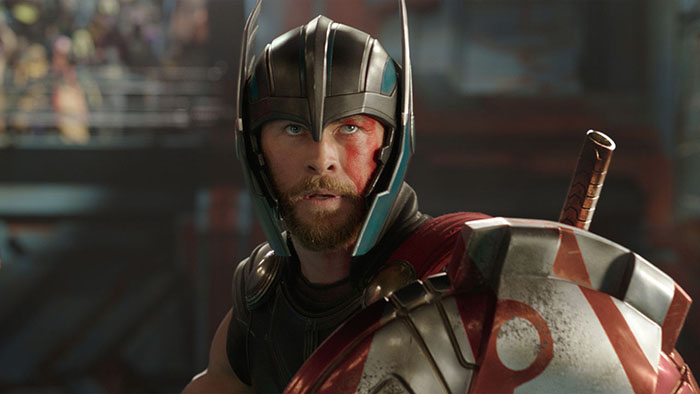 In the third Thor movie and the seventeenth film set in the Marvel Cinematic Universe, Thor is back in an all-new adventure that more or less resets the universe and ignored the events of the previous two movies. By far the most-successful Thor film both critically and financially, Thor: Ragnarok is directed by Taika Waititi (What We Do in the Shadows; Hunt for the Wilderpeople). The film starts as Thor escapes from a fire demon, who prophesied the end of Asgard by way of Ragnarok; when Thor defeats him in combat, taking his crown, he believes he has ended the threat. Returning home to Asgard, Thor reveals Loki has been masquerading as Odin, king of Asgard. When the real Odin dies of old age, Thor and Loki's long-lost sister Hela returns to claim her right to the throne. The film is visually incredible, hilarious in parts, and features some incredible performances from the likes of Cate Blanchett, Tessa Thompson, and the great Jeff Goldblum.
Ivan Reitman and Bill Murray's second time working together on a film came together in Stripes, the 1981 comedy about joining the army. In Stripes, we get our first taste of the pairing that would be Reitman, Murray, and Harold Ramis, a pairing that would come together in 1984 to produce Ghostbusters, with Reitman behind the camera, Ramis writing the script, and both Ramis and Murray on screen. Stripes began life as a Cheech and Chong film about joining the army, but when the duo demanded full creative control, Stripes translated into a comedy about signing up and shipping out. When John Winger (Murray) loses his job, car, girlfriend, and apartment all in one day, he decides to throw it all away and join the army. Accompanied by Russell Ziskey (Ramis), the two head to a recruiting office and soon find themselves at basic training. The film features Warren Oates, John Candy, John Larroquette, Sean Young, and Judge Reinhold in supporting roles.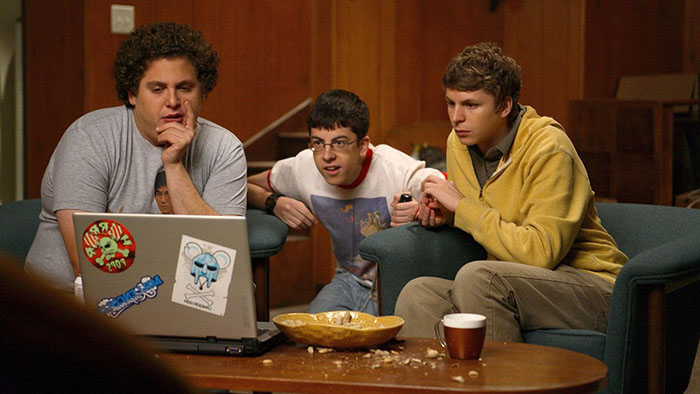 The teen comedy that rocketed stars like Jonah Hill, Michael Cera, and Christopher Mintz-Plasse to the big screen, Superbad is one of the quintessential coming-of-age movies of the 21st century. A raunchy and clever film produced by Judd Apatow and directed by Greg Mottola (Adventureland, Paul), the film follows Seth and Evan (Hill and Cera, respectively), two high school seniors who wish they weren't virgins and could have a handle on high school popularity. Faced down with their first separation since high school with college on the way, Evan gets invited to a party after being paired in Home-Ec with Jules (Emma Stone). Armed with a fake ID, the two nerds promise to bring alcohol to the party, and attempt a quest to purchase the booze before making their last play to become high school stars.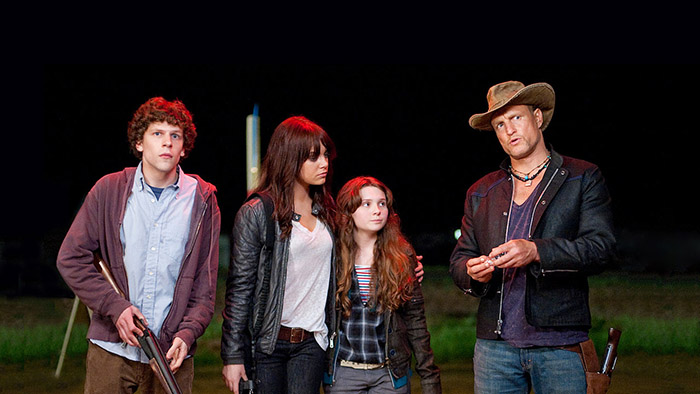 Zombieland wasn't the first comedy to take on zombies, but it's one of the best, even a decade after its release. Directed by Ruben Fleischer (Gangster Squad, Venom), Zombieland is nothing if not a surprise hit. Released in October of 2009 and made on a fairly-small budget of just $24 million, Zombieland impressed critics and made by more than four times its budget at the box office, all while building a massive following of people impressed with the film. The film follows a anxious college student named Columbus (Jesse Eisenberg) making his way through the zombie apocalypse, meeting three strangers (Emma Stone, Woody Harrelson, and Abigail Breslin) along the way and together taking an extended road trip across the Southwestern United States in an attempt to find a sanctuary free from zombies. After a failed television adaptation through Amazon, the cast reunited in 2019 to film Zombieland: Double Tap, currently in theaters.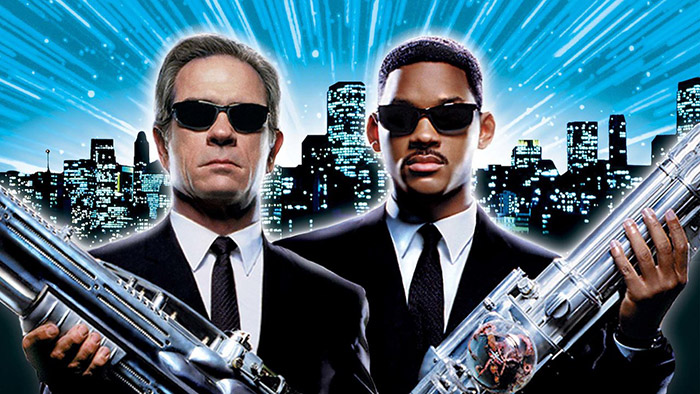 Loosely adapted from the comic book series of the same name, Men in Black is easily one of the best action-comedies currently streaming on Netflix. The film follows James Edwards (Will Smith), a NYPD officer who discovers an underground world of a highly-funded secret government agency. After joining the Men in Black and becoming Agent J, he's teamed up with Agent K (Tommy Lee Jones) and sent on a mission to stop an intergalactic terrorist who will stop at nothing to kill two ambassadors from opposing galaxies currently residing in New York City. Men in Black was a major success, followed up by two sequels and a spin-off, 2019's Men in Black International.
Disclaimer: Some pages on this site may include an affiliate link. This does not effect our editorial in any way.