The 30 Best Sitcoms on Netflix [Fall 2020]
Having been in the era of "peak TV" for what seems like a full decade now, it can be difficult to manage all the shows you're "supposed" to keep up with in the cultural zeitgeist. There are plenty of critically-acclaimed shows that tell dark tales, human stories that make you think and make you question your own personal actions, whether it be in the mundane or in the extraordinary. That kind of television can be deeply compelling, and indeed, it's always a good idea to use art to challenge the way you think about the world. That said, sometimes you get home from a long day of work with one thought on your mind: relaxation. Sometimes dark storytelling simply isn't what you're looking for on a Tuesday night after your boss had you stay late at work. You need something easy on the mind, something to unwind with to end your day.
TechJunkie's Cut the Cord Weekly
While some will turn to the likes of cheap drama or a favorite movie, we recommend the classic sitcom for your viewing pleasure. The sitcom is one of the oldest television genres, built on the back of shows like The Honeymooners and the eternally-classic I Love Lucy. Sitcoms, like dramas, can be cheap and lazy, but the best shows find a middle-ground: something relaxing and comforting, but still smart enough to keep you entertained and occupied. Netflix is full of some classic and new sitcoms, and we've gathered thirty of the best to build out this list below. If you're looking to add some comedy in your life, this is the best way to do it. In no particular order, let's look at thirty of the best sitcoms on Netflix for fall 2020.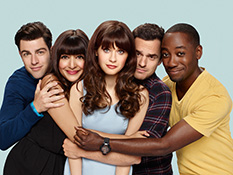 What started off as an unassuming, if not charming, sitcom following the life of Jess Day has evolved into one of the best comedies on television. While no one would ever call New Girl an innovative television show, it is one of the best hangout shows on the air today, featuring a fantastic cast and some hilarious writing. Zooey Deschanel stars as Jess Day, an outgoing, energetic, offbeat teacher who catches her boyfriend cheating on her in the pilot of the show. She moves into an empty room inside the apartment of Nick (Jake Johnson), Schmidt (Max Greenfield), and Coach (Damon Wayans, Jr., who moves out in the second episode of the show only to return in the third season as a main character), and later Winston (Lamorne Morris), and together, they try to navigate both their professional lives, personal lives, and love lives. It's a fantastic, comfortable show—don't miss out. All seven seasons are currently streaming.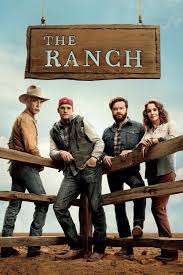 Being a pro athlete didn't pan out for Colt. Now he's helping his dad and brother keep the family ranch afloat, and figuring out how he fits into the family. With a heavyweight cast including Ashton Kutcher, Sam Elliott, and Debra Winger, The Ranch has gained a reputation for sensitivity and strong performances, as well as a focus on red-state situational comedy. This also marks the second time Kutcher and Danny Masterson have shared the screen together, following their performances as Kelso and Hyde on That 70's Show. All four seasons—split into two parts each—are now streaming.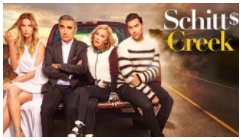 A cult hit that gained popularity thanks in part to Netflix, Schitt's Creek is a show you've probably only heard about in the last year or two, despite having aired five seasons since 2015. The show follows the Rose family, a wealthy clan that includes video store magnate Johnny (Eugene Levy), his wife and former soap opera actress Moira (Catherine O'Hara), and their adult children David and Alexis (Daniel Levy and Annie Murphy), who lose their fortune after being defrauded by their business manager. They are forced to rebuild their lives with their sole remaining asset: a small town named Schitt's Creek, which they had bought their son as a joke birthday gift back in 1991. The Roses relocate to Schitt's Creek, moving into two adjacent rooms in a run-down motel. As the family adjusts to their new lives, their well-to-do attitudes come into conflict with the more provincial residents of Schitt's Creek, including mayor Roland Schitt (Chris Elliott), his wife Jocelyn (Jenn Robertson), and the motel's manager, Stevie (Emily Hampshire).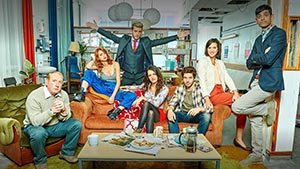 One of quite a few shows picked up by Netflix for international distribution, only to be billed as a Netflix original, Crashing is a comedy-drama from Britain that follows the lives of four twenty-somethings in England, living together as property guardians in an unused hospital, affording cheaper rent by promising to keep the building safe and following certain guidelines brought on by their agreement. The show was originally conceived as two plays by creator Phoebe Waller-Bridge, who also stars in the show as Lulu, and ran for six episodes in 2016 before being brought to Netflix later that year in the United States. Waller-Bridge has since moved onto creating and starring in Fleabag for Amazon, and considering that show is in the middle of production on a planned second season, we wouldn't expect Crashing to come back anytime soon. The show should also not be confused with the US-based show of the same name, which airs on HBO and stars Pete Holmes.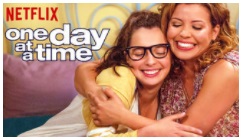 The original One Day at a Time ran for nine years from 1975 to 1984, and was developed by TV legend Norman Lear (and created by Whitney Blake and Allan Manings). When Gloria Calderon Kellett and Mike Royce decided to recreate the original sitcom for Netflix, they chose to rework the entire show to focus on a Latinx family consisting of single-mother Penelope (Justina Machado), her children Elena and Alex, and her mother Lydia (played by EGOT winner Rita Moreno, one of twelve people ever to manage to win all four awards). Together, they help Penelope manage her love life, family life, and her difficulties adjusting to normal life after being involved with the military and going back to school. One Day at a Time is regarded as one of the best shows on television, but after the third season premiered, Netflix cancelled the show, sparking fan outrage. Luckily, PopTV picked up the show for a fourth season, the first half of which aired this past spring.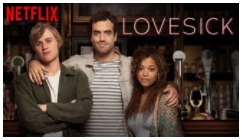 Romantic comedy fans, rejoice—you aren't out of luck. While Crazy Ex Girlfriend takes the tropes of the classic rom-com and flips them on their head, fans of more traditional, if slightly raunchy, comedy set up by the likes of When Harry Met Sally will fall in love with Lovesick, a British import co-produced by Netflix with three seasons streaming on our favorite service. The show was probably best known for its original name, Scrotal Recall, which picked up a lot of flack when the first season premiered in 2014. Don't let it fool you, though, because the name change was a good way to get new viewers onto this excellent love story about a man going back through his romantic history to figure out where it all gone wrong (and, well, also to let his past lovers know about a certain health concern). Lovesick has three seasons streaming on Netflix, which gives you plenty of time to fall in love with Dylan, Luke, and Evie if you haven't already. Definitely check this one out; it's the definition of a hidden gem.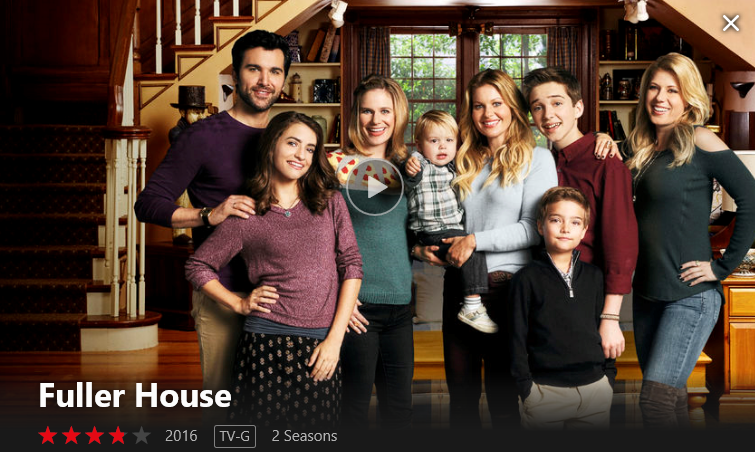 In the Netflix Original sequel to 1990s TGIF-classic Full House, the series follows DJ Tanner, the eldest daughter of the original series, who moves back to her childhood home with her two kids in tow following the death of her husband. Joining her in the new house is younger sister Stephanie and her childhood best friend Kimmy Gibbler, who come to help raise the kids and take care of DJ following her lose. The three women, along with her kids, experience all sorts of life-changing moments together, from budding romances, holidays, and more, along with visits from their father and uncles, Danny Tanner, Uncle Joey, and Uncle Jesse. All five seasons are streaming, with the final batch of episodes arriving sometime in 2020.
Grace and Frankie is the ideal example of how you can start a show with a rocky beginning, and eventually—through finding your own footing as an independent show, become critically acclaimed and lauded for your representation and sense of humor. The show stars Jane Fonda and Lily Tomlin as Grace and Frankie, respectively, two retired women whose husbands work together as successful divorce lawyers. At the start of the show, their husbands—played here by Martin Sheen and Sam Waterston—leave their wives after announcing they've fallen in love with each other, leaving the two women to deal with their incoming divorces with each other. Despite Grace and Frankie's mutual dislike of each other, the two women band together to try and navigate the next phase of their lives. Six seasons are currently streaming.
Glow was one of the best new shows of 2017, founded on the same idea of comedy, drama, and the exploration of womanhood that made Orange is the New Black such a massive success at Netflix. In Glow, you'll explore the world of the Gorgeous Ladies of Wrestling, or GLOW, an 80s wrestling expansion designed to appeal to fans of traditional male wrestling with over-the-top comedy and some sexualization of the wrestlers. Glow stars Alison Brie (Community) as Ruth Wilder, a down-and-out actress who stumbles upon an audition for the Gorgeous Ladies of Wrestling league. While trying to manage her new life as a wrestler, Ruth must also deal with GLOW's director Sam Sylvia (Marc Maron) and the arrival of her former best friend, Debbie Eagan (Betty Gilpin). Glow has been praised since its inception, having been nominated for several critics awards and making it onto a dozen best-of lists in 2017. Three seasons are streaming, and although the show had been renewed for a fourth and final season, it was axed by Netflix after production was delayed in 2020.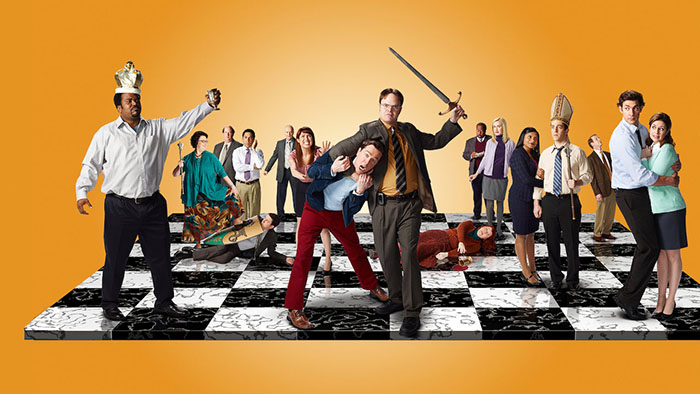 Though the UK version of The Office broke new ground and comedy and helped cement a new genre of television—the mockumentary—it was the US version of the show, adapted by Greg Daniels, that has found a lasting impact in the United States. Following a rough first season that essentially retells the stories from the first season of the UK show, The Office managed to find its feat in season two by lightening up on the cringe humor from boss Michael Scott (Steve Carell, in his breakout role) and focusing more attention on the love story between Jim Halpert (John Krasinski) and Pam Beesly (Jenna Fischer). The show has found a lasting legacy with fans looking to fall in love all over again with the characters, and despite having run a full nine seasons on NBC, the popularity of the show online seems to be at an all-time high. Make sure you binge it before the show leaves Netflix at the end of 2020.
The Best VPN Options for Netflix [December 2020]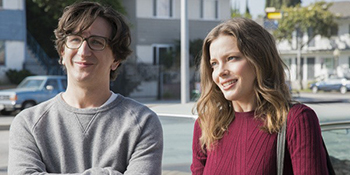 A romantic comedy developed by Judd Apatow, Lesley Arfin, and Paul Rust, Love is a down-to-earth look at dating that explores the nature of romantic relationships through a variety of characters. Stars Rust and Community's Gillian Jacobs are forced to navigate their newly-formed relationship. The series isn't perfect—it suffers from a number of problems we've seen with other Apatow productions, including an overlong pilot—but if you're in the mood for some dark romantic comedy in the vein of You're the Worst or Eternal Sunshine of the Spotless Mind, you'll find plenty to love here (no pun intended). All three seasons are currently streaming, with the third (and final) having premiered in 2018.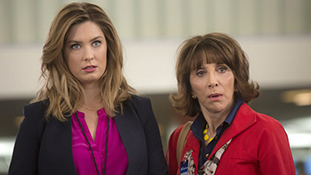 Every workplace is a family. But for Katie, a producer at cable news network MMN, it goes one step further when her mom, Carol, is hired as an intern. That's just scratching the surface of this slightly offbeat team, which includes old-school newsman Chuck and hip millennial Portia, the two co-anchors who only get along when the cameras are rolling. Then there's Greg, the young, ambitious but uptight executive producer, and Justin, the laid-back video editor and voice of reason for this oddball crew. Together, they may be a little dysfunctional, but that won't stop them from doing what they do best: breaking the news. The show comes from Tina Fey and Robert Carlock, creators of Unbreakable Kimmy Schmidt and 30 Rock.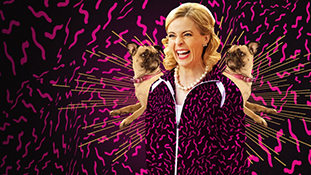 No one can argue that Lady Dynamite isn't one of the most original things on the air today. Created by Mitch Hurwitz (Arrested Development) and Pam Brady and based on the life of comedian Maria Bamford, Lady Dynamite stars Bamford as herself, a comedian moving back to Los Angeles after spending six months of her life in recovery for bipolar disorder. Though certainly a sitcom, Lady Dynamite puts a focus on mental health issues and stability, and uses the visual effects readily available in this decade to create a truly remarkable sitcom. Bamford is one of the funniest comedians working today, with her cheery delivered able to cut deep with jokes about depression, suicide, and more. The show was cancelled in early 2018 after a two season run, but that doesn't stop Lady Dynamite from being one of the best shows on Netflix today.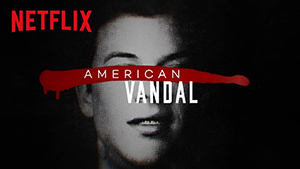 Over the last few years, the true crime genre has seen something of a renaissance in popular culture. Though true crime has been around for decades as both a film and literary art form (think Helter Skelter or Capote's In Cold Blood, of which the latter has spawned three different film adaptations), both season one of Serial–a weekly podcast covering the 1999 murder of Hae Min Lee–and Netflix's own Making a Murderer have brought new fans to the genre. It was only time until someone stepped up to parody the tropes of a true crime series, and that's exactly what American Vandal intends to do. Shot as a mockumentary, Vandal tells the story of a high school prank gone wrong, with several faculty cars tagged and vandalized. The series plays its subject matter straight-faced, with a sophomore from the school investigating whether the accused senior was responsible. American Vandal spawned from two creators who previously worked on Funny or Die and CollegeHumor, so if you're in the mood for a full satire of the true crime craze, it's a perfect show to binge. Two seasons are currently streaming. Despite critical praise and high popularity on social media, Netflix cancelled the show after its second season.
16

Wet Hot American Summer: First Day of Camp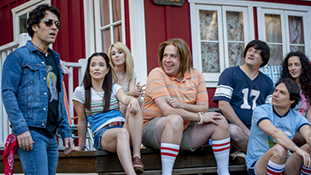 In all honesty, this show shouldn't have worked. The original Wet Hot American Summer, first released in 2001 to middling reviews and poor box office returns before slowly but surely growing into a cult classic, is like lightning in a bottle. Nearly every line or action in the film is quotable ("You taste like a burger. I don't like you anymore."; "The phone! The phone! Where's the—phone!"; several other quotes we can't mention on a family-friendly site), the cast is filled with incredible names you'd recognize immediately (Amy Poehler! Bradley Cooper! Paul Rudd! Molly Shannon! Christopher Meloni! Elizabeth Banks! The voice of H. Jon Benjamin!), and it's basically endlessly rewatchable. So when this prequel series set at the start of the 1981 summer covered in the film hit just as hard as the original, we were as shocked as anyone. Fans of the original must see this continuation of a cult classic.
15

Wet Hot American Summer: Ten Years Later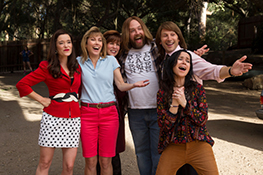 …and once you're done watching First Day of Camp, you can jump back in with Ten Years Later, the series that makes good on the promise set during the original film to reunite exactly ten years after their summer at camp, in 1991. Ten Years Later doesn't hit quite as hard as the original film or First Day of Camp, playing almost like a greatest hits and a reunion special than even the original prequel series did. But for those fans of the original film, you can't quite beat seeing what happened to your favorite character over the decade since they went to camp together. This is as much a sequel to First Day of Camp as it is to the original film, so you'll want to make sure you've seen both before diving into the closing chapter of the Wet Hot American Summer story.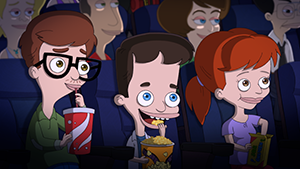 Don't let the cartoonish-look of the show fool you—Big Mouth is very much an adult-animated sitcom about growing up as an awkward tween and teen. Created by comedian Nick Kroll (best known for The Kroll Show on Comedy Central) and writer Andrew Goldberg (Family Guy), along with Mark Levin and Jennifer Flackett, the show is based loosely on Kroll and Goldberg's experiences growing up together in the suburbs of New York. Kroll plays Nick Burch, while close contributor and fellow comedian John Mulaney steps in to play Andrew Glouberman, along with an all-star cast of comedians and voice actors, including Jason Mantzoukas, Jessi Klein, Fred Armisen, Maya Rudolph, and Jordan Peele. The show has received critical acclaim for dealing with teenage issues in a realistic matter while simultaneously not shying away from the gross parts of growing up. Three seasons are currently streaming on Netflix, and the show has been renewed through a sixth (!) season.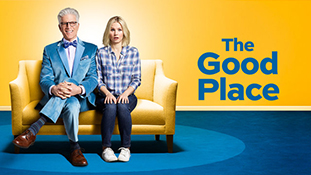 One of the hottest new series to begin airing over the last few years, NBC's The Good Place tells the story of Eleanor Shellstrop, a woman who's woken up to find she's dead and in heaven—or rather, "The Good Place," as it's called. Kristen Bell plays Eleanor, a woman who finds herself in a place she doesn't deserve to be. Also starring is Cheers' alumni Ted Danson as Michael, the creator of "The Good Place," a man trying to make his residents as happy as possible in the afterlife. This series comes from creator Michael Schur, fresh off co-creating both Parks and Recreation and Brooklyn-99. Any fans of his previous work—he also wrote and acted on The Office, where he played Dwight's cousin Mose Schrute—will find plenty to love here. Just don't read too much into the plot online—serious spoilers abound. All four seasons are streaming.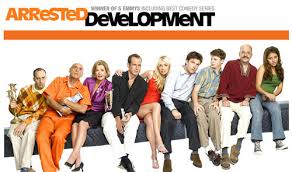 One of the few shows on Netflix to have been revived from a different network, Arrested Development premiered on Netflix on May 26th, 2013, just a few months after Netflix debuted their first original show, House of Cards. Arrested Development's original run from 2003 to 2006 on Fox was critically acclaimed, but a low viewing audience (for the time) meant it squeaked by quietly unnoticed by much of its potential fanbase. Years of strong DVD sales and, yes, streaming on Netflix, meant that the show was able to be picked up for a fourth season distributed by Netflix, exciting the fanbase and continuing the adventures of the Bluth family. Though the fourth season is occasionally seen as a disappointment (the cast, which includes Jason Bateman, Will Arnett, Jessica Walter, Jeffrey Tambor, Michael Cera, Tony Hale, David Cross, Portia de Rossi, and Alia Shawkat, have all gone on to do major film and television roles, which made scheduling the fourth season difficult), the show is absolutely worth watching in its entirety. All three original seasons, plus the two Netflix seasons, are streaming.
11

Unbreakable Kimmy Schmidt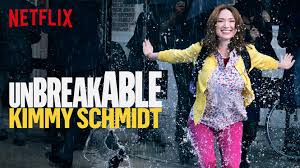 This sitcom was created by Tina Fey and Robert Carlock, and stars Ellie Kemper (of The Office) in the title role. 29-year-old Kimmy was rescued from a Doomsday Cult after spending 15 years as an underground hostage, held by the Reverend Richard Wayne Gary Wayne (played by Jon Hamm). She moves to New York to begin her life as an adult, and we get to follow her as she discovers our weird modern world with enthusiasm and zany naivete. Any fans of Fey and Carlock's previous show, 30 Rock will find plenty to love here, including actress Jane Krakowski, who played Jenna Maroney on Fey's previous sitcom. All four seasons are streaming.
30 Best Sci-Fi & Fantasy Shows Streaming on Netflix [Spring 2021]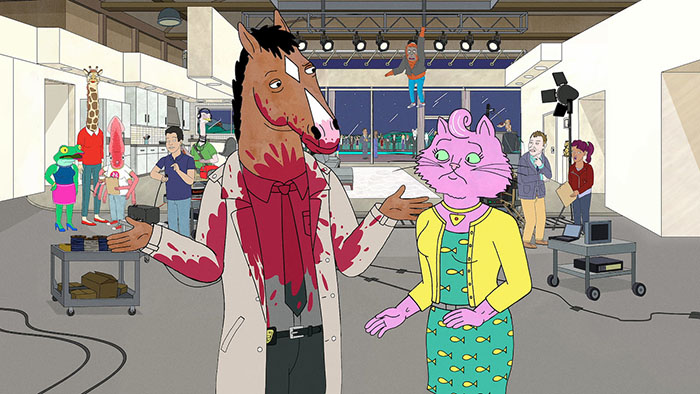 BoJack Horseman is set in an alternate reality where humans and anthropomorphic animals co-exist together. BoJack is the washed-up star of a '90s sitcom titled Horsin' Around, a show similar to Full House in nearly every regard. Though early episodes deal with his plan to return to stardom and relevance by writing an autobiography, BoJack Horseman isn't just another animated adult sitcom. This show focuses on celebrity culture, drug abuse, anxiety and depression in a way no other show has quite managed to do. Though we're living in a golden age of dark comedies (see also: You're the Worst, Crazy Ex-Girlfriend), BoJack Horseman stands out not just as the best of the bunch, but one of the best Netflix original series to date. Despite a slow start in early episodes, the back half of the first season one sees the BoJack team find their footing, and season two onwards is must-watch television. All six seasons are now streaming.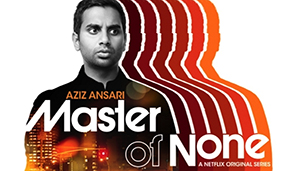 Master of None represents the culmination of much of Aziz Ansari's stand-up, which focuses primarily on relationships and dating in the 21st century. Ansari, who also co-created and writes the show along with Alan Yang, stars as Dev Shah, an actor living in New York who hasn't seen much success over his career. In the first moments of the show, we find him hooking up with a girl named Rachel, an incident that ends with a trip to the drug store for Plan B. The show revolves around Dev's relationships with both his friends and women, including Rachel, and see him exploring career options, trying new things, and even travelling the world. With some incredible cinematography, acting, and specific standalone episodes like the Emmy-winning "Thanksgiving" or "New York, I Love You," Master of None represents a must-watch. The first two seasons are streaming on Netflix.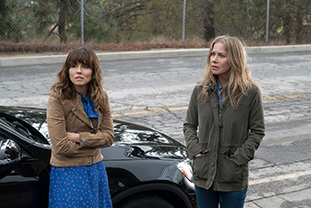 If you're a fan of dark comedies, the works of Christina Applegate and Linda Cardellini, or you just love watching some of the newest binge-worthy shows on Netflix, you'll absolutely need to check out Dead to Me, a brand-new Netflix original from Liz Feldman. In the show, Applegate plays Jen Harding, a real estate agent whose husband tragically passed away in an unsolved hit-and-run. At a support group for grieving widows, she meets Judy (Cardellini), a free-spirited woman who quickly becomes one of Jill's best friends. The two bond while Jen tries to solve the murder of her husband, unaware that Judy hides a shocking secret. Two seasons are streaming.
It might look like a spin-off of Netflix's long-running Bojack Horseman, but trust us when we say Tuca and Bertie is its own thing. Created by Lisa Hanawalt, who worked as a production designer and producer on Horseman, the series is also set in a world of talking anthropomorphic animals, led by the titular characters (featuring the voices of Tiffany Haddish and Ali Wong, respectively). The show is much weirder, wilder, and surreal than Horseman's more straightforward world of sitcom stars, which allows it some freedom to truly become one of Netflix's next big animated shows. While the show was cancelled after its first season, Comedy Central picked up the show in 2020 for future seasons.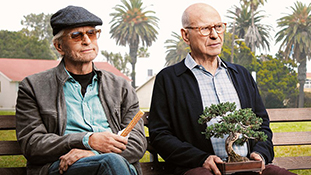 Chuck Lorre has been behind some of your favorite sitcoms of the last twenty years, from critical hits like Mom and Roseanne to huge hits with audiences like The Big Bang Theory and Two and a Half Men. In his newest show (and second Netflix original), Lorre turns to a single-camera sitcom once more, along with two legacy actors who have finally come to Netflix to create an original: Alan Arkin and Michael Douglas. The show follows Sandy Kominsky (Douglas) and Norman Newlander (Arkin), two old men will have to balance their personal lives while accepting their growing age, all while managing their careers as a Hollywood acting coach and his agent, respectively. A second season is now streaming.
Coming-of-age stories are often told from the perspective of standard teenagers, and almost exclusive to films. So imagine our delight when Netflix produced Atypical, a series that tells the story of Sam Gardner, an 18-year-old man with autism living in Connecticut, who decides he wants to start trying to date. Doug, his father who has struggled to connect with Sam, decides to help Sam further his relationship. However, when Doug drives Sam to his crush's house, he realizes that Sam is actually interested in his 26 year old therapist, Julia. When Doug decides to help Sam get a girlfriend his age, he begins working towards learning the social nuances of dating. Three seasons are streaming.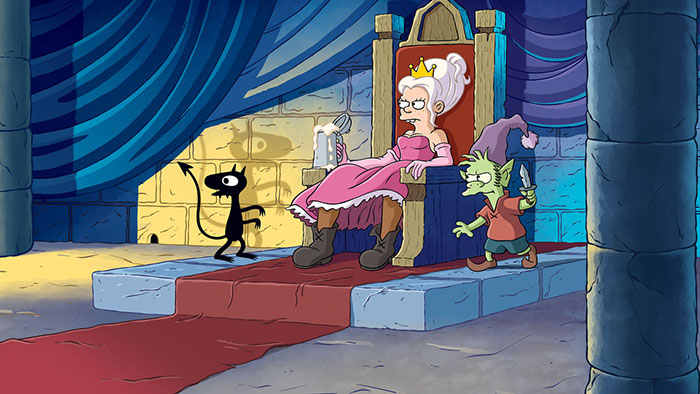 From Matt Groening, the series creator behind The Simpsons and Futurama, comes his third original animated series—this time, set in the past. Disenchantment is an animated comedy set in the wonders of the Middle Ages. The series, which premiered in August of this year with a 10 episode first season, follows Bean, an irresponsible and alcoholic princess of the kingdom of Dreamland who constantly gets herself in trouble with her father, the king. With an all-star voice cast including Abbi Jacobson, Nat Faxon, Eric Andre, and Futurama alumni John DiMaggio, Billy West, David Herman, Tress MacNeille, and Maurice LaMarche, the series is absolutely worth seeking out—especially if you're more into the plot-heavy elements of Futurama. The entire two-part first season is streaming.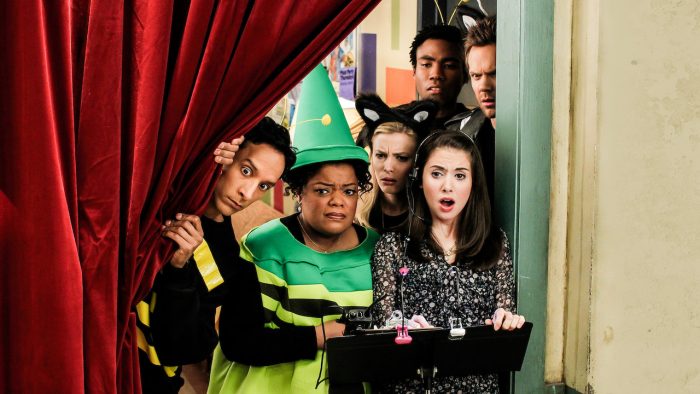 Before Dan Harmon went on to co-create Rick and Morty, he worked for five seasons on Community at NBC. And while his most recent creative efforts have been one of Adult Swim's most popular shows to date, Community—as critically-acclaimed as it is—continues to remain a cult hit. That might finally change with all six seasons of Community now streaming on Netflix. The show follows Jeff Winger (Joel McHale), a disgraced lawyer who returns to community college to actually finish his degree. There he meets a lovable gang of misfits (played by, in no particular order, Donald Glover, Chevy Chase, Yvette Nicole Brown, Alison Brie, Gillian Jacobs, and Danny Pudi), who slowly become the family he never had. Community might have aired the same night at The Office and Parks and Rec, but this is a much weirder show—one that can morph into an action movie, an espionage thriller, a David Fincher homage, a mockumentary, or even an animated Christmas special at will.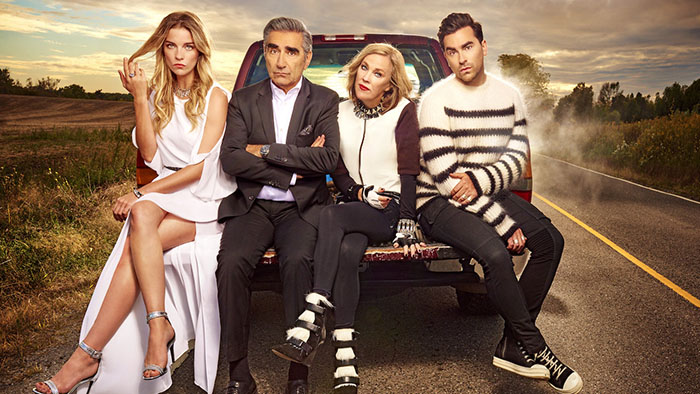 A cult hit that gained popularity thanks in part to Netflix, Schitt's Creek follows the Rose family, a wealthy clan that includes video store magnate Johnny (Eugene Levy), his wife and former soap opera actress Moira (Catherine O'Hara), and their adult children David and Alexis (Daniel Levy and Annie Murphy), who lose their fortune after being defrauded by their business manager. They are forced to rebuild their lives with their sole remaining asset: a small town named Schitt's Creek, which they had bought their son as a joke birthday gift back in 1991. The Roses relocate to Schitt's Creek, moving into two adjacent rooms in a run-down motel. As the family adjusts to their new lives, their well-to-do attitudes come into conflict with the more provincial residents of Schitt's Creek, including mayor Roland Schitt (Chris Elliott), his wife Jocelyn (Jenn Robertson), and the motel's manager, Stevie (Emily Hampshire).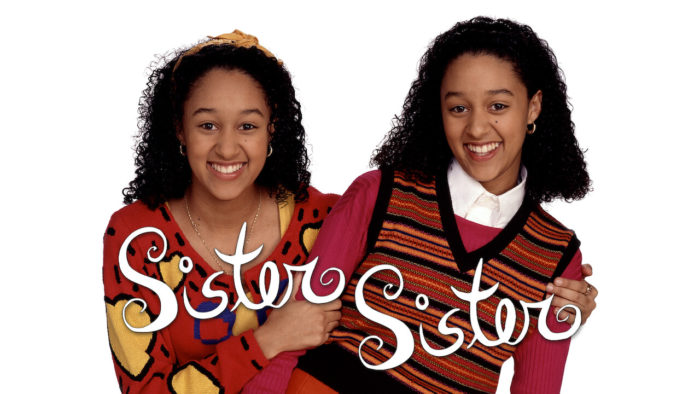 A classic 90s sitcom staple, Sister, Sister's entire six season run is now streaming on Netflix. The show follows two twins, Tia and Tamera, who were separated at birth after being taken by their individual adoptive parents. One day, the twins run into each other at the mall, and after pushing for their families to meet, the two twins finally find themselves living together under the same roof. Of course, after fourteen years of living apart from each other, only one thing is for sure: these two twins may look alike, but they have less in common than you might think.
Disclaimer: Some pages on this site may include an affiliate link. This does not effect our editorial in any way.