The Best Games Like Smash Bros / Best Platform Fighters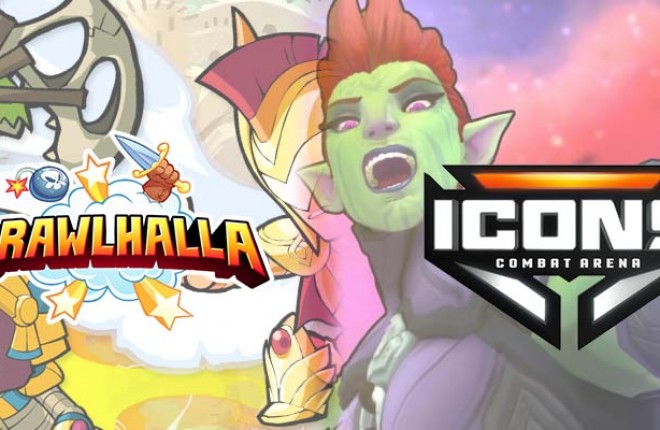 The Super Smash Bros. series is one of the biggest in gaming. Starting as a humble crossover fighter on the Nintendo 64, Super Smash Bros has since grown to be gaming's largest crossover event, hosted by Nintendo on their latest consoles and featuring many iconic third-party characters, like Sonic The Hedgehog or Solid Snake.
Aside from pushing crossovers in gaming to a new level, however, Super Smash Brothers has also managed to pull off another revolutionary thing. Super Smash Bros. has created a whole new genre of game- the platform fighter.
Platform fighters are often called Smash Bros. Clones, but can boast many differences when compared to the games they're supposedly cloning. Platform fighters focus on death by pitfall or being blasted offscreen, with damage done to opponents increasing knockback rather than cutting away at a traditional health meter or life bar.
The biggest challenge of a non-Smash Bros. platform fighter is overcoming the fact it isn't Smash Bros. Without a cast of internationally-recognized gaming icons, all most platform fighters have left to go on is their raw gameplay, which needs to provide an equal or better experience than what people are getting in mainline Smash titles.
While we don't claim any of the games we've listed below are better than any Smash games, we will say that we highly recommend each and every one of them. While many may argue that these games are just Smash Bros. clones, each of these games have been building their own styles, in their own universes, to set themselves apart.
With no further ado, let's get started!
Pros
Fully 3D graphics
Fast and technical gameplay
The entire cast of playable characters is viable
Overall levels of polish have greatly increased since the original trailer
Free to play
Cons
The proper release will introduce some downsides to the Free To Play system, namely the need to grind or pay for some playable characters
Certain graphical options can result in a very blurry-looking game- make sure to keep an eye on your settings to mitigate this
Small cast of playable characters- only seven
Small selection of stages
Of the games on this list, Icons: Combat Arena definitely has the highest production values. Boasting fully-modern 3D graphics and a free-to-play system, Icons wants to be a more accessible rival to Super Smash Bros. Melee. If you've heard anything about this game, chances are it involves its development team.
You see, Icons: Combat Arena is developed by Wavedash Games, a studio formed by independent developers and former members of the Project M Development Team. (Project M, for the uninitiated, is the most popular Smash Bros. mod of all time, making Brawl into a more Melee-esque experience and bringing back characters cut from Brawl.)
As the name of the studio might imply, Icons brings back a lot of advanced mechanics that debuted in Melee but haven't been seen in a Smash game since. Most prominently, this means wavedashing. There are also other unique mechanics added by Icons, like shield gusting.
Of the games on this list, we think Icons has the best chances of coming into its own as a rival to Smash Bros. While early trailers didn't have much in the way of polish, the latest betas have improved sound design, graphics and character animations significantly.
Most notable of Icons' benefits is its character balance. While it does have a small cast when compared to other platform fighters (especially Smash), each of these playable characters are balanced for fast-paced and competitive play, ensuring that a Melee situation (where only a few characters are viable competitively) doesn't happen here.
Pros
Great 2D sprites and cohesive art style
Very fast, technical gameplay that harkens back to Melee but has its own unique twists
Well-balanced roster of playable characters
More playable characters available via DLC, nearly doubling the cast of playable characters
Cons
Only eight playable characters before DLC
Cost of DLC characters adds $24 to the cost of the game without sales, and these characters can't be unlocked in normal gameplay
Rivals of Aether is our second pick. Aside from the cons listed above, there isn't really a lot of problems of note with Rivals of Aether. Its graphics and art-style are both super-slick, and the game has been out for a little over a year now. During this span of time, Rivals has nearly doubled its roster of playable characters with DLC, and the game's support doesn't seem to be slowing down anytime soon.
Like Icons, Rivals also focuses on the fast, technical side of platform fighter gameplay. This includes wavedashing, higher overall game pacing, and the removal of mechanics like ledge-grabbing, which means that games progress rapidly and stalemates don't really happen.
If you're a competitive Smash player or like competitive platform fighters in general, Rivals of Aether is definitely the game for you. While it isn't Free To Play like Icons is, the gameplay on offer here is easily worth the asking price of $14.99.
Pros
Large, expansive roster of characters
Casual-friendly gameplay without a focus on Melee-esque mechanics like wavedashing
Plenty of cosmetic customization options
All characters unlockable through normal gameplay
A wide variety of playable gamemodes
Unique, cartoony artstyle
Cons
If you want to avoid grinding, unlocking all characters can cost $20, though this also offers access to all future character releases
May not offer the competitive depth that some fans are looking for
Brawlhalla is one of the most popular indie platformers, operating with a Free To Play economy and a more casual-centric gameplay experience. Boasting 39 playable characters, near limitless cosmetic customization options, and a large community, Brawlhalla has a lot to offer for fans of the genre.
Brawlhalla is packed with content and different ways to play, though its nature as a Free To Play game can result in a lot of grinding to get the things you want out of the game. You can spend $20 to get all the playable characters and bypass the grinding entirely, though that obviously trades away the "Free" benefit.
If you're a competitive player, this game probably won't appeal to you much. There's not much in the way of advanced technical maneuvers and, overall, the game focuses on providing a casual-friendly experience.
But if you want a large roster of diverse characters to play and don't mind a more casual-oriented experience, Brawlhalla is the game for you.
Pros
Unique gameplay where you get to build your own fighter
Great 3D graphics with a soft retro styling
A strong soundtrack- arguably the strongest on this list
Tight, speedy, but not overly-technical gameplay
Did Smash Run before Smash Run!
Cons
No online play- local multiplayer only
Megabyte Punch is a platform fighter from Team Reptile (creators of Lethal League, another game we highly recommend) with a unique twist. Before you actually start fighting your opponents in Megabyte Punch, you have to travel through large environments to collect parts and upgrades for an upcoming battle with your opponents.
If this sounds like Smash Run, the game mode introduced in Smash Bros. For Nintendo 3DS, that's because it's pretty much just a more complex version of that. Where it gets interesting is that Megabyte Punch came out in October 2013, while Smash 3DS didn't release until September 2014.
You read that right- Megabyte Punch did Smash Run first!
Not only is this a unique take on platform fighters, you could make a very valid argument in saying that this isn't a Smash clone at all- if anything, Smash cloned this game's core gameplay hook.
In addition to a unique gameplay hook and nice 3D graphics, Megabyte Punch also boasts a truly incredible soundtrack. Team Reptile, in general, seems to care about making sure their games are well-scored, and the effort really shows in this game.
However, there is one notable downside to this whole package- this game does not support online play. Considering that this is one of the first releases from a two-man studio at the time, this makes sense, but it is disappointing that you'll really only be able to enjoy this game with couch multiplayer.
Pros
Great 2D spritework and plenty of large levels to speed through
Steam Workshop and Level Editor support ensures that you never run out of things to play
Serves as a very good way to train your Wavedashing and other advanced movement techniques
A small, dedicated community of engaged players
Cons
No real multiplayer content to speak of
Game is more of a supplement to Smash and other tecnical platform fighters, not a solo experience
Last but not least is WaveLand, a single-player game that isn't even a platform fighter. There's no combat to speak of, no multiplayer outside of online leaderboards…so you may be wondering what this game is doing on a list of the best Smash Bros. clones.
If you're deep into Melee, the title of this game may have already tipped you off. WaveLand is a single player platformer with massive stages designed around Melee's movement mechanics, mainly airdodging and wavedashing. If you've ever wondered what advanced Melee mechanics might feel like in a platformer, WaveLand is the game for you.
Featuring many massive levels to speed run through, theoretically endless content through the Steam Workshop, and a recent free Dark Worlds expansion, WaveLand is jam-packed with single-player content.
What this game will do is provide you with a really fun and engaging way to practice your advanced movement mechanics for Melee, Rivals of Aether, or Icons. It'll also give you a really slick platformer, if you enjoy that genre.
What this game won't do is provide you with an experience that can substitute a Smash game or another multiplayer platform fighter on this list. This is built as a single player experience, but it won't give you the Smash substitute you might be looking for.
Does Bumble Boost Work? Is It Worth It?
Read Next