The 25 Best Thrillers Streaming on Netflix [Fall 2020]
Netflix is filled with classic dramas, superhero action, and comedies for the whole family, but nothing picks you up on a quiet Saturday afternoon quite like a thriller. Filled with suspense and excitement, thrillers keep you on the edge of your seat unlike anything else, guessing what's going to happen right up to the end of the film. With elements of horror, action, and mystery, it's no wonder Netflix has dozens of classic thrillers to choose from, and we've narrowed down twenty-five of the best on the service this fall. Let's dive in.
TechJunkie's Cut the Cord Weekly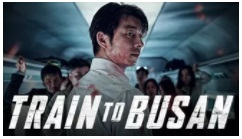 Train to Busan may be unfamiliar to most Americans, but if you're willing to dive into the world of South Korean films, this action-horror thriller is a great introduction. The film follows the passengers in a bullet train headed from Gwangmyeong Station to Busan in South Korea, with passengers including Seok-woo, a divorced fund manager taking his daughter to her mother's house; a working-class man and his pregnant wife; a high school baseball team; and a homeless man suffering from PTSD. When the train departs, a convulsing young woman jumps on board suffering from a bite wound on her leg, and quickly becomes a zombie, transferring her virus to others on the train. The passengers will have to fight their way to safety to make it to Busan—but who will they lose along the way?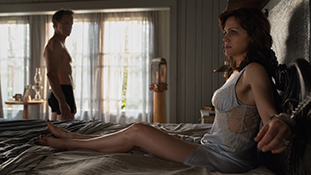 The best Stephen King adaptations of the past five years also happens to be a Netflix Original film. Gerald's Game was released in 2017 just weeks after It hit theaters, so you would be excused if you missed out on catching this film. Based on the novel of the same name, Gerald's Game follows Jessie (Carla Gugino, Spy Kids) and Gerald (Bruce Greenwood, Star Trek), a married couple that seek out an isolated lakehouse in Alabama to work on their failing relationship. While engaging in some light bondage, during which Jessie is handcuffed to the bed, the couple devolves into an argument about their marriage. Gerald, having taken two Viagra, suffers a heart attack, falling dead on the floor of the remote lakehouse and leaving Jessie handcuffed to her bed. The film follows the psychological effects that haunt Jessie as she lays trapped in bed.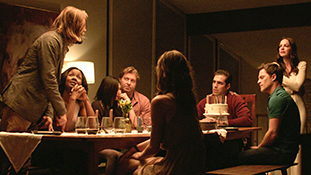 Mysteries and thrillers are perfect for dark and stormy nights, and The Invitation might be the ideal film to chill you to your core. The film stars Logan Marshall-Green as Will, a divorcee who drive his girlfriend Kira to a dinner party hosted by his ex-wife at his old house in the Hollywood Hills. Will's ex, Eden, alongside her new husband David, welcomes Will and Kira to the party, though immediately, something feels wrong. As Will continues to deal with the grief of his deceased son (the reason Eden and him split up), he begins to feel like something is wrong with his ex-wife and her husband's motivations. The tale is dark and grim, and as the night advances, you'll begin to put the pieces together in this thrilling tale of mystery and murder.
22

The Silence of the Lambs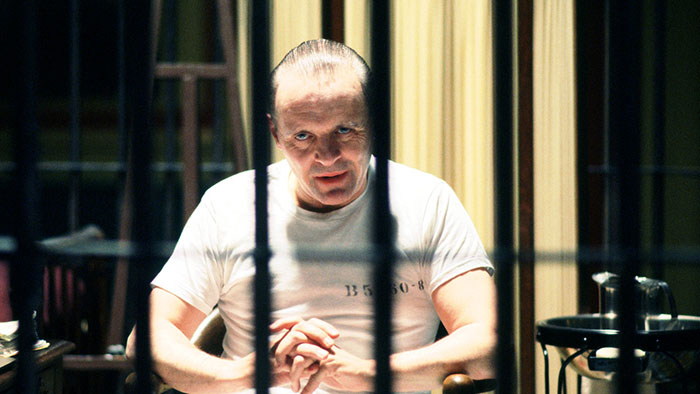 Jodie Foster stars as Clarice Starling, a top student at the FBI's training academy. Jack Crawford (Scott Glenn) wants Clarice to interview Dr. Hannibal Lecter (Anthony Hopkins), a brilliant psychiatrist who is also a violent psychopath, serving life behind bars for various acts of murder and cannibalism. Crawford believes that Lecter may have insight into a case and that Starling, as an attractive young woman, may be just the bait to draw him out. The film was the second time Lecter appeared on film, following Michael Mann's Manhunter five years prior, though in that film, he was portrayed by Brian Cox. The film became the third film to win all five major awards at the Oscars (Best Picture, Best Director, Best Actor and Actress, and Best Adapted Screenplay), preceded only by It Happened One Night and One Flew Over the Cuckoo's Nest. In addition, it's still the only film considered horror to win Best Picture.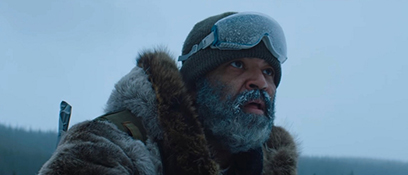 In this new Netflix Original film, director Jeremy Saulnier (Blue Ruin, Green Room) follows a wolf expert named Russell Core (Jeffrey Wright), who is called to a village in Alaska to help hunt down wolves seemingly responsible for the deaths of three small children. When he arrives in Alaska, he meets with Medora Slone (Riley Keough), whose son was the third child to go missing. He learns that he husband, Vernon (Alexander Skarsgard, It), is away on military leave, while the father of the second child taken, she informs him, will not be speaking to Russell. As things begin to grow darker, Russell will have to hurry to figure out the mystery behind the disappearance of children, all while risking his own life in the process.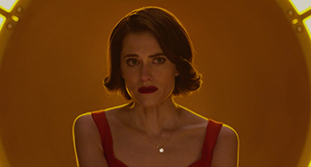 The latest Netflix Original horror film, The Perfection comes from Richard Shepard (Dom Hemingway), and supplies Netflix viewers with a heavy dose of B-movie horror. The film follows Charlotte (Allison Williams, Get Out), a cellist who was forced to leave her prestigious music school in Boston to care for her ill mother. A decade later, Charlotte travels to Shanghai following the death of her mother, in order to follow Lizzie, the music student who took her place in the school. Not for the faint of heart, the film is a tough watch, filled with violence, gore, and sexual assaults. Anyone who loves vile B-horror will absolutely want to seek it out.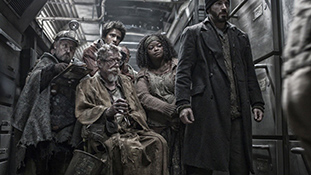 Directed by acclaimed Oscar-winner Bong Joon-ho (Parasite, The Host), Snowpiercer is a 2013 action film starring Chris Evans and Tilda Swinton. The film follows Curtis (Evans), a passenger aboard the Snowpiercer, a train riding throughout the now-frozen globe eternally. Curtis is pushed to his breaking point, and he, along with the others in the back of the train, plan a revolution to take out both Minister Mason (Tilda Swinton) and Wilford (Ed Harris), the inventor of the train. The film's action is well-shot, and the class messaging is strong and delivers on clear themes. Of course, the real stars of the show here are both Evans and Swinton, who are at their best in their respective roles.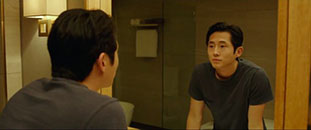 One of the best films of 2018, Burning is a South Korean psychological drama mystery adapted from "Barn Burning," the short story by famed Japanese writer Haruki Murakami. Burning follows Lee Jong-soo, a young man working to perform odd jobs in order to make money in Paju. While working, he runs into Shin Hae-mi, a girl who used to live in his neighborhood when they were children. The two develop a connection, and Hae-mi asks Jong-soo to watch her cat while she's out of town. When she returns from a trip to Africa, she introduces him to Ben (Steven Yeun, The Walking Dead), a man she met while on vacation. Ben seems like an average playboy at first, but slowly, a darker, mysterious nature reveals itself.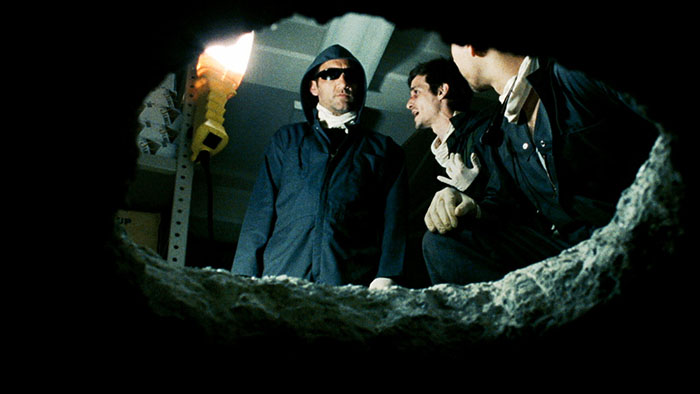 A Spike Lee film, Inside Man is a film focused around an elaborate bank heist that takes place over a full twenty-four hour period. The film stars Denzel Washington as Detective Keith Frazier, a NYPD cop assigned to negotiate and communicate with the leader of the bank heist, played by Clive Owen. With one of the best openings to a heist movie we've ever seen (including a legendary fourth-wall break), an all-star cast including Washington and Owen, Jodie Foster, Willem Dafoe, Chiwetel Ejiofor, and Christopher Plummer, and solid reviews. Lee tried to get a sequel to the film made after it became his most successful film commercially, but plans for the sequel fell through in 2011.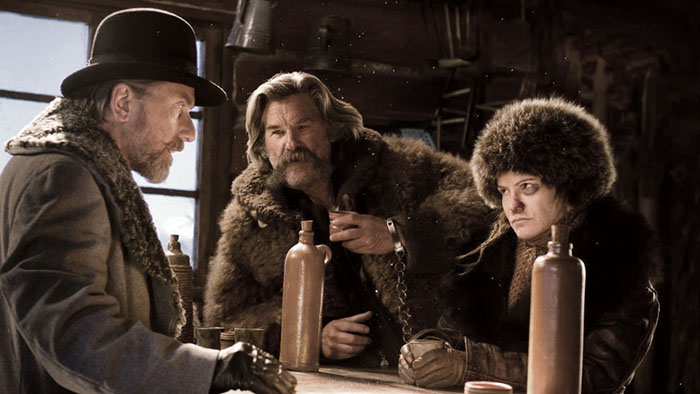 Quentin Tarantino's eighth and most recent film, The Hateful Eight is a full-blown western from the legendary director, set in the post-Civil War era of the United States during a harsh blizzard outside Red Rock, Wyoming. Major Marquis Warren (Samuel L. Jackson), a bounty hunter, is transporting three dead fugitives to the town of Red Rock when he catches a ride to town from John Ruth (Kurt Russell), a similar bounty hunter bringing in Daisy Domergue (Jennifer Jason Leigh). When the trio gets stuck in a blizzard, they make a beeline for Minnie's Haberdashery, a stagecoach lodge, where they meet the other people staying at the house through the blizzard. While hostilities rise between the group, Daisy sees someone poison the coffee, leading to the death of two more characters. As a murder mystery begins to rise, the only question that remains is simple: is it more dangerous in the blizzard, or in Minnie's Haberdashery? The film was also recently recut by Tarantino and his editor into a four-episode miniseries exclusive to Netflix, featuring all-new footage.
The 55 Best Shows on Netflix Right Now [October 2020]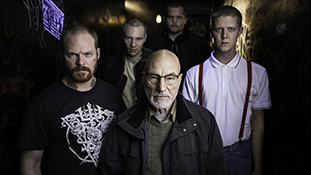 More of a horror-thriller than a straight-played thriller flick, there is so much to love in this film by acclaimed filmmaker Jeremy Saulnier. The film follows a punk rock band called the Ain't Rights, on tour throughout the Pacific Northwest. When their gig is cancelled, a local radio host manages to arrange a show at a local neo-Nazi bar outside of Portland. When Pat (the late Anton Yelchin) returns to the green room after the show to grab a bandmate's phone, he witnesses the body of a girl stabbed to death by one of the neo-Nazis. Pat contacts the police, but the bar's employees lock them in the green room, creating a cover story for the cops to get them to stay away by having one skinhead stab another. When Gabe (Macon Blair) contacts his boss Darcy (Patrick Stewart, much more terrifying than usual) about killing them, the band will have to fight for their lives.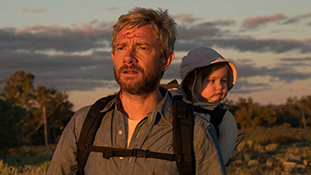 Cargo is a fresh spin on the zombie genre that will leave you on the edge of your seat. Part horror film, part post-apocalyptic thriller, Cargo follows a man named Andy (Martin Freeman, Black Panther, The Hobbit) who finds himself stranded in Australia with his wife and child following an outbreak of a zombie virus, which manages to take over the world in less than 48 hours. Though they originally find hope in a houseboat, Andy's wife Kay is eventually attacked, leaving Andy alone with his one-year-old infant daughter Rosie. Stranded in rural Australia, Andy must attempt to protect his daughter from the threats surrounding them—a task that manages to grow more difficult as time progresses. Directed by Yolanda Ramke and Ben Howling, the film is based on the short of the same name created by those two filmmakers in 2013, and received positive reviews for its character-driven approach to the genre.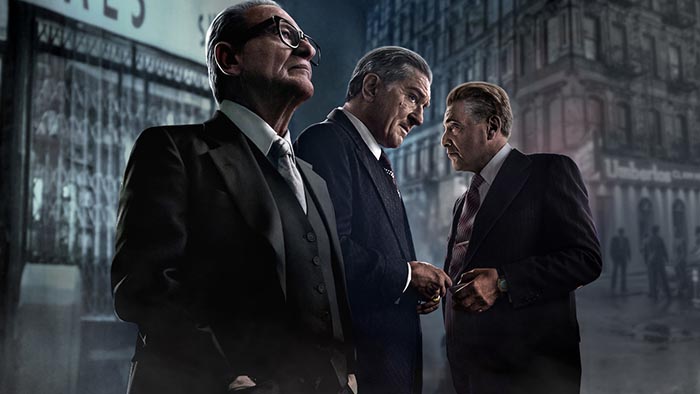 The Irishman arrived in theaters and on Netflix with a deluge of great reviews and even more controversy, as director Martin Scorsese found himself in the hot seat after delivering a critique on superhero films. Mixed press aside, nothing could stop The Irishman from becoming one of the best-reviewed films of the year, and now that it's finally streaming on Netflix, those who didn't get access to it in their local indie theater can finally stream it for themselves. The film follows truck driver Frank Sheeran starting in the 1950s, as he begins to work for Russell Bufalino and his crime family in Pennsylvania. Sheeran becomes one of their most reliable hitmen, and things get even more complicated when he goes to work for Jimmy Hoffa, the powerful, popular Teamster tied to organized crime. Scorsese teams up with Robert De Niro, his most frequent collaborator, along with Joe Pesci and Al Pacino.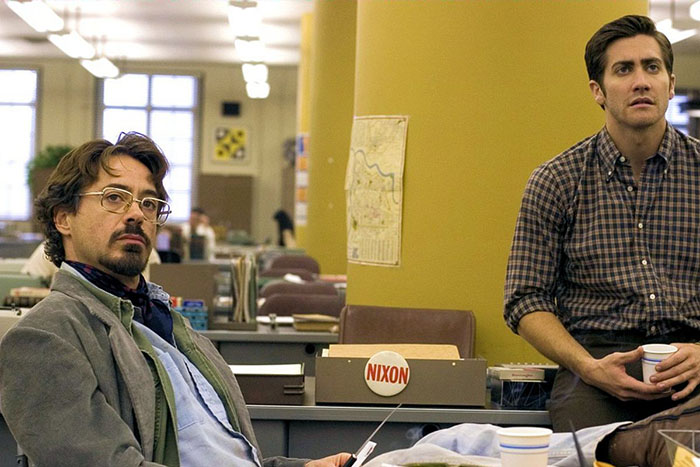 In the late 1960s and 1970s, fear grips the city of San Francisco as a serial killer known only as the Zodiac Killer stalks its residents. Investigators (Mark Ruffalo, Anthony Edwards) and reporters (Jake Gyllenhaal, Robert Downey Jr.) alike become obsessed with learning the killer's identity and bringing him to justice. Meanwhile, the Zodiac Killer claims victim after victim and taunts the authorities with cryptic messages, cyphers and menacing phone calls. Directed by David Fincher, Zodiac is one of the best films of 2007, often considered one of the best years of recent cinema, and while its length may scare some off from checking it out, it's absolutely worth it.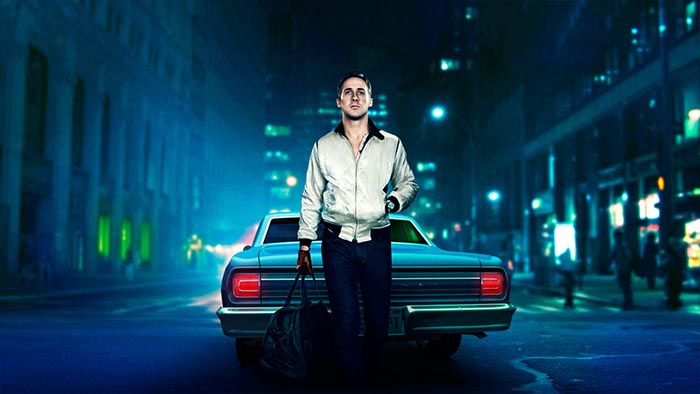 Though Drive is, in our opinion, one of the best films of the 2010s, its theatrical release was marred by controversy. After a misleading trailer advertised the film towards an action-focused crowd coming hot off the heels of films like Fast Five, Drive opened to an audience that wasn't ready for the film's slow, methodical pacing and quiet protagonist. Of course, if you can accept the film for what it is—a thriller-drama with several moments of intense violence—Drive can be an incredibly rewarding watch. The film follows the unnamed Driver (Ryan Gosling), a Hollywood stuntman who also works as a getaway driver for criminals. When the Driver is enlisted in a heist gone wrong, he must risk his own life to protect the lives of his neighbor and her young son. With an all-star supporting cast including Bryan Cranston, Carey Mulligan, Oscar Isaac, and Albert Brooks, Drive is a must-see film.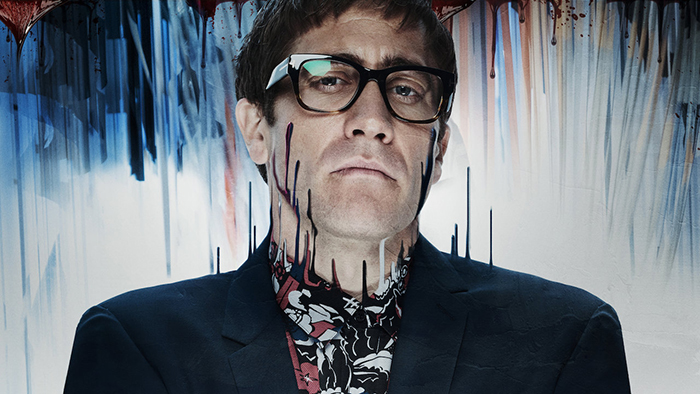 In this Netflix Original film from director Dan Gilroy (Nightcrawler), the acclaimed screenwriter and director reunites with Jake Gyllenhaal for a brand-new film set in the art world of Los Angeles. Velvet Buzzsaw follows art critic Morf Vandewalt, who works for a tough gallery owner named Rhodora Haze, a former member of the rock band the movie is named after. Morf, feeling unfulfilled with his love life and his boyfriend Ed, starts a sexual relationship with Josephina, his friend and agent. When Josephina finds a dead man named Ventril Dease in her apartment block, she's surprised to learn he's an artist, his home filled with paintings. However, when those paintings are added to the gallery's collection, a supernatural force begins to kill those who have allowed greed to get in the way of art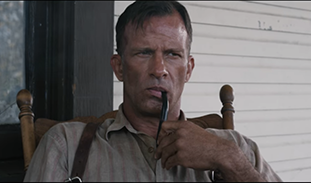 1922 is based on the work of the same name by Stephen King, and was brought to life ad a Netflix original by Zak Hilditch. Thomas Jane stars as Wilfred James, a man who arrives at a hotel in Omaha, Nebraska to write a confession to a crime he committed on his family farm in 1922. The film flashes back to that year, where James fights with his wife Arlette, who wishes to sell the land Arlette recently inherited. While Arlette wishes to sell the land and move to Omaha to open a dress shop, Wilfred wants to stay on the farm with his wife and son, Henry. When Arlette raises divorce, Wilfred convinces his son to assist in the only plan they have left: murder. Part horror film, part thriller, this film is perfect for anyone looking for a good mix between terrifying and exhilarating.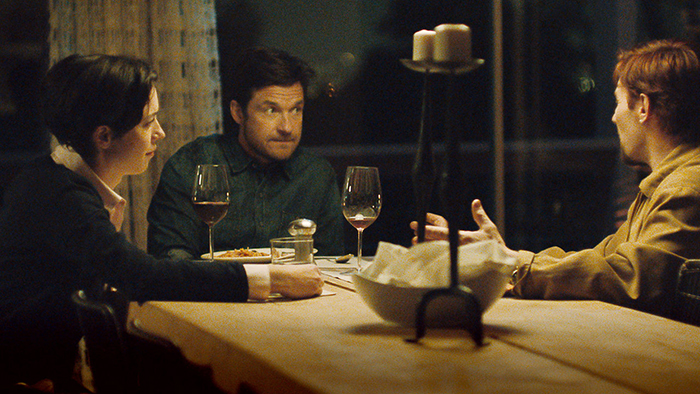 The Gift is Joel Edgerton's 2015 directorial debut, a psychological thriller sure to keep you on the edge of your seat. The film follows Simon and Robyn (Jason Bateman and Rebecca Hall), a happily married couple who have an unexpected encounter with Gordo (Edgerton), a stranger that Simon knows from his past. As Simon continues to run into Gordo, it becomes more and more obvious that Gordo's intentions may not be pure of heart. A number of mysterious gifts seem to be leading both Simon and Robyn to a horrifying truth that may destroy their marriage forever. The Gift was produced by Blumhouse Productions, and was critically-acclaimed when it premiered in the summer of 2015.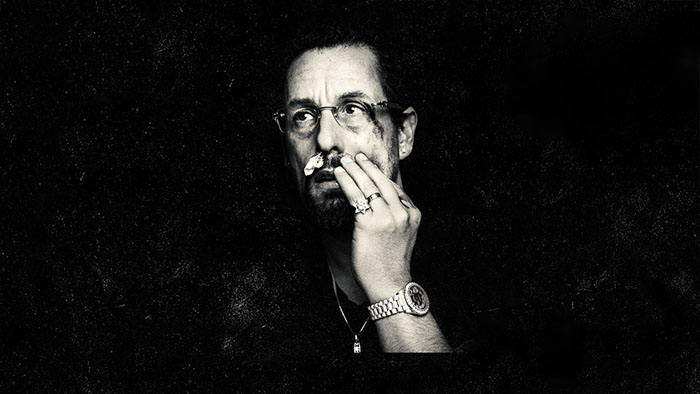 Not only is Uncut Gems one of the best films of 2019, it's also one of Adam Sandler's best on-screen performances of his career. After wowing audiences with his turn in Punch-Drunk Love back in 2002, Sandler returns to drama for the first time since The Meyerowitz Stories. In the film, directed by the Safdie Brothers (Heaven Knows What, Good Time), Sandler plays Howard Ratner, a jeweler in New York who is addicted to gambling and has found himself under a pile of debts he can't pay. After scoring a rare Ethiopian black opal that promises to sell for millions of dollars at auction, Ratner loses control of the situation after lending the gem to NBA star Kevin Garnett. As the tension rises, Ratner has to make a series of high-risk bets to get back on top of the situation.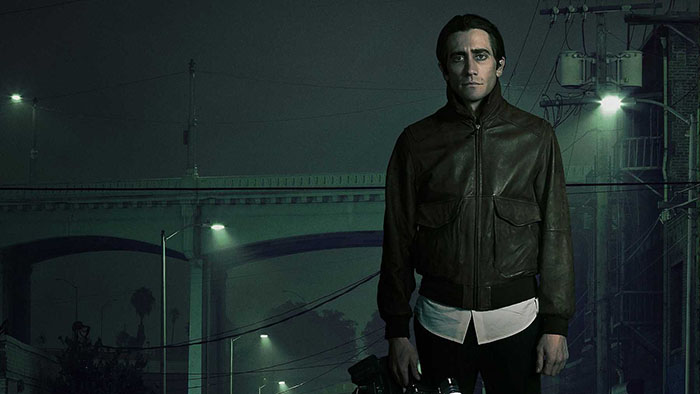 In the directorial debut of screenwriter Dan Gilroy, Nightcrawler stars Jake Gyllenhaal as Louis Bloom, a stringer who records violent events in Los Angeles at night and sells them to local news networks to make a quick buck in the process. When he catches the eye of a news director who welcomes the chance to raise her station's ratings, Louis begins going to increasingly greater lengths to catch criminal activity on camera, going as far to instigate and provoke the very same criminal activity he's trying to film. Acclaimed for its screenplay and for Gyllenhaal's performance, Nightcrawler is considered one of the best films of 2014 and a must-see for anyone interested in dirty, underground journalism.
The 80 Best Netflix Original Shows [October 2020]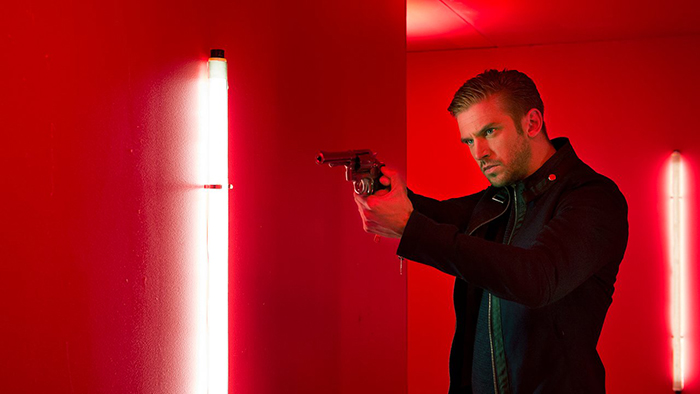 Adam Wingard and Simon Barrett impressed with their 2011 film You're Next, and when they got to make a follow-up just three years later, they crafted one of the best horror-thriller hybrids of the 2010s. The Guest follows a mysterious US soldier named David, who brings it upon himself to visit the mourning Peterson family. David introduces himself as a friend of their late son Caleb, who died in combat in Afghanistan. Invited into the family home, David slowly improves the lives of each member of the family, but when a series of unexplained deaths occur, daughter Anna (Maika Monroe, It Follows) begins to suspect David is connected.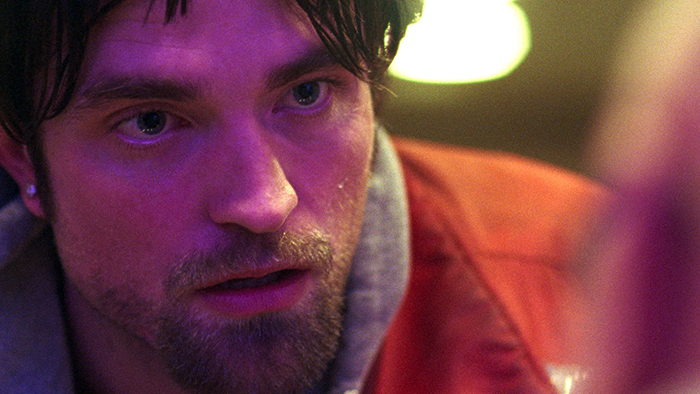 With the success of Uncut Gems, audiences have finally found out what die hard indie fans have known for years: the Safdie Brothers are the next big thing. If you finally saw Uncut Gems, you owe it to yourself to head back to the Safdie's 2017 film, Good Time. The film stars Robert Pattinson as Connie Nikas, who uses his mentally-handicapped brother to help get away with a bank robbery. After stealing $65,000, the two go on the run, but things go sound when Connie's brother Nick (Benny Safdie) runs from the cops and is sent to jail. Desperate to find bail money for Nick, Connie finds himself in for a rough night.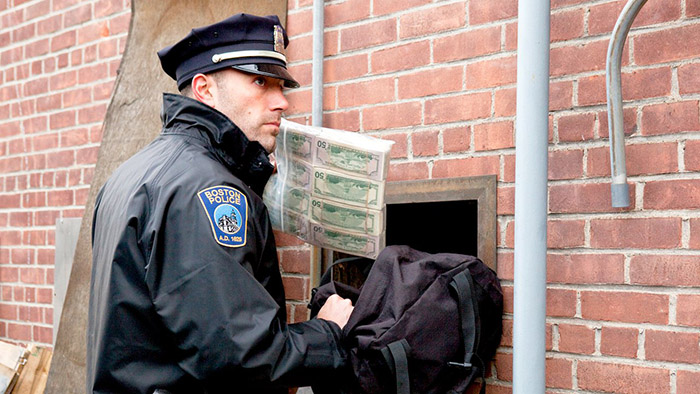 Ben Affleck managed to rejuvenate his career with Gone Baby Gone, his 2005 directorial debut, and with his 2010 follow-up The Town, he cemented himself as a filmmaker to watch. The Town is based on the Chuck Hogan novel Prince of Thieves, the film follows Doug MacRay (Ben Affleck), a criminal who leads a band of ruthless bank robbers and has no real attachments with one exception: James (Jeremy Renner), who—despite his dangerous temper—is like a brother. Everything changes for Doug when James briefly takes a hostage, bank employee Claire Keesey. Learning that she lives in the gang's neighborhood, Doug seeks her out to discover what she knows, and he falls in love. As the romance deepens, he wants out of his criminal life, but that could threaten Claire's wellbeing.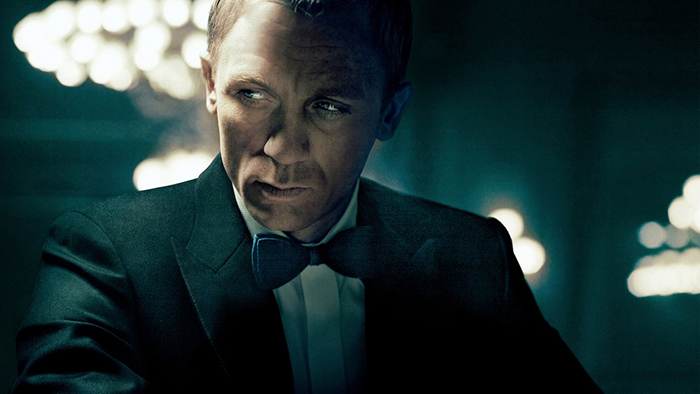 After burning out at the turn of the century, a new take on Bond seemed necessary to carry the long-running series into a new millennium. Casino Royale serves as a soft reboot to the series, with Daniel Craig filling the shoes of the legendary spy. The film follows James Bond, an agent for the British Secret Service, who heads to Montenegro after discovering a link to Le Chiffre (Mads Mikkelsen), a terrorist financier. After discovering Le Chiffre plans to raise money during a high-stakes poker game, Bond is sent to play against him. The film's direct sequel, Quantum of Solace, is also streaming on Netflix, with the fifth and final film following Craig's Bond, No Time to Die, planned for a November 2020 release.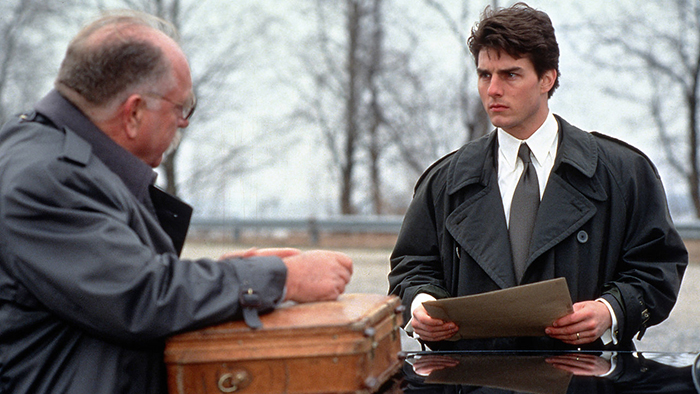 Allow Netflix to take you back to a simpler time, when law dramas ruled the box office and Tom Cruise was one of Hollywood's most reliable, bankable stars. The Firm is based on John Grisham's book of the same name, and follows Mitch McDeere, a hotshot lawyer fresh out of Harvard Law. When Mitch joins a small but highly-regarded law firm, he's shocked to learn most of their clients are white collar criminals whose tracks are covered up. When the FBI begins investigating the firm, Mitch is forced to make a decision between keeping his freedom and keeping his life—and the lives of those around him—safe from the same people he's helping to keep secret.
Disclaimer: Some pages on this site may include an affiliate link. This does not effect our editorial in any way.