The 30 Best Thrillers Streaming on Netflix [Winter 2019]
Do you love to be held in suspense, wondering what happens next? Are you always the first to guess the ending, surprising your family and friends? Netflix has a huge library of action, adventure, and horror films, but when elements from all three films come together, that's when you end up with a thriller, something that can give you the adrenaline you desire. These thrillers that are streaming on Netflix will keep you guessing until the end. Enjoy every tense moment!
TechJunkie's Cut the Cord Weekly
You might also be interested in our list of the best horror movies on Netflix, or Netflix's best movies.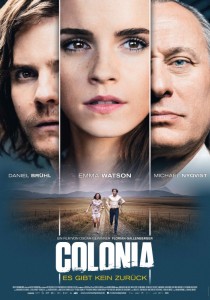 The movie starts out as a period romantic drama but transforms into a creepy thriller. It's 1973, and Lena (Emma Watson) is a stewardess for Lufthansa. She's involved with German-born activist Daniel (Daniel Bruhl). After a few days of blissful love and activism in Chile, the military overthrows the Allende government in Chile and Lena and Daniel they are out on the street. Daniel gets into trouble with the militia when he's spotted trying to document their repressive activities with his camera. They are both shipped off to a soccer stadium for processing and Daniel is arrested, while Lena is let go. She learns he's been sent South to a cult led by another German, Paul Schafer (Michael Nyquist), that functions as a prison for dissidents after the coup. Lena poses as a God-seeker and farms the land, keeping an eye out for Daniel.
Viola Davis and Jennifer Lopez star in this offering from Lifetime. Lila is a single mother in Atlanta whose world is shattered when her older son, Stephen, is killed in the crossfire of a drive-by shooting. She is at her wits' end and unable to care for her second son, Justin, until she joins a support group for mothers whose children have also been murdered. There her sponsor, Eve, seems more interested in revenge than recovery. When they find a gun in Justin's backpack, they decide to take matters into their own hands and track down Stephen's killers.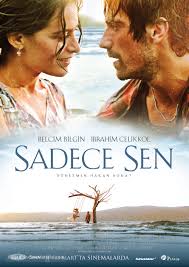 In this beautifully shot, romantic Turkish thriller, adapted from the Korean film Always, Ali (Ibrahim Celikkol) is a retired boxer who lives with Hazal (Bilcin Bilgin), a blind woman. Haunted by his violent past, Ali rejects Hazal when he meets her at first, but can't resist her for long. Hazal's unconditional acceptance of Ali and cheerful optimism break through his walls and they fall in love. The film alternates between flashbacks to Ali's violent past and intensely romantic present, until a shocking revelation is followed by a sacrifice that rocks their world and challenges their relationship.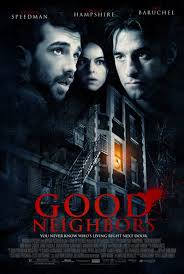 This twisty psychological thriller features a nuanced performance by James Caan. Two teenage boys use technology to torment their elderly neighbor to see if they can convince him he's being haunted. Sean (Keir Gilchrist) and Ethan (Logan Miller) are both products of broken homes who concoct the plan to rigging the old man's house while he's out grocery shopping. They use remote controls and surveillance to control the electricity and doors, create loud noises and power outages, and lower the temperature. To the boys' dismay, their victim doesn't react to their shenanigans, but disappears into his basement for long periods of time, leading the boys to wonder what's going on down there. We know things go badly because of flash-forwards to a trial and interactions with the boys' friends. Caan's performance elevates this B-movie, making it worth watching to its unexpected conclusion.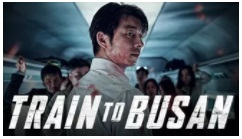 Train to Busan may be unfamiliar to most Americans, but if you're willing to dive into the world of South Korean films, this action-horror thriller is a great introduction. The film follows the passengers in a bullet train headed from Gwangmyeong Station to Busan in South Korea, with passengers including Seok-woo, a divorced fund manager taking his daughter to her mother's house; a working-class man and his pregnant wife; a high school baseball team; and a homeless man suffering from PTSD. When the train departs, a convulsing young woman jumps on board suffering from a bite wound on her leg, and quickly becomes a zombie, transferring her virus to others on the train. The passengers will have to fight their way to safety to make it to Busan—but who will they lose along the way?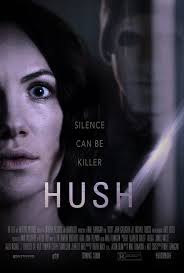 Mike Flanagan's old-fashioned home-invasion thriller premiered at the South by Southwest Film Festival before it was picked up by Netflix. Maddie (Kate Siegel) is a deaf-mute writer who lives alone in seclusion. Just outside her house, Maddie witnesses her neighbor, Sarah (Samantha Sloyan), being murdered by a crossbow-wielding maniac. When the killer discovers Maddie is deaf, he is fascinated with her and decides to have some fun. Mike Flanagan doesn't resort to jump scares or loud music, but the film unfolds with pared-down reservation, letting the setup work for the movie, which mainly takes place without dialogue, leading to some surprises in the finale.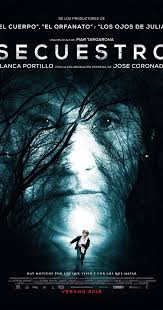 Written by Oriol Paulo, Spain's highest-profile screenwriter of psychological thrillers, this high-voltage suspense thriller is packed with unexpected twists. Patricia de Lucas (Blanca Portillo) is a lawyer who's life becomes a nightmare when her son, Victor, (Jose Coronado) disappears from school without a trace. He reappears a few hours later, claiming that a man kidnapped him and he escaped. When he identifies the kidnapper in a police lineup, the proof is insufficient and the bad guy is set free. Patricia, fearing for her son's life, takes matters into her own hands, with unforeseen consequences. This movie is in Spanish with English subtitles.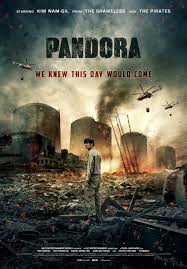 The first Netflix project made in Korea, Pandora is a man-made-disaster film that takes place in a nuclear reactor. An engaging thriller, the film tracks the way facilities malfunction and why humans might allow it to happen. Visual effects show the anatomy of the nuclear reactor, employing grim realism that makes the meltdown impossible to look away from. Featured are the government's inefficiency and incompetence, and the Prime Minister and cabinet's ploys to cover up the disaster and refuse to evacuate the citizens in the vicinity. They even lock citizens up so they can't create a mass panic. Every attempt to contain the disaster only worsens it.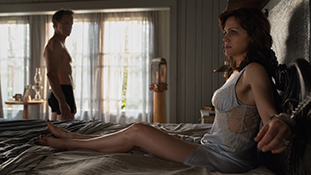 The best Stephen King adaptations of the past five years also happens to be a Netflix Original film. Gerald's Game was released in 2017 just weeks after It hit theaters, so you would be excused if you missed out on catching this film. Based on the novel of the same name, Gerald's Game follows Jessie (Carla Gugino, Spy Kids) and Gerald (Bruce Greenwood, Star Trek), a married couple that seek out an isolated lakehouse in Alabama to work on their failing relationship. While engaging in some light bondage, during which Jessie is handcuffed to the bed, the couple devolves into an argument about their marriage. Gerald, having taken two Viagra, suffers a heart attack, falling dead on the floor of the remote lakehouse and leaving Jessie handcuffed to her bed. The film follows the psychological effects that haunt Jessie as she lays trapped in bed.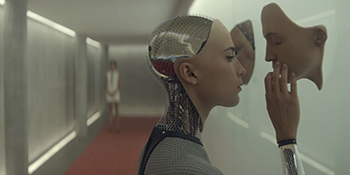 In the directorial debut of screenwriter Alex Garland (28 Days Later, Never Let Me Go, Sunshine), we're introduced to Caleb Smith, a programmer for Blue Book, a Google-esque search engine led by mysterious, isolated CEO Nathan Bateman. When Smith wins a trip to meet the CEO of his company for a week, he finds out that Nathan lives alone, with the sole exception of his assistant, Kyoko, a robot powered by an artificial intelligence. Nathan introduces Caleb to Ava, a more-powerful robot that has passed a Turing test, with Nathan hoping Caleb will help him to understand whether Ava is thinking real thoughts and emotions. As Nathan's narcissism and heavy drinking makes Caleb grow uncomfortable, he'll slowly begin to turn on the CEO of the company. But when Ava turns out to be far more capable and self-sufficient than at first glance, Caleb must begin to ask: can he trust anyone, let alone himself?
The 80 Best Netflix Original Shows [January 2020]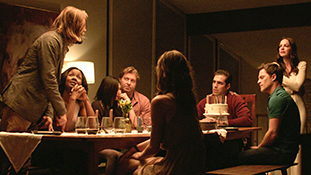 Mysteries and thrillers are perfect for dark and stormy nights, and The Invitation might be the ideal film to chill you to your core. The film stars Logan Marshall-Green as Will, a divorcee who drive his girlfriend Kira to a dinner party hosted by his ex-wife at his old house in the Hollywood Hills. Will's ex, Eden, alongside her new husband David, welcomes Will and Kira to the party, though immediately, something feels wrong. As Will continues to deal with the grief of his deceased son (the reason Eden and him split up), he begins to feel like something is wrong with his ex-wife and her husband's motivations. The tale is dark and grim, and as the night advances, you'll begin to put the pieces together in this thrilling tale of mystery and murder.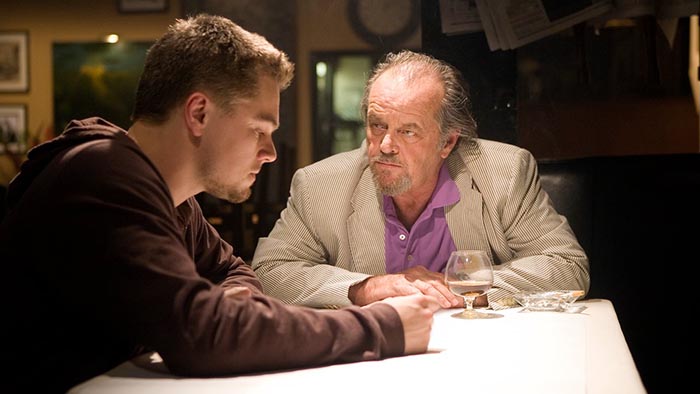 In this Best Picture-winning crime drama, Martin Scorsese directs an A-list cast in this remake of the 2002 Hong Kong film Internal Affairs. Leonardo DiCaprio stars as Billy Costigan Jr, a student at a police academy who is recruited to go undercover in a crime syndicate in South Boston, thanks to his family ties that make him the perfect candidate. Years prior to that, Colin Costello (Matt Damon) is introduced to that same crime life by Frank Costello (Jack Nicholson), who grooms Costello to become a mole inside the Massachusetts State Police. As each man infiltrates their respective targets, the two men will start to chase each other, each having to protect both their own life and the lives of those they care about. Also starring Mark Wahlberg, Martin Sheen, Alec Baldwin, and Vera Farmiga, The Departed was both a critical and commercial success, and is a much-see entry in Scorsese's filmography.
18. The Stanford Prison Experiment
Based on the real-life experiment that occurred in 1971, The Stanford Prison Experiment tells the story of Stanford professor Philip Zimbardo (Billy Crudup), who conducts a controversial psychology experiment with his students in order to determine whether or not the personality traits of prisoners and guards are the chief cause of abusive behavior between them. Zimbardo selects fifteen male students to participate in a 14-day prison simulation to take roles as prisoners or guards. For their work in the experiment, they receive $15 per day (nearly $100 in 2018 money). It doesn't take long for the proceedings to get out of hand, of course, and before you know it, both the prisoners and Zimbardo himself become abusive towards the mock-prisoners. Intense and hard to watch, The Stanford Prison Experiment is a must-see.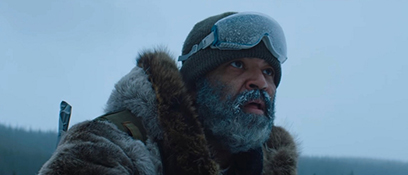 In this new Netflix Original film, director Jeremy Saulnier (Blue Ruin, Green Room) follows a wolf expert named Russell Core (Jeffrey Wright), who is called to a village in Alaska to help hunt down wolves seemingly responsible for the deaths of three small children. When he arrives in Alaska, he meets with Medora Slone (Riley Keough), whose son was the third child to go missing. He learns that he husband, Vernon (Alexander Skarsgard, It), is away on military leave, while the father of the second child taken, she informs him, will not be speaking to Russell. As things begin to grow darker, Russell will have to hurry to figure out the mystery behind the disappearance of children, all while risking his own life in the process.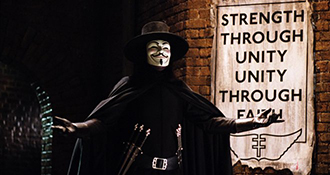 Based on the limited run of comics of the same name and written by the Wachowskis, V for Vendetta is a dystopian political thriller set in a terrifying alternate future, where a Nordic supremacist class and neo-fascist regime has subjugated the United Kingdom, oppressing the people and turning the state into a nightmare for many. The rise of a mysterious anarchist freedom fighter named V (Hugo Weaving) begins to ignite a revolution through elaborate, flashy-yet-violent terrorist acts. Meanwhile, a young working-class woman named Evey (Natalie Portman) gets caught up in V's mission, causing her to lose everything in her life in pursuit of freedom, all while a detective (Stephen Rea) works towards stopping V on behalf of the government.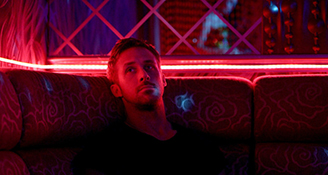 Fans of the 2011 action-drama Drive were thrilled when Ryan Gosling re-teamed up with Drive's director Nicolas Winding Refn for 2013's Only God Forgives, a film which featured a trailer that made the entire movie look like a return to the slow-burn, visceral violence featured in Drive. That isn't necessarily too far off base, but we'd be lying if we said Only God Forgives played like another film in the Drive canon. The film follows Julian Thompson (Gosling), a drug trafficker in Thailand whose mother (Kristin Scott Thomas) sends him on a mission to avenge the murder of his older brother, a criminal who was killed after he beat a prostitute to her death. The film was famously booed following its premiere at Cannes Film Festival (while some gave a standing ovation), and features controversial scenes of violence and sexuality. Since that premiere, the film has continued to feature a polarized reaction from both critics and audiences; even five years later, it remains a difficult watch.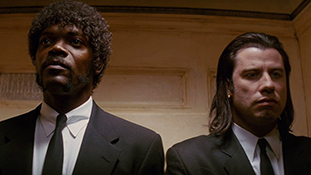 Quentin Tarantino's classic postmodern film is back on Netflix, which means it's time for a whole new generation of up and coming film scholars to experience the film that made Tarantino the massive giant in filmmaking he is today. The film is told out of chronological order, following several characters as each of their stories blend and fold into one another. These three stories include two hitmen, Jules Winnfield (Samuel L. Jackson) and Vincent Vega (John Travolta), who work for their boss Marsellus; prizefighter Butch Coolidge, who is bribed by Marsellus to lose an upcoming fight, and a couple of small-time crooks named Ringo and Yolanda who hold up a diner at both the beginning and end of the film. Tarantino's ninth film arrives in August of this year, making it the perfect time to revisit his all-time classic.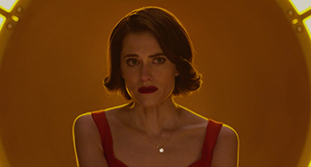 The latest Netflix Original horror film, The Perfection comes from Richard Shepard (Dom Hemingway), and supplies Netflix viewers with a heavy dose of B-movie horror. The film follows Charlotte (Allison Williams, Get Out), a cellist who was forced to leave her prestigious music school in Boston to care for her ill mother. A decade later, Charlotte travels to Shanghai following the death of her mother, in order to follow Lizzie, the music student who took her place in the school. Not for the faint of heart, the film is a tough watch, filled with violence, gore, and sexual assaults. Anyone who loves vile B-horror will absolutely want to seek it out.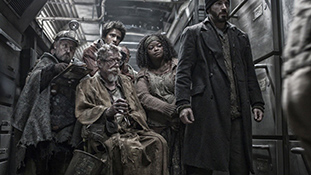 Directed by acclaimed South Korean film director Bong Joon-ho (Okja, The Host), Snowpiercer is a 2013 action film starring Chris Evans and Tilda Swinton. The film follows Curtis (Evans), a passenger aboard the Snowpiercer, a train riding throughout the now-frozen globe eternally. Curtis is pushed to his breaking point, and he, along with the others in the back of the train, plan a revolution to take out both Minister Mason (Tilda Swinton) and Wilford (Ed Harris), the inventor of the train. The film's action is well-shot, and the class messaging is strong and delivers on clear themes. Of course, the real stars of the show here are both Evans and Swinton, who are at their best in their respective roles.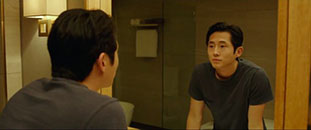 One of the best films of 2018, Burning is a South Korean psychological drama mystery adapted from "Barn Burning," the short story by famed Japanese writer Haruki Murakami. Burning follows Lee Jong-soo, a young man working to perform odd jobs in order to make money in Paju. While working, he runs into Shin Hae-mi, a girl who used to live in his neighborhood when they were children. The two develop a connection, and Hae-mi asks Jong-soo to watch her cat while she's out of town. When she returns from a trip to Africa, she introduces him to Ben (Steven Yeun, The Walking Dead), a man she met while on vacation. Ben seems like an average playboy at first, but slowly, a darker, mysterious nature reveals itself.
The 60 Best Shows on Netflix Right Now [January 2020]
Based on the novel of the same name, American Psycho follows young and handsome Patrick Bateman (Christian Bale), a man who seems to have it all in his life, living in New York City in 1987 and working as a wealthy investment banker. Underwhelmed by his life and the people he's surrounded with, Bateman begins living a second life as a gruesome serial killer at night, murdering unwitting suspects over small differences like better business cards. The film features an all-star cast in addition to Bale, including Willem Dafoe as the detective trailing Bateman's murders, Reese Witherspoon as his fiance, Samantha Mathis as his mistress, Jared Leto as his rival co-worker Paul Allen, and Chloe Sevigny as his secretary.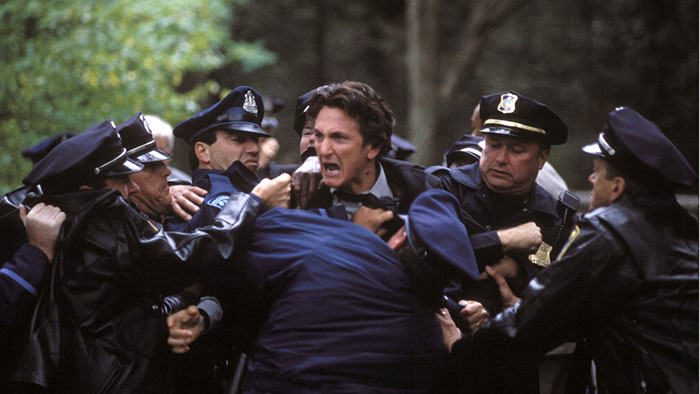 Based on the novel by Dennis Lehane (who also wrote the novel Shutter Island) and directed by Clint Eastwood, Mystic River is one of the best films of 2003, nominated for several Academy Awards including Best Picture, Best Adapted Screenplay, Best Actor, and Best Director. The film follows Jimmy Markum (Sean Penn), an ex-con whose daughter is murdered. Jimmy is distraught to learn that two of his childhood friends, Dave (Tim Robbins) and Sean (Kevin Bacon), are involved in the murder. While Sean is the homicide detective leading the case to find the murderer, Dave was the last person to see Jimmy's daughter alive, which eventually leads him to believe Dave is the murderer behind the case.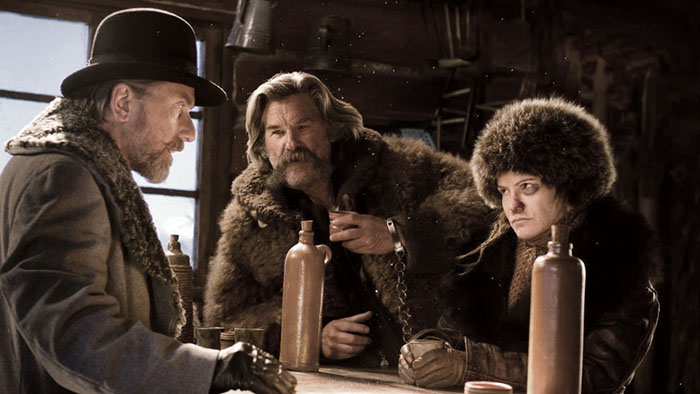 Quentin Tarantino's eighth and most recent film, The Hateful Eight is a full-blown western from the legendary director, set in the post-Civil War era of the United States during a harsh blizzard outside Red Rock, Wyoming. Major Marquis Warren (Samuel L. Jackson), a bounty hunter, is transporting three dead fugitives to the town of Red Rock when he catches a ride to town from John Ruth (Kurt Russell), a similar bounty hunter bringing in Daisy Domergue (Jennifer Jason Leigh). When the trio gets stuck in a blizzard, they make a beeline for Minnie's Haberdashery, a stagecoach lodge, where they meet the other people staying at the house through the blizzard. While hostilities rise between the group, Daisy sees someone poison the coffee, leading to the death of two more characters. As a murder mystery begins to rise, the only question that remains is simple: is it more dangerous in the blizzard, or in Minnie's Haberdashery? The film was also recently recut by Tarantino and his editor into a four-episode miniseries exclusive to Netflix, featuring all-new footage.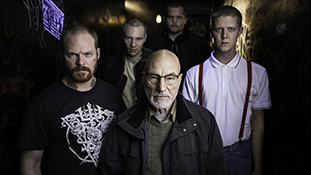 More of a horror-thriller than a straight-played thriller flick, there is so much to love in this film by acclaimed filmmaker Jeremy Saulnier. The film follows a punk rock band called the Ain't Rights, on tour throughout the Pacific Northwest. When their gig is cancelled, a local radio host manages to arrange a show at a local neo-Nazi bar outside of Portland. When Pat (the late Anton Yelchin) returns to the green room after the show to grab a bandmate's phone, he witnesses the body of a girl stabbed to death by one of the neo-Nazis. Pat contacts the police, but the bar's employees lock them in the green room, creating a cover story for the cops to get them to stay away by having one skinhead stab another. When Gabe (Macon Blair) contacts his boss Darcy (Patrick Stewart, much more terrifying than usual) about killing them, the band will have to fight for their lives.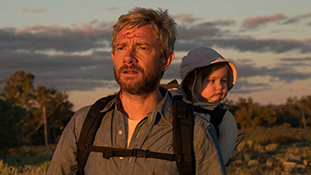 Cargo is a fresh spin on the zombie genre that will leave you on the edge of your seat. Part horror film, part post-apocalyptic thriller, Cargo follows a man named Andy (Martin Freeman, Black Panther, The Hobbit) who finds himself stranded in Australia with his wife and child following an outbreak of a zombie virus, which manages to take over the world in less than 48 hours. Though they originally find hope in a houseboat, Andy's wife Kay is eventually attacked, leaving Andy alone with his one-year-old infant daughter Rosie. Stranded in rural Australia, Andy must attempt to protect his daughter from the threats surrounding them—a task that manages to grow more difficult as time progresses. Directed by Yolanda Ramke and Ben Howling, the film is based on the short of the same name created by those two filmmakers in 2013, and received positive reviews for its character-driven approach to the genre.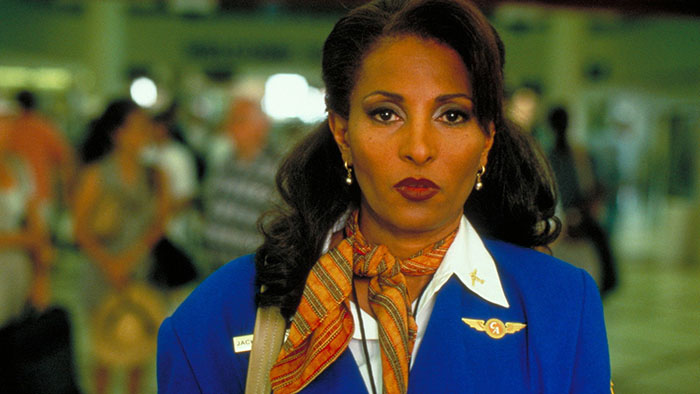 Somehow simultaneously Quentin Tarantino's most underrated film and his most praised, Jackie Brown is a must-see for all Quentin diehards, especially following the release of this year's Once Upon a Time… in Hollywood. The only Tarantino movie to be based off another's written work, Jackie Brown is an adaptation of Elmore Leonard's novel Rum Punch. Justified fans may know Leonard's name well, since his short story "Fire in the Hole" became the basis for the entire show, while both 3:10 to Yuma and Get Shorty also spawn from his writing. When flight attendant Jackie Brown (Pam Grier) is busted smuggling money for her arms dealer boss, Ordell Robbie (Samuel L. Jackson), agent Ray Nicolette (Michael Keaton) and detective Mark Dargus (Michael Bowen) want her help to bring down Robbie. Facing jail time for her silence or death for her cooperation, Brown decides instead to double-cross both parties and make off with the smuggled money. Meanwhile, she enlists the help of bondsman Max Cherry (Robert Forster), a man who loves her.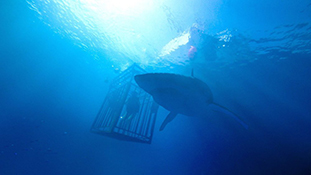 For over forty years, we as a culture have been obsessed with sharks attacking us. From the classic horror-adventure Jaws to newer, bigger creatures like The Meg, all the way to Discovery's Shark Week, viewers have been following the adventures of people risking their lives around killer sharks for longer than many of us have been alive. 47 Meters Down doesn't reinvent the genre, but it was a breakout hit in the summer of 2017 thanks to its excellent craftsmanship. The film follows young sisters Kate and Lisa, in the middle of enjoying a vacation in Mexico. The duo go diving in shark-filled waters, using a protective cage to see the sharks up close. When the cage breaks away from the boat, however, they're stuck at the bottom of the lake with a depleting supply of oxygen, leaving them trapped and doomed unless they can figure out something quickly.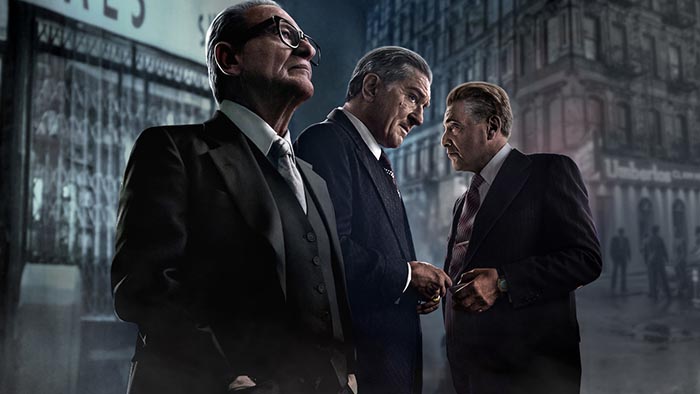 The Irishman arrived in theaters and on Netflix with a deluge of great reviews and even more controversy, as director Martin Scorsese found himself in the hot seat after delivering a critique on superhero films. Mixed press aside, nothing could stop The Irishman from becoming one of the best-reviewed films of the year, and now that it's finally streaming on Netflix, those who didn't get access to it in their local indie theater can finally stream it for themselves. The film follows truck driver Frank Sheeran starting in the 1950s, as he begins to work for Russell Bufalino and his crime family in Pennsylvania. Sheeran becomes one of their most reliable hitmen, and things get even more complicated when he goes to work for Jimmy Hoffa, the powerful, popular Teamster tied to organized crime. Scorsese teams up with Robert De Niro, his most frequent collaborator, along with Joe Pesci and Al Pacino.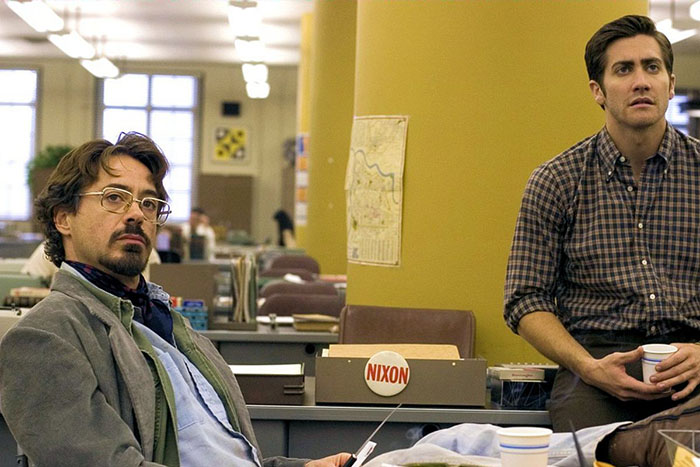 In the late 1960s and 1970s, fear grips the city of San Francisco as a serial killer known only as the Zodiac Killer stalks its residents. Investigators (Mark Ruffalo, Anthony Edwards) and reporters (Jake Gyllenhaal, Robert Downey Jr.) alike become obsessed with learning the killer's identity and bringing him to justice. Meanwhile, the Zodiac Killer claims victim after victim and taunts the authorities with cryptic messages, cyphers and menacing phone calls. Directed by David Fincher, Zodiac is one of the best films of 2007, often considered one of the best years of recent cinema, and while its length may scare some off from checking it out, it's absolutely worth it.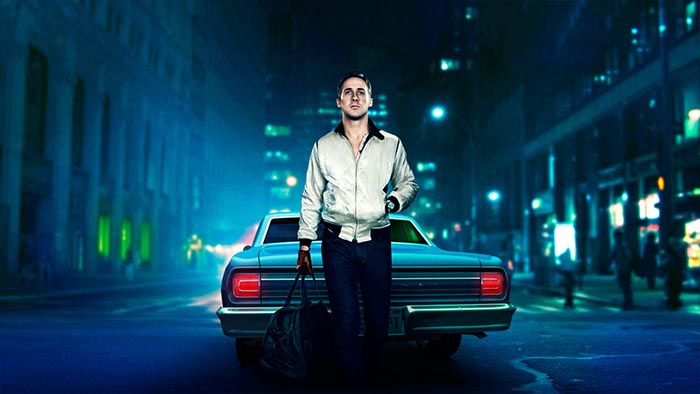 Though Drive is, in our opinion, one of the best films of the 2010s, its theatrical release was marred by controversy. After a misleading trailer advertised the film towards an action-focused crowd coming hot off the heels of films like Fast Five, Drive opened to an audience that wasn't ready for the film's slow, methodical pacing and quiet protagonist. Of course, if you can accept the film for what it is—a thriller-drama with several moments of intense violence—Drive can be an incredibly rewarding watch. The film follows the unnamed Driver (Ryan Gosling), a Hollywood stuntman who also works as a getaway driver for criminals. When the Driver is enlisted in a heist gone wrong, he must risk his own life to protect the lives of his neighbor and her young son. With an all-star supporting cast including Bryan Cranston, Carey Mulligan, Oscar Isaac, and Albert Brooks, Drive is a must-see film.
Disclaimer: Some pages on this site may include an affiliate link. This does not effect our editorial in any way.