Review: FlashRouters WRT3200ACM With VPN Privacy App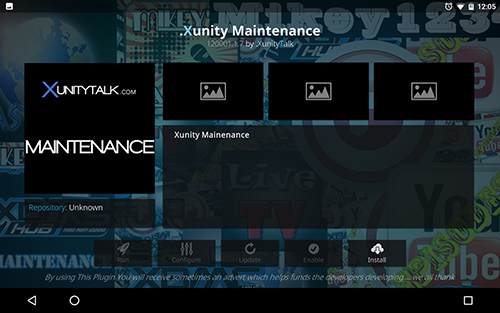 Who Are FlashRouters?
FlashRouters is a small online company that provides high quality wireless routers with the leading open source firmware already flashed and ready to use out of the box. They aim to extend router functionality by eliminating the often bloated and limited factory firmware with much more liberating and transparent open source options like DD-WRT and Tomato.
Since open source firmware is often more complicated than the stock options, FlashRouters also takes responsibility for their products in the form of top-notch customer support. They are one of a very limited list of people providing professional support of open source routers. With FlashRouters, you're getting the best of both worlds, the freedom of open source with the support of stock.
More recently, FlashRouters developed a VPN Privacy App to make connecting your entire home network to a VPN much easier. The app creates a custom interface within DD-WRT that simplifies the VPN configuration process by leaps and bounds, but there will be more on that later.
Why FlashRouters?
You already saw a couple of compelling reasons to pick a FlashRouters product for your next home networking upgrade, but it's hard to overstate the advantage of going for a configuration like this.
First off, both Tomato and DD-WRT are worlds beyond stock firmware. Stock firmware is closed source and developed by a handful of developers within the manufacturer. The primary goal of stock firmware is creating something that literally anyone can use and pushing it out the door. They don't care if you get the most out of your router, and they certainly don't care about maintaining it longterm.
In contrast, DD-WRT and Tomato are both open source. A wide community maintains them and actively patches bugs and makes genuine performance improvements. A clear illustration of how active these communities are is the shear number of routers supported and builds available. Neither of these firmwares pull any punches, either. They both let you do pretty much anything, and control every aspect of your router. They even go as far as to include common services, like both VPN server and client support.
Unlike commercial firmware, with open source, you're usually flying solo. The community can and will try to help you, but they're not obligated to, and you certainly can't get them on the phone. FlashRouters takes care of that problem. They back every router that they ship. If you need support, you can reach out directly to them.
Then, there's the VPN Privacy App. Configuring DD-WRT to connect your network to a VPN can be a massive pain. Some VPN providers provide guides online to help you with the process, but that doesn't cut down on the bulk of configuration needed. FlashRouters worked directly with loads of popular VPN providers to make the process as painless as possible, and that's definitely something to appreciate.
Unboxing The FlashRouters Linksys WRT3200ACM
FlashRouters ships their routers in boxes that are about as perfect a fit as you could find for their routers. There's no need to worry about the router rattling around during the shipping process.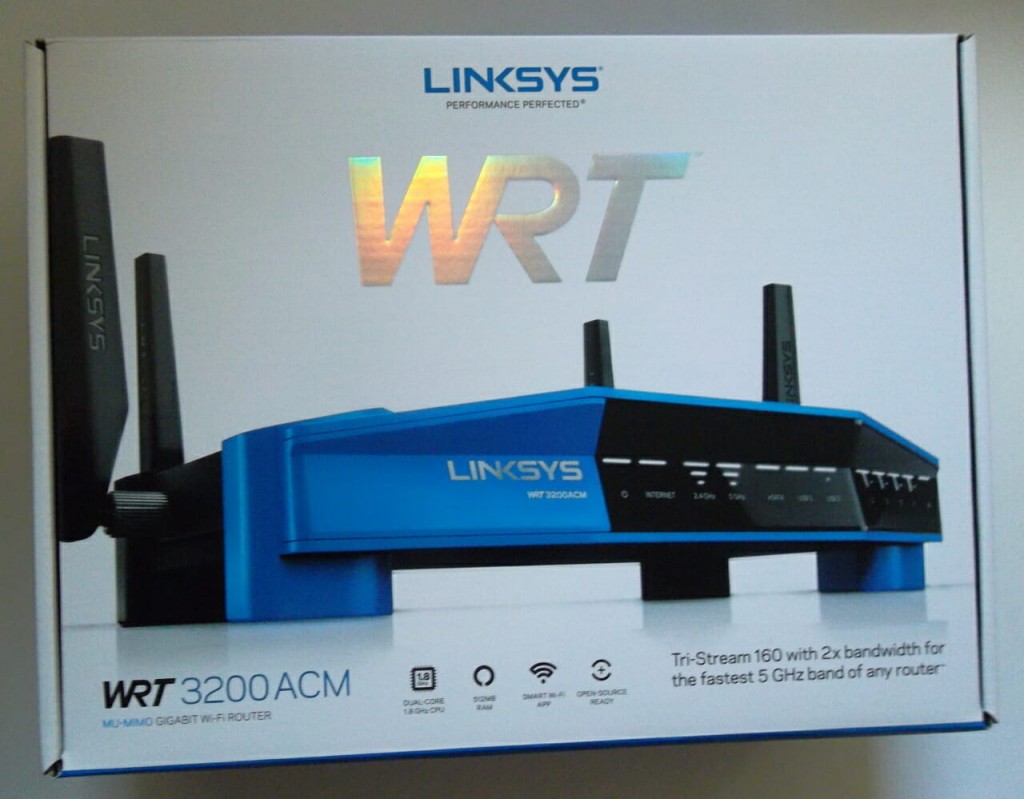 Inside the shipping box, you'll find your router still in its original box. On expecting the box, you'll notice that it looks like it was just plucked off the shelf, except for the fact that it isn't actually sealed.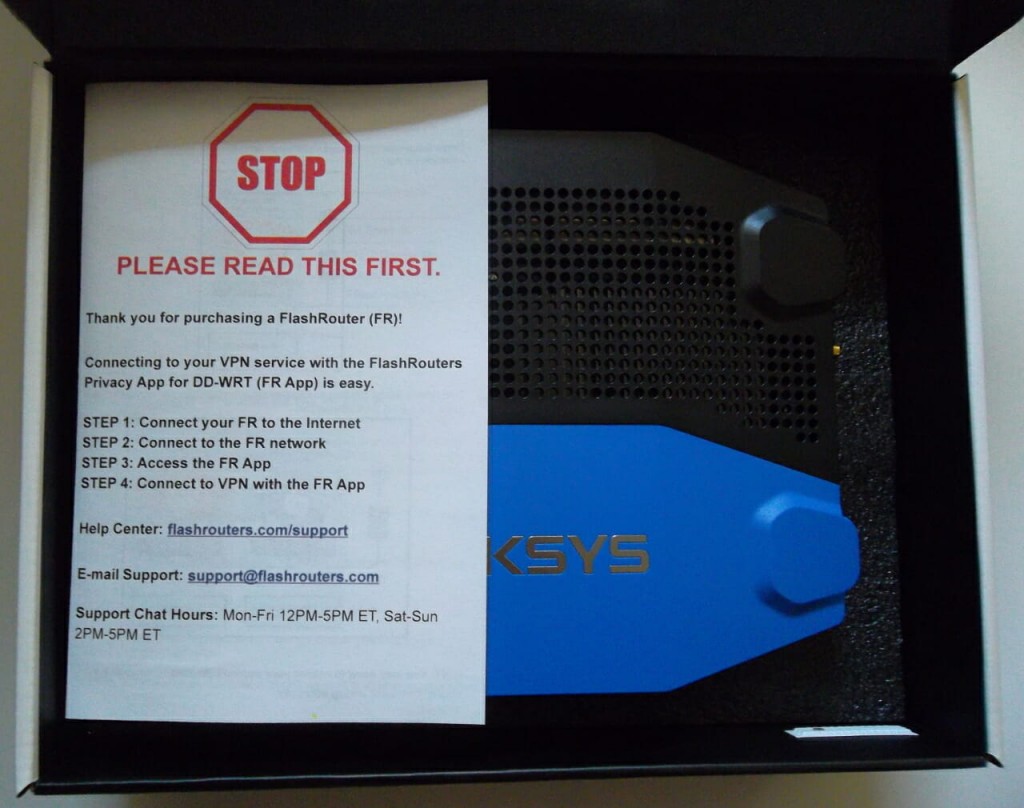 Open up the box, and you'll see your router sitting neatly packaged and(pretty much) brand new. Obviously, the FlashRouters team did have to open up the router and flash the firmware, but they put everything back exactly where it belongs, so it still feels like you're getting something straight from the factory.
Included with your Router, you'll find a set of FlashRouters instructions for setting up your router. They're neatly printed on a simple brochure, complete with easy to follow instructions and some great graphical depictions of the process of setting up your router.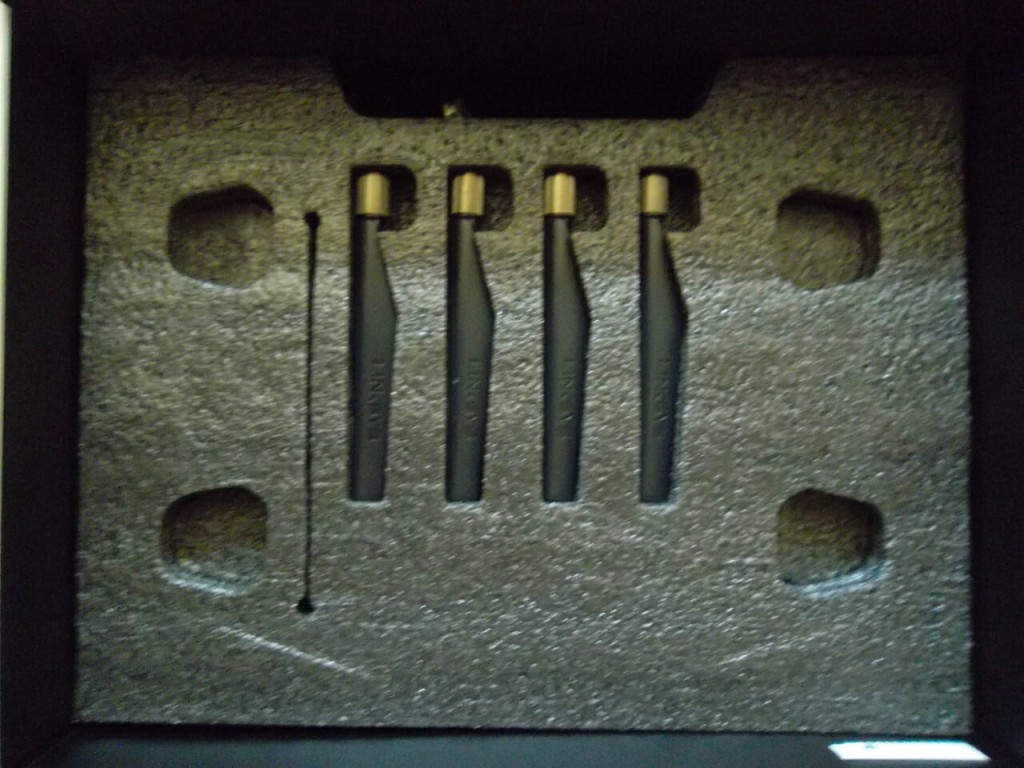 Lift the router out of the box. Below that, in this instance, are the four wireless antennae. Again, they're neatly seated in the original foam packaging. One layer lower than that are the included Ethernet cable and DC power supply.
The FlashRouters version of the WRT3200ACM doesn't include the original instructions or software. This might seem a bit odd at first, but if you think about it, it makes perfect sense. The original instructions would only confuse most people.
The Setup
Setting up a router from FlashRouters is just like any other. There aren't any curve balls or any of the quirks that you typically associate with an open source project. It just works.
Connect up your router to your modem via the provided Ethernet cable and the WAN port on the back of the router itself. Plug in any hardwired Ethernet connections from other devices to the four ports on the back of the router. When everything's ready, plug in the router.
Give the router a few minutes to boot itself up. You can check on any WiFi device to see when your router is ready. Depending on the amount of radio bands that your router supports, it will create any of three WiFi networks, FlashRouters24, FlashRouters50, and FlashRouters80. Look for those to appear.
The password for your new router's wireless networks should be included in the instructions. Be sure to check. None of this is permanent, of course, and you can change any or all of it at any time.
The FlashRouters VPN Privacy App
You're connected to your new router, and that's awesome, but you still haven't gotten to one of the best features, the FlashRouters VPN Privacy App. Depending on how your computer is configured, this may be easier or slightly more difficult, but neither option is too hard.
By opening up your browser, and entering flashroutersapp.com in the address bar, you should be able to get directly to the FlashRouters App. Should is the operative word here, though, and it won't work that way on every computer. In testing it with a Debian GNU/Linux system, this way didn't work.
It's not that big a deal if this method doesn't work right away. Instead, you can navigate there yourself in a couple of clicks. Navigating to 192.168.11.1 in your browser will get you to the DD-WRT "homepage" of your router. This is the base of your router's admin interface anyway, and it's useful to know about. It's from there that you can control everything about your new router.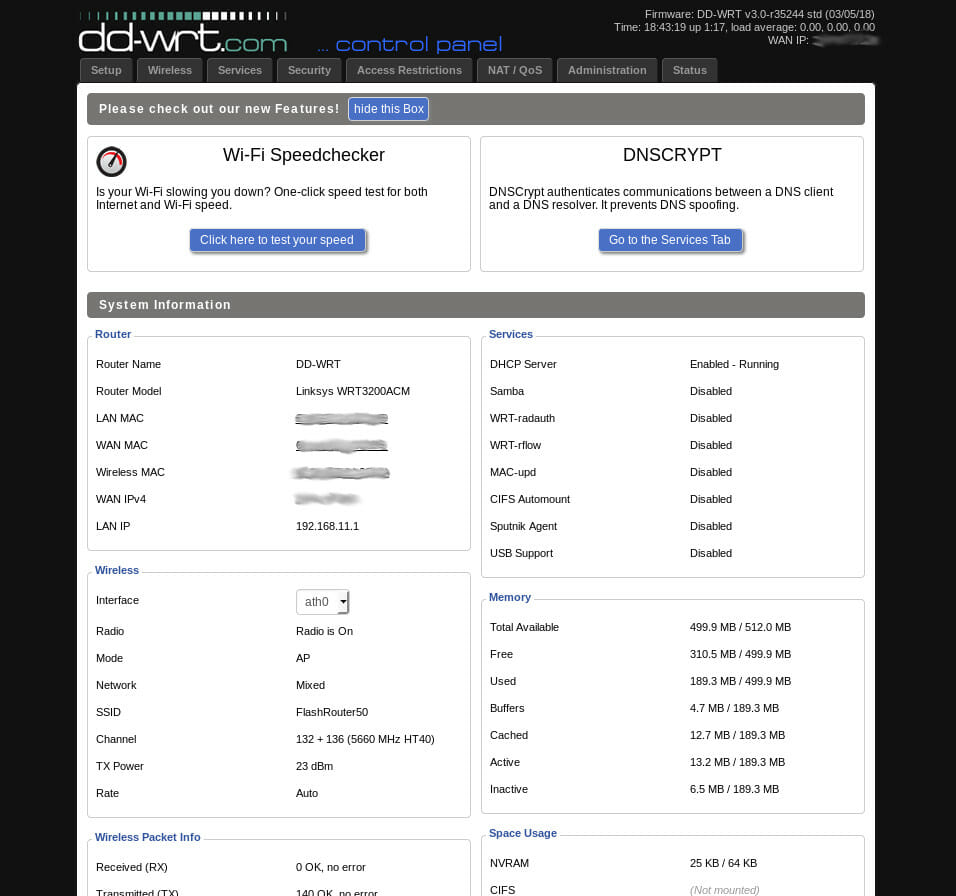 Click on the "Status" tab on the top of your screen. The router will prompt you for your admin username and password. FlashRouters already provided these too in the instructions, so enter them. Again, you can change these later for security purposes.
Next, click on the "MyPage" tab. It's one level below the top list of tabs where "Status" is. "MyPage" is unique to FlashRouters. This is the link to the FlashRouters App.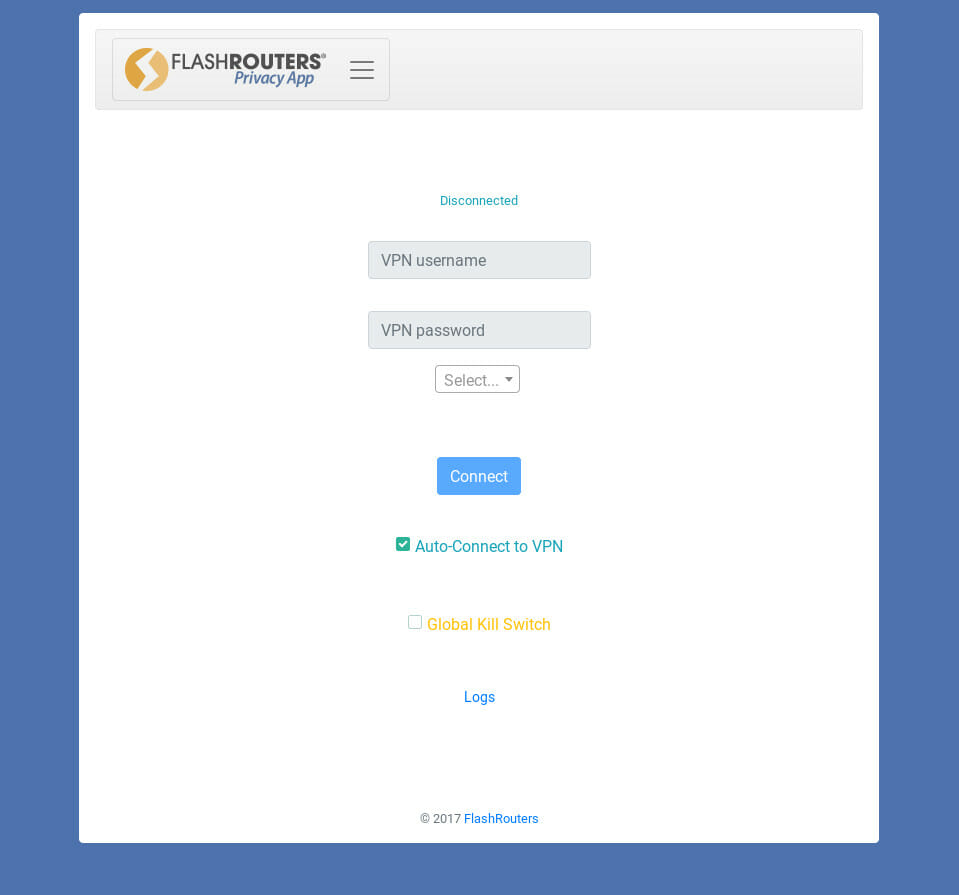 When you arrive, you'll notice a dramatic difference between the VPN Privacy App and the rest of DD-WRT. That's because this app was engineered for simplicity. The rest of DD-WRT is geared primarily for power users.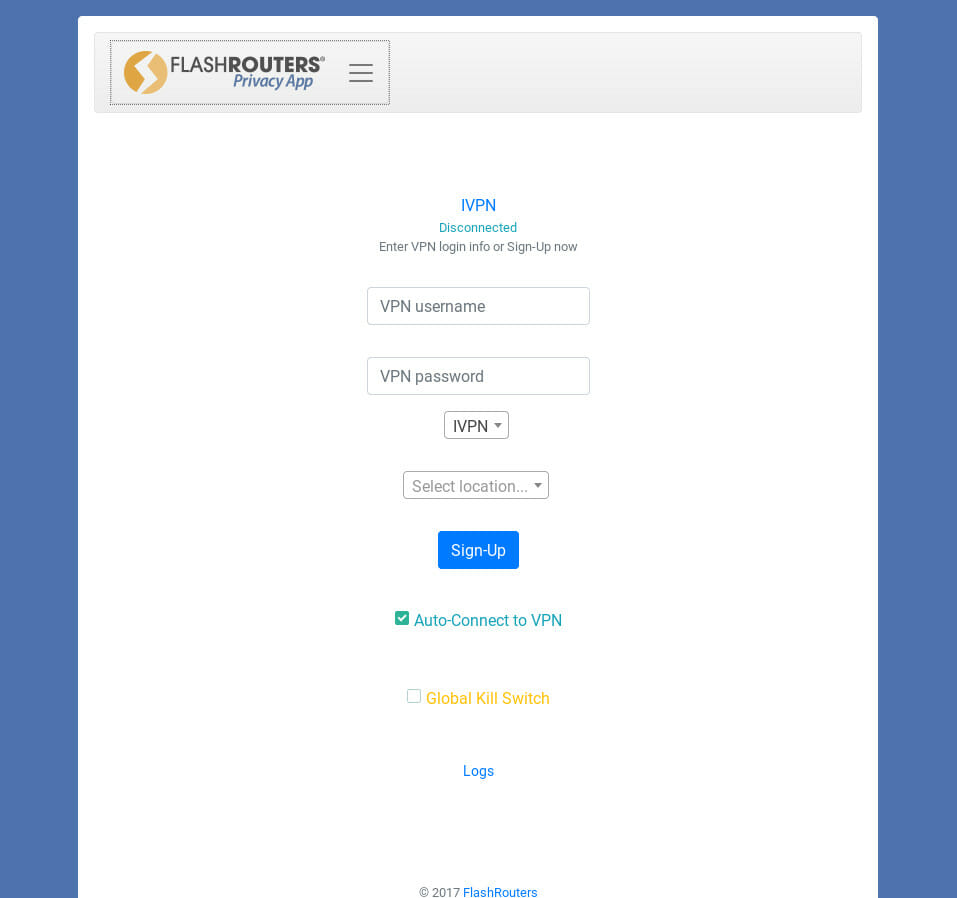 There are a couple of dropdown menus to address first. The FlashRouters App has independent configurations for each VPN provider, and they've worked with the providers listed to ensure that their configurations work. Select your provider.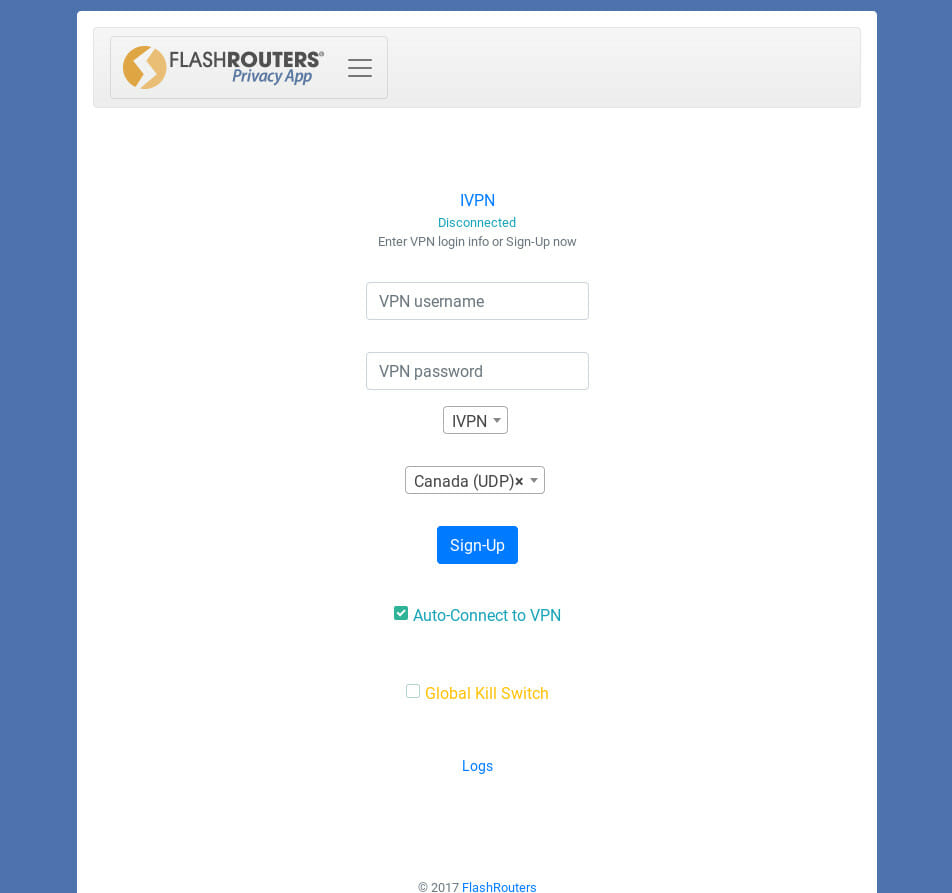 The app reloads itself to reflect the chosen provider. Below the first dropdown, a new one will appear that lets you pick your VPN server and protocol.
Finally, you can select the checkboxes to automatically connect to your VPN and use the global kill switch. The kill switch is an absolutely excellent feature and shouldn't be underestimated.
VPN connections aren't perfect. VPN servers are usually under a fair amount of stress, and there are a lot of factors between your router and that server, any one of which can fail. Without a kill switch, you risk revealing yourself when something goes wrong. That kill switch immediately cuts off your internet connection when the router loses its link with the VPN server, ensuring that your personal information doesn't leak out. A kill switch is an absolute must if you're using a VPN for privacy, and FlashRouters took the time to include one that's not only effective, but as simple as possible to use.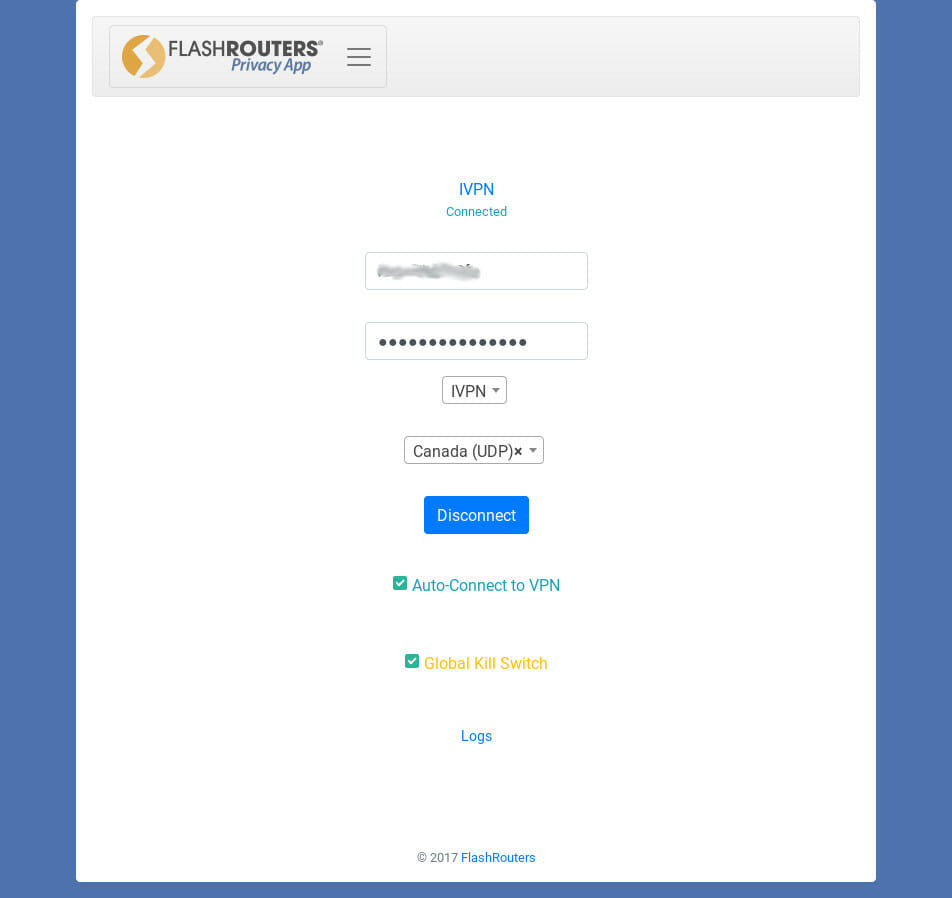 The only thing left to do is punch in your VPN username and password. There's something interesting to note here, and it actually did come up in testing the router. Older versions of the DD-WRT firmware can't process certain special characters in VPN passwords. It'll try to execute the special characters and send the wrong password to the VPN provider. You'll get an error stating that your password was incorrect. So, if you run into this issue, be sure to update your router first. When you do update your router firmware, DO NOT reset to factory. You'll actually lose the FlashRouters app.
When you click on the button to sign in, the VPN Privacy App will take over and make the connection to your VPN server. It'll update to show you when it's connecting and when it's established a link with your server. That's all there is. You're connected.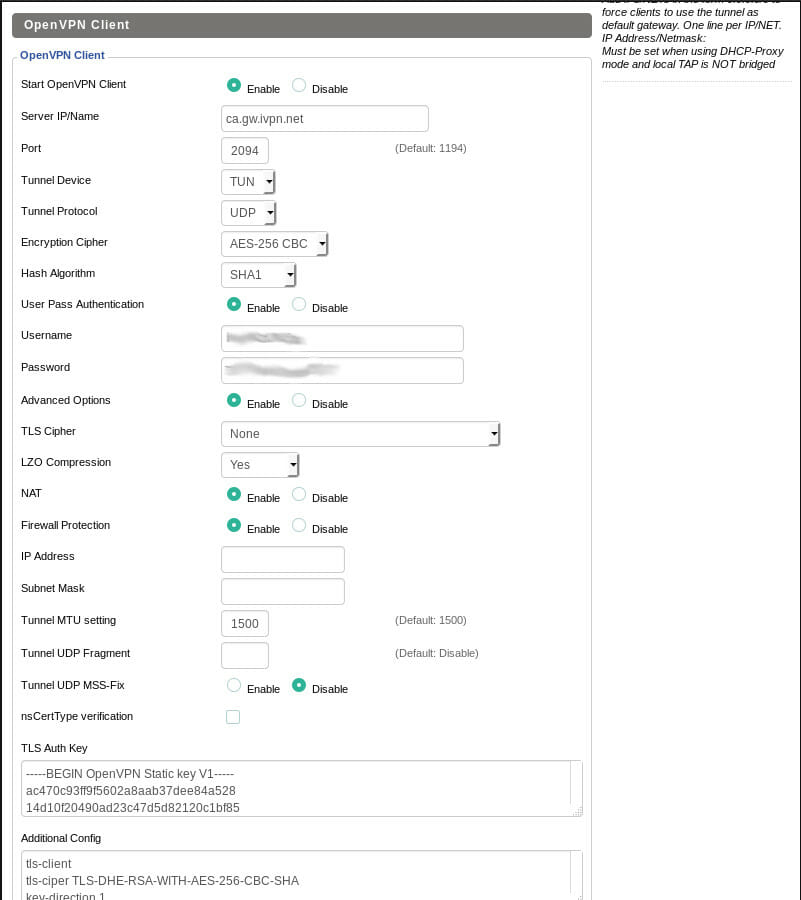 Take a look at the above configuration. That's the traditional way of connecting to the same VPN server as the previous examples. Actually, it's only part of the configuration. There wasn't enough room to take a screenshot of the whole thing. To say that FlashRouters saves you some time and effort is a serious understatement.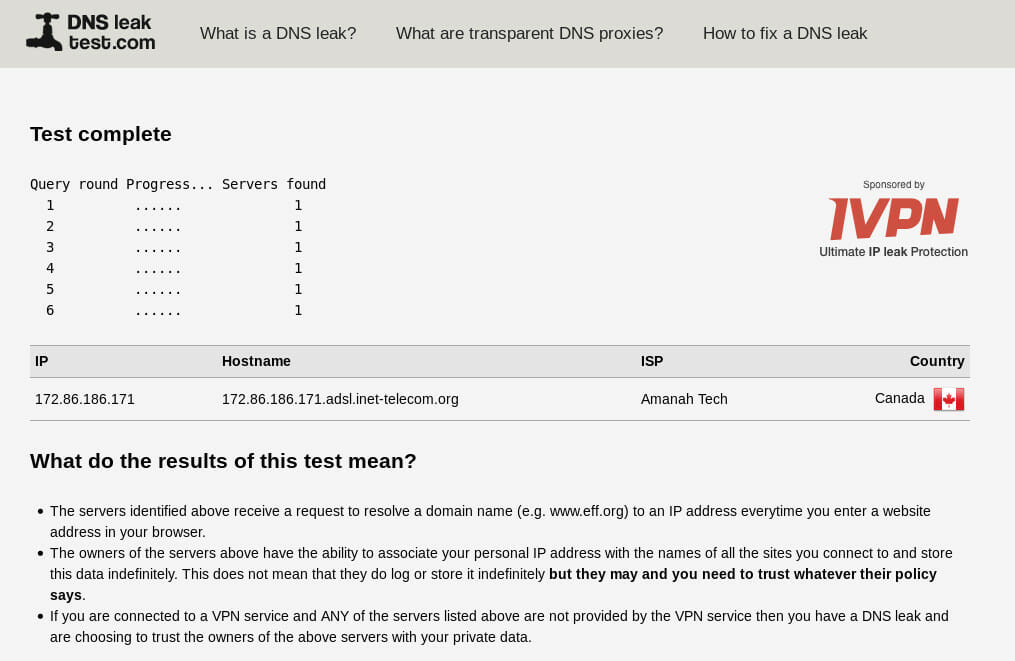 To test out your connection, and make sure that the VPN Privacy App did, in fact, do its job, browse to dnsleaktest.com, and run the extended leak test. You should only see your VPN's DNS servers. In testing this, you can see that there was no problem with leaks here. The Privacy App passed on all counts.
Options
The functionality actually doesn't stop there. The FlashRouters App actually has a couple of other neat tricks. Click on the "Options" tab at the top of the app. That screen boasts a whole new set of options of controlling the flow of traffic from your VPN.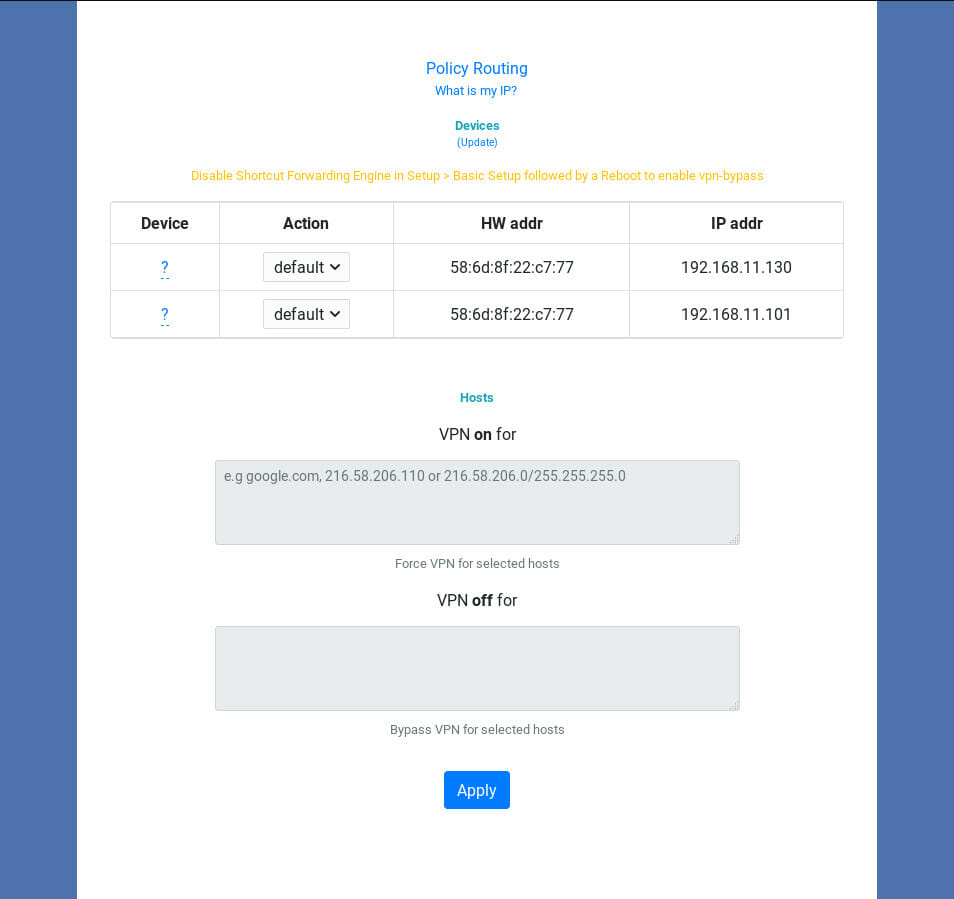 The first table lists all the devices connected to your network. You can use the dropdown menus on the table to control which ones use the VPN and which don't. This is especially useful for handling connections to streaming services and streaming devices. It's also great for bypassing the VPN on the fly when you need to.
Below that, the app offers two sections to specify which sites must be routed to the VPN and which to bypass the VPN for. Again, this is great for streaming services. It's also lets you bypass on the VPN on problematic sites, like Craigslist, that block connections from some VPNs.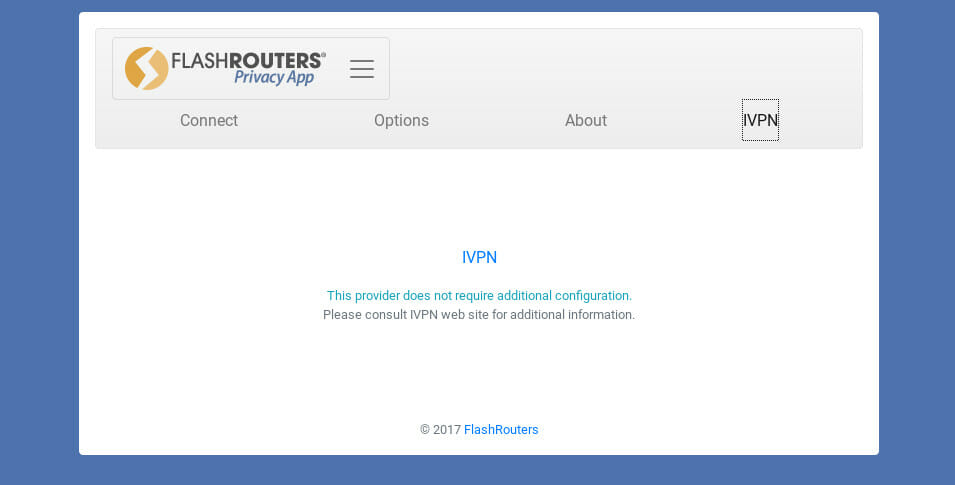 There's another interesting tab to check out. In the examples here, the tab says "IVPN" because that's the provider being tested, but it will switch to whichever VPN provider you're using. That tab contains any special configuration or options for your VPN provider. In this instance, there wasn't anything, but it's good to have, just in case.
Is It Worth It?
Now, it's time for the final verdict. Is a FlashRouter worth it? Is the VPN Privacy App helpful? If you weren't following along and didn't see where this was quite obviously going, that's an unequivocal and resounding "Yes!" Sure, if you're a big DIY fan, and you really want to go buy a used router off eBay, and flash DD-WRT yourself and do all the configuration. Go for it. Have fun, but that's a long process, and it can be a real pain.
If you're in the 90+% of people who think that sounds horrible or just don't even know where to begin, you finally have a great option to get the same results(actually better) in the form of FlashRouters. You can pick up a fully tested and supported router online for a couple of bucks above the stock retail price and get all the extra bells and whistles that come with DD-WRT. On top of all that, you get the FlashRouters VPN Privacy App. With the app, anyone can connect their entire network to a VPN.
The folks at FlashRouters clearly went through a lot of trouble and really put in the work to make sure that these great open source tools that were previously reserved for the geeky few are accessible to everyone. If you're concerned with privacy, want to hook up your whole network to a VPN, or just want the extra functionality of and open source router firmware FlashRouters is an excellent option.
If you're interested in picking up a FlashRouter for yourself, just swing by their website, and check out your options.
How To Post an Item on Craigslist for Sale
Read Next