The Best Female Streamers on Twitch in 2020
If you pay any attention to the livestreaming community online, you've heard of Twitch. Originally created as a spin-off from Justin.tv, Twitch (or Twitch.tv) originally focused on just gaming, with streams of competitive and single player games, including titles like League of Legends, Minecraft, DotA 2, and more. After the gaming service started to overshadow the original Justin.tv, Twitch became the sole focus of the company in 2014, and that same year, the website was sold to Amazon for nearly a billion dollars. Since then, Twitch has become home to streamers of all types, from professional gamers to podcasters, charity streams to speedrunning, and even non-gaming content like food, creative, and "IRL" streams that add more flexibility to streams.
It probably doesn't surprise anyone that a big percentage of streamers on Twitch are male. It can be hard for women to break into the streaming game for many reasons; the top ten streamers on Twitch by followers are all male, and a study from 2016 found that women only made up around one-third of Twitch's streamer base. From harassment problems to the classic "camgirl" insult, there are a multitude of reasons why women either find it difficult to find an audience, or dislike streaming altogether. While it's definitely possible to find popular streamers through Twitch, when most of the well-known users are male, it can be difficult to branch out to different kinds of streams, especially those led by women.
We've done our best to sort through the site to find some incredible gamers and streamers that people should be watching on Twitch. Whether you're looking to support women on Twitch to help their audience grow, or you suddenly have a lot of time on your hands and you're looking for new content, these are some of the best female streamers on Twitch today, organized in alphabetical order.

With 55,000 followers on Twitch, CyborgAngel is no stranger to popularity. Based out of London, CyborgAngel is a full-time streamer dedicated to both single-player and multiplayer games. She streams around five days a week, though thanks to the time difference between the United Kingdom and the United States, it might be difficult for Americans to tune into some of her streams (her earliest scheduled streams happen to coincide with when most workdays begin on the East Coast). Still, most of her streams are archived, so you can always tune in after the fact to watch her kick some ass in Sea of Thieves or hunt monsters in Monster Hunter World.
In addition to multiplayer titles, CyborgAngel has streamed single-player experiences like Ori and the Will of the Wisps, Sekiro: Shadows Die Twice, and The Witcher III, which makes her channel ideal for anyone looking for some variety in gameplay. In the past, her best videos have come from her VR experiences, which involve diving into the world of VR games on camera. She's even combined cosplay with her gameplay to create an interactive world unlike any other, like when she explored the world of Tomb Raider in VR as Lara Croft. Ultimately, CyborgAngel is a great addition to your subscription list, and is well worth checking out for some gaming fun.
Schedule (from streamer page):
Monday:- 3:00pm EST
Tuesday:- 9am EST
Wednesday:- 9am EST
Thursday:- 9am EST
Friday:- 9am EST
Saturday:- Day Off
Sun:- Day Off

Gaby's one of the larger personalities on our list, with more than 84,000 followers to date. Born and raised in Ecuador, Gaby moved to the United States when she was 17 to attend college, eventually graduating from the University of Notre Dame. As someone who's spent her life playing games, she's a fantastic streamer who specializes and spends most of her time on Twitch playing Magic: The Gathering, the massively popular trading card game that has several online games. She's been playing Magic since she received a deck as a gift in 2011, and has participated in the upper ranks and professional aspects of the game. She's even worked with Wizards of the Coast, the team behind Magic and Dungeons and Dragons, as a writer and broadcaster.
Outside of Magic: The Gathering, Gaby also enjoys The Legend of Zelda, Minecraft, Dead by Daylight, Mario Kart, Stardew Valley, and tabletop games, making her a well-rounded gamer and streamer. Lately, in addition to Magic, she's been streaming The Witcher 3, Slay the Spire (a deckbuilding dungeon-crawler that, one would assume, is right up her alley), and has even played a well-timed Dream Daddy stream on Valentine's Day. Overall, Gaby's one of the best up and coming personalities on Twitch, and she's absolutely worth following.
Schedule (from streamer page):
Monday-Friday: 1pm-5:30pm(ish) PST
Saturday-Sunday: Offline. I travel for tournaments, but when I'm home I'll jam some bonus streams.

GirlStreamers might be one of the best streaming channels on this list, thanks to its variety and rotating lineup of guests. Unlike the rest of this list, GirlStreamers features a multitude of guests and permanent streamers, which means both the game selection and the streamer herself is always fresh and new to the audience. At any time, you may tune in to find a streamer battling it out in Fortnite or PlayerUnknown's Battlegrounds, building virtual lives in The Sims 4, or taking down bosses in Cuphead. This constant rotation of streamers means someone is almost always live on the channel, which makes it ideal for tuning in throughout the day. Plus, all of the streamers hosted through GirlStreamers have their own streams as well, where you can follow and support them on a regular basis.
Ultimately, GirlStreamers is a great way to have a good time on Twitch while meeting new fans and streamers alike, finding new players to follow online, and checking out some games you may not regularly tune into watch. GirlStreamers' mission is to make sure that all female broadcasters are encouraged to follow their dreams, regardless of their size or popularity on the platform. While the channel may not be as big as some of our other selections at only 10,500 subscribers, it's well worth jumping aboard.
Schedule (from streamer page):
Sunday:
**Monthly STREAM Theory w/Ezilii & Carize! – 8:00 pm-10:00 pm
**Bi-Weekly PODCAST w/Nyphodora! – 8:00 pm-10:00 pm
Wednesday:
Hugzie- 2:00 pm – 5:00 pm
Saturday:
**Thee Cosmic Bulletin ** – 8:00 pm – 10:00 pm
**[Community Night] ** – 8:00 pm – 12:00 am
All times EST ***schedule subject to change.

Of all the streamers on this list, there's a good chance you've heard of Kaceytron. While plenty of male streamers have built their audience around using characters and controversy (think of loltyler1's League of Legends antics or DrDisRespect's villainous antics on stream), fewer female streamers have opted to spring for these methods. Kaceytron (real name Kacey Caviness), however, has used sexuality and controversy to her advantage. Recently showcased in a Kotaku feature, Kaceytron is known for being a bit of a troll online. A self-described "titty-streamer," Kaceytron uses Twitch to mock her opponents, troll other playings while fighting it out in League of Legends, and generally have a good time on stream with her massive following. She often uses the words of her "enemies" to her advantage, branding herself a "fake gamer girl" in an effort to diminish what insults from stereotypical male gamers truly mean.
Kacey's streams are some of the most fun you can have on Twitch, and her 470,000 followers will likely agree. She often streams under IRL, playing whatever game happens to be chosen for the day (as of writing, she's been playing a lot of Fortnite and Sea of Thieves, two massively popular games on Twitch), though she's best known for her League streams like this one. Ultimately, Kaceytron is one of Twitch's most infamous personalities right now, and she's a blast to watch stream online. If you want to know more, check out her Kotaku feature from February 2018.
Schedule (from streamer page):
Wednesday @ 3pm CST
Thursday @ 3pm CST
Friday @ 3pm CST
Saturday @ 5pm CST
Sunday @ 5pm CST

Kate Stark, or just Kate on Twitch, is another rising star in the ranks of streaming. Kate broadcasts from her home in Canada, mostly focusing on gaming streams and the occasional Creativity stream. According to her own About Me, Kate began streaming in January of 2016 after making a New Year's resolution to be more creative. She began her streaming career that month, and has since grown an audience cultivated around positivity and and acceptance. She was accepted into the Twitch partner program in December of 2016, and currently streams full-time with more than 26,000 subscribers on her page.
In general, Kate's gaming selection falls into a few camps. She's been streaming plenty of Apex Legends since that game released, focusing almost solely on one of the hottest games in the market today. Throughout 2018, she also checked out some new releases as they come out, including Sea of Thieves and even some Far Cry 5, and often hosts community days that can see anything being played on the channel; most recently, she played some Jackbox games with her audience over Twitch. Ultimately, Kate is a great streamer to follow on Twitch, especially if you're into battle royales like Apex Legends and watching new releases demoed on the channel.
Schedule (from streamer page):
MON 08:00 PM EST
TUE 08:00 PM
WED 02:00 PM
THU 08:00 PM
FRI 08:00 PM
SAT 02:00 PM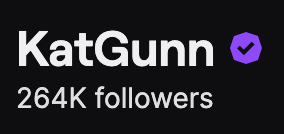 While Kate Stark continues to stream PlayerUnknown's Battlegrounds, streamer KatGunn (also known as Mystik) is best known currently for her Fortnite streams. Located in Dallas, Texas, KatGunn is a longtime competitive gamer. She first rose to prominence during the Championship Gaming Series in the mid-2000s, playing for Carolina Core in 2008, before appearing on season two of SyFy's WCG Ultimate Gamer reality show, which she placed first in. She's a National Champion in Dead or Alive 4 and was a top-12 finalist in Halo during the World Cyber Games. Since then, she's joined Team EnVyUs as a Key Content Creator.
As mentioned, Kat has been playing a ton of Fortnite on her Twitch channel, but she's also known to play almost any game genre. She specializes in first-person shooters and fighting games, but over the last year, has also played Resident Evil 7, Nioh, For Honor, Battlefield 1, Call of Duty, Doom, Zelda, Street Fighter V, Halo 5, Dark Souls III, and a ton of other content. She also hangs out with her dad on stream on Thursdays, hosting sub interviews and playing games along the way. Overall, Kat's channel is a blast to hang out in, and with nearly 200,000 subscribers to date, she's also one of the most prominent channels on this list.
Schedule (from streamer page):
SUN 10pm EST
THU 10pm EST
FRI 10pm EST
SAT 10pm EST

Most of the streamers on this list already have fairly substantial followings, but few have audiences as large as KittyPlays. With a subscriber count now over 1,000,000 in total, KittyPlays (first name Kristen) is one of the top 100 streamers on the service in terms of follower counts. Kristen is a 26 year old streamer from Canada, currently based in Vancouver, who spends much of her time streaming games. Like plenty of streamers on this list, she focuses on providing a sense of positivity for her audience. She interacts with her chat on a regular basis, and tries to keep things upbeat and chill in order to present a relaxing, enjoyable environment.
Like many of the top streamers, KittyPlays has been focusing on Fortnite lately, and considering the game's massive popularity, that's no surprise. In addition to her regular Fortnite streams, Kristen will also use IRL streams to answer viewer questions, play random games, and generally hang out with her audience. You won't see much outside of Fortnite streaming on her channel at the moment, considering how much fun she's been having playing the game, but even if you aren't familiar with the game, it's easy to jump in and start watching. Kristen regularly streams throughout most of the week, and she's pretty reliable about being on-time to her streams. It's also easy to catch her past broadcasts if you're at work when she goes live, so don't stress if you can't make it to the stream when she's live.
Schedule (from streamer page):
SUN 01:00 PM EST
WED 05:00 PM
THU 05:00 PM
FRI 05:00 PM
SAT 05:00 PM

A rising star on Twitch, MissAlexaDLG just recently became a Twitch partner in February of 2018, after beginning streaming in October 2016. Originally from California, Alexa is a college graduate with a degree in broadcast media who lives in Tennessee. Like many of her fellow streamers, Alexa has been largely focused on streaming Fortnite as of late, though she often varies it up during a stream by playing a recent release. Examples include games like A Way Out, the co-op prison escape game from EA, and Far Cry 5, both games she streamed after their respective releases on her channel.
Alexa is close with her fan base, and although she keeps things positive in her streams, she isn't afraid to get a bit raunchy while gaming. Alexa will occasionally stream while drinking on weeknights, and doesn't have a filter, so expect a wide variety of language during her late-night stream appearances. If you're looking for a great streamer to follow for late-night gaming sessions, MissAlexaDLG is the perfect Twitch follow.
MissAlexaDLG goes live every night at 10PM EST, though you should check her Twitter account for any changes or cancellations.
Between her Twitch account, her activity on Twitter, and her hosting duties over at Geek and Sundry (an web-based entertainment company that was founded by actress Felicia Day), Vana's presence is well noted across the internet. Based out of Los Angeles, Vana is a lifelong gamer whose parents owned a video game store when she was growing up. As such, Vana is outright about how much gaming meant to her as a kid, and it's now become an integral part of her life as a full-time streamer and web personality. With more than 25,000 followers, Vana's own personal Twitch stream has seen its fair share of success over the past several years since its launch, and it's only bound to continue growing. Her channel, like many on this list, is an incredibly positive community, making it perfect for anyone tired of the negativity often found on the web.
As far as the game selection goes, Vana's channel on Twitch is one of the more open channels on this list. She typically streams whatever she wants, occasionally posting polls on what to stream on her Twitter account for her viewers to vote on, which helps to add more variety to the list. Just in some recent streams as of writing, she's played A Night in the Woods, Grand Theft Auto V, Subnautica, and so much more! In addition, Vana also appears on the Saving Throw Twitch channel, which is a Dungeons & Dragons network on Twitch that has all sorts of fun times. Her show, the Ironkeep Chronicles, which is based on D&D 5E, airs on Wednesdays at 8pm PST, which means you can watch some roleplaying in addition to her general streaming schedule. The best way to keep up with Vana is to check out her Twitter, or just tune into a stream with one of the times below.
Schedule (from streamer page):
Monday: 2pm PST
Tuesday: 2pm
Wednesday: 2pm
Wednesday: 8pm on Saving Throw
Thursday: Offline Friday: 2pm
Saturday: 2pm
Sunday: 2pm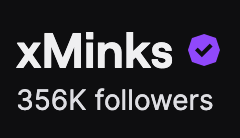 With more than 361,000 Twitch followers, xMinks has really managed to build out her audience to become one of the larger personas on Twitch. Originally from Australia, xMinks (whose real name is Chelsea) originally went to school to complete a degree in Pharmacy, and worked as a dispensary technician at a local pharmacy before being able to switch to full-time streaming. Since then, she has been the feature of several streaming-related articles, including through the Telegraph in the United Kingdom, the Sydney Morning Herald in Australia, and 60 Minutes Australia. Chelsea gained notoriety for her expertise in Call of Duty, becoming known for being one of the best players in all of Australia.
Lately, xMinks has been focusing much of her streaming energy on Apex Legends. Her streams typically last about six hours in total, which means there's plenty of time to drop in if you're late for a stream. The chat is lively as well, making for a great stream overall. xMinks is another excellent streamer on Twitch, and you'd be doing yourself a disservice to miss out on her Apex Legends streams.
Schedule (from streamer page):
Monday: 11am PST onwards
Thursday: 11am PST onwards
Saturday: 11am PST onwards
How to fix 'Excel cannot complete this task with available resources' Errors
Read Next