Can My Chromecast Display 4K?
What's killing the cinema industry? Is it the constant remakes? The overabundance of identity politics? Or is it because we can recreate the cinema experience at home without having to pay the huge ticket prices or concessions costs? Having a 4K TV is awesome, but how do you get your Chromecast to work in 4K?
What Is Google Chromecast?
Google Chromecast is a device that allows users to play online content. It's a streaming media adapter from Google that allows you to play music and videos on your TV. Your Google Chromecast adapter is a dongle that plugs into the HDMI port on your TV. It's powered through a cable that you plug into your TV's USB port.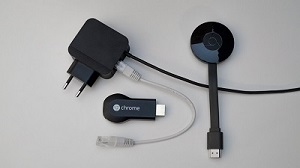 There are two types of Google Chromecast to choose from – Google Chromecast Ultra, and the regular Google Chromecast. The regular version is around half the price of the Ultra device, but the regular Chromecast is more up-to-date in terms of modern technology.
Chromecast vs. Chromecast Ultra
The Chromecast Ultra is the one that can stream 4K TV. It was released in November 2016, and it supports 4K resolution and a high dynamic range. The 3rd gen Google Chromecast was released in October 2018, and even though it's newer than the Ultra, it doesn't have 4K streaming.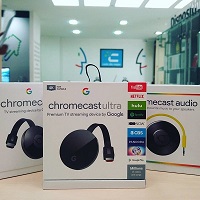 That's not to say that the 2018 Chromecast is in any way bad. It's a simple-but-effective piece of hardware with great app support. Nevertheless, if you're looking for 4K streaming on your TV, then the 2016 Chromecast Ultra is for you.
Why Do Some People Say the Chromecast Will Not Stream 4K TV?
There are two reasons why people think that Chromecast won't play 4K. Firstly, they buy the 2018 Chromecast thinking that the newer version must be the best. Whilst it's true that the 2018 is a pretty sophisticated piece of kit, it doesn't stream 4K like the 2016 Chromecast Ultra.
The second reason is because people don't have enough Internet bandwidth. If you want HD streaming, your Internet speed needs to starts at 5mbps. If you want 4K streaming, your Internet speed should "Start" at 25mbps.
The Netflix Problem
Have you ever watched Netflix in HD, but it looks more like 420p? It's confusing because you have a fast Wi-Fi connection in your home. However, your Internet is being taken up by the many phones in your house, computers, laptops and tablets etc. Plus, there are times when your Internet connection is sketchy for no darn reason. Now, imagine trying to stream 4K TV alongside all these Internet problems.
The fact is that your Chromecast Ultra will stream 4K TV, but it takes a lot out of your Internet connection in order to pull it off. Plus, if your connection keeps getting throttled because your ISP thinks you're using your Internet too much, then that causes problems streaming 4K too.
What Is Needed to Stream 4K Ultra HD Content?
You will need a Chromecast Ultra and a strong Internet connection. A strong and reliable Wi-Fi connection is good, but some find that an Ethernet connection is better.
The Right TV Is Needed
You're also going to need a TV that is 4K compatible. Luckily, modern 4K UHD TVs also comes with the required USB and HDMI ports. The HDMI port should support HDCP 2.2. It also needs to be capable of 60 FPS (Frames Per Second). If you're using a soundbar or AVR, then they too will need HDCP 2.2 support and compatibility.
The Right Internet Speed Is Needed
Google recommends that you need an Internet speed of no less than 20 Mbps, but in reality, you need closer to 25 Mbps for a smooth watching experience. In addition, you're actually going to need 4K programming, and in most cases, you'll need to pay for a subscription in order to receive 4K TV shows and movies.
The Right Cable Is Needed
People who are looking to use a 4K TV will need an HDMI cable that's less than 1.8 meters long, (which is fewer than 6 feet long). The HDMI cable needs to a high-speed cable. This is important because there are many people out there who have 4K set up with their PlayStation Pro or Google Chromecast, but they're only watching with HD resolutions because their HDMI cable isn't up to the task.
The Right Power Supply Is Needed
You will also need whatever power supply unit or equipment you received when you bought your Chromecast Ultra. Plus, keep in mind that your Chromecast Ultra still functions when used with a regular HDTV, but the device is only capable of streaming 4K TV if all the requirements written above are met. If they're not, you may find yourself unknowingly watching HDTV.
Does Chromecast Ultra Support Both 4K UHD and 4K HDR?
Yes, on both counts. It supports 4K Ultra HD, which is where you get four times more resolution than with an HD TV. This means a higher pixel resolution, a smoother video, and a greater color depth.
Chromecast Ultra also supports 4K HDR, known as Ultra High Definition Premium, which is even better than 4K UHD because it offers greater color depth, a wide color gamut, brighter highlights, whiter whites and deeper blacks.
Isn't the Google Chromecast Ultra Irrelevant for 4K TV Owners?
Why buy a Google Chromecast Ultra to watch 4K TV through Netflix and YouTube when most TVs have the Netflix and YouTube app already installed?
Your Google Chromecast Ultra doesn't limit you to Netflix and YouTube. In fact, if a subscription or free service has an app, then you can add the app to your Chromecast and watch whatever you like in 4K. Want to watch Rick & Morty in 4K, then get the Adult Swim app from Google Play. Want to see the blood hit the canvas in UFC, then download a sports TV app and watch the fights in 4K through your Chromecast Ultra.
Do you love your Chromecast? Is your Internet connection strong enough to support 4K TV? What are your thoughts? Let us know in the comments section below.
How to Enable Parental Controls on iPhone
Read Next