How to Share Snapchat Stories to Instagram (and Vice Versa)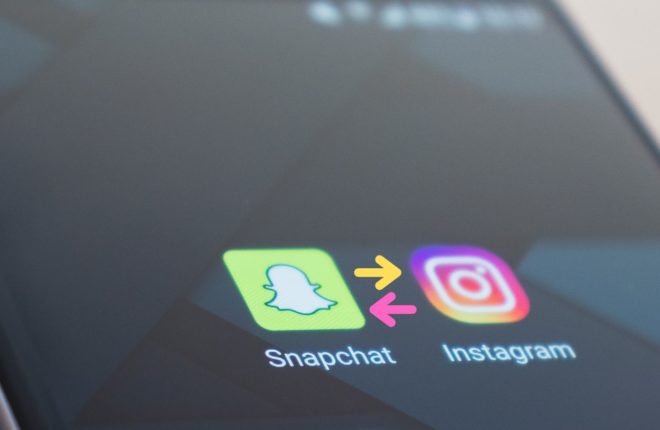 While Instagram and Snapchat are different from each other, they have one thing in common: Stories. Sharing images and videos as a story on both social media platforms are among the best ways to show your followers what you're up to.
However, sometimes you might want to share something you posted on Instagram with your Snapchat friends or vice versa. While there isn't a native way to cross-post from Snapchat to Instagram or from Instagram to Snapchat, there are some workarounds that you can try.
In this post, we'll show you how to share Instagram Stories to Snapchat and vice versa.
Can You Sync Instagram With Snapchat?
The short answer is: No! You can't link Instagram and Snapchat together directly. Snapchat and Instagram are two different social media platforms, each having its own features and functionalities.
Although both networks concentrate on sharing ephemeral content and short videos, they are separate and don't integrate with each other. So, unlike connecting Facebook and Instagram, you cannot link your Instagram with Snapchat.
To share content from your Instagram to Snapchat, you must manually save or capture the content and upload it on both platforms separately.
But there are ways to share your Instagram stories on Snapchat and vice versa. Let's look at all the possible ways you can do that. Admittedly, sending old pictures as new Snaps on Snapchat is easier than cross-posting between Instagram and Snapchat.
How to Share Snapchat Stories on Instagram
The process is pretty straightforward if you want to share your Snapchat story on Instagram. While there isn't an option to share a story from Snapchat to Instagram, you can still share your story manually.
Launch Snapchat on your phone and tap on your story icon in the top left corner.
Tap on My Story and select the story you want to share.

Press the three dots icon in the top right corner and tap Save Snap/Photo/Video to store the media file on your phone.

Once done, go to Instagram and tap the + icon to the add a story.

Select the story you just saved from Snapchat.
If you wish to, edit your story with filters, text, stickers, GIFs, music, or anything you prefer.
Tap the Send button to share the story.

There you go. You have successfully shared your Snapchat story on Instagram. Moreover, you can use this method to add multiple videos to your Instagram story.
How to Post Instagram Stories on Snapchat
If you want to post your Instagram story on Snapchat, the process is also simple.
Open Instagram on your phone and go to the story you want to share.

Tap the share icon at the bottom and select the Share to… option.

Instagram will show you all the options where you can share your story. Choose Snapchat.

Tap the Your Story option and press the Send button. Alternatively, you can choose the My Story option from the share menu.

With this, you can easily share your Instagram story on Snapchat with your friends. Do note that it will send this media in chat if you send it to a friend, and not as Snapchat streak.
How to Share Old Snapchat Stories on Instagram
While you can easily share your Snapchat stories on Instagram using the method mentioned above, what if you want to reshare an old Snapchat picture on Instagram? Thankfully, you can do that as well.
Launch Snapchat on your phone and tap the Memories icon (two pictures symbol).

Select the Snap you want to share from Snaps, Camera Roll, Screenshots, Stories, or My Eyes Only section.

Tap the three-dot menu icon in the top right corner.

Select the Export or Send Snap option.

Hit the Instagram Stories option from the Share Elsewhere section.

That's it. Your old Snapchat snap should now appear on your Instagram account as a story.
How to Share an Instagram Post as a Snapchat Story
If you just posted an excellent picture of yourself on Instagram as a post and want to share it with your Snapchat friends, follow these steps:
Open Instagram on your phone and go to the post you wish to share.

Tap on the Share icon and press the Copy link option.

Now close Instagram and launch Snapchat on your phone.
Take a snap or select a media from the Camera roll. In the edit menu, tap on the attach-link icon (clip symbol) to paste the link.

You will get an option to Type a URL. Paste the URL that you copied from Instagram.

Snapchat will then load your post. Tap the Attach to Snap button.

Hit the Story button to share your Instagram post on Snapchat.

It will appear on the receiver's end with a link redirecting them to your Instagram post.
Share Your Precious Moments!
Now that you know how to share Instagram posts to Snapchat stories and vice versa, it should be easier to share content between two of your favorite social media platforms and post your best moments with your friends and family.
All the methods mentioned in this post allow you to share pretty much anything you want on both social media platforms, whether it's a funny reel you shared in your Instagram story or an old snap saved in your Snapchat Memories. These methods work on both iPhone and Android phones.
On which platform do you often post your stories: Snapchat or Instagram? Let us know in the comments section below.
Found this post helpful? Consider checking out our guide about how to view full-size photos on Instagram next.
How To Check If Someone Else Is Using Your Instagram Account
Read Next