How to Tell If Someone Read Your Email on Gmail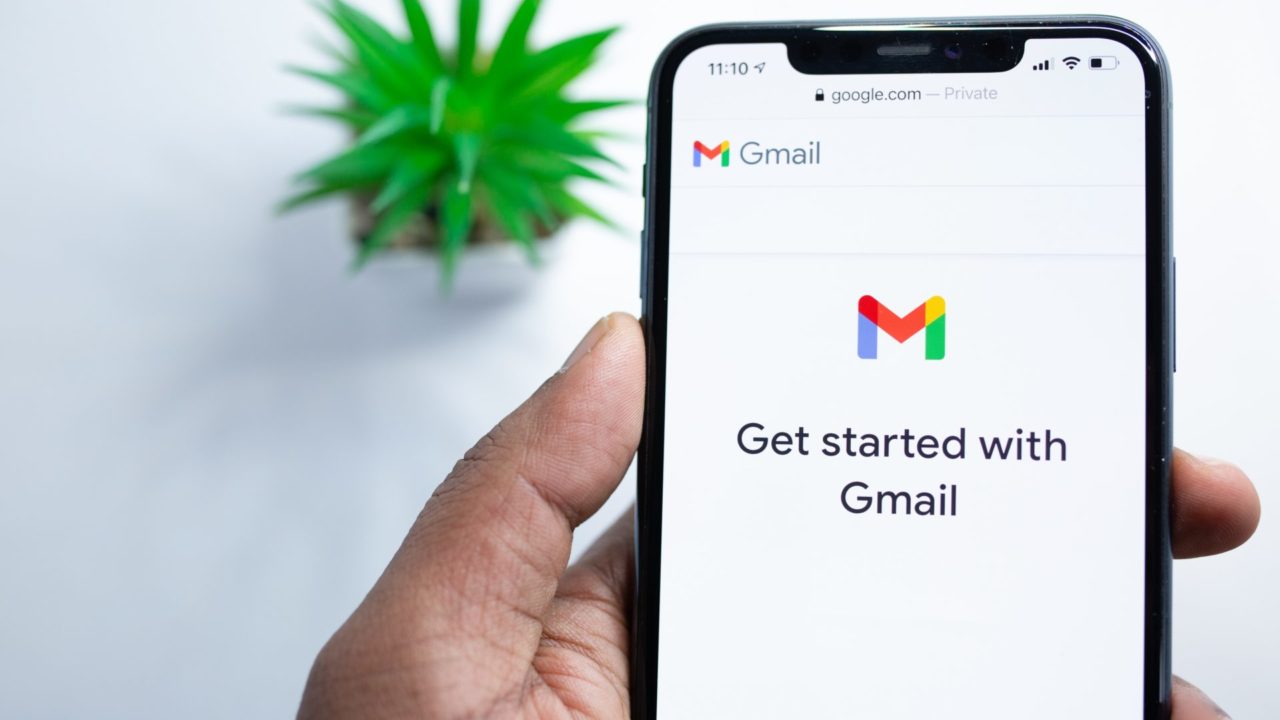 It is always frustrating when someone reads your message but does not reply to it. The situation is even more frustrating when you send an important email and there's no way of knowing if they have read it or not. Gmail can help you know when your email was seen, but the process is a lot more complicated than it should be.
How to Enable Read Receipts on Gmail
Read receipts aren't available on a personal Gmail account. However, if a school or work organization administrator sets up your account, you can turn on the feature. Only account administrators can enable read receipts; they are turned off by default.
Open the Google Admin Console page.
Click Apps.
Look for Gmail under Google Workspace.

Click User settings.
Select Email read receipts.
Select the Allow email read receipts to be sent to any email address option.

Click Save.
Enabling this doesn't allow read receipts to be enabled immediately — you might have to wait for a few minutes before the feature is available. Also, you can only enable read receipts for emails within an organization.
Add GIFs to your email to make them more fun to read. That could get more people to open and reply to your emails.
How to Request for Read Receipts in Gmail
Once the feature is enabled, getting read receipts in Gmail is easy. Remember that these aren't added automatically; you must request read receipts every time you send a message manually.
Open Gmail.
Compose a new mail.
Click the three-dot icon on the lower right.
Select Request read receipts.


Compose your message, and add your recipients and subject.
Click Send.
Once sent, the recipient should receive the request for the read receipt. They need to accept this before you are notified if a mail is read or not.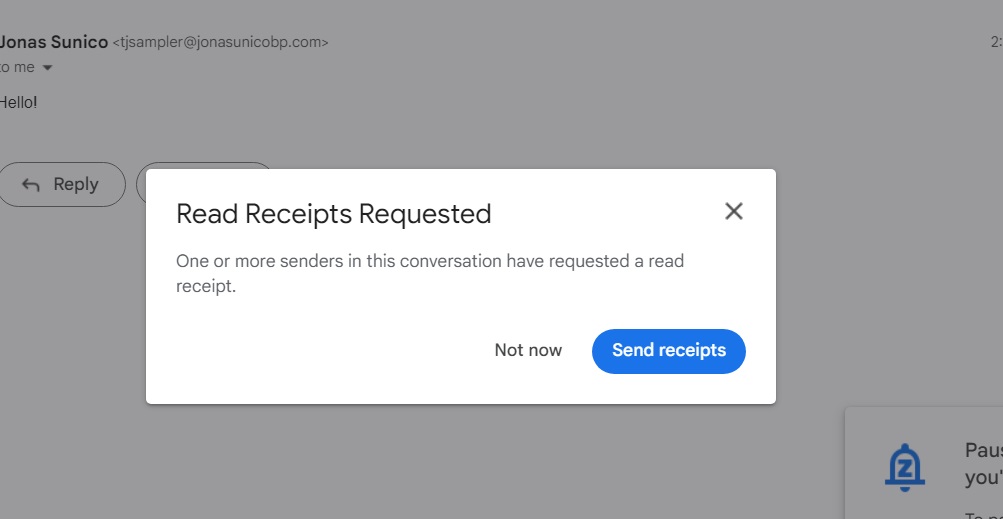 If the receipt was accepted, here's what it will look like on your end.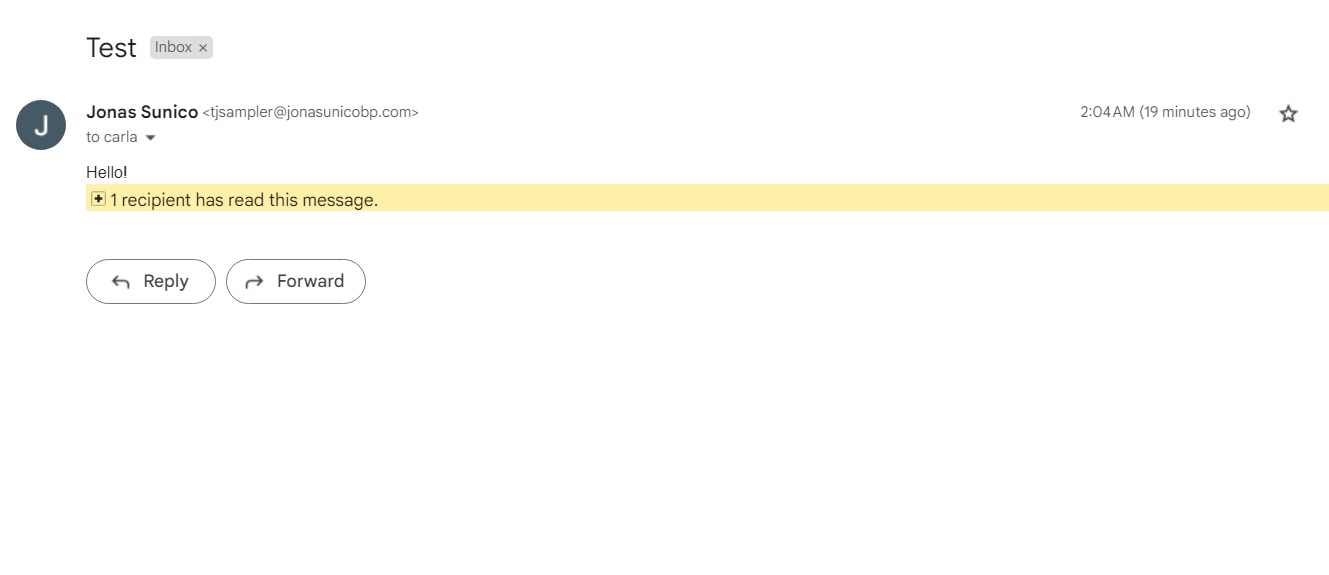 Note: If you don't receive a read receipt, you might need to wait a few hours after enabling the feature for it to work properly.
If you frequently send a lot of emails, consider creating and using email templates in Gmail.
Use A Third-Party App To Monitor Your Emails
The downside to Gmail's built-in receipts is that they aren't available to personal accounts. Another problem is that the other person must accept the read receipt for it to be notified on your end. If you want an easy and reliable way to know when others have read your message, you should consider using a third-party solution. We suggest the MailTrack extension.
Install MailTrack.
Connect your Gmail account to MailTrack from the new tab that opens.

Select the free account. You can upgrade to a paid account later on.

You should see a green check mark next to your Sent folder if properly installed.

Send your mail, and head to your Sent folder.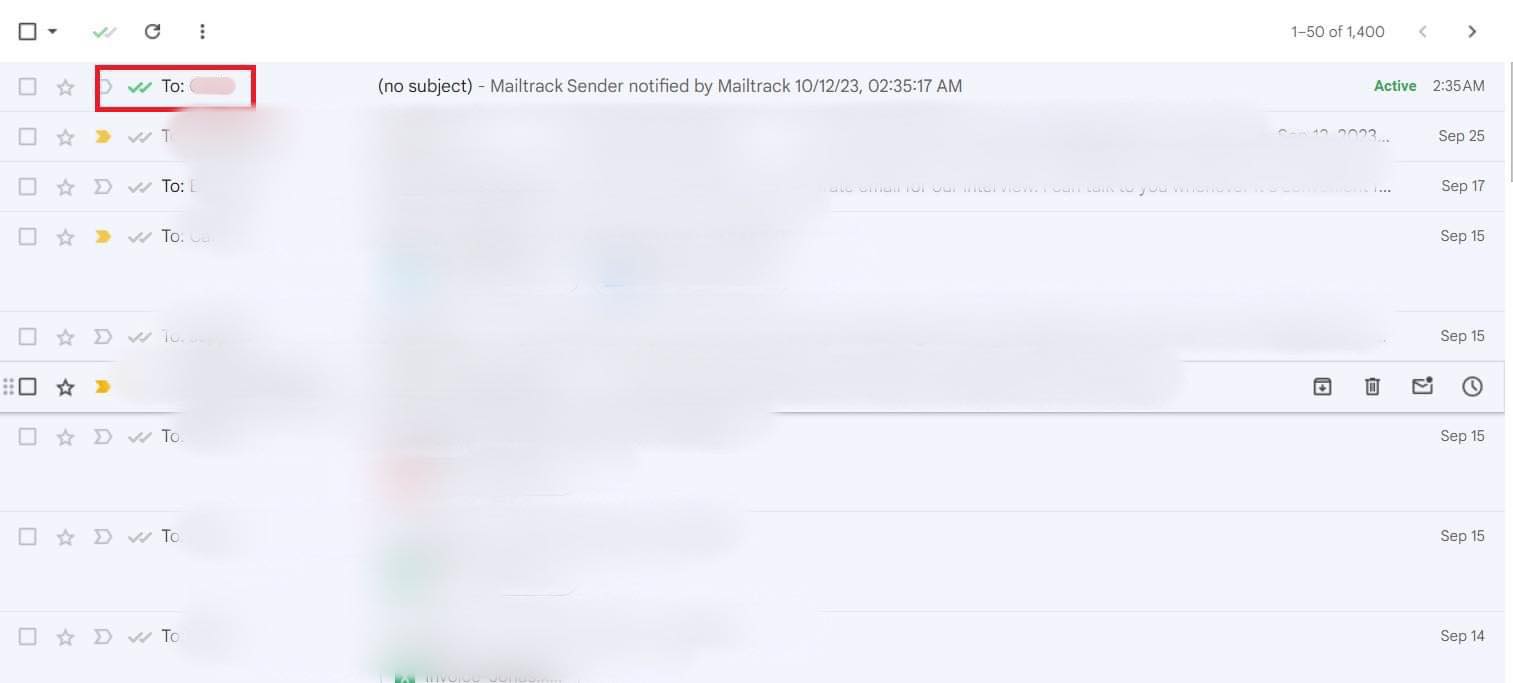 If the email has been seen, you should see two green checks next to it in your Sent folder. Follow these steps if you want a more detailed view of your tracked email.
Open Gmail.
Click the Mailtrack icon at the top right.
Select Email Tracking Report.


View your sent mail in the new window that pops up.

If you receive a lot of emails, consider delegating your Gmail account to better manage your inbox.
Get More Information On Your Gmail Conversations
Read receipts are helpful, especially in cases where you need to know whether or not your email got sent to the right person. We're hoping that Gmail will implement this feature into personal accounts, as it's useful for people from all walks of life. If you want another fantastic trick, here's how to schedule a recurring email in Gmail.
FAQs
Q: Are Gmail read receipts compatible with all email clients?
A: It's compatible with mainstream email clients like Outlook and Thunderbird. However, if the person you're talking to is using a lesser-known email provider, they might not get the read receipt.
Q: Why aren't I getting read receipts on Gmail?
A: If the option doesn't appear when you're writing a message, you'll need the admin to enable it. If it's already implemented and you still can't get read receipts, you might need to wait at least 24 hours after read receipts have been enabled before it can work.
Q: How to set up read receipts on a Gmail personal account?
A: Unfortunately, there's no way to do this without a Workspace account. You'll have to use third-party email trackers if you want read receipts for a personal account.
How to Make a Mind Map in Google Docs
Read Next