How to Install Fusion on Kodi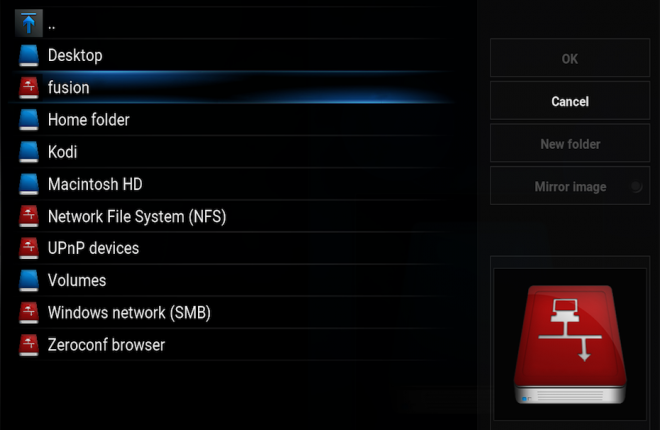 Kodi is perhaps one of the best-known media streamers, outside of more niche products like Plex and Emby. As a free, open-source platform, Kodi is our favorite home-theater streaming app on the market today, allowing you to manage your media library locally, over your network, or by pulling in content from all across the web. If you're unfamiliar with Kodi, you might know it by another name entirely: XBMC (or Xbox Media Center), which it was previously known as before being rebranded Kodi in 2014. As a streaming platform, Kodi has attracted a ton of attention over the past decade for being one of the best media players out there: it's endlessly customizable, can play a number of video file types, formats, and codecs, and has a huge fanbase making spinoff applications and adding new features and functionality to the program often. Needless to say, it's a really cool app, even if it isn't without its fair share of problems, with some amount of controversy never far behind the platform. The streaming service is often used to access pirated content, though it isn't the only use for Kodi.
One of the best aspects about Kodi is its flexibility when it comes to installing and adding different app and media repositories through different forms of installers. These installers act quite a bit like app stores on Android or iOS, functioning as a way to gain access to your favorite content online, including services like YouTube, Hulu, and Amazon Prime, all through a free visual interface that puts Roku and Amazon to shame. Kodi is completely open-source, customizable, and free to make it unique to your sensibilities towards design and media. One of our favorite long-time installers, or repositories, on Kodi has been Fusion, which has some serious history on the internet with Kodi. Fusion was notable for its extensive library of applications and add-ons, including options that allowed you to watch and stream free movies illegally online—a controversial app, to say the least.
Fusion is still around today, but the method of installing the repository has changed over the year and a half since we first published our guide to installing Fusion. And that's not the only thing that's changed either. Fusion itself, along with the host for Fusion, TVAddons, have gone through their own changes as well, and not all fans of the platform might like some of the new options we've seen. Read on to find out what's happening with Fusion, how to install it, and some of our favorite alternatives to everyone's favorite Kodi repository.
Fusion and TVAddons: What Happened
TVAddons was, for a while, the developer of the hottest piracy repository on the market for Kodi. As the creator of Fusion, TVAddons was constantly at odds with the developers of Kodi, going as far as to outright ban any discussion of Fusion and TVAddons on the official Kodi forums and disavowing TVAddons altogether for giving Kodi a name as a piracy-ridden app. And in a sense, they were completely correct. While Kodi is used by millions of people around the world as free open-source home theater software, it's used by millions more as a way to stream pirated and illegal content, something that Kodi has been attempting to crack down on more and more lately.
In June of 2017, it seemed the inevitable had finally happened: both TVAddons and Fusion went offline unexpectedly, due to a copyright lawsuit by Dish Network for piracy concerns throughout the United States. In addition, their Facebook page went offline, along with most of their applications, including the notorious piracy network Exodus, an app that began to give users numerous connection errors while trying to connect to streaming movies and television shows. At the time, it looked as though TVAddons was gone for good, done in by their own allowance of apps like Exodus. However, after nearly two months of radio silence, TVAddons and Fusion both returned at the end of July 2017—though, unfortunately for users who loved what the app had offered previously, not without some major changes.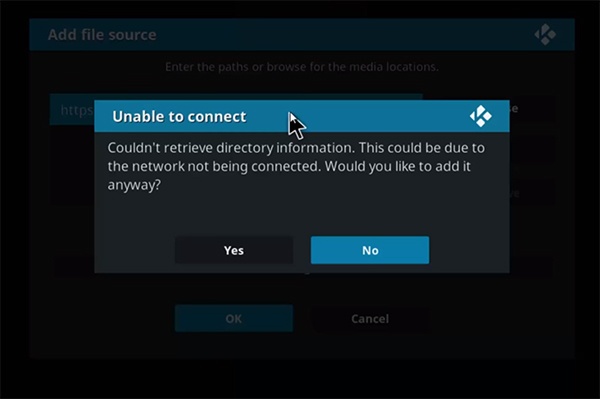 While TVAddons and Kodi certainly do not get along, it seems that the former company has made some attempts in trying to change their old ways. Fusion has removed a ton of the content that got them in trouble to begin with, including Exodus, which has been officially shut down for the time being, and the website itself has gone out of their way to begin advertising monthly articles that highlight the best free legal streaming content you can access in TVAddons. This doesn't make Fusion a bad app repository necessarily; in fact, for users looking for a solid legal streaming application that combines all the best free online sources into one product, you can't do much worse than Fusion. But it's certainly not what people came to expect from both TVAddons and Fusion, and it's no surprise that the change has made a large group of Fusion users move away from the once-popular Kodi repo.
So while it is possible to install Fusion once again—this time, from a new URL, since the old one was disabled back in June after the shutdown—it's obvious that Fusion will never be the same repository that people became used to relying on the app to watch free movies and television shows, and more entertainment. Still, there's some pretty solid content on Fusion still that makes it worth keeping around on Kodi, even if it isn't for the same purposes any longer. We'll cover all the steps needed to install this newer version of Fusion, along with some of the content you can find there, in our next section below.
How to Install Fusion
Now that we've detailed the differences in versions between the new Fusion and the old Fusion, we can get to work in putting Fusion back onto your Kodi device. This will work with any platform that runs Kodi, including your Windows, MacOS, or Linux-based PCs, your Amazon Fire Stick, Apple TV (2nd and 4th gen), and more. No matter which platform you're installing Fusion onto, the instructions will largely remain the same for most users. We're using Kodi 17.4 Krypton in our installation instructions below, so our photos may look different if you're using an older version or a specific theme on your device. With that preface out of the way, let's jump in.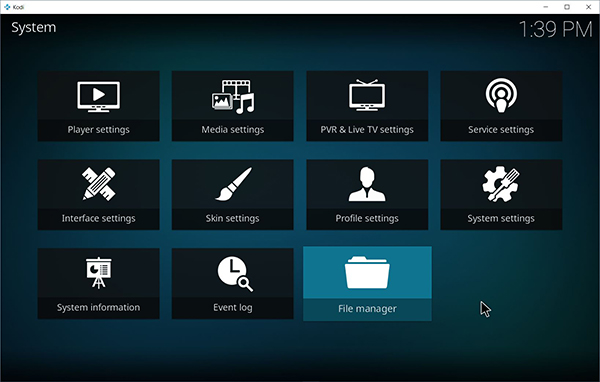 Start by opening up Kodi on the platform of your choice. As we mentioned above, it's available on a number of platforms, with listings available in the app stores for both Windows and Android, and downloadable versions from Kodi's own website for the other platforms of your choice. After opening Kodi, use your mouse, controller, or remote to arrow over to the left side of the menu and select the settings cog icon from the corner of your display. This will open up a list of your settings inside your Kodi browser; select "File Browser" on the bottom of the list. When you open this menu, you'll see a few distinct settings to select from, including "Add source," allowing you to add a new URL source for Kodi to browse through on your device and granting access to a brand new repository. This is how we're going to add the Fusion repository, but you'll need the correct URL to do so. There are several URLs for Fusion available online, and it can initially be difficult to know which one you should select. Fusion has been shut down a few times, leading to a dead URL for users looking to add the program to Kodi. As of October 2017, the correct URL is: "http://fusion.tvaddons.co"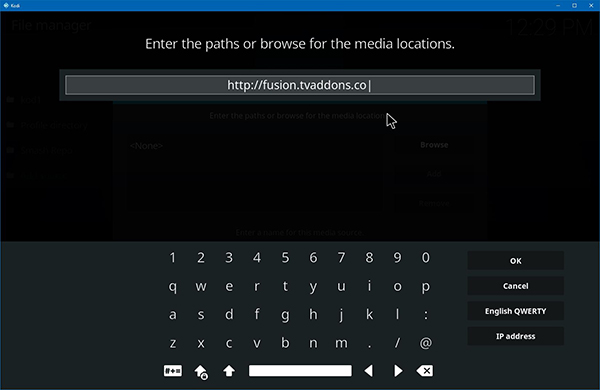 Once you've added the URL to Kodi, hit "OK" and move your cursor down to the bottom input box to rename the URL to something you can easily recognize. By default, the Fusion Repo leaves this spot blank, so fill it in with whatever label you want to add to the program ("Fusion" works well) and hit the OK button again. Once you've added the repo URL, you can back out from your file browser to the main menu of Kodi by selecting or clicking on the top-left corner menu names to exit the display open on your screen.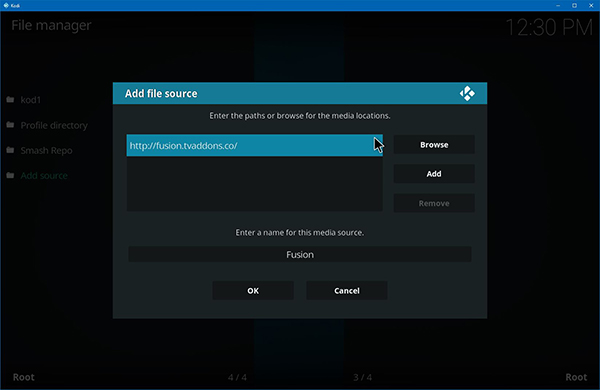 What you'll need to do next really depends on whether or not you've installed repositories from zip files before. If you have, you've probably already adjusted your Kodi settings to allow for installing content from "unknown sources," you'll be all set to continue onto the next step. If not, dive into the Settings menu using the settings cog we pointed out earlier and select "System Settings." Using your mouse or remote, select "Add-ons" from the side menu and move your cursor to the toggle that reads "Unknown sources." This will allow you to install content from sources like TVAddons and Fusion. Confirm the prompt that appears on your display, and tap on the menu icon in the top-left corner to return back to the main menu.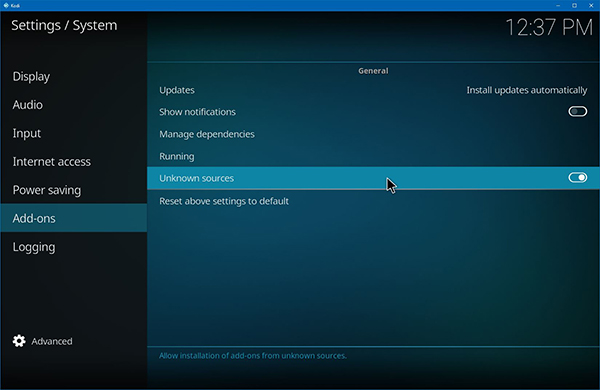 Now, from here, we'll need to head to the Add-ons menu on your display. You can find this on the left banner side of your screen, in between Radio and Pictures on the menu. Add-ons is where you can head to install or uninstall specific add-ons and repos from your menu, and it's here that we'll be able to install Smash to your device. Enter the add-on browser by clicking the box icon or selecting "Add-on browser" in the middle of the page if you don't have any add-ons yet. Here you'll find five different options for the add-on browser. Four from the top, you'll see "Install from zip file." Select that option to install Fusion from the URL you added in the earlier step. Look for the name you gave Fusion earlier from this list and select it from this list.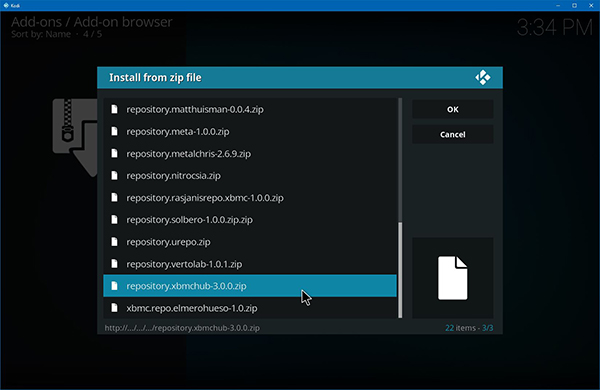 At this point, you're all set. Fusion has been added to your list of add-ons and you can use it to install any of the repositories supplied by TVAddons, along with the Indigo plugin that makes it easy to customize and install addons to your device. Fusion comes with three basic folders to install from: Begin Here, Kodi Repos, and Kodi Scripts. Start with "Begin Here" and install Indigo onto your platform. Then, move down to the Kodi Repos section, select "English," and find "repository.xbmchub-3.0.0.zip" to install the main Fusion repository. After you've installed this, you can back out of the "Install from zip file" menu and click on "Install from repository." Here you'll find the entire listing of the XBMC Hub content that we added in the last step, but you can also find more repositories in the "Zip file" menu we used to install the Fusion hub just moments ago. All of these repositories are free and available for download, offering tons of content to watch.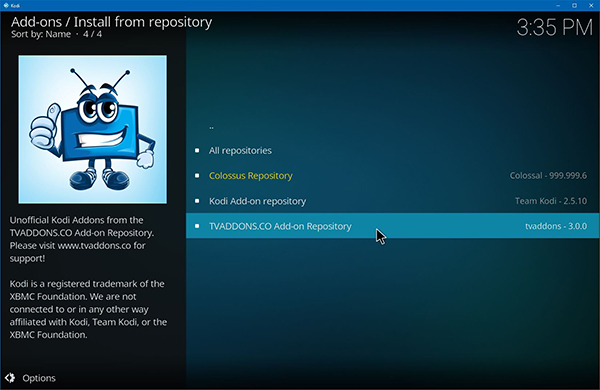 What's in the New Fusion?
Fusion used to be used primarily for content like Exodus and other piracy-based content on the web, but since the reintroduction of TVAddons and Fusion, it seems the development team behind the platform have decided to largely focus on offering users a way to watch entertainment for free legally, rather than through out-and-out piracy. This has been disappointing to a lot of fans of the original platform, and if you find yourself among their ranks, you'll want to make the move to one of the Fusion alternatives we've listed below.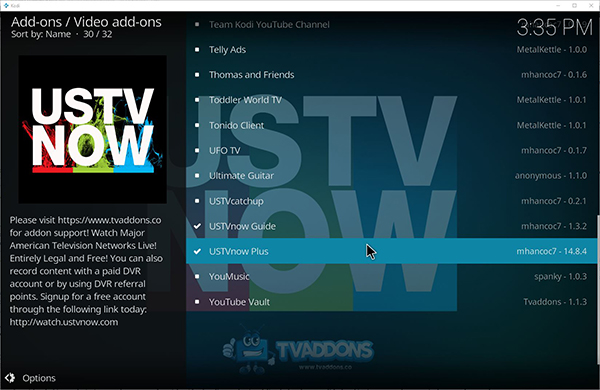 That said, there's a solid lineup of content offered within Fusion that you can find by looking through the repositories inside the zip file you added earlier in the guide. In addition to the XBMC hub, there are more than two dozen repositories that offer all sorts of add-ons for both video, audio, photos, customization, and more, making it easy to find some amount of good quality content, completely for free. Here's a quick summary of some of the add-ons you can find inside of the new Fusion repo:
USTVNow Plus: This add-on is one of our favorites, allowing you to watch basic television channels like CBS or NBC for free within the United States (or for free outside the US with a VPN). You can even add DVR functionality to this app, though you'll have to pay for cloud storage. You'll need to sign up for a (free) account online, but you'll gain access to 7 channels, with the option to upgrade for more content, and you can stream your live television directly through Kodi. Unfortunately, there's no options for local channels; you'll be stuck watching a feed from Harrisburg, PA, so don't expect to get the local news out of this. Still, for events like football or the Oscars, this is a perfect step if you can't receive an antenna signal from where you live.
Last Week Tonight: The hit, award-winning HBO show Last Week Tonight with John Oliver can be viewed directly though your Kodi feed, making it easy to catch up on episodes or watch some of your favorite content on the web!
Funny or Die: One of the web's earliest comedy sketch websites can now be viewed directly from your living room or bedroom using the Kodi app installed inside of Fusion. Funny or Die came directly from Will Ferrell and collaborator Adam McKay (director of Step Brothers, Anchorman, etc.), and is still one of the best sketch shows running on the web today.
Adult Swim: As the provider of some of our favorite content on television today, Adult Swim is the hub for watching episodes of Rick and Morty, Robot Chicken, reruns of Family Guy, and so much more. If you've been missing out on your favorite Adult Swim content since cutting the cord, grab this app from Fusion today.
This is just a handful of what you can find on the newer entry of Fusion; with two dozen repositories and hundreds of apps within the TVAddons lineup, it makes sense to grab as many of the free apps as you can to expand your library of content.
Fusion Alternatives
Of course, in the place of the traditional version of Fusion, it seems that several candidates have taken the place of the once-frontrunner for the average Kodi user online today. Whereas Fusion once played a major role in the everyday use of certain Kodi users, it's been seemingly replaced by a large amount of Fusion alternatives that have erupted onto the marketplace. It makes sense: Fusion wasn't the first piracy-based platform widely available to Kodi users, and it certainly isn't the last.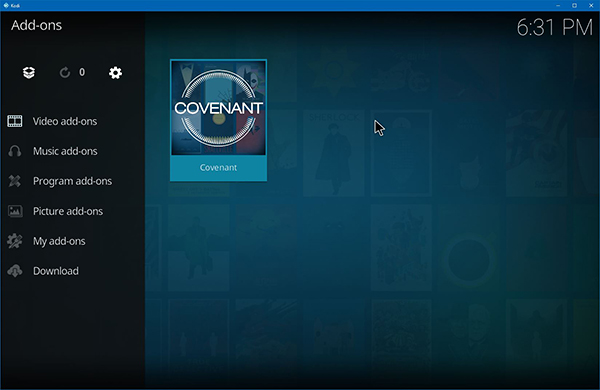 So, with that said, here's a quick breakdown of a few of the best alternatives to the older version of Fusion, prior to the shutdown in June of 2017.
Smash Repo: Smash has basically become the favorite alternative repository for users looking for something similar to what Fusion offered. Perhaps best known for offering Covenant, a fork off of Exodus, Smash Repo has become the default choice for thousands of Kodi users in the wake of the Fusion shutdown. This repo has a ton of addons and helpful tools to make your Kodi experience great again, and although Smash has gone offline a few times over the past few months, it's still widely available for download and installation through an online zip file.
NoobsandNerds Repo: Embarrassing name aside, this repo has become incredibly popular following the fall of Fusion this past summer, and is largely known for offering BoB as an add-on, an app that is nearly identical to both Exodus and Covenant, along with MetalliQ and other piracy-enabled streaming applications. Both this repo and the Smash repo have been banned for discussion from the Kodi support site, so make sure not to bring them up when using the platforms online.
SuperRepo: One final entry in our alternatives list, SuperRepo has a ton of really great add-ons that will feel familiar to any ex-Fusion user. One of our favorite add-ons, LazyTV, can be found here, allowing you to automatically build a randomized playlist of your favorite TV shows contained in your library. Combine this with the downloads from Smash or NoobsandNerds for the best Kodi experience on the web today.
***
For many Kodi users, Fusion and TVAddons coming back to the scene was initially a relief, followed by the disappointment of realizing that Fusion would never be the same as it was prior to its shutdown in June. You can still install Fusion and get a ton of repositories and add-ons out of the utility, but apps like Exodus and other piracy-based content providers are as good as dead, removed from the listings within the app and no longer hosted by their primary hosting facilities. This is disappointing to say the least, and for some users, might be a bit of a deal breaker overall. But is Fusion unusable? Not in the slightest, as as users who try to avoid using piracy-filled applications and other potentially bad or dangerous sources, we were simply excited to see the app return complete with some new tricks and expanded usability. Seriously, Fusion is still one of the best repos you can get on the market, and for anyone looking to get some free videos while avoiding the copyright risks that come from an app like Exodus or Covenant, Fusion might be better than ever.
Learn How To Type Like a Boss
Read Next