45 Best Animated Movies on Netflix – November 2018
Also see our article 50 Best Shows to Binge Watch on Netflix
The best kind of animated feature films are capable of telling stories you wouldn't be able to tell using traditional live-action animation. Perhaps your world is inhabited with creatures that would be impossible in the real world, or capable of creating without using millions upon millions of dollars. Animation is a broad category that covers a lot of great entertainment. Some is for kids, some is just for adults, and some is legitimately fun for everyone. Films based in animation are excellent ways to experience full-on fantasy worlds, science-fiction battles, and often-impossible events. You'll find talking animals, dancing teapots, and the classic anvils falling from the sky. Plenty of animation is based in humor, designed to make you laugh until you cry. Sometimes watching animation comes from the need to view the true artistry put into work by teams of animators, both working in 2D classic cel-animation and newer 3D CGI animation.
This list contains the best animated movies and films streaming on Netflix at the moment. From stories about brand-new baby brothers and anthropomorphic animals working together, to adult storytelling, painting a world destroyed by a giant monster or the tale of a teenage girl trying to find her parents in a dystopian, steampunk Paris, there's something for everyone on this list. We present the forty-five best animated films on Netflix as of October 2018, in no particular order.
And of course, if you're looking for more entertainment to watch with the whole family, you might also want to check out our list of the best family-friendly movies on Netflix.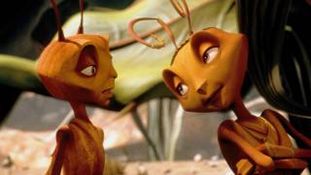 Z is a worker drone ant who lives in a productive ant colony in Central Park. His colony believes the group is more important than the individual, but Z dreams of having his own accomplishments in life. He decides to pursue the Queen's daughter Bala and ends up leading a rebellion along with other worker ants in the colony. The film had the unfortunate reality of being released just a month before Pixar's A Bug's Life, which led to millions of people missing out on the film and writing it off completely, and a feud between Pixar and Dreamworks regarding the similarities between the two films.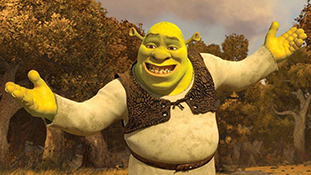 One of the biggest animated hits of the 2000s, Shrek is a 2001 animated comedy directed by Andrew Adamson and Vicky Jenson and based on the book of the same name by William Steig. The film stars Mike Myers as the titular Shrek, an ogre who prefers his privacy and a sense of calm and quiet, spending his days scaring villagers and hunters away from his swamp. That is, until the evil Lord Farquaad (John Lithgow) banishes all fairy tale creatures into Shrek's swamp, destroying his home and property and prompting him to put an end to Farquaad's madness. Joined by Donkey (Eddie Murphy), Shrek sets out to rescue Princess Fiona (Cameron Diaz) from a faraway castle so that he may marry, in exchange for the return of his swamp. Along the way, Shrek might just learn to accept the company of others—and Fiona may end up being something more than originally thought.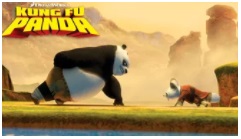 Speaking of movies about bears, Kung Fu Panda is one of Dreamworks' most-popular series, spinning off two follow-up films, a Nickelodeon television show, several short films and holiday specials, five video games, and an upcoming attraction at Universal Studios Hollywood. The first film that kicked everything off, however, starts out as a pretty sweet, simple movie. Kung Fu Panda stars Jack Black as Po, an overweight kung fu fanatic, who is accidentally identified as the Dragon Master, over the Furious Five kung fu masters everyone had assumed would be chosen. Po is forced to undergo serious training by his leaders, angry and jealous of his selection, but when Tai Lung, an evil kung fu master, breaks out of his prison, only Po can save the day.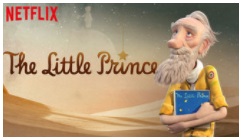 Based on the novella first published in France 1943, The Little Prince is a 3D animated film that uses modern technology and stop-motion animation to recreate the story of the classic bedtime story. When a young girl is forced into a life based on schedules and routines created by her overbearing Mother, she's thrilled to meet her elderly next-door neighbor, a retired Aviator. The Aviator will tell the Girl the story of the Little Prince, a young boy who lives in space on an asteroid. Critically-acclaimed for its animation style, The Little Prince manages to recreate the world of the original novella in a modern fashion without losing what made the book so amazing to begin with. And since it's a Netflix Original, you'll never have to worry about the film being taken off the service.
41. The Road to El Dorado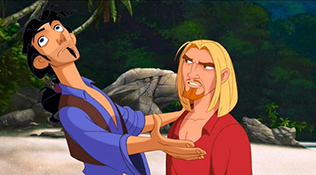 The third feature-length film from DreamWorks Animation, The Road to El Dorado tells the story of Tulio and Miguel, two con-men played here by Kevin Kline and Kenneth Branagh who manage to "luck" their way into winning a map to the legendary city of gold, El Dorado. After their rigged dice are discovered, the two men head out on the run, evading guards and making their way to a ship headed to the New World, escaping from Spain in 1519. On their way to El Dorado, they'll find themselves in constant trouble, joined by the lovely Chel, and just maybe, fulfilling their goal of getting rich beyond their wildest dreams.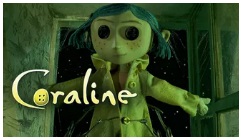 Adapted from Neil Gaiman's book of the same name, Coraline is the first feature film produced by Laika Studios, a stop-motion animation studio that has created some incredible work over the past decade. Coraline tells the story of Coraline Jones, an adventurous 11-year-old who is uprooted from her home to move to a new one she doesn't much care for. While looking for something to do in her new area, she goes exploring and discovers a secret door in her new house—one that leads to a parallel world, where her parents have time for her and listen to her needs. While this idealized world feels too perfect to be true, the truth is far more sinister: the world is hiding a dark secret. The film was directed by Henry Selick, best known to animation fans as the man behind The Nightmare Before Christmas and James and the Giant Peach.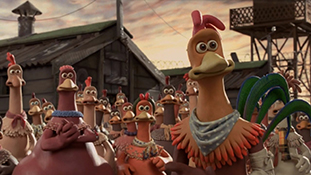 The first feature-length production from Aardman Animation, the studio behind Shaun the Sheep and Wallace and Gromit, Chicken Run tells the story of a failing poultry farm in Yorkshire, England, where the chickens are forced to lay a certain amount of eggs or be slaughtered for meat. While the evil farm Ms. Tweedy begins building an automated factory farm, the chickens—led by Ginger—begin to plan an escape from the farm, with the help of Rocky Rhodes (Mel Gibson) a rooster that crash-landed in the farm and has agreed to help show the chickens how to fly. The film was critically-acclaimed upon release, with reviewers praising the animation and the humor alike.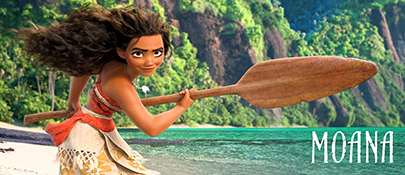 Disney's animation studio is no stranger to critical acclaim, and Moana was no exception to this rule. In addition to becoming a major worldwide box-office success, Moana managed to impress critics with its incredible animation, the characterization of the titular hero, and the music from Opetaia Foa'i, Mark Mancina (Tarzan), and Lin-Manuel Miranda (Hamilton). The film tells the story of Moana (played by newcomer Auli'i Cravalho), a sixteen-year-old daughter of the chief of a Polynesian village who feels destined to leave her small island despite the rules of her father and the other elders. When the ocean calls on her to leave the town to find a mystical relic to save the dying island, Moana sets out to find Maui (Dwayne Johnson), a demigod who stole the relic in an effort to present the humans with the power of creation. Directed by Ron Clements and John Musker (The Little Mermaid, Aladdin), the film is a true adventure, filled with fantastic jokes, some catchy songs, and great performances from Cravalho and Johnson.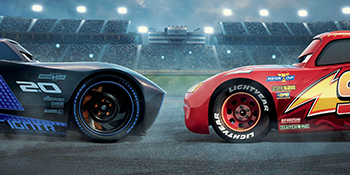 The concluding chapter in the Cars trilogy, Cars 3 is an attempt to recreate the magic of the original film, considered lost after the release of the much-maligned Cars 2. In Cars 3, Lightning McQueen (Owen Wilson) is a seven-time Piston Cup champion who finds himself injured after a crash during the final race of the season. Much of the film follows McQueen as he attempts to rehabilitate himself in the world of faster, newer cars, in an effort to show the world that he's still the best racer around. Cars 3, though not considered a cinematic masterpiece, is often ranked as the best of the trilogy, and thanks to Netflix's deal with Disney, you can catch up on the adventures of Lightning McQueen in the comfort of your living room.
36. Captain Underpants: The First Epic Movie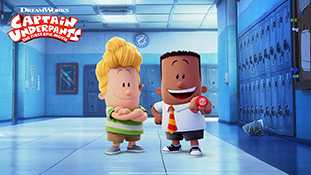 Based on the comics and novels of the same name, Captain Underpants follows the adventures of George Beard and Harold Hutchins, two elementary school students who enjoy pulling pranks at their school and creating comics in their spare time. When the boys are threatened with separation, George manages to hypnotize their mean principal, Mr. Krupp, into believing he's the superhero in their stories, Captain Underpants. With an all-star cast including Thomas Middleditch and Kevin Hart as the two heroes and Ed Helms as Mr. Krupp, Captain Underpants: The First Epic Movie uses the series art style to make an exceptionally well-done family cartoon.
The 30 Best Thrillers Streaming on Netflix – Fall 2018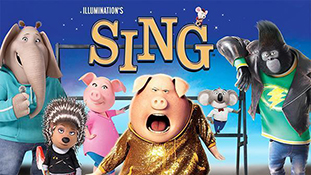 From the creators of Despicable Me comes Sing, the story of a singing competition (like American Idol) set in the world of anthropomorphic animals. The tale begins when Buster Moon (Matthew McConaughey), a down-on-his-luck koala that owns a theater. In order to draw some more popularity to the theater, Buster decides to host a singing competition around the city with a prize pool of $1,000. When the flyers go out, however, a typo leads the citizens of the town to believe the cash prize to be worth $100,000, resulting in a massive turnout for the competition. The film features an ensemble voice cast including McConaughey, Reese Witherspoon, Seth MacFarlane, Scarlett Johansson, and so many more famous names and voices.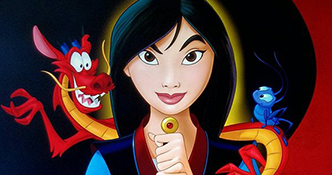 Mulan was released towards the end of the "Disney Renaissance" of the 1990s, but it's very much a part of that lineup of films. Telling the story of Mulan (Ming-Na Wen; singing voice provided by Lea Salonga), the film begins with the Huns, led by Shan Yu, invade Han China by breaching the Great Wall, causing a mobilization from the Emperor of China. Fa Mulan, hearing that her elderly father will be forced to go to war once more, disguises herself as a man in her father's armor in order to enlist in his place. Meanwhile, a small dragon named Mushu (Eddie Murphy) is sent to awaken the Stone Dragon to protect Mulan, accidentally destroying it in the process. He teams up with Mulan to protect her himself as she begins her training to battle Shan Yu's army. With a live-action adaptation on its way for 2019, now's a perfect time to catch up on the original.
33. Alvin and the Chipmunks Meet the Wolfman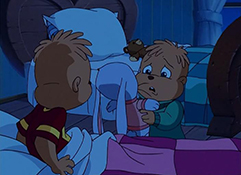 It may not be Halloween time, but that doesn't mean you can't tune in for this classic, zany comedy adventure starring everyone's favorite talking animals. Produced in 2000, the film follows Alvin, Theodore, and Simon as they rehearse for a play at their school based on Dr. Jekyll and Mr. Hyde. Meanwhile, as Alvin deals with nightmares each night, he begins to dream of meeting the Wolfman. According to him, these dreams are spurred on by their new neighbor, the strange and mysterious Lawrence Talbot. When Theodore is bitten by a wolf, he begins to turn into a wolfmunk, his personality morphing into something far more dangerous and sinister.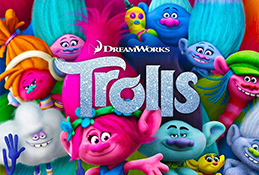 Another Dreamworks production, Trolls is an adaptation of the cute and fuzzy dolls of the same name, telling the story of two trolls who embark on a quest to save their village from destruction by the evil Bergens, these creatures who eat trolls in order to feel happiness. When Princess Poppy (Anna Kendrick) throws a party to celebrate 20 years since ensuring their freedom from the Bergens, Branch (Justin Timberlake) warns her that throwing the party may attract Bergens to their location. When Bergens do arrive at their location and kidnap some trolls, it's up to Poppy and a reluctant Branch to attempt to set the stolen trolls free before they're eaten by Bergens. The whole this is an acid-trip of colors, songs, and wacky animations, which critics found aimed at children but not without some amount of fun for parents. Trolls also has a Netflix series that began airing in January, and a sequel on the way for 2020.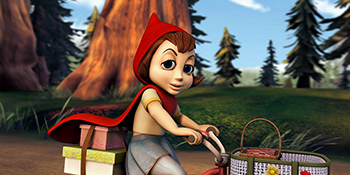 To be honest, the animation in 2005's Hoodwinked hasn't aged well. Unlike most of the films on this list, Hoodwinked was self-funded and independently animated, made on a budget of less than $8 million. Still, the film managed to receive strong reviews outside of the animation quality, and both its script and the film's voice actors have all received praised. The film reimagines the story of Red Riding Hood as a police investigation story, using flashbacks and clues to tell the story from multiple points of view. The film begins when Red (Anne Hathaway) has discovered that the Big Bad Wolf (Patrick Warburton) has disguised himself as her grandmother, only for Granny (Glenn Close), to jump out of the closet just as the Woodsman (Jim Belushi) bursts through the window. As police investigate the situation, they learnt that not all is as it seems.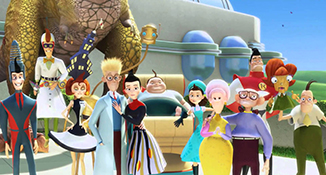 Meet the Robinsons isn't exactly Disney at its peak of brilliance, but it is considered something of an underrated gem by fans of the animation company. The film was the second CGI creation from the company, released after Chicken Little (which is on Netflix, but frankly, not worth watching), and the first film released after John Lassetter took over animation control for the entire company following the purchase of Pixar. Following the adventures of Lewis, a 12 year old genius inventor, who meets Wilbur Robinson, a 13 year old boy who brings him to the future. The film is a blast of comic hilarity, even if the story doesn't hold a candle to the original book, and it's well worth a watch for animation nerds and families alike.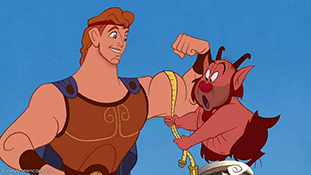 Released following the odd-but-successful The Hunchback of Notre Dame and the previously-mentioned Mulan, Hercules is another film from the directors of Moana and The Little Mermaid, Ron Clements and John Musker. The film tells the story of Hercules, the son of Zeus and Hera, who must defeat his uncle Hades. After being turned mortal but not removed of his superhuman strength, a teenage Hercules realizes his godhood when he visits the temple of Zeus. Though the film was well-received upon release, Hercules didn't fare as well as its predecessors at the box office, only managing to hit $252 million worldwide.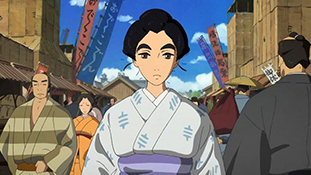 Miss Hokusai is based on the 1980s manga of the same name, adapted into a 90 minute feature film from 2015. The film follows alternating episodes between the lives of O-Ei and her father Tetsuzo in the early 1800s, as painters from around Japan come to visit. The film presents O-Ei as a talented artist who helps Tetsuzo with his artwork, including assisting to fix a painting of a Japanese dragon that was damaged the night before it was to be delivered. The film also follows O-Ei as she visits her blind half-sister, whom her father refuses to visit due to her blindness and his fear of disease. The film is a heart-wrenching look at family, talent, art, and ambition, and is most certainly worth watching on the service. One of the few projects streaming on Netflix based on historical events, Miss Hokusai is well-worth watching; the film holds a 95 percent on Rotten Tomatoes.
27. An Extremely Goofy Movie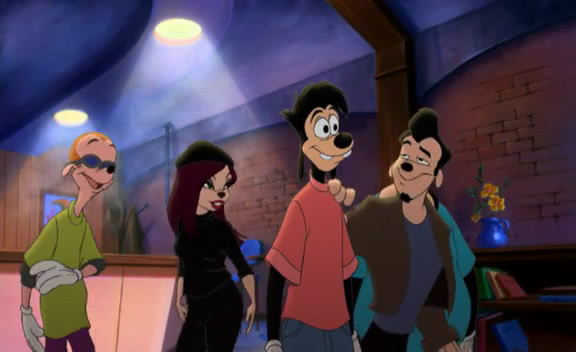 No one will call An Extremely Goofy Movie a cinematic masterpiece, but if you're into Goofy, Max, and all the misadventures of his family, you'll enjoy this direct-to-video sequel to 1995's A Goofy Movie. The film takes place years after both the Goof Troop television show and A Goofy Movie, in which Goofy's son Max is getting ready to head off to college. Max's new goal in life is to become the top contender during his college's X Games. Max must learn to compete at the top level in order to beat the competition, while Goofy has to learn to live alone without Max there. With a cast including Bill Farmer as Goofy (of course,) plus Rob Paulsen, Pauly Shore, and Brad Garrett, An Extremely Goofy Movie is a fun distraction to have on in the background during Saturday mornings.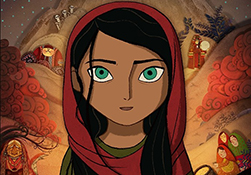 Animated by Cartoon Saloon and executive produced by Angelina Jolie, The Breadwinner is the second directorial feature from Nora Twomey. Released in 2017 and nominated for a Best Animated Feature award at the 2018 Academy Awards, The Breadwinner tells the story of Parvana, a young girl who lives in Kabul, Afghanistan while under the control of the Taliban. She lives with her father Nurullah, a teacher handicapped during the Soviet-Afghan War and turned into a merchant known as a "hawker," until he is unjustly arrested after a member of the Taliban believes Nurullah insulted him. With Parvana's family left without a male member, her and her family are left unable to leave the house under Taliban law. Left with few options, Parvana dresses as a boy to pass as Nurullah's nephew, Aatish, in order to secure means to support her family. The film was critically-acclaimed for both its story and its animation.
The 30 Best Sitcoms on Netflix – Fall 2018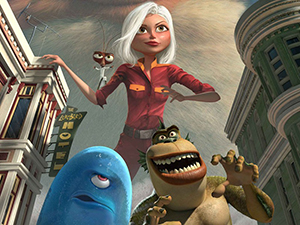 Released in 2009, Dreamworks' Monsters vs. Aliens was a unique take on science-fiction, playing on established genre tropes to create a pretty fun romp for kids and adults alike. It wasn't groundbreaking filmmaking by any means, but the animation was fluid and fun, and most of the jokes land throughout the film. Starring an A-list cast including Reese Witherspoon, Hugh Laurie, Seth Rogen, Will Arnett, Kiefer Sutherland, Rainn Wilson, Paul Rudd, and Stephen Colbert, Monsters vs. Aliens follows Susan Murphy (Witherspoon), a woman in California who's about to marry local weatherman Derek Dieti (Rudd). When she's struck by a meteorite, she grows uncontrollably during the ceremony and loses the color in her hair. Captured by the government and deemed a monster, Susan must learn to adjust to her new life with her fellow monsters—all while an alien invasion begins to threaten Earth. The movie was followed by a short, two holiday specials, and a one-season Nickelodeon series.
24. Atlantis: The Lost Empire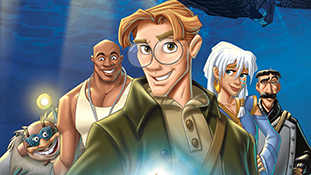 Atlantis: The Lost Empire was supposed to be a continuation of the Disney Renaissance when it was released in 2001, following the critical disappointment of Dinosaur (despite its financial success), and the offbeat comedy The Emperor's New Groove (a film that certainly doesn't fit with the rest of the Renaissance films but is wonderful nonetheless). Atlantis would be the first science-fiction story told by Disney Animation, featuring a full ensemble cast led by Michael J. Fox and Cree Summer. Unfortunately, despite some incredible animation (fueled with assistance from some CGI) and the adoption of the style of cartoonist Mike Mignola, the film received mixed reviews and was ultimately deemed a disappointment. Despite this, Atlantis stands as a unique Disney feature, without the use of the standard Disney tropes and musical numbers, and should be seen by any fan of animation young or old.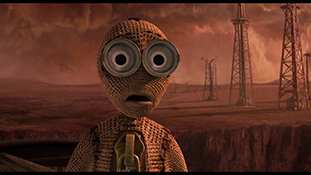 There's a lot to love about 9, from its unique world and visual style to its dark take on the themes of protecting the world around us. Despite being an animated feature, 9 is difficult to recommend for younger children, with its PG-13 rating and frightening science-fiction world. The film, directed by Shane Acker, is based on the Oscar-nominated short film of the same name, expanded to fit a full-length film, though at 79 minutes, the work is rather short. Opening in 1930s Germany, the film follows as a scientist creates nine ragdolls using alchemy and separating a piece of his soul into each doll. The film takes place sometime after in a dystopian world, as the nine dolls must journey across the world to destroy a machine responsible for the downfall of humanity.
22. My Life as a Zucchini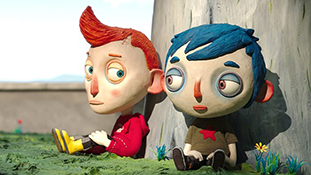 One of the few foreign animated films on this list, My Life as a Zucchini (also known as Ma vie de Courgette) is a 2016 Swiss-French stop-motion animated film that works as a coming-of-age story about an orphaned boy named Zucchini, who lives in a foster home. The film has been critically-acclaimed and nominated for dozens of awards, including an Oscar for Best Animated Feature in 2017. The subject matter might not be appropriate for younger children, but it's a great film for tweens and teens to watch to learn about state care and the real-life situations that can fall on people (alcoholism, suicide, and more). Definitely check this one out.
21. Godzilla: Planet of the Monsters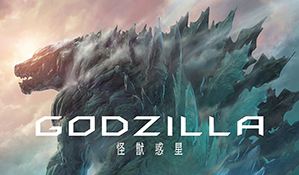 One of the few films on our list made specifically for adults, Godzilla: Planet of the Monsters is a Netflix Original film produced by Toho Animation. The 32nd film in the Godzilla franchise and the first-ever animated feature, Planet of the Monsters begins in 1999, when large monsters begin appearing all over the planet. When a plan to defeat Godzilla with Mechagodzilla fails, humanity is forced to evacuate Earth, leaving for Tau Ceti e. The film follows the aftermath of this decision, including mutiny, the conflicts of religion, and the mutation of Earth thanks to the existence of Godzilla over many years. The film can be watched in Japanese with English subtitles, or in an English dub. Planet of the Monsters is the first in a planned trilogy of films, with a sequel, Godzilla: Kessen Kidō Zōshoku Toshi, planned for release in Japan in May 2018 and on Netflix sometime after.
20. April and the Extraordinary World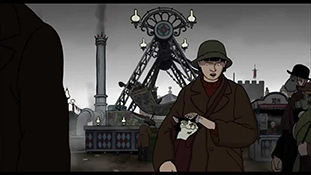 Yet another French-animated film, April and the Extraordinary World (also known as Avril et le Monde Truqué) is notable for its unique animation style, its adaptation of steampunk aesthetics, and utilizing the work of French cartoonist Jacques Tardi. The film begins in 1870, on the eve of the Franco-Prussian War, as Napoleon III visits the lab of Gustave Franklin to view the creation of his army of supersoldiers. Disgusted and upset by the creations of Franklin, Napoleon tries to kill the creations, instead murdering both himself and Franklin in an explosion. Over the next sixty years, as scientists begin to disappear from around the world, Europe becomes morphed and twisted by the reliance on coal to continue with technological breakthroughs. In this new world, April (Marion Cotillard) leaves on a mission with her talking cat to find her parents.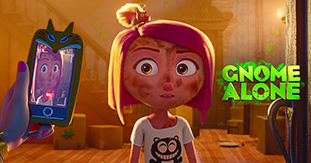 From the director of The Nut Job comes this brand-new Netflix original animated film, Gnome Alone. Based around a war between Gnomes and Troggs, wacky creatures who live underground and are determined to eat the Earth, the film follows pre-teen Chloe (Becky G), who moves into a new house that is filled with garden gnomes that come to life to fight the Troggs. Though Chloe and her new nerdy friend Liam seem destined to take up arms between the two sides, Chloe is forced between her new life of fighting against the Earth's enemies or becoming a popular middle school student—a choice that is harder than it seems.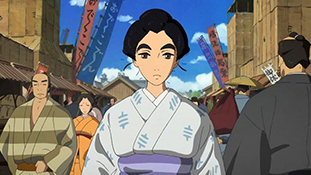 Miss Hokusai is based on the 1980s manga of the same name, adapted into a 90 minute feature film from 2015. The film follows alternating episodes between the lives of O-Ei and her father Tetsuzo in the early 1800s, as painters from around Japan come to visit. The film presents O-Ei as a talented artist who helps Tetsuzo with his artwork, including assisting to fix a painting of a Japanese dragon that was damaged the night before it was to be delivered. The film also follows O-Ei as she visits her blind half-sister, whom her father refuses to visit due to her blindness and his fear of disease. The film is a heart-wrenching look at family, talent, art, and ambition, and is most certainly worth watching on the service. One of the few projects streaming on Netflix based on historical events, Miss Hokusai is well-worth watching; the film holds a 95 percent on Rotten Tomatoes.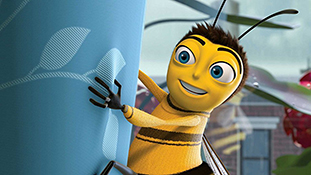 What would have been a forgotten kids movie of the 2000s has seen a bump in popularity over the last two years thanks to a resoundingly-popular meme, one surely embraced by Netflix when they gained the rights to stream Bee Movie. Produced, written, and starring Jerry Seinfeld, Bee Movie is, for what it's worth, a deeply odd film, avoiding the traditional trappings of a three-act structure made for children and detailing what happens when Barry B. Benson (Jerry Seinfeld) introduces himself to the human population and sues to stop the world from consuming and selling their honey. Strange plot details aside (including moments where both Sting and Goodfellas star Ray Liotta portray animated versions of themselves on trial), the film is pretty standard fare from Dreamworks, but it's worth watching just to see how weird 2000s animation could be.
16. Mary and the Witch's Flower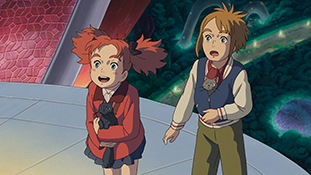 The first film from Studio Ponoc, Mary and the Witch's Flower is a Studio Ghibli-style film, and the third film by Hiromasa Yonebayashi. The film follows a young girl named Mary Smith, who finds a mysterious flower called "fly-by-night." The flower gives her the power to become a with for a single night, which, following her new boring life living with her Great Aunt Charlotte in England, gives her a new hope for having fun. Combined with an old broomstick, Mary is swept into a new life full of mystery and excitement, where she joins a new magic academy that seems wonderful at first glance. That said, a darkness sits below the school, threatening Mary and causing her to have to make things right after a fatal mistake.
30 Best Kids Movies on Netflix – Fall 2018
Nominated for Best Animated Feature at the 2018 Academy Awards, The Boss Baby caught a lot of flack online for its high-concept story. The second most-recent release from Dreamworks Animation after the previously-mentioned Captain Underpants, The Boss Baby follows a 7 year old boy named Tim, who is surprised when a baby in a suit and tie show up at his house one day and his parent announce him as his baby brother. Tim is surprised to learn his brother, now named Theodore, can talk (and sounds like Alec Baldwin). When Theodore begins to plot and scheme, Tim learns that he has ulterior motives for joining the family, which includes fueling a battle for attention from adults between babies and adults.
14. Pooh's Grand Adventure: The Search for Christopher Robin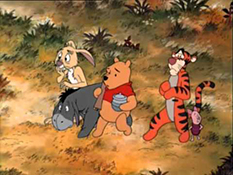 Renowned for its animation style and its often-heartwarming stories, Winnie the Pooh is one of the longest-running series around, bouncing from books to television to cinemas for the past century. Originally published in 1926, Disney scored the animation rights to the character in 1966 and hasn't released him since. Seen in five theatrical episodes, four television series, and countless feature-length films (most recently 2011's brilliant Winnie the Pooh), Pooh is one of the most-loved characters in the world. The 1997 direct-to-video film Pooh's Grand Adventure is one of his best outings. Originally decried with a mixed-at-best reception, the films darker themes and imagery have allowed the film to build a cult audience since its release twenty years ago. This one's a must-see before the release of Christopher Robin, a live-action adaptation starring Ewan McGregor as an adult version of the title character, coming this summer.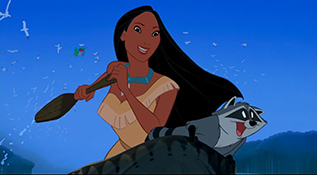 Pocahontas isn't Disney's best animated feature, despite having been released during the Disney Renaissance. Thanks to some racial overtones and historical inaccuracies, one could argue the film hasn't aged nearly as well as one might hope for. Still, Pocahontas is an enjoyable film, one painting the historical event where Pocahontas meets the white settlers in Jamestown and, most notably, John Smith. Things grow complicated when Pocahontas begins a romantic relationship with John Smith, while the colonists threaten the Algonquin tribe with violence. The film's music was well-received, as was its animation, but the film has never recovered from its mixed reviews.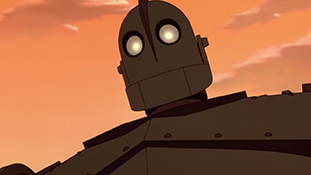 Before The Incredibles, before Ratatouille, before Mission Impossible: Ghost Protocol and Tomorrowland, Brad Bird made a 2D/CGI animated film for Warner Bros. called The Iron Giant. Released in 1999, the film was praised for everything from its story and animation to the performances of its entire cast. Set in 1957, The Iron Giant is based on the 1968 novel The Iron Man. Set in 1957 during the escalating tensions of the Cold War, The Iron Giant follows Hogarth Hughes, a curious 9-year-old boy who finds a giant metal robot from space. Aided by local beatnik artist Dean McCoppin (Harry Connick Jr.), Hogarth must keep the robot away from both the US military and Kent Mansley (Christopher McDonald), a federal agent who intends to destroy the robot they assume is a Soviet weapon. The Iron Giant is one of the best animated films of the 1990s, and if you've recently seen it brought to life in Ready Player One, you owe it to yourself to see the original.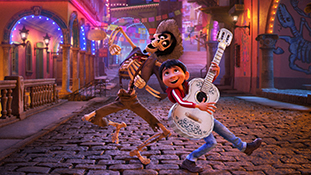 Pixar's had something of a rough stretch for the last few years. Although the company's streak of film's between 1995 and 2010 are largely indisputable as incredible (with the single exception of Cars and, arguably, parts of Up), the production company's films between 2011 and 2018 have been mixed. Some have held up well, including 2015's Inside Out, and plenty of them (Monsters U, Finding Dory, Brave) have been warmly received, but others like The Good Dinosaur were largely ignored or met with a shrug. Coco is closer to Inside Out in this regard, a warm hit that has a slow first act but picks up in the halfway point of the movie, coming around in the third act to hit you with the Pixar-signature emotional punch. It's a great film, and if you're looking for something new to watch on Netflix with the entire family and missed this one in theaters, it's a perfect time to revisit it.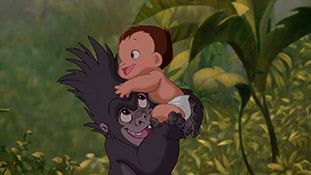 Considered the final film released during the 1990s Disney Renaissance (which, in our opinion, does a disservice to two of the best Disney animated films, Lilo and Stitch and The Emperor's New Groove, but we digress), Tarzan is perhaps best known for its Phil Collins soundtrack and the excellent adaptation of the original source material, which uses both traditional animation and CGI backdrops to make a unique-looking film, complete with everything you would want in an adaptation. The film follows Tarzan, an orphaned child in the jungle who is raised by a group of gorillas, along with his surrogate mother Kara. Now an adult, Tarzan must protect his clan from the arrival of a group of English explorers, led by the hunter Clayton, who accompanies the Porters, Jane and her father Archimedes. Torn between his newfound love for Jane and his family of gorillas, Tarzan must find his place in this world.
9. Smurfs: The Lost Village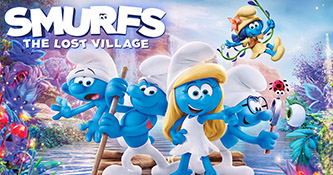 In this soft reboot of the Smurfs franchise, we follow as best friends Smurfette, Brainy, Clumsy, and Hefty (played respectively by Demi Lovato, Danny Pudi, Jack McBrayer, and Joe Manganiello) find a map that leads them on a journey of major discoveries. Following the map, the four enter the forbidden forest, headed towards an enchanted wonderland that leads them to discover a major advancement in Smurf history. With Gargamel (Rainn Wilson) on their tail, the four must find the lost village before the evil wizard manages to catch up with them. Unlike the live-action/animated hybrids, this film does a better job in capturing the energy of the original comic series, even if it's not a complete knock-out animated feature.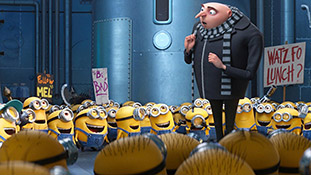 Following the events of the second film, Gru (Steve Carell) has given up his life of crime and works for the Anti-Villain League (AVL). His partner and wife Lucy (Kristen Wiig) are sent to ruin the plans and efforts of Balthazar Bratt (Trey Parker), a former child actor who has gone rogue. Unable to stop Bratt from escaping after attempting to steal a large diamond, Gru is fired from the AVL. As the Minions hope Gru will return to a life of crime, Gru decides to stay retired and travel to Freedonia (named after the country in Duck Soup) to visit his twin brother, Dru (also voiced by Carell). The reunited siblings soon form an uneasy alliance in an effort to take down Bratt, with Dru dreaming of becoming a supervillain like his father and Gru secretly hoping to rejoin the Anti-Villain League. Meanwhile, the Minions get up to their usual antics, accidentally landing themselves in prison.
7. Madagascar: Escape 2 Africa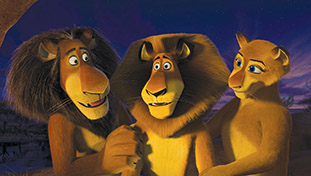 The sequel to the hit 2005 animated Dreamworks film Madagascar, the film picks up right where the last one left off. With Alex the lion (Ben Stiller), Gloria the hippo (Jada Pinkett Smith), Marty the zebra (Chris Rock), and Melman the giraffe (David Schwimmer) preparing to leave Madagascar to head back to New York City, the penguins have prepared a battered airplane to return home. Unsurprisingly, the plane runs out of fuel early into the journey, crash landing in Africa near a nature reserve. While there, Alex meets his parents, whom he was taken from when he was a child (as seen in the beginning of the film), impressing them with his tales of being the "king of New York." Meanwhile, the other three animals are just as excited to meet their own kind. As Africa proves to be an exciting place to live, Alex begins to wonder if he should really return back to his home.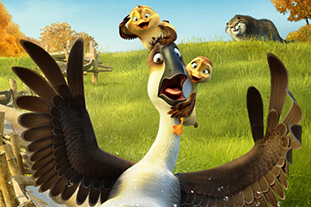 From the director of 2007's Surf's Up comes Duck Duck Goose, a Netflix original animated film co-produced between the United States and China. The film follows Peng (Jim Gaffigan), a Chinese goose whose flock is in the middle of migration. Unfortunately for Peng, he's unliked by his flock and is abandoned while asleep, left alone in the wilderness. When Peng runs into a duo of ducklings separated from their mother, the three begin their trek to rediscover their place in the world, with only the others to rely on. The film also features the voice talent of Zendaya, Greg Proops, Stephen Fry, Carl Reiner, and Reggie Watts. Originally slated for release in theaters, the film's status as a Netflix original means you can stream it whenever you want.
30 Best Sci-Fi & Fantasy Movies Streaming on Netflix – Fall 2018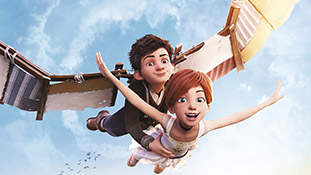 In Leap! (also known as Ballerina outside the United States), we follow Félicie (Elle Fanning), a poor orphan girl living in 1880s France who dreams of becoming a dancer. Unfortunately, thanks to her familial and financial situation, she lacks formal training to get anywhere near her dream. Dismayed by her life, her and her fellow orphan friend Victor (Nat Wolff in the American version, Dane DeHaan elsewhere), a young inventor, run away from their orphanage in rural Brittany to make a beeline for Paris. Eventually, the two become separated, with Victor working as an office boy in an inventor's shop, while Félicie meets Odette (Carly Rae Jepsen) at the Paris Opera. There, Félicie will try to make an impression on the cruel opera owner, auditioning for a performance of "The Nutcracker." The film features an original song from Carly Rae Jepsen, "Cut to the Feeling."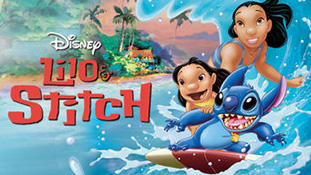 Before Moana, there was Lilo and Stitch, Disney's other 2000s animated tale set in the Oceanic region. The sci-fi comedy follows Lilo, a young girl who lives with her older sister following the passing of her parents. Lilo's sister agrees for her to adopt a dog, but instead, she ends up with an escaped alien creation, codenamed Experiment 626, who crash-landed on the planet after escaping from its captors. Under Lilo's tutelage, Stitch must learn how to behave like a polite being on Earth, in order to escape both the watch of the government and the aliens who have come to get him back. Lilo and Stitch led to three direct-to-DVD sequels, a full series on Disney Channel, and plenty of merchandise still available today. The movie feels slight for how much it eventually led to, but it's also the best of the entire media franchise.
3. The Emperor's New Groove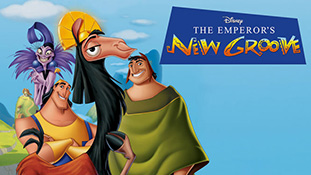 In the aftermath of the Disney Renaissance, the animation department was a bit lost. Some of their films were outright disasters either critically (Home on the Range, a film that basically doesn't exist) or commercially (Treasure Planet), while other oddball entries have their set of fans. The Emperor's New Groove is one such film; though it may not feature the love and heart of something like The Lion King or Beauty and the Beast, it's a comically-zany film that is genuinely hilarious. When Emperor Kuzco (the voice of David Spade) is transformed into a llama by his advisor Yzma (Eartha Kitt, having a ball) in order to get him out of the ruler's seat, he must work together with Pacha (John Goodman) to get him back on the throne before being killed once and for all.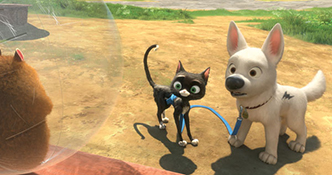 Most people think of Tangled or Wreck-It Ralph as the movies that helped bring Disney back to a golden age of animation, creating classics that hold up today instead of films like Chicken Little or Home on the Range. Unfortunately, 2008's Bolt seems to have passed many people by, despite critical praise and being held up as one of Disney's best of the 2000s. In Bolt, a puppy named Bolt is adopted by a young girl named Penny, who eventually becomes a star in a hit television series starring both her and Bolt. Bolt was raised to believe everything is real, including his superpowers and his crime-fighting abilities, which causes him to panic following the filming of an episode which ends with Penny kidnapped. After accidentally shipping himself to New York while chasing after Penny, Bolt must find a way to Penny with the help of some new friends.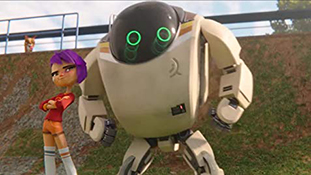 Netflix's first fully-original animated feature film takes viewers on a journey to the futuristic city of Grainland and follows Mai Su, who lives an ideal life with her parents prior to a divorce and her father leaving her family. Mai's mother Molly gets through the divorce by buying advanced robots known primarily as Q-Bots, but these robots take up Molly's time and leaves Mai alone with her thoughts. As she abandons the idea of robots, she finds herself ostracized from society, where robots are quickly replacing everything from the education system to law enforcement. Now a teenager, Mai finds herself in trouble when a rare robot known as 7723 (the voice of John Krasinski) escapes from its captivity and must be watched by Mai's care. With Marvel-like action and a stellar voice cast, Netflix's first animated original is a rare treat.