Take Control of Your USB Power Needs with the Anker 40W 5-Port USB Charger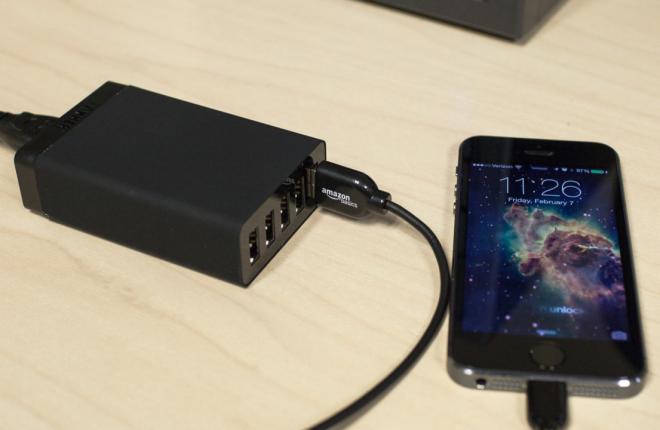 Anker is quickly becoming the go-to brand for quality mobile and computing accessories. We had a very positive experience with the company's Uspeed 4-in–1 USB 3.0 Memory Card Reader last year, and we recently had an opportunity to try out their 40W 5-Port USB Charger. We'll go over our impressions next, but the short version is this: if you have multiple USB devices you need to charge at home or the office, this Anker 40W charger is a fantastic solution.
Box Contents & Technical Specifications
The Anker 40W 5-Port USB Charger is an update on the company's existing 25W Charger. Identical to its lower power counterpart, the 40W charger comes neatly packaged in an attractive and simple cardboard box.
Inside, you'll find the charger itself, a 5-foot detachable power cord with a velcro wrap, a multi-language instruction manual, and a customer support card with easy access to Anker's support telephone numbers and email address.
The charger is compact and has a nice soft rubber finish, similar to many of Anker's other products. It measures 3.6 x 2.3 x 1.0 inches (length, width, height) and can easily fit into any travel bag.
All of the specs mentioned thus far are nice, but common. There are hundreds of USB chargers on the market with similar designs and portability. But where this Anker charger distinguishes itself is what the company calls "Smart Port" technology.
Not all mobile devices have equal power requirements. Some, like Kindles or iPods, require only 1 amp to charge at the maximum rate. Others, like the iPad or Samsung Galaxy Tab, require higher amperage (2.1 and 1.3, respectively). Some USB chargers account for this by rating one or two ports as "2.1A" or "Full Speed," and require that users plug their more power-hungry devices into only these specific ports.
But such a restriction can be limiting. What if you have more than one high-power device and the charger only has a single full power port? Or what if you forget to check and accidentally plug your device into the wrong port, later discovering your error when you return to find your device with only a partial charge?
Anker believes it has solved this problem. Each of the device's five ports is regulated by control microchips that detect the power requirements of a connected device and variably adjust the output to match. Overall, the Anker can distribute a maximum of 8 amps and 40 watts total across the ports. That means that charging multiple iPads at their full rate, or combining iPads with other mobile devices, is a breeze. Even better, it doesn't matter which port you use. Every port is capable of ramping the power up or down as needed.
Usage
Setup of the Anker 40W USB Charger is simple: just connect the power cord to the charger and the plug to a power outlet. After getting our unit plugged in, we quickly tested it with just a single device, the iPhone 5s. As expected, the iPhone registered the power connection right away and started charging.
But charging a single device is no big deal. So we gathered up every USB device we had on hand and plugged them in. This includes an iPad Air, iPhone 5s, Kindle Fire HDX, and Kindle Paperwhite. Unfortunately, we didn't have a fifth device to test with, but all four devices started charging immediately with no issues.
Using a Kill a Watt monitor, we measured about 33 watts of draw when all four devices were connected. With a maximum of 40 watts for the Anker, we could have easily fit in another iPhone, iPod, or Kindle. Alternatively, the power limits of the charger meant that we could have swapped out some of our lower-power devices and easily charged three full-sized iPads simultaneously.
The charger does warm up a bit under a high load, but not alarmingly so. You'll notice the heat if you place your hand on the device after a few minutes of charging, but it doesn't approach anywhere near dangerous temperature levels.
If you do plug in too many devices, such as more than three iPads, the charger will still work, but it will automatically cap the amperage and wattage to avoid an overload. This means that some of your devices will revert to a trickle charge, but you won't lose power entirely as you would on other multi-port chargers. In the event that an overload makes it past the charger's safety features, however, there's an additional fail-safe that will shut down the connection at each port, hopefully preventing or mitigating damage to your attached devices.
Value & Conclusions
The Anker 40W USB Charger does a great job charging multiple devices, but it's an even more attractive product when you consider the price, which is $26 at the time of this review. Prior to picking up the Anker, our office charging solution was a surge protector coupled with the original USB wall charger for each device. This was messy and far from portable. Now, for a relatively affordable price, we can power up all of our devices and take the entire setup with us on the go.
That makes the Anker charger a fantastic value for anyone with more than one USB device. For $26, we weren't expecting much, but you'll be pleasantly surprised by the build quality and performance of this product. Others have already come to the same conclusion, and the only downside we can find is that it's frequently out of stock. Our review unit was black, but there's also a white option available; as of this review, only the white model is in stock. But new shipments are received frequently, so check back if the model you're looking for isn't available.
The Anker 40W 5-Port USB Charger is available now from Amazon for $25.99. It includes an 18-month warranty. More info is available at Anker's website.
Windows XP Systems Could Be Infected Within 10 Minutes of April 8th Support Deadline
Read Next