What Should You Get? Apple iOS 8 vs. Android 8.0 Oreo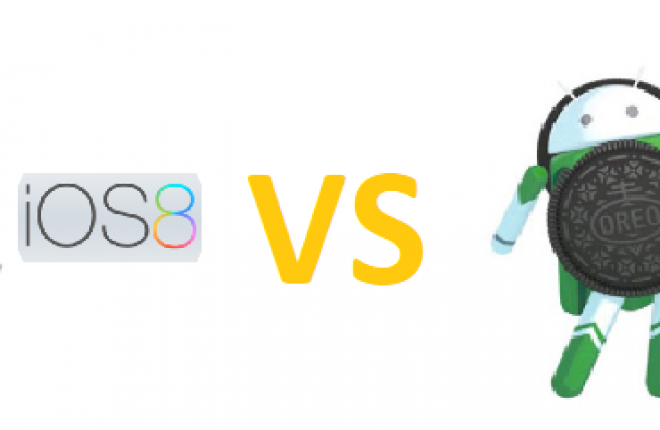 With the recently released Android 8.0 Oreo, mobile users predictably look to compare it with Apple's iOS operating systems. In this article, we will be comparing this new operating system from Android with its counterpart, iOS 8.4. Note, though, that despite the similar version numbers, iOS 8 was released in 2014 while Android Oreo was only released this year, 2018, and is not yet available for all Android devices.
Apple iOS 8 vs. Android 8.0 Oreo Battery Life
Android 8.0 Oreo brags of having superb battery management for prolonging a device's battery life. It keeps background applications to a minimum which entails less battery consumption. Moreover, the displays are optimized to give users useful rather than bold displays. Tweaks like the Picture-in-Picture (PiP) feature allows for multi-tasking and viewing applications simultaneously. Compared with the iOS 8 that had many user complaints pertaining to a fast draining battery, Android Oreo definitely takes the beef on this one.
Apple iOS 8 vs. Android 8.0 Oreo Apps And Features
Apple iOS 8.4 was the last update of this series prior to the launch of iOS 9. In terms of applications and features, iOS 8.4 comes with Apple-exclusive features such as Apple Music for music streaming and sharing. One of the main attractions of Apple Music is undeniably the incorporation of the renowned Beats Music giving users great quality music. A definite must for music fanatics. While the feature is not free, it is affordable enough for most users and even has a family subscription package for up to six members.
Likewise, Android 8.0 also have unlimited options for music streaming and sharing. While the built-in applications leave much to be desired, the Android platform is so versatile and finding a third-party application to give you what you need is so easy. One of the more popularly used applications for music streaming is Spotify, offering their own subscription options and exclusive features.
Apple Pay, however, is an exclusive Apple service. Though there are a number of payment options for Android users, Apple Pay is a wallet where you can connect your debit or credit card. It has its own unique set of perks and security, much preferred by users.
Apple iOS 8 vs. Android 8.0 Oreo Camera
Apple iOS 8 cameras come with features like the time-lapse mode, and slow-motion for video recordings. Apple cameras are very popular for being very convenient and easy to use. On the other hand, Android Oreo is a dream come true for the photographers at heart. Android Oreo's cameras generate HDR+ images giving it the capability to modify the depth of field. The resulting images are nothing short of amazing and can definitely compete with professionally taken photos.
Should You Choose iOS 8 Or Android Oreo?
At this point, Android Oreo is far better than iOS 8 in more than a dozen ways. Not only when it comes to system management, default features like emojis, account management and so forth, but it is also faster and more efficient. Needless to say, the comparison between iOS 8 and Android Oreo can in no way determine which is the better operating system. If you are planning to get a new device and are wondering whether to get an iOS or an Android device, it will be best to compare Apple's latest iOS 11 and Android Oreo.
How To Change Profile Image On WhatsApp With Samsung Galaxy S9
Read Next