How To Make the Kindle Fire Kid Friendly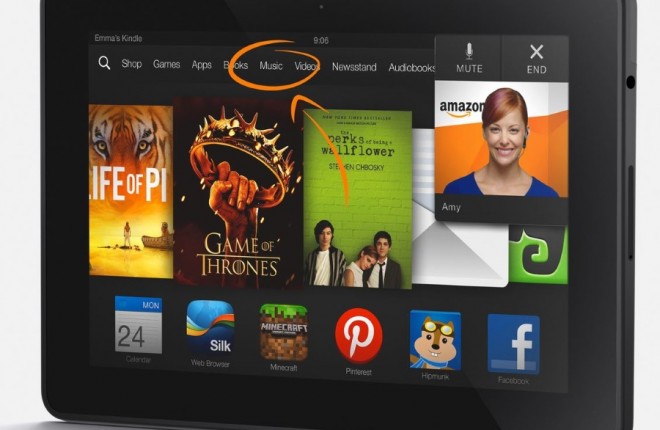 Technology is too good a resource to ignore, especially when it comes to children. The potential for learning, familiarization and entertainment is huge. But how do you enable your child to make the most of technology while mitigating the risk? I'll take a single example and show you how to make the Kindle Fire child friendly. The same principles can apply to almost any technology. Where there is a will, there is a way.
Even if you bought your Kindle Fire for your own use, chances are that your kids can work is faster than you already. With knowledge comes temptation so it is our job as parents to limit that temptation wherever possible without stifling that curiosity and urge to explore.
Here is how to make the Kindle Fire child friendly.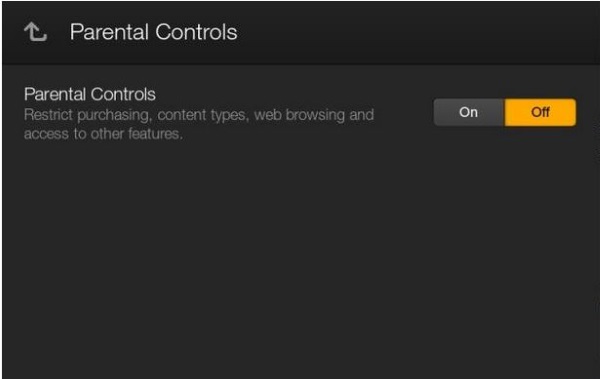 Set up Parental Controls
The first order of business is to set up the Parental Controls on the Kindle Fire. This is a basic set of protections that provides control over purchases, the type of content available, browsing and email. It can also block or allow social networks and sharing.
Swipe down on the home screen and tap Settings.
Select Parental Controls and toggle it to on.
Set a password that your child is unlikely to be able to guess.
Select the options that become enabled underneath.
You can block browsing, emailing and social sharing directly underneath. Block or enable as you see fit. Underneath you will also see options to password protect purchases, video playback and block content types. Again, configure these as you see fit. I would definitely suggest password protecting purchases as many games come with in-app purchases and it can be too much temptation for even the most well behaved child.
The Kindle Fire is all about content, so giving Content Types a little attention is necessary.
Configure Content Types
While still in the Parental Controls section of the menu, select Content Types and block or unblock the different media formats the Kindle Fire is capable of using. Tap on the button on the right to change the setting. You need to find a balance between making the Fire useful for your child and protecting them as much as possible. I am certainly not going to tell you what to do here!
Set up a child profile
Next order of business to make the Kindle Fire child friendly is to set up a user profile for your child. Now you have set up Parental Controls, you need to create a safe profile for your children to use when they pick up the Fire.
Swipe down on the home screen and select Settings.
Select Profiles & Family Library and Add Child.
Set the PIN if you haven't already.
Add an image, name and select either 'Use Fire for Kids' or 'Use Teen Profiles'.
Select Add Profile and select the content types you want to allow.
Select Done when complete to save the profile.
Now your child will be able to access the content you specify using their profile. As you have PIN protected the other settings they should not be able to circumvent those protections.
Set up Family Library
Family Library is a relatively recent addition to Kindle Fire that allows you to share media with your family. This becomes important when you use FreeTime. To use Family Library, you need to set up a Household, which is done from the Settings menu. From there you can add two adult profiles and up to four child profiles.
Once the Household has been configured, go to 'Manage Your Content and Devices' and see all your content and who has access to it. Tune this as you see fit.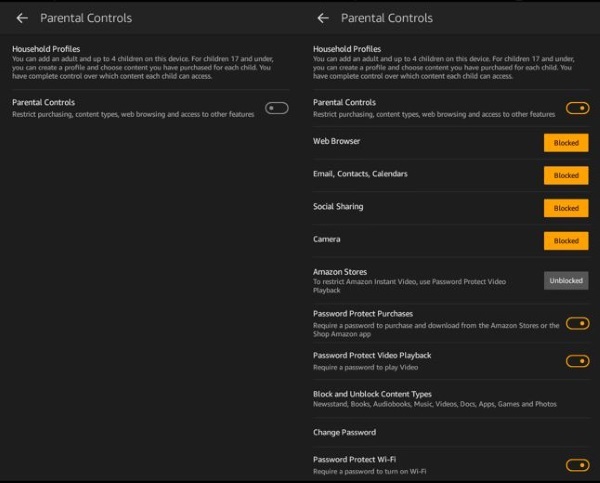 Amazon FreeTime
Amazon FreeTime is a child friendly area where the child profile you set up only has access to walled garden content you share. You load media onto your account and then elect to share it with FreeTime. Your child then has access to that media through their own profile.
Amazon have thoughtfully separated the two media elements between profiles. This means if you are reading a book and your child picks up the same book, your progress and page is saved separately from theirs. You can both enjoy the same media at a different pace without interfering with the other. This is a minor but extremely useful feature.
Amazon FreeTime Unlimited
Amazon FreeTime Unlimited is an optional premium service that creates a walled garden of extra child friendly content. The content is designed for kids between the ages of 3 to 10 years old and is regularly updated with new stuff. The content does not contain advertising, adult themes, messages or anything undesirable.
It costs $2.99 per month for one child and is said to have over 13,000 individual child friendly media items.
Making the Kindle Fire child friendly has been made fairly straightforward and that is a good thing. While your kids will always find a way to get themselves into trouble, at least it won't be on your Kindle Fire.
Got many more tips on childproofing the Fire? Tell us about them below if you do!
How To Install Linux on a Chromebook - A Complete Guide
Read Next