Poweramp for Android Review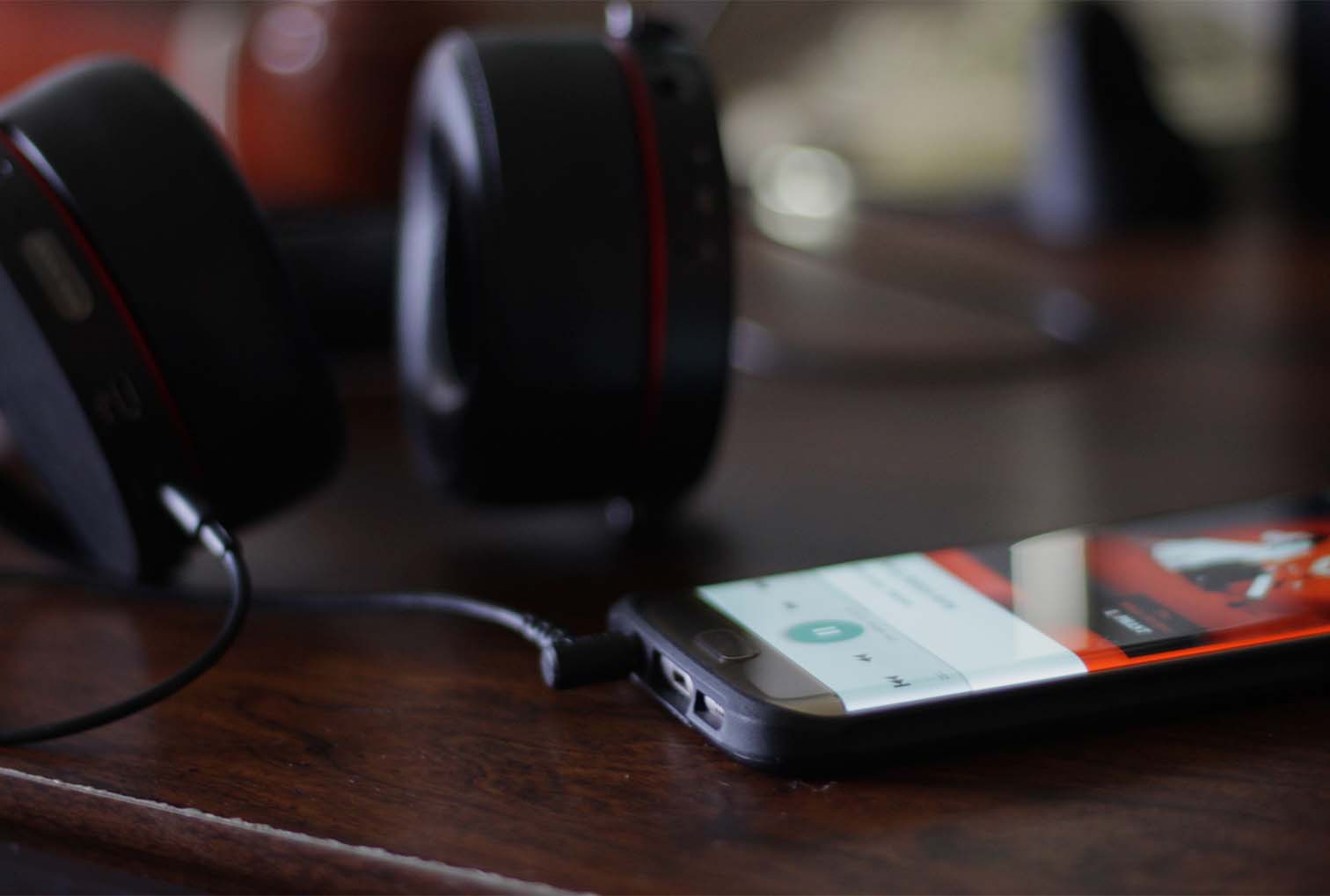 If you're like most music consumers these days, there's a good chance that you've made the switch from personal iTunes libraries to streaming services like Spotify, Google Play Music, or Apple Music. Those apps, over the past few years, have exploded in popularity, due to free options for music streaming that apps like Spotify provide in order to curtail the piracy of music that ran rampant over the industry throughout the '00s. And while Spotify or Google's offerings may be easy, cheap, and convenient for most listeners, there is an argument to be made that, in 2017, the best way to listen to music is still to hold control your own local library. Most smartphones these days (excluding, notably, Google's Pixel line) feature microSD card slots that allow for cheap, expandable storage and an easy way to localize all of your music in one place.
If you've spent hours and hours of your life meticulously crafting the perfect iTunes library—tags, album descriptors, perhaps even lyrics pasted into your metadata—you might not be ready to move on to the cloud. If so, you'll need a great media player to go along with your collection – and where else to turn but to Poweramp, one of the oldest and most trusted music applications available on the Play Store. While you might know exactly what you're getting into with Poweramp, especially if you were an early adopter of Android, there's always the possibility you don't know exactly how feature-packed this app truly is. So, sit back, throw on some quality headphones, and download Poweramp's free trial. It's time we take a look at one of the most robust music apps available on Android.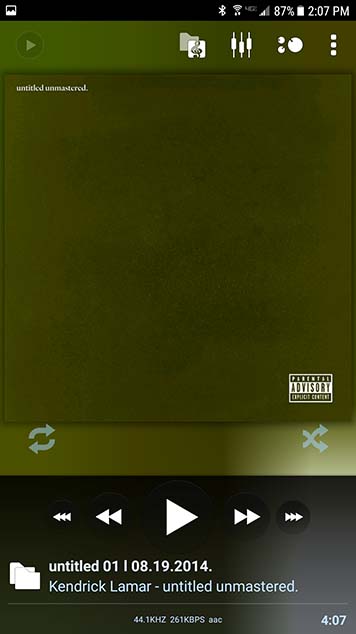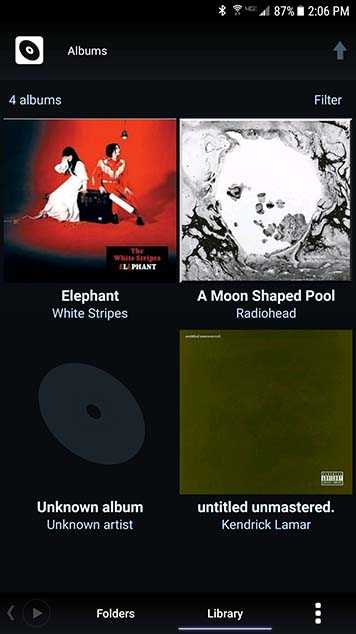 Look and feel
The stock look of Poweramp is, in all fairness, pretty dated. Most modern music applications feature some type of material design, the central theme that Android has centered around since 2014. In comparison to an application like Google Play Music or Pulsar, the app feels like it generally belongs back on Gingerbread. The good news for those of us who prefer design-focused applications: Poweramp also happens to have a theming engine built into the app. Personally, I didn't wait too long to install a free material-focused skin onto my player. The skin I chose offered both material light and dark options, and did a good job making the app look and feel a lot more modern. It's not perfect—you won't find any sliding navigation menus or other material options—but the colors and icons in Poweramp were both upgraded and certainly looked better than they had previously. A quick search on the Google Play store will reveal dozens of free or low-cost themes available for the platform, and I couldn't be happier. The majority of themes don't do much beyond recoloring the application, but that can go a long way in making Poweramp feel like an app made for 2017. It's also worth noting that Poweramp 3 is currently in alpha-testing, and you can download the newer version inside the settings of the current Poweramp app. While it does feature a bunch of new features, including a reworked audio engine and support for third-party plugins, the actual visuals of the app largely remain the same.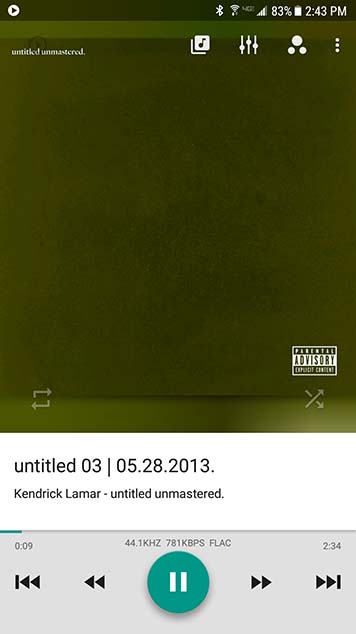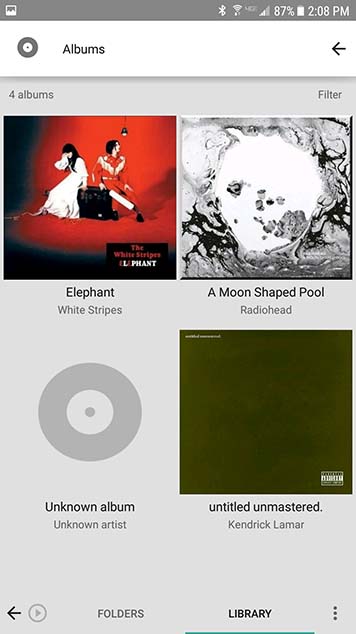 Navigating the app
Unfortunately, I found navigating the application to be a mixed bag. For one, the app seems to disregard one of the cardinal rules of Android: the back button should always send you back to the previous screen. In the case of Poweramp, however, the back button is frustratingly inconsistent. On the Now-Playing screen, pressing the back button sends me to my home screen. To get back to my library of songs, I have to click the far left of four buttons in the top right corner of the screen. Once I'm there, the app gives me the choice of selecting music from either a file browser or from my library, a more iTunes-esque look at all of my albums. If I'm on this screen, pressing back does take my back to the Now-Playing display. Likewise, clicking back from inside settings works as intended. I have no doubt that spending a couple weeks with Poweramp as my sole music player would give me time to grow used to the functions and navigation of the app, but readers should know the first couple hours exploring the app may result in some frustrating navigation experiences.
There's a bit of a learning curve to knowing exactly what action triggers what. For example, to edit an album's metadata, you can't just press and hold on the album's artwork. You have to enter the album, and then long-press on a song to find the option for info. From there, you can edit each song individually, but as you might guess, this turns mass-edits into a slow process. I would love to see album information editing from Poweramp in the future, perhaps in the full release of Poweramp 3.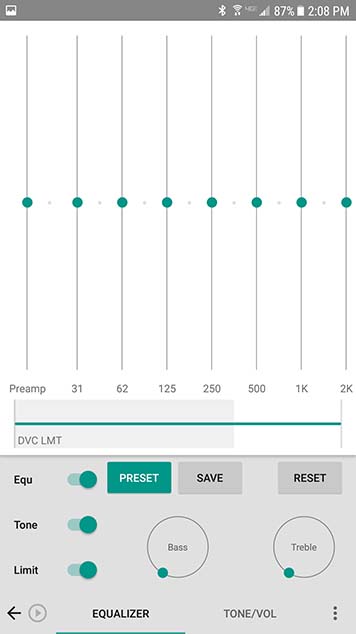 File support, features, and equalizers
Here's where we get to the bread and butter about what Poweramp is actually great at. The app supports nearly every single audio-based file type you could ever hope for, from standard .mp3 and .m4a files (m4a being the common file type found on the iTunes store), to higher-end file types, including lossless support through .flac (on Windows) and .aiff (on Mac). Whatever file type your library is made of, you can nearly guarantee that Poweramp won't have a problem playing it.
In addition to Poweramp's wide support for file types, it's also a pretty feature loaded app. From the Now-Playing display, you can get access to most of Poweramp's best features. For one, it has a pretty great equalizer, with several presets for your listening pleasure. The bass options, for instance, really made the bass stand out on Kendrick Lamar's "untitled 03" without drowning out Lamar's lyrics, whereas enabling the rock preset during The White Stripes' "Ball and Biscuit" brought out notes in White's guitar rift I'm not sure I ever noticed when listening to the track in my car. Both tracks remained clean and undistorted while using the EQ. It was mighty impressive, and each preset is individually editable as well. You can absolutely find a setting you'll enjoy, whether you're listening through speakers or headphones.
Next to the equalizer, you'll find some options for tone and volume, including a virtual volume knob (in case you don't want to use your volume rocker), an option to play music in mono mode (useful for if you want to share earbuds with someone next to you), and a balance knob. These features aren't as rich as the equalizer, but they're useful nonetheless – especially on phones that don't have options for mono playback, or if your headphones fall out of balance.
Hitting the menu button in the top-right corner will bring up options for presets, display settings and more. Not everything here is worth mentioning, so instead I'll highlight a couple unique features you won't find on every player. For one, there's a sleep timer. Other players have this, but I really like having one accessible from the Now-Playing screen. To use the same feature in Google Play Music, for example, you have to minimize the current song, slide out the navigation drawer, head into settings, and then find the sleep timer. Poweramp's is also a bit more feature-rich than Google's – for example, it allows you to select the final song be played to the end, so that if you're trying to fall asleep, you aren't jarred away by the sudden disappearance of sound. Coming from someone who uses both music and podcasts to fall asleep on a near-nightly basis, I love having that option available. Another great option hidden in the menu is lyric-searching; however, unless lyrics are already written in the metadata of your selected track, you'll have to install Musixmatch, a separate application, to utilize the feature effectively. Luckily, Musixmatch is a free download.
Of course, it's also worth noting what the app doesn't do: you can't download music to it over the cloud, like you can with Google Play Music or Apple Music. This is a strictly-wired affair, like how you managed music back when everyone owned an iPod. You aren't going to find any online radio stations, like what you'd get from Pandora, and you definitely aren't going to be signing up for a monthly subscription of streaming music, as you could with Spotify. For some folks out there, this might be a good thing, allowing Poweramp to deliver on a usable, feature-rich app without being bogged down with added content you just don't need or want. For others, though, this might be a bit too much work in 2017 to get music onto your phone. The average consumer just wants to hear music from their favorite bands, and if terms like bitrate or metadata don't mean much to you, you might be better off looking into an application like Spotify.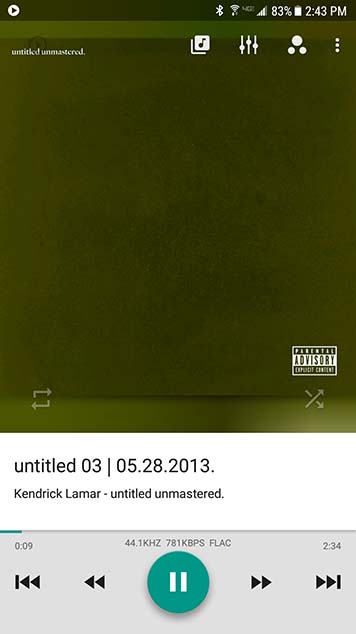 Listening to music
Of course, all of the features and settings in the world don't matter if a music application isn't good at what it's meant for: playing music. Luckily for those of you looking for a solid music app, Poweramp delivers in spades. The features I detailed above—specifically robust file support—make Poweramp a dream if all you need is a local music app with an advanced feature set and solid skin options available.
To test Poweramp's audio engine, I tested it out with three different albums: Radiohead's A Moon Shaped Pool, Kendrick Lamar's untitled unmastered, and The White Stripe's classic Elephant. In all three cases, I used two separate copies of the albums – one from iTunes, running between 192kb/s and 320kb/s depending on album, and another in .flac format, ripped from a CD, running anywhere between about 700 and 900kb/s. If you've never listened to lossless files before, just know that the audio quality difference really depends on the quality of the speakers or headphones you're using to listen to music. For example, playing lossless music through the speaker on my Galaxy S7 edge doesn't sound any different than the lossy, compressed files I got from iTunes. Also remember that lossless files are uncompressed, which means a single song typically weighs in at double-digit megabytes, whereas lossy files are typically about 4-6 megabytes, depending on the length of the song.
With that technical jargon out of the way, here's what I thought of listening to music: it was actually pretty great. Listening on a decent pair of Sony headphones, I could tell, without question, the difference between the two file types. Specifically in the case of Radiohead, I noticed several different aspects of songs I hadn't previously found when listening through Bluetooth speakers or while driving. And as I noted earlier about The White Stripes, the guitar work on that album really stands out when listening in lossless. I'd love to check out something like Icky Thump or White's first solo album in the application as well. One thing I will note: Kendrick's album sounded crisper in .flac, but the difference between the two was simply not as large as it was in the case of the White Stripes or Radiohead. I suspect that this is because the album is, as the title makes clear, unmastered, and not because the application couldn't handle bass-heavy hip-hop.
One other thing I noticed: notifications interrupt the music, instead of simply lowering the volume as Google Play Music does. This can be changed in settings under Audio, but since it's turned off by default, I considered it worth noting.
Cost
Poweramp has a free trial, so if anything noted above makes you interested in the application, I really do suggest you go check the application out. The trial isn't ad-supported and none of the features are locked behind a paywall, so it's a really great way to acclimate yourself to the app if you're interested in using it but hesitant to put down the full amount of cash. The unlocked version of the application runs you a cool $3.99, but that's it. There's no monthly or annual cost, you'll never see an ad, and—according to the app description on Google Play—you won't have to pay extra for Poweramp 3.0 when it finally leaves alpha.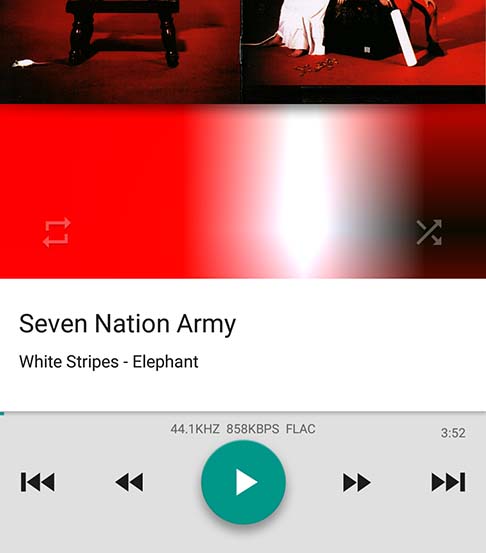 Final Thoughts
Poweramp is, unsurprisingly, not perfect. The app doesn't follow modern Android design guidelines, it can be a bit finicky in its controls, and it doesn't have the same sort of convenience that cloud-based music applications offer. But, if you aren't quite yet ready to leave your iTunes library behind, or you have a large amount of lossless audio files you don't want to lose, there isn't a better music player out there than Poweramp. It's well supported, customization, and feature-packed, and it'll only cost you a one-time fee of $3.99, no in-app purchases or advertisements to be found anywhere. If you aren't ready to make the move to streaming, Poweramp is where you'll want to be.
How To Control Nest with Amazon's Echo
Read Next