The 60 Best Shows to Binge Watch on Netflix [March 2021]
In the era of streaming television, no single platform has offered an easier way to watch your favorite shows—including exclusive properties—than Netflix. There's enough shows on Netflix that you'll never be able to plow through all of them before something new comes out. In fact, Netflix has made it so easy to watch your favorite content, from crime dramas to stand-up comedy, that the internet entertainment company has invented a whole new term for television on its own: the binge watch. Whether you're up until 2 in the morning streaming old seasons of Grey's Anatomy, or you're spending your weekend watching the newest Original, Netflix has got you covered for all your entertainment.
TechJunkie's Cut the Cord Weekly
But with so many shows streaming on the platform, what should you watch? In this time of peak TV, it's harder than ever to determine the good from the great—and luckily, we've done that for you right here. So settle in for a day of laughing, crying, and keeping your eyes glued to the screen. These are 60 of our favorite streaming shows on Netflix in no particular order, updated monthly with new suggestions and new shows. And let us know in the comments below about your favorite streaming sensation!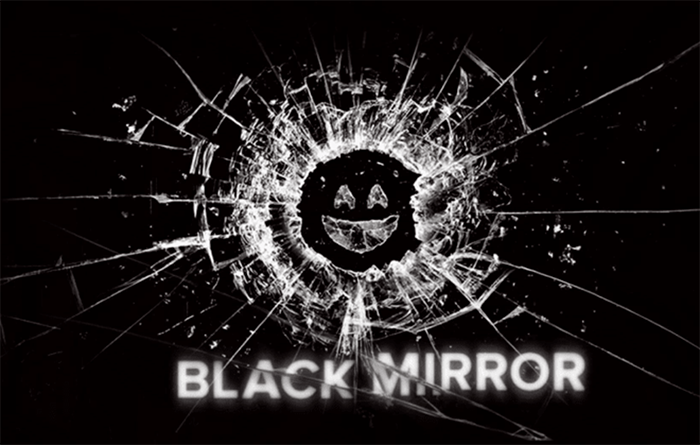 Charlie Brooker might be best known as a presenter and broadcaster on British television, but Brooker is also the creator of one of the best science-fiction shows on television. A modern day Twilight Zone, Black Mirror first started airing in 2011 in Britain, but it wasn't until the series moved to Netflix in 2014 that it began to grow in popularity Stateside. The show takes place in a not-so-distant future, exploring our paranoia, our modern society, and how the future of technology might lead us down terrifying paths. Most of the show isn't meant to be watched lightly, typically featuring a sense of cynicism and dark satire, but a few episodes—"San Junipero" in particular—highlight their happy endings in a way that subverts expectations. If you're a fan of science-fiction or anthology series, you'll fall in love with Black Mirror. Definitely check it out.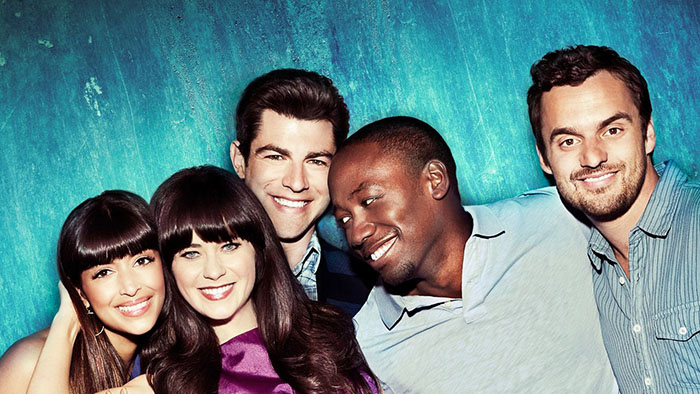 When Jess (Zooey Deschanel), a teacher with a positive, upbeat attitude, comes home to find her boyfriend cheating on her, she needs to find a new place to live. Responding to an ad for a new roommate on Craigslist, she arrives at a loft in Los Angeles hoping to move in, only to find three guys living there: Nick (Jake Johnson), Schmidt (Max Greenfield), and Coach (Damon Wayans Jr., though the character of Coach is replaced in the following episode by Winston). The series starts as Jess learns to move on with her life, but quickly becomes a show about much more. Essentially a romantic-comedy sitcom, New Girl is secretly one of the best sitcoms of the 2010s, and if you haven't started watching it, there's never been a better time than now. All seven seasons are now on Netflix.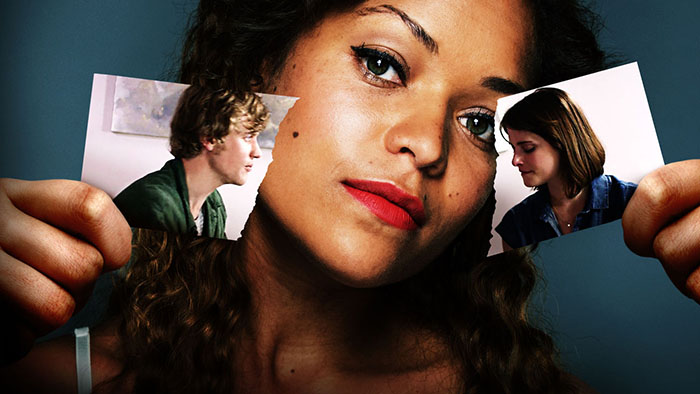 Romantic comedy fans, rejoice—you aren't out of luck. While Crazy Ex Girlfriend takes the tropes of the classic rom-com and flips them on their head, fans of more traditional, if slightly raunchy, comedy set up by the likes of When Harry Met Sally will fall in love with Lovesick, a British import co-produced by Netflix with three seasons streaming on our favorite service. The show was probably best known for its original name, Scrotal Recall, which picked up a lot of flack when the first season premiered in 2014. Don't let it fool you, though, because the name change was a good way to get new viewers onto this excellent love story about a man going back through his romantic history to figure out where it all gone wrong (and, well, also to let his past lovers know about a certain health concern). Lovesick has three seasons streaming on Netflix, which gives you plenty of time to fall in love with Dylan, Luke, and Evie if you haven't already. Definitely check this one out; it's the definition of a hidden gem.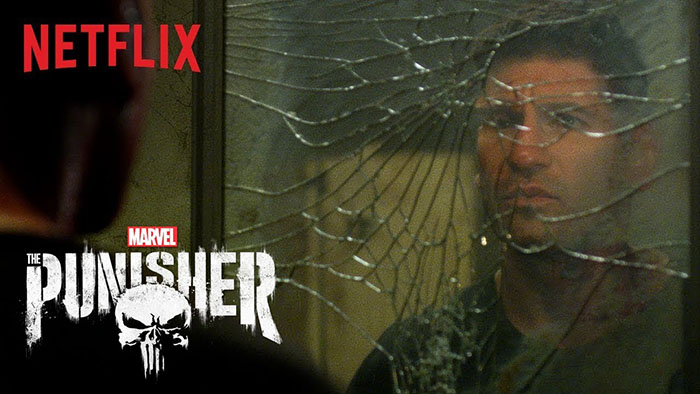 The Punisher has a mixed history on the big screen. The first Punisher film, made in 1989 and starring Dolph Lundgren as Frank Castle, was released to negative reviews and a poor box-office return. In 2004, Thomas Jane stepped into the role for some mild success, though once again, a poor critical reception. A sequel was planned and subsequently cancelled, and the series was rebooted for the silver screen just four years later, with Punisher: War Zone, directed by Lexi Alexander. The film tanked at the box office, and Frank Castle was finally hung up to dry by the studios until 2016, when he was unleashed as a supporting character in season two of Netflix's Daredevil. Now Castle is back with his own show, played by The Walking Dead's Jon Bernthal, also recently seen in last summer's sleeper hit Baby Driver. Though not lauded by critics, most agree this is the best adaptation of the character yet. If you're a fan of the Marvel universe or its characters, you'll enjoy the gritty take on Marvel's vigilante. Two seasons are streaming, but unfortunately, the show won't return for a third.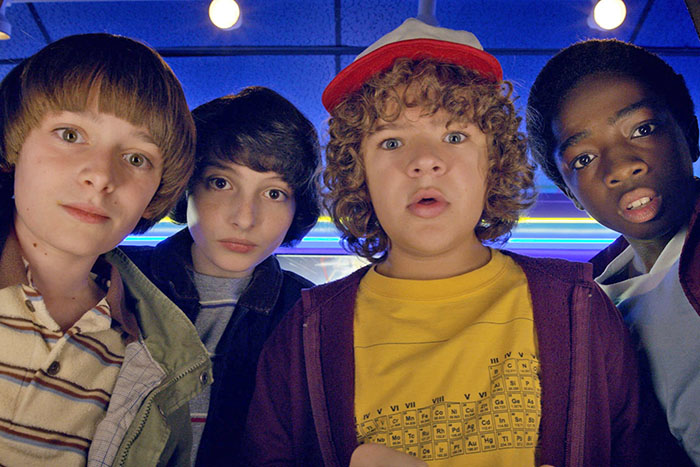 Stranger Things is both a loving tribute to 1980s science-fiction and horror, while also telling the story of four children growing up in the '80s who find their town hides supernatural secrets. The story begins when Will, one of the four boys returning home after a night of playing Dungeons and Dragons, goes missing without a trace, leaving behind a lost girl with a shaved head in his place. With twists and turns, gruesome murders, and a mystery as thrilling to solve as it is to watch play out, it's no wonder Stranger Things was a breakout hit when it first premiered in the summer of 2016. Featuring outstanding performances from Winona Ryder and David Harbour as Will's mother Joyce and the town's police chief Jim Hopper, respectively, plus breakout stars Millie Bobby Brown and Finn Wolfhard (who you may recognize from 2017's It adaptation), Stranger Things is a must-see piece of entertainment. Three seasons are currently streaming, with a fourth on the way.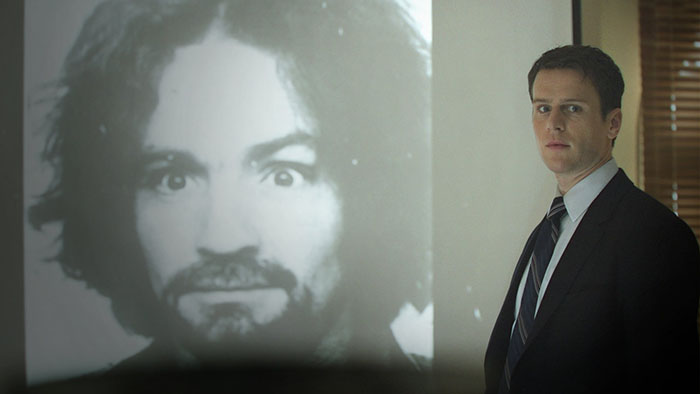 If you're into crime and serial killer dramas, Mindhunter just might be your newest obsession. This Netflix original series premiered in October and is based on the nonfiction book of the same title, detailing the profession of John Douglas, a legendary figure in the FBI's Serial Crime Unit. Douglas was previously the model for Jack Crawford in Silence of the Lambs, and with Mindhunter on Netflix, we finally get to see some of his stories and tales adapted for the small screen. Jonathan Groff portrays Holden Ford, a special agent for the FBI in the 1970s working for that very same Serial Crime Unit, trying to solve serial killers by delving into the mind of some of the worst murderers in the United States. The cast also includes Anna Torv, previously seen on Fringe, Holt McCallany, Hannah Gross, and Colton Smith. Produced by Charlize Theron and David Fincher, the latter of whom also directed four episodes of the series, his second Netflix show after previously working on season one of House of Cards. Two seasons are now streaming.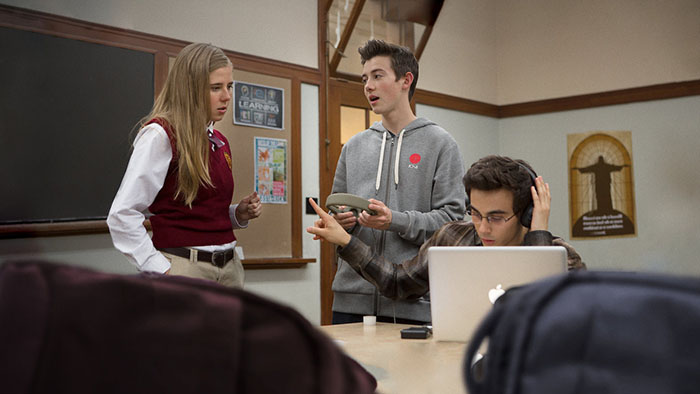 Over the last few years, the true crime genre has seen something of a renaissance in popular culture. Though true crime has been around for decades as both a film and literary art form (think Helter Skelter or Capote's In Cold Blood, of which the latter has spawned three different film adaptations), both season one of Serial–a weekly podcast covering the 1999 murder of Hae Min Lee–and Netflix's own Making a Murderer have brought new fans to the genre. It was only time until someone stepped up to parody the tropes of a true crime series, and that's exactly what American Vandal intends to do. Shot as a mockumentary, Vandal tells the story of a high school prank gone wrong, with several faculty cars tagged and vandalized. The series plays its subject matter straight-faced, with a sophomore from the school investigating whether the accused senior was responsible. American Vandal spawned from two creators who previously worked on Funny or Die and CollegeHumor, so if you're in the mood for a full satire of the true crime craze, it's a perfect show to binge. Two seasons are currently streaming. Despite critical praise and high popularity on social media, Netflix cancelled the show after its second season.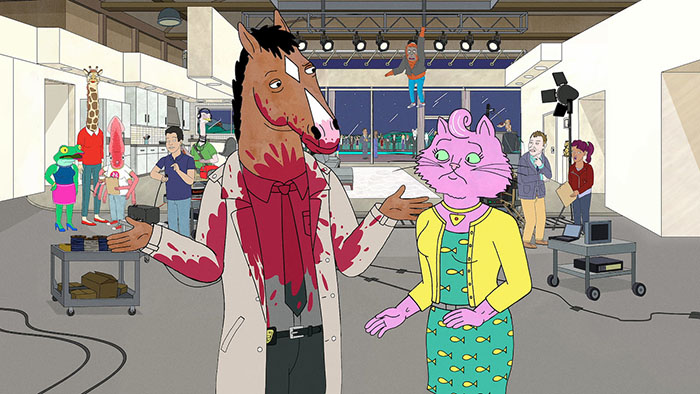 BoJack Horseman is set in an alternate reality where humans and anthropomorphic animals co-exist together. BoJack is the washed-up star of a '90s sitcom titled Horsin' Around, a show similar to Full House in nearly every regard. Though early episodes deal with his plan to return to stardom and relevance by writing an autobiography, BoJack Horseman isn't just another animated adult sitcom. This show focuses on celebrity culture, drug abuse, anxiety and depression in a way no other show has quite managed to do. Though we're living in a golden age of dark comedies (see also: You're the Worst, Crazy Ex-Girlfriend), BoJack Horseman stands out not just as the best of the bunch, but one of the best Netflix original series to date. Despite a slow start in early episodes, the back half of the first season one sees the BoJack team find their footing, and season two onwards is must-watch television. All six seasons are now streaming.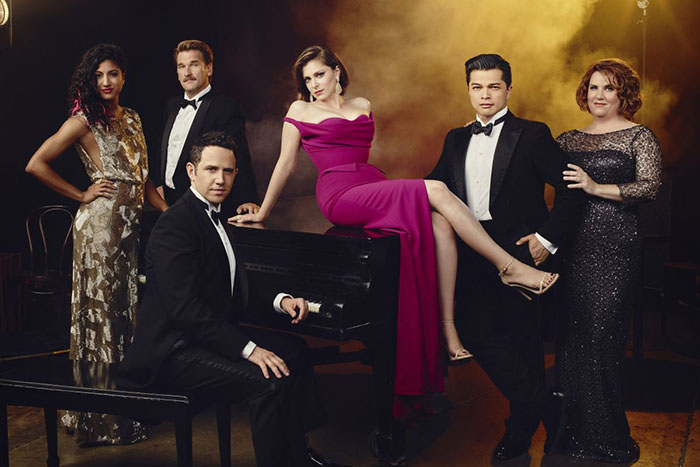 A few minutes watching the pilot of this musical-dramedy and you'll be hooked. This incredibly original series was written by screenwriter Aline Brosh McKenna (The Devil Wears Prada) and sketch-comedy and YouTube star Rachel Bloom, who stars as Rebecca Bunch in a role that has garnered Bloom a Golden Globe for Best Actress in 2016. Rebecca leaves an amazing career in New York after she runs into an ex-boyfriend, Josh Chan (Vincent Rodriguez III), who she went to summer camp with when she was 16. Convinced her happiness lies with Josh in West Covina, California, she leaves behind a promotion at her New York law firm to follow Chan back to his hometown. Crazy Ex-Girlfriend has won over millions of fans online, with a killer soundtrack and the ability to make you laugh and cry all at the same time. All four seasons are streaming are streaming on Netflix.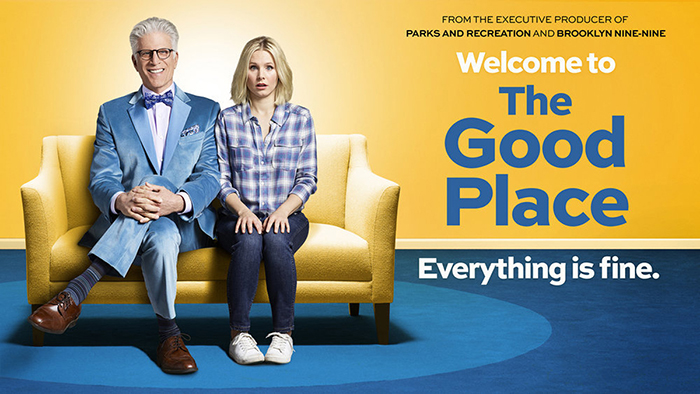 One of the hottest new series from the past few years, NBC's The Good Place tells the story of Eleanor Shellstrop, a woman who's woken up to find she's dead and in heaven—or rather, "The Good Place," as it's called. Kristen Bell plays Eleanor, a woman who finds herself in a place she doesn't deserve to be. Also starring is Cheers' alumni Ted Danson as Michael, the creator of "The Good Place," a man trying to make his residents as happy as possible in the afterlife. This series comes from creator Michael Schur, fresh off co-creating both Parks and Recreation and Brooklyn-99. Any fans of his previous work—he also wrote and acted on The Office, where he played Dwight's cousin Mose Schrute—will find plenty to love here. Just don't read too much into the plot online—serious spoilers abound. All four seasons are streaming.
The Best VPN Options for Netflix [December 2020]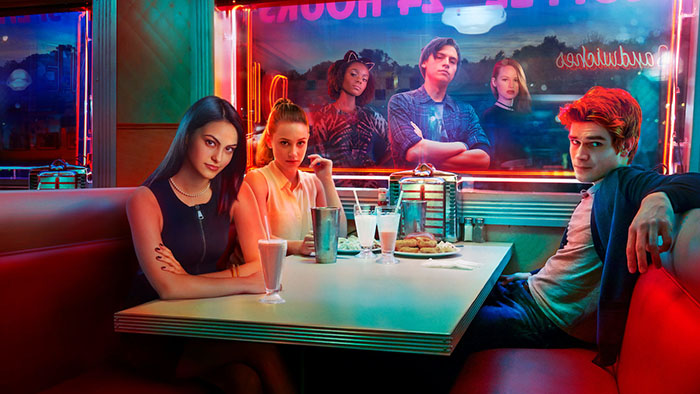 You might remember the long-running Archie series of comics from your childhood, featuring the titular character and his friends Betty, Veronica, and Jughead shopping, studying, dating, and playing in their band. Riverdale invites you back to the world of Archie as you've never seen it before. Falling somewhere between Degrassi and Twin Peaks, Riverdale begins when one of Archie's classmates is found murdered over summer break, causing the town of Riverdale to change in ways never presented in the comics. It turns out everyone—especially the adults—has something to hide. The show takes a bit to start up, devoting a bit too much time in its early episodes to a misguided plot involving one of Archie's teachers, but once the show refocuses itself around episode four, you'll be hooked from beginning to end. Don't sleep on this one: all four seasons are currently streaming on Netflix.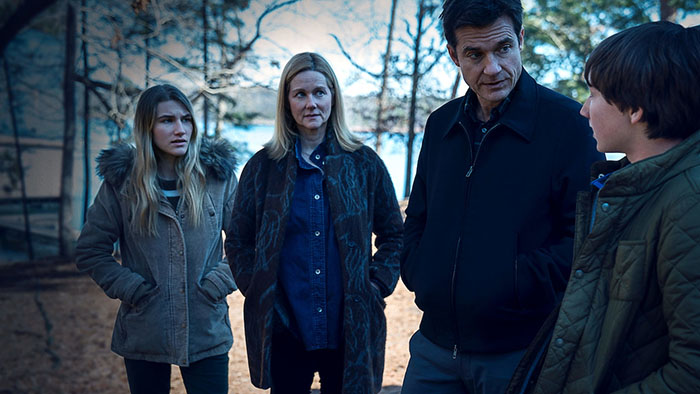 And now the story of a wealthy family who lost everything, and the one man who had no choice but to keep them all together. No, it's not Arrested Development—it's Ozark, a new crime drama from Netflix starring Jason Bateman. He plays Marty, a self-employed financial adviser who lives with his family in Chicago. While there, he and his partner begin laundering money for a Mexican drug cartel. Marty is forced to relocate his family to the Missouri Ozarks after one of his money laundering schemes goes south. The show isn't perfect, and has drawn its fair share of comparisons to Breaking Bad (especially with Bateman, a comedic actor, taking on a dark dramatic role, as Bryan Cranston did before him), but with some excellent performances and incredible cinematography, any fans of Bateman, Breaking Bad, or crime thrillers won't want to pass up this excellent Netflix original. Three seasons are streaming.
48

Wet Hot American Summer: First Day of Camp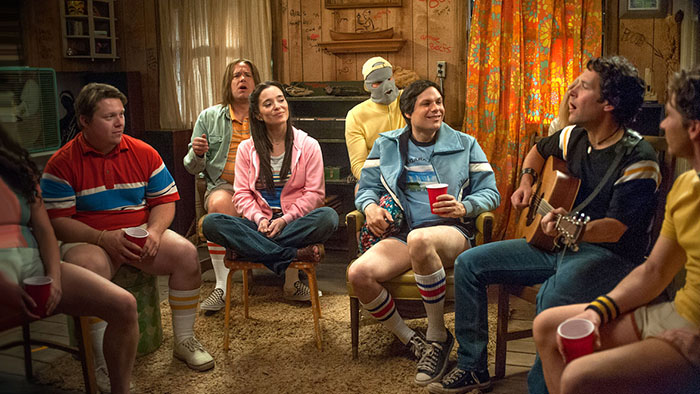 In all honesty, this show shouldn't have worked. The original Wet Hot American Summer, first released in 2001 to middling reviews and poor box office returns before slowly but surely growing into a cult classic, is like lightning in a bottle. Nearly every line or action in the film is quotable ("You taste like a burger. I don't like you anymore."; "The phone! The phone! Where's the—phone!"; several other quotes we can't mention on a family-friendly site), the cast is filled with incredible names you'd recognize immediately (Amy Poehler! Bradley Cooper! Paul Rudd! Molly Shannon! Christopher Meloni! Elizabeth Banks! The voice of H. Jon Benjamin!), and it's basically endlessly rewatchable. So when this prequel series set at the start of the 1981 summer covered in the film hit just as hard as the original, we were as shocked as anyone. Fans of the original must see this continuation of a cult classic. Once you're done binging your way through First Day of Camp, don't forget to check out Ten Years Later, the continuation of the show that premiered in 2017.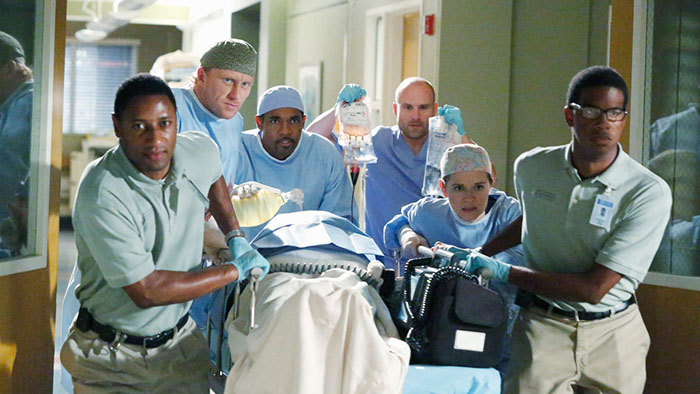 At this point, Grey's Anatomy has almost become the ultimate binge experience. With 293 episodes streaming over thirteen full seasons, Grey's is something of a legend at this point. The show takes place at fictional Seattle Grace Hospital, following the life and career of Meredith Grey from her time at the hospital as an intern, who eventually becomes a resident and rises through the ranks through the hospital. The show is filled with with drama, crushing life choices, and dozens of characters who come and go. Grey's isn't a perfect show, occasionally diving a bit too-much into saccharine plotlines and a lot of character deaths. But the show is well made, with great performances from nearly every actor. Plenty of the cast has gone onto bigger and better things after leaving Seattle Grace, and Shonda Rhimes, the creator and showrunner, has found massive success following the creation of Grey's Anatomy. Overall, it may not be a show for everyone, but it's probably the binge-iest show on the platform today. Sixteen seasons are streaming.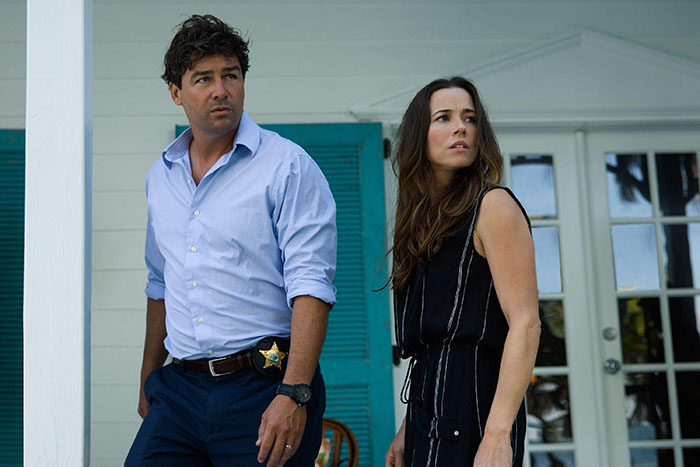 Bloodline is not a show for everyone. It's a slow-paced drama, and though watching the pieces on this chessboard move slowly throughout three full seasons, it can be a bit of a slog for someone looking for action-based entertainment. Still, this Netflix original thriller follows a dysfunctional family of hotel owners in Monroe County, Florida, and if you can get over the slow pace of the story, is really quite good. When Danny, the black sheep of the family, comes home, no one is happy to see him. Skeletons will be brought out of closets, and family will consider unthinkable crimes. The series stars Kyle Chandler of Friday Night Lights fame, which earned him an Emmy nomination for his performance in season one. The series, which has three full seasons streaming, also stars Ben Mendelsohn (who also received an Emmy nom) and Linda Cardellini of Freaks and Geeks fame.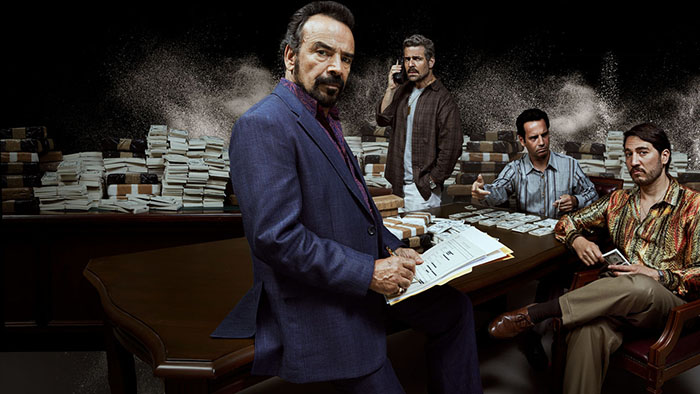 This Netflix original series traces the rise and fall of real-life drug kingpin Pablo Escobar (Wagner Moura), and the U.S. and Colombian authorities who worked to bring him down. The series has a documentary sensibility, and is very true-to-life when the showrunners must have been tempted to sensationalize things. The show doesn't have many sympathetic characters, but the tense writing and strong performances will keep you invested. The show has made a lot of changes since its premiere, and throughout its three seasons, some shocking cliffhangers have changed the entire course of the show. Three seasons are currently streaming, along with a spin-off, Narcos: Mexico.
Perhaps appropriate for a series with the word "Fire" in the title, Halt and Catch Fire is a slow-burn series, one that starts slow but ramps up as the series continues down its four full seasons. A period drama set in the 1980s and 1990s, Halt and Catch Fire follows a fictionalized account of the computer revolution at the end of the 20th century. The first two seasons are set in the Silicon Prairie in Dallas-Fort Worth, while the third and final season move to Silicon Valley. Lee Pace (The Fall, Pushing Daisies) stars as Joe MacMillan, a technology entrepreneur and former IBM employee who joins Cardiff Electric at the start of the show. Scoot McNairy (Gone Girl, 12 Years a Slave) and Mackenzie Davis (Tully, Blade Runner 2049) also star as Gordon Clark and Cameron Howe, respectively, and Davis in particular has been critically-acclaimed for her performance.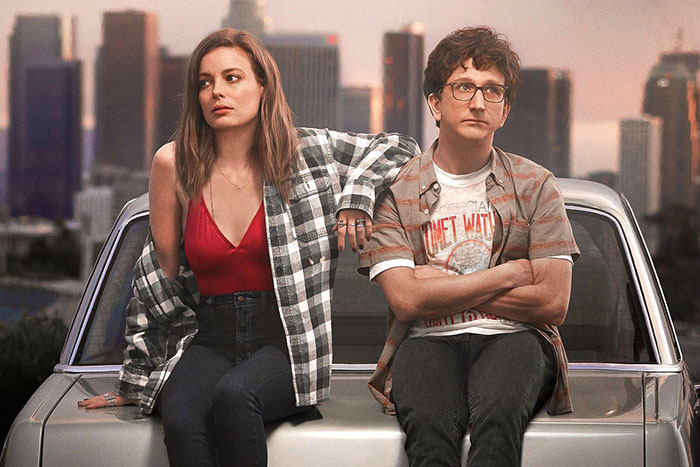 A romantic comedy developed by Judd Apatow, Lesley Arfin, and Paul Rust, Love is a down-to-earth look at dating that explores the nature of romantic relationships through a variety of characters. Stars Rust and Community's Gillian Jacobs are forced to navigate their newly-formed relationship. The series isn't perfect—it suffers from a number of problems we've seen with other Apatow productions, including an overlong pilot—but if you're in the mood for some dark romantic comedy in the vein of You're the Worst or Eternal Sunshine of the Spotless Mind, you'll find plenty to love here (no pun intended). Three seasons, are currently streaming on Netflix, with the third season also having served as the final season of the show.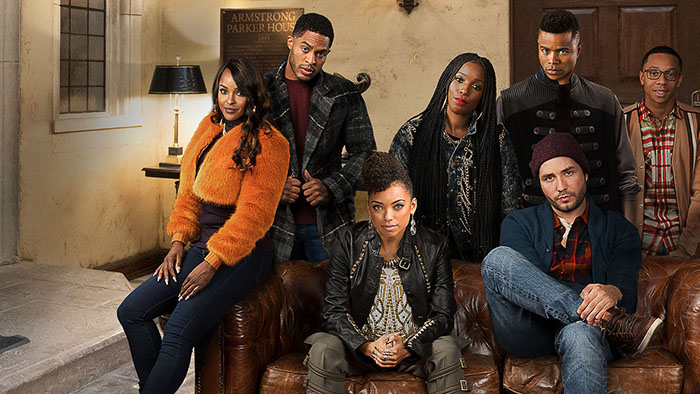 The name was a bit of a non-controversy when Netflix first announced the show in 2017, especially since the show is based on a film of the same name first released without any major internet controversies in 2014, but regardless, the show itself is truly excellent. Dear White People comes from the director of the original film, Justin Simien, who took the ideas he originally developed in the film and remade them into this 10-episode season of television. The show follows a crew of black students at a historically-white university, where they must deal with social injustice, finding their way in life, romance, and yes, a bit of racism from some of the other students. Starring Logan Browning as college-radio host Samantha White (the name of the show comes from her radio program, something that manages to get her into some serious hot water), the entire cast here is excellent, as is the cinematography and editing. Three seasons are streaming, with a fourth and final season on the way.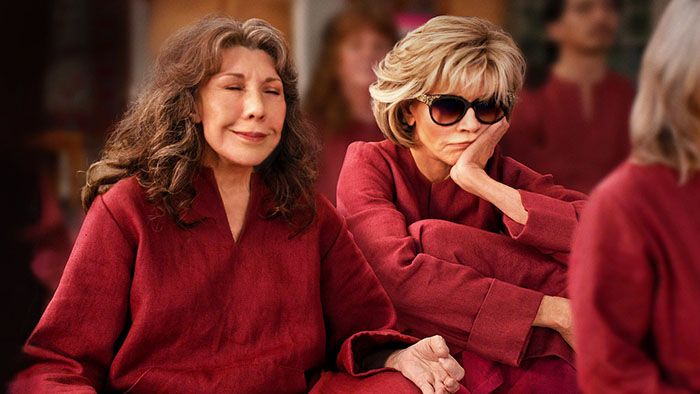 Grace and Frankie is the ideal example of how you can start a show with a rocky beginning, and eventually—through finding your own footing as an independent show, become critically acclaimed and lauded for your representation and sense of humor. The show stars Jane Fonda and Lily Tomlin as Grace and Frankie, respectively, two retired women whose husbands work together as successful divorce lawyers. At the start of the show, their husbands—played here by Martin Sheen and Sam Waterston—leave their wives after announcing they've fallen in love with each other, leaving the two women to deal with their incoming divorces with each other. Despite Grace and Frankie's mutual dislike of each other, the two women band together to try and navigate the next phase of their lives. Six seasons are currently streaming.
30 Best Sci-Fi & Fantasy Shows Streaming on Netflix [Spring 2021]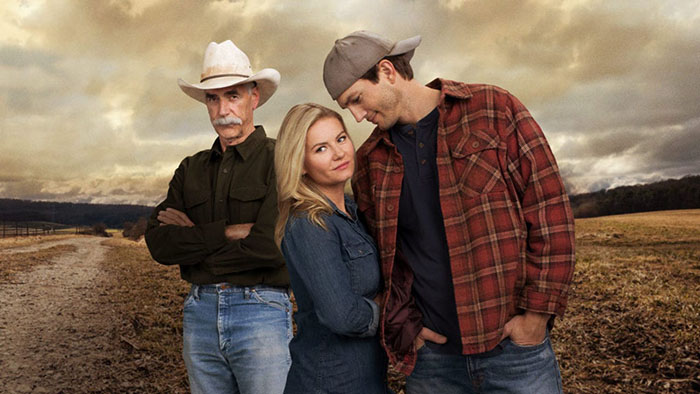 Being a pro athlete didn't pan out for Colt. Now he's helping his dad and brother keep the family ranch afloat, and figuring out how he fits into the family. With a heavyweight cast including Ashton Kutcher, Sam Elliott, and Debra Winger, The Ranch has gained a reputation for sensitivity and strong performances, as well as a focus on red-state situational comedy. This also marks the second time Kutcher and Danny Masterson have shared the screen together, following their performances as Kelso and Hyde on That 70's Show. All four seasons—split into two parts each—are now streaming.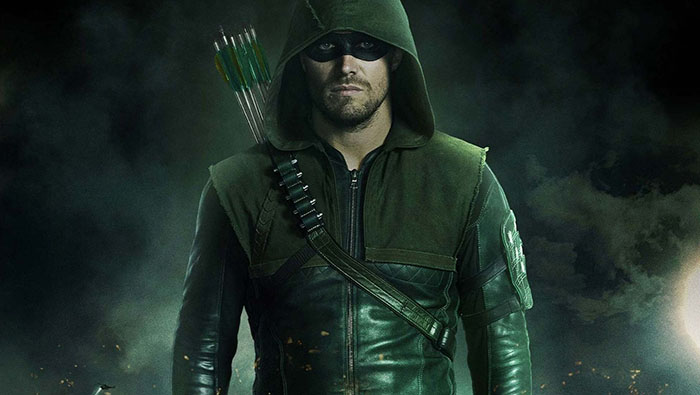 DC Comics has had better luck with its TV shows than its big-screen adaptations lately (at least until Wonder Woman came out), and Arrow is one of their strongest offerings. Wealthy scion Oliver Queen returns home with incredible archery skills and a desire to fight crime, in many ways representing a small-screen Batman. Arrow has all the makings of great binge-watching, from a brooding protagonist to colorful, melodramatic plotting, and fun secondary characters who absolutely steal the show. All eight seasons are currently streaming.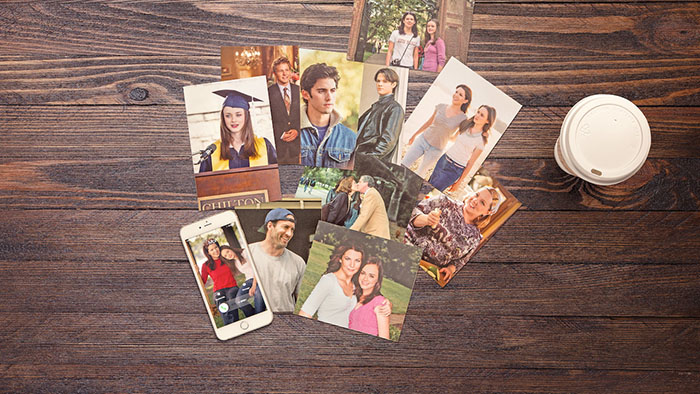 Though the show's been off the air for more than a decade now, Gilmore Girls still stands strong as an incredible series for anyone in love with sharp writing and a spot-on mix of comedy and drama. The show follows the titular girls, Lorelai Gilmore and her daughter Rory, whose lives are changed forever when Rory is accepted to a prestigious private high school. When Lorelai can't afford to cover the payment and enrollment fee to the school, she returns to her parents, from whom she's been estranged since becoming pregnant with Rory at sixteen. Her parents, Emily and Richard, agree to help on one condition: they must be allowed back into the lives of their daughter and granddaughter. Gilmore Girls' first three seasons make up some incredible drama, and while the back of the show doesn't quite hit the highs of Rory's life at high school, it's still a show worth bingeing. Bonus: Netflix brought the show back for a four episode reunion last year, titled Gilmore Girls: A Year in the Life.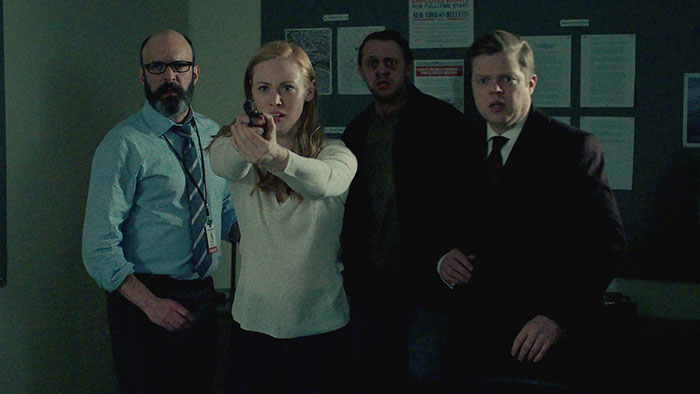 The first of many Marvel-Netflix partnerships, Daredevil follows the adventures of Matt Murdock, a blind lawyer by day and masked vigilante by night. As Murdock fights crime in his spare time in Hell's Kitchen, New York City, he faces down organized crime and eventually more supernatural threats. Daredevil set the bar for Marvel's Netflix offerings, with strong performances, visual style to spare, and impressive martial arts action. Daredevil is far from a perfect show, but it is one of the first Marvel series on television to truly work. Along with the Defenders crossover season, there are three seasons of Daredevil now streaming on Netflix. Unfortunately, the series was officially cancelled after its third season.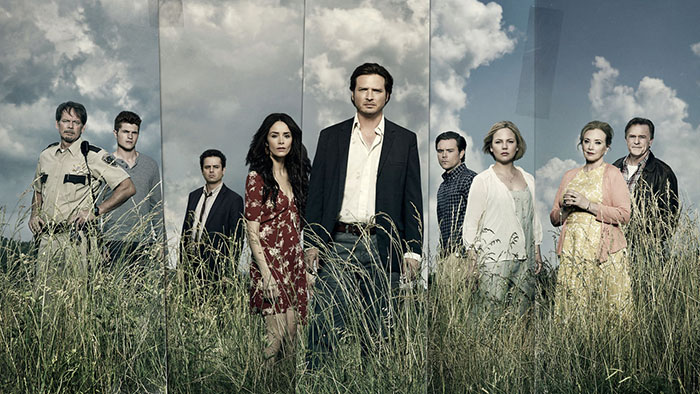 Sometimes referred to as the "best show you haven't seen," Rectify might even be a show you haven't heard of. It aired on the SundanceTV network over four seasons from 2013 to 2016, a premium cable channel that is only in about 50 percent of households in the United States, but all four seasons are currently streaming on Netflix. The show follows Daniel Holden (played by Aden Young), a man imprisoned as a teenager for the rape and murder of his girlfriend Hanna. After spending 19 years on death row, DNA evidence from his trial contradicts the prosecution's case, and Holden is allowed to return home to Paulie, Georgia, where he grew up. The show also stars Abigail Spencer (Mad Men) as his sister Amantha and J. Cameron Smith (Succession) as his mother Janet. The show is a southern gothic drama, slowly unfolding over four seasons, and made several best-of lists during its entire run.
The original One Day at a Time ran for nine years from 1975 to 1984, and was developed by TV legend Norman Lear (and created by Whitney Blake and Allan Manings). When Gloria Calderon Kellett and Mike Royce decided to recreate the original sitcom for Netflix, they chose to rework the entire show to focus on a Latinx family consisting of single-mother Penelope (Justina Machado), her children Elena and Alex, and her mother Lydia (played by EGOT winner Rita Moreno, one of twelve people ever to manage to win all four awards). Together, they help Penelope manage her love life, family life, and her difficulties adjusting to normal life after being involved with the military and going back to school. One Day at a Time is regarded as one of the best shows on television, but after the third season premiered, Netflix cancelled the show, sparking fan outrage. Luckily, the show returned for a truncated fourth season on PopTV…before being cancelled yet again.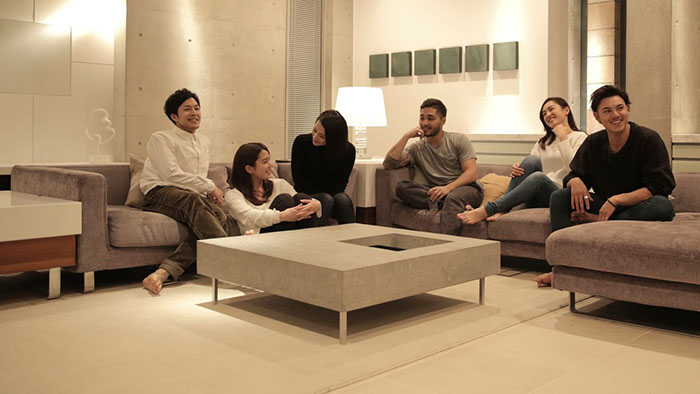 Terrace House isn't a series for everyone. If you have any sort of reservations about watching a show with subtitles, or you aren't a fan of reality television, this might not be the series for you. First airing in Japan over eight seasons from 2012 to 2014, Terrace House was rebooted and co-produced by Netflix for a new series in 2015, titled Terrace House: Boys and Girls in the City. The show follows six Japanese young adults as they move into a house together, a similar premise to dozens of American reality shows. Where shows like Jersey Shore or Big Brother would make a spectacle out of it, this show simply follows their standard lives without making big deals out of the drama that follows the young adults. It's ostensibly a show "about nothing," but both Boys and Girls in the City and the follow-up, Aloha State, are unquestionably addictive, inspiring, and at times a bit heartbreaking. These are ordinary people with big dreams, and where other reality shows may stage fights or false drama, the cast of Terrace House unquestionably cares for each other—even when they disagree. This show isn't for everyone, but if you're looking for a comfort blanket of a reality show, it's definitely for you.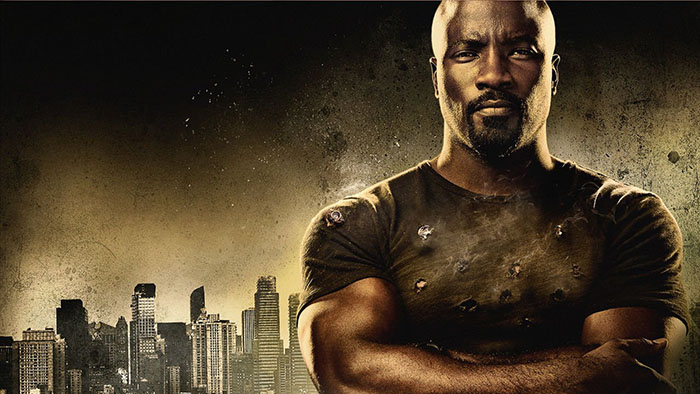 In this Marvel superhero story, Mike Colter plays Luke Cage, an ex-con with unbreakable skin and super strength who also made an appearance as a short-term love interest on Jessica Jones. Luke wants to live a quiet life, but his determination to right wrongs makes him a reluctant hero of Harlem—and a target for local gangsters with big plans. When Pop, the barber he works for, is murdered, this serious and soulful man becomes the reluctant hero, righting some of the wrongs in the neighborhood. That means he has to come up against Cottonmouth Stokes, the gangster who runs a nightclub—and the neighborhood. This third series from Netflix and Marvel stands out with both a thoughtful focus on its largely African-American cast and a winking 70s Blaxploitation aesthetic. It's tons of fun, and season two just premiered on Netflix in June. The show was cancelled after its second season.
32

Unbreakable Kimmy Schmidt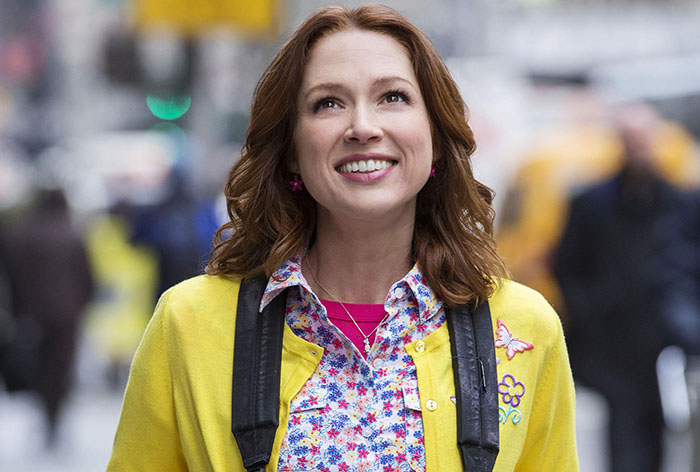 This sitcom was created by Tina Fey and Robert Carlock, and stars Ellie Kemper (of The Office) in the title role. 29-year-old Kimmy was rescued from a Doomsday Cult after spending 15 years as an underground hostage, held by the Reverend Richard Wayne Gary Wayne (played by Jon Hamm). She moves to New York to begin her life as an adult, and we get to follow her as she discovers our weird modern world with enthusiasm and zany naivete. Any fans of Fey and Carlock's previous show, 30 Rock will find plenty to love here, including actress Jane Krakowski, who played Jenna Maroney on Fey's previous sitcom. The show has all four seasons currently streaming on Netflix, as is an interactive special that premiered in May 2020.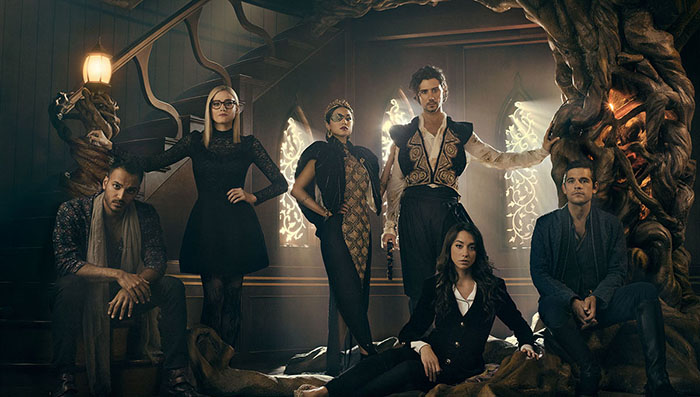 The Magicians takes an adult, intensely cynical look at the tropes of some famous children's fantasy books. Quentin Coldwater (Jason Ralph) is a graduate student addicted to a Narnia-type book series, who discovers the world of the books is more than just escapism. He ends up at an elite school for young magicians (sound familiar?), makes a bunch of misfit friends, and ends up transported to the universe of his favorite fantasy novels. Meanwhile his childhood friend Julia (Stella Maeve) breaks into the world of magic by less traditional means. Four seasons are currently streaming on the service; the show was abruptly cancelled at the end of season five, which has yet to arrive on Netflix.
The 25 Best Crime Dramas Streaming Now on Netflix [Spring 2021]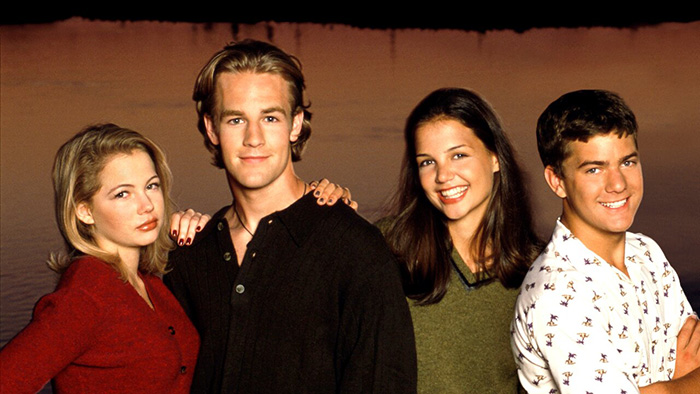 A quintessential teen classic, Dawson's Creek has arrived on Netflix for the first time in years, and that means it's time to stream all the laughs, tears, and small joys over and over again. Dawson's Creek follows Dawson Leery (James Van Der Beek), an aspiring filmmaker who sees Spielberg as his personal hero. Along for the ride are Dawson's best friend Joey (Katie Holmes), who has been in love with him since childhood, Dawson's slacker friend Pacey (Joshua Jackson), and Jen Lindley (Michelle Williams), who recently moved to Massachusetts from New York City. The show ran for six seasons on The WB, and basically established a template for high school soaps that countless series followed for years to come.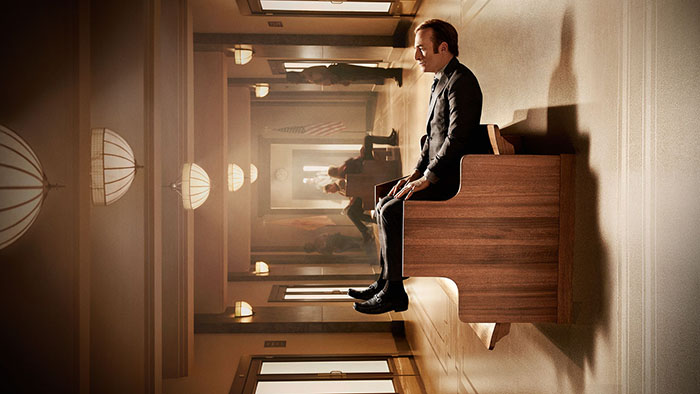 In this spin-off/prequel to Breaking Bad, we see the early-2000s origin story to Saul Goodman, the skeezy lawyer Walter White used in the original show, played by Bob Odenkirk. Though a follow-up series to Breaking Bad about Odenkirk's comic-relief character seemed like an odd decision when the show was first announced, three seasons in, some critics have argued the show surpasses its predecessor. We wouldn't go that far: the two shows, despite sharing a creative team and the same DNA behind the camera, are incredibly different. While the first show chronicled the downfall of family man Walter White, this show is far more comical, with a focus on Goodman's—here still known as Jimmy McGill—law practice, and his relationship with his brother. Mike Ehrmantraut, played by Jonathan Banks, also returns from the original show. While the tone of Better Call Saul varies wildly from its Bad origins, Saul is a must-watch for fans of the first show. The first four seasons are currently streaming.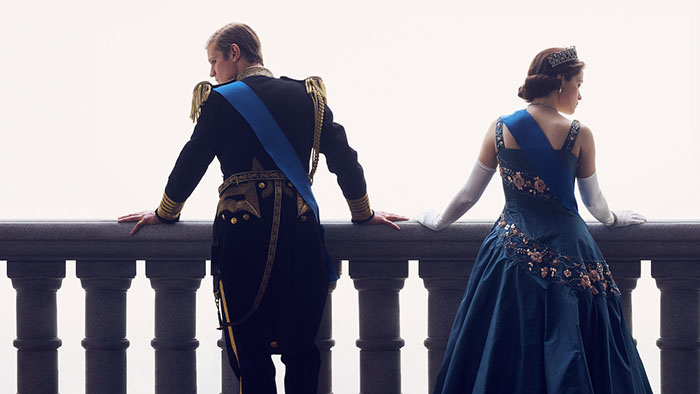 The Crown follows the early life of Queen Elizabeth II, first beginning as she marries Prince Philip in 1947, and intends to cover the entirety of the Queen's life before the show wraps up. Based partially on the 2006 film The Queen, Peter Morgan (writer of the 2006 film) creates a world that covers the drama and intensity of ruling in the aftermath of World War II. The series has been acclaimed for its production value and performances, as well as its immaculate cinematography. Each season seems ready to cover about a decade of time in total, with plans in place for both season four and five. Claire Foy (Rosewater) and Matt Smith (Doctor Who) play Elizabeth II and Philip throughout the first two seasons respectively, and are joined by John Lithgow as Winston Churchill. Four seasons are currently streaming, with Olivia Colman taking over for Claire Foy.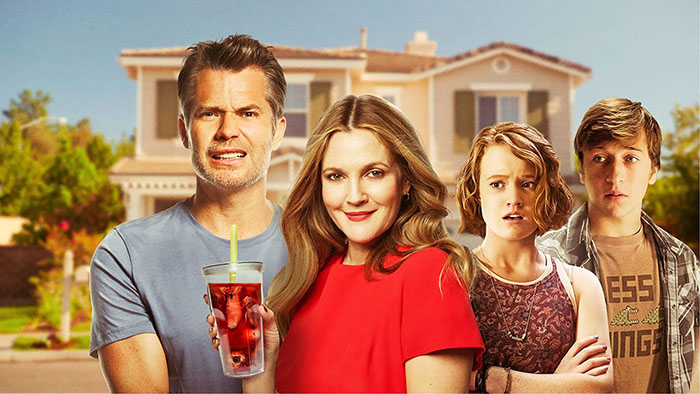 From the creator of cult TV classics like Andy Richter Controls the Universe and Better Off Ted comes Santa Clarita Diet. This horror-comedy series stars Drew Barrymore and Timothy Olyphant as a married pair of real estate agents living in Santa Clarita, California. While trying to close on a house, Sheila (Barrymore) begins to vomit extensively. When the emergency room fails to take her in, they return home, only to discover that Sheila lacks a heartbeat and is, effectively, dead. Now driven by her ID more than anything else, Sheila, Joel (Olyphant), their daughter Abby, and their neighbor Eric must protect Sheila's zombie secret from the world—which becomes all the more difficult when Sheila kills their friend Gary in the backyard. The show has three seasons streaming.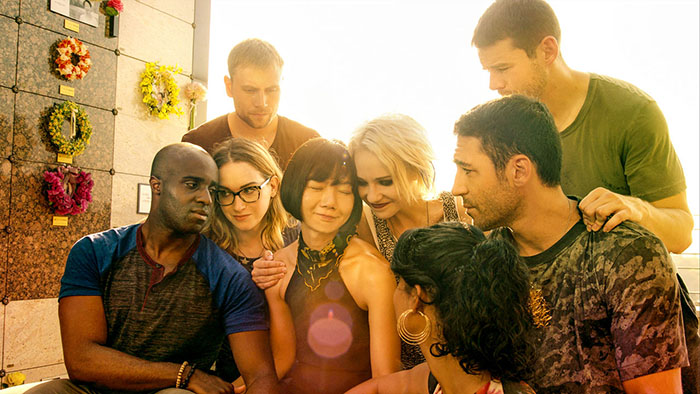 Eight strangers from around the world find that they are psychically linked to each other's minds, experiencing whatever the other seven feel. This strange but promising premise comes courtesy of the Wachowskis (The Matrix, Cloud Atlas). It shuffles a diverse, interesting cast in creative ways, making for lots of intriguing, unexpected developments. Despite the complicated plot, the fanbase grew a cult following over its first two seasons of production. The show was unexpectedly cancelled after those two seasons, but public outcry from the show's massive fan base led to the greenlighting of an upcoming two-hour Netflix original movie in 2018 to wrap up the show's plotlines. That full-length film premiered on June 8th, 2018 to wrap up the show; that film is now streaming.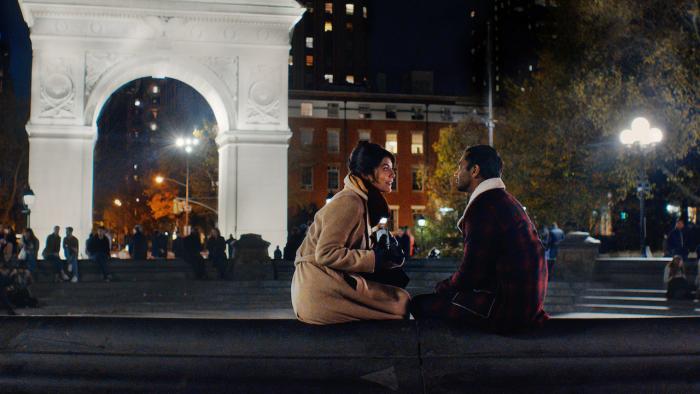 Master of None represents the culmination of much of Aziz Ansari's stand-up, which focuses primarily on relationships and dating in the 21st century. Ansari, who also co-created and writes the show along with Alan Yang, stars as Dev Shah, an actor living in New York who hasn't seen much success over his career. In the first moments of the show, we find him hooking up with a girl named Rachel, an incident that ends with a trip to the drug store for Plan B. The show revolves around Dev's relationships with both his friends and women, including Rachel, and see him exploring career options, trying new things, and even travelling the world. With some incredible cinematography, acting, and specific standalone episodes like the Emmy-winning "Thanksgiving" or "New York, I Love You," Master of None represents a must-watch. Rumors of a third season started bubbling in January 2021, making this the perfect time to rewatch.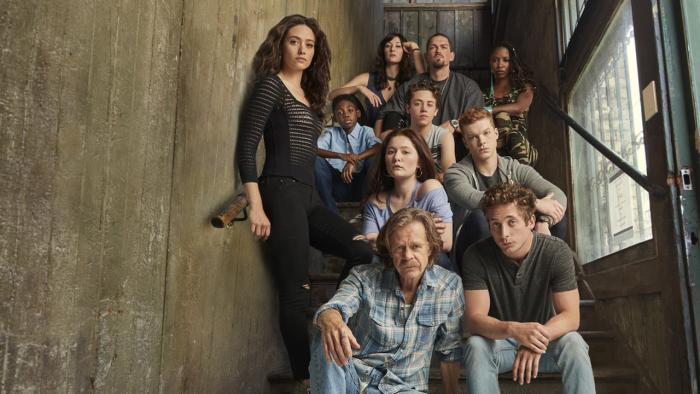 A cult-classic, Shameless offers some of the best entertainment to be had on television today. It's about the Gallaghers, a family of six kids raised by the oldest, Fiona (Emmy Rossum). Dad Frank (William H. Macy) is a hopeless alcoholic, Mom Monica (Chloe Webb) split, and the kids have to use their heads to survive as they straddle the law and their own morality. The extremely gifted ensemble includes Cameron Monaghan as Ian, the gay son who comes out in the pilot. The entire family are super-industrious and the show never ceases to surprise. Ten seasons are currently available for streaming.
23

Comedians in Cars Getting Coffee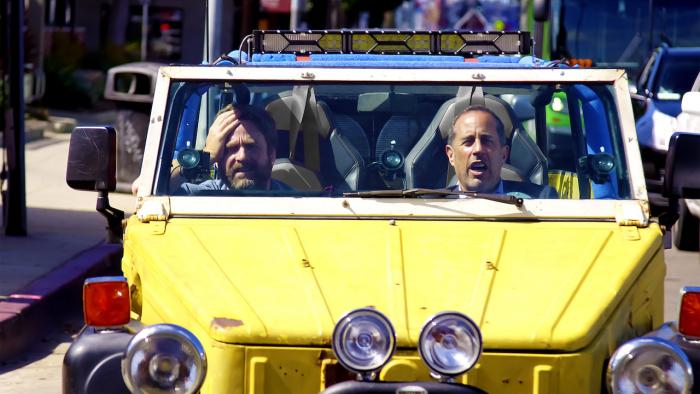 Originally produced as a Crackle Original, Comedians in Cars Getting Coffee became a Netflix Original when its nine Crackle seasons made the move to Netflix in January of 2018. The show's premise is simple enough: each episode involves comedian Jerry Seinfeld introducing a vintage car of his choice and a guest comedian. As they drive around to get coffee, Jerry and his guest talk about anything that comes up, occasionally causing the show to take some pretty strange detours. The episodes have been shuffled and recreated from its original nine seasons into four "collections," each with a cute name like "First Cup" or "Late Night Espresso." Every episode from Crackle's nine seasons is currently streaming with the exception of the Seinfeld reunion episode, along with two new seasons created exclusively for Netflix.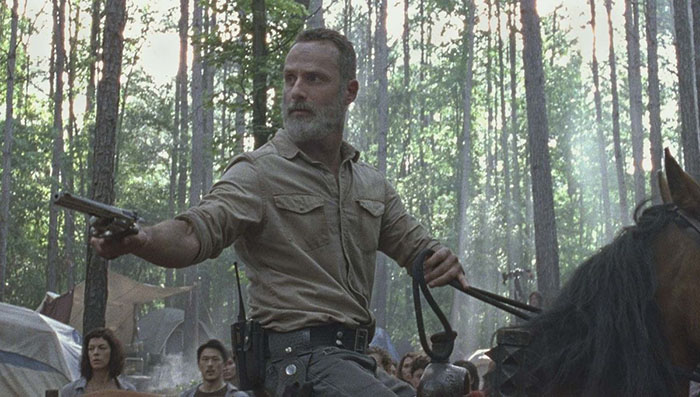 This hit show, based on Robert Kirkman's comic series by the same name, follows a group of survivors through a bleak and violent zombie apocalypse. Deputy Rick Grimes (Andrew Lincoln) is our protagonist, swinging between hero and antihero as he tries to protect himself, his son, and the group that forms around him. The show is at its best when the characters manage to find moments humanity in spite of all the carnage—although some of the carnage makes for great TV, too. The first nine season of the shows, following Rick Grimes and his constantly rotating group of friends and followers, are streaming on Netflix.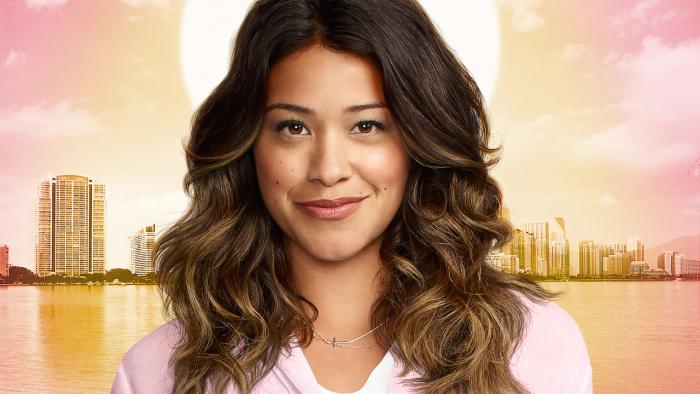 Making a serious romantic comedy-drama out of a genre as impenetrable as telenovelas seemed impossible, but Jane the Virgin manages to not only adapt a Venezuelan telenovela, it also manages to satirize and praise the entire genre and create a fantastic show in the process. Gina Rodriguez stars as the titular Jane, a 23-year old student who has been taught from the time she was young to save herself for marriage. In a mix-up, she accidentally becomes artificially inseminated during a routine medical checkup. Split between her boyfriend who has no interest in raising a child, and the child's donor, her boss and former teen crush, Jane must adjust to pregnancy and motherhood throughout the show. As with most telenovelas, Jane uses twists and turns to its advantage to create an incredible comedy-drama. The show has been praised by critics, and you can find out why by streaming all five seasons on Netflix.
The 25 Best Thrillers Streaming on Netflix [Spring 2021]
Starring a cast of heavyweights, the show takes place in London of the 1890s. It's a shameless mashup of 19th-century monster stories: Dracula, Dorian Gray, werewolves, and Frankenstein and his monster all play major roles. The core cast consists of Timothy Dalton as an aging adventurer, the brilliant Eva Green as a woman locked in a battle for her own soul, and Josh Hartnett as her tough American bodyguard (another Victorian-era cliche Penny Dreadful plays to the absolute hilt). The show came to an unexpected close after the season three finale, and you can find the entire series available for streaming on Netflix. The show was recently revived for a brand-new spin-off series, Penny Dreadful: City of Angels.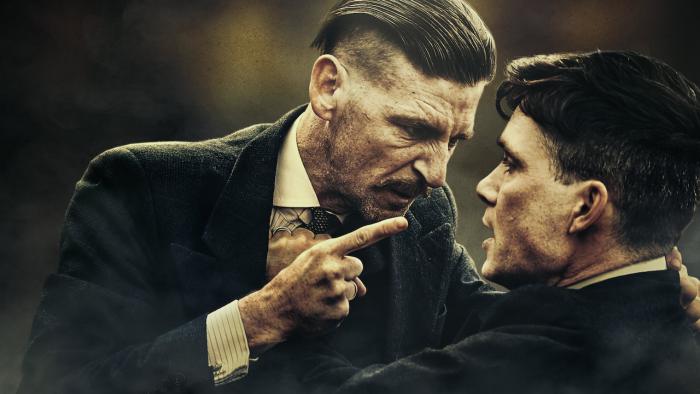 Peaky Blinders tells the story of Tommy Shelby (Cillian Murphy, of Batman Begins and Inception), the brilliant leader behind the Peaky Blinders, an Irish-Gypsy gang in 1920s England. World War One casts a fascinating shadow over this show, as everyone was damaged in some way by the war, and the criminal underworld is still returning to "normal" after the men have come home. Shelby climbs the ranks of Birmingham's underworld, making big plays while evading a police inspector (Sam Neill, Jurassic Park and Hunt for the Wilderpeople) dispatched by Winston Churchill himself to clean up the town. Tom Hardy (Inception, Dunkirk) joined the cast in season two, and Adrien Brody (The Pianist, The Grand Budapest Hotel) jumped on in season four. The first five seasons are streaming on Netflix.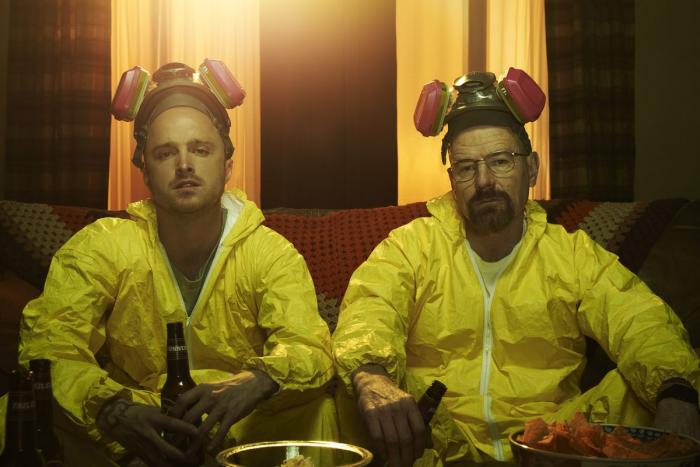 Often considered one of the best television shows ever made, Breaking Bad follows a supposedly mild-mannered chemistry teacher who is diagnosed with terminal cancer and decides to make some quick money by putting his chemistry knowledge to good use: cooking meth. The show features incredible performances from the lead actors, amazing cinematography and direction, and some tough questions about human nature. Bryan Cranston, then fresh off his comic turn on both Seinfeld and Malcolm in the Middle, starts as Walter White in a shocking performance. The entire series is currently streaming, along with a sequel film, El Camino.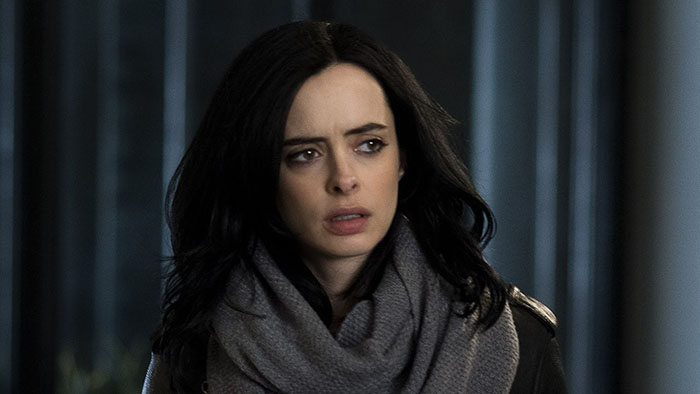 Jessica Jones is Marvel's second comic-based series on Netflix. Jessica (Krysten Ritter) is a super-powered private eye who mostly wants to be left alone. The one person who won't leave her alone is the villainous Kilgrave, an eccentric psychopath with the power to control minds, played by a terrifying David Tennant. Of the four Marvel-based shows on Netflix, Jones might be the easiest to get into: Ritter is wonderful as the lead character, and Tennant shows a side of himself that Doctor Who fans won't recognize. If you only watch one Marvel show, make it this one—oh, and The Defenders, which sees the return of Jones fighting alongside Luke Cage, Daredevil, and Iron Fist in a war for New York. All three seasons are currently streaming.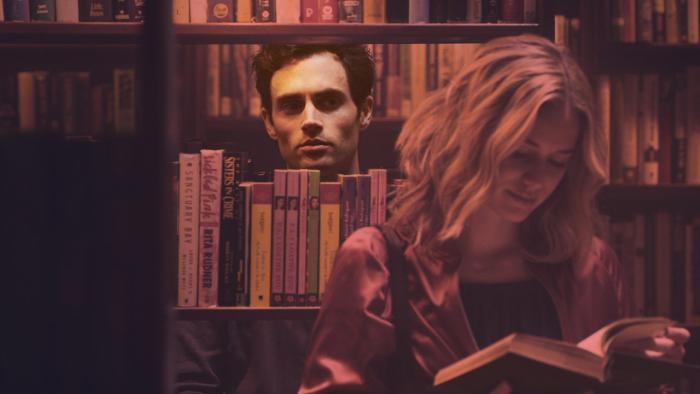 Originally produced as a Lifetime original series, You largely went ignored by the general public until it was picked up by Netflix. Though originally commissioned for a second season by Lifetime, the show was cancelled after the finale of the first season, only to be revived by Netflix. The show follows a bookstore manager named Joe, who meets a female writer named Guinevere that quickly develops into a crush. However, Joe is unstable, and his crush on Guinevere slowly turns into a full-on obsession. Using social media and the internet, he uses every tool at his disposal to become close to her, even going so far as to remove any obstacle—including people—that stands in his way of getting to her. Two seasons are currently streaming.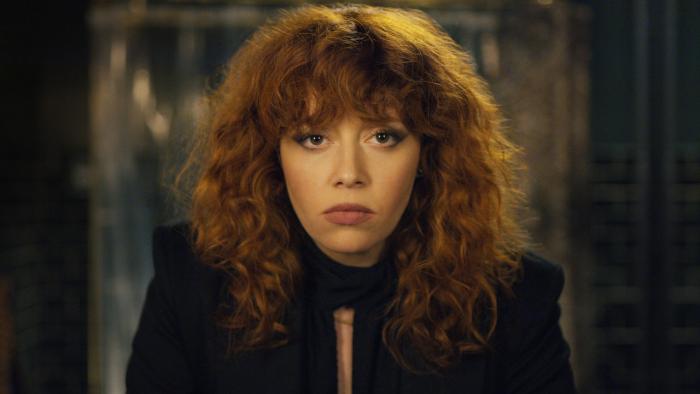 One of the most acclaimed shows of the first two months of 2019, Russian Doll is an original comedy-drama series from Natasha Lyonne (Orange is the New Black), Amy Poehler, and Leslye Headland (Sleeping with Other People), starring Lyonne as Nadia, a software engineer celebrating her 36th birthday. Things get weird when, following her party in New York City, she dies in a car accident, only to wake up in the same bathroom each time she dies. What starts out as a simple riff on Groundhog Day slowly becomes something much more meaningful as Nadia begins to put the clues about her situation together. As the world around her begins to crumble each time she's reborn, she'll have to solve her case with limited outside resources to get to the next day. Don't read any spoilers about this one—you're better off going into the eight-episode first season blind. The show has been renewed for a second season.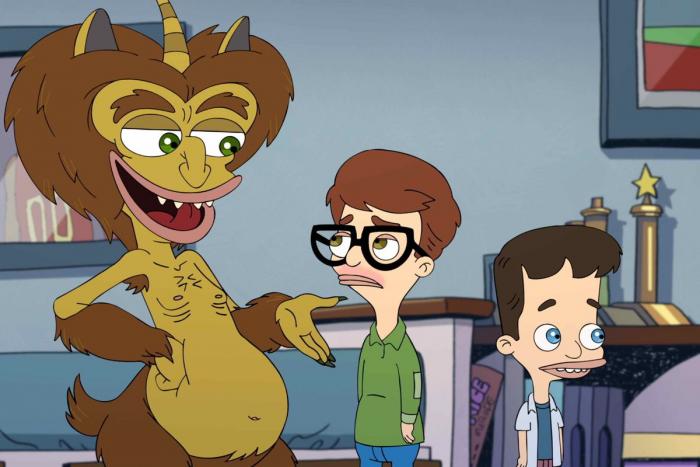 Don't let the cartoonish-look of the show fool you—Big Mouth is very much an adult-animated sitcom about growing up as an awkward tween and teen. Created by comedian Nick Kroll (best known for The Kroll Show on Comedy Central) and writer Andrew Goldberg (Family Guy), along with Mark Levin and Jennifer Flackett, the show is based loosely on Kroll and Goldberg's experiences growing up together in the suburbs of New York. Kroll plays Nick Burch, while close contributor and fellow comedian John Mulaney steps in to play Andrew Glouberman, along with an all-star cast of comedians and voice actors, including Jason Mantzoukas, Jessi Klein, Fred Armisen, Maya Rudolph, and Jordan Peele. The show has received critical acclaim for dealing with teenage issues in a realistic matter while simultaneously not shying away from the gross parts of growing up. Four seasons are streaming, with two more on the way over the next several years.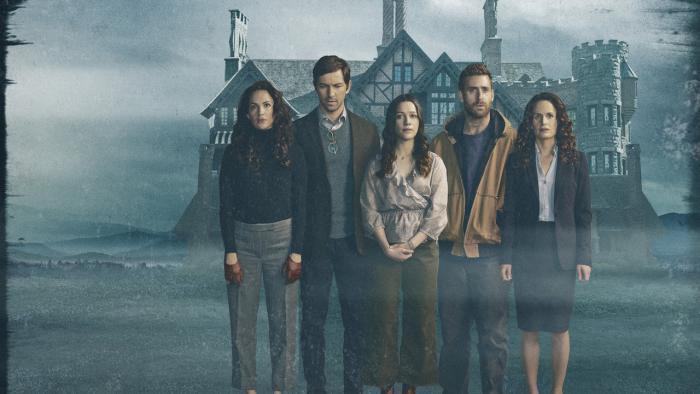 Netflix is no stranger to original shows, but when it comes to pulling off horror television, their track record is mixed. Their first horror series, Hemlock Grove, was panned by critics (despite managing to run for three seasons before finally being put down). Stranger Things is a retro-styled horror sci-fi series, but the science-fiction aspects far outweigh horror. And while Santa Clarita Diet is a pretty solid show, it's a horror-comedy, which won't work for many people. The Haunting of Hill House is the first full-on horror series since Hemlock, and it's the first good one too. The series, based on the novel of the same name, comes from Mike Flanagan, a director who has created some of the best modern horror films of the last several years. The series is self-contained, and creates such an atmosphere of grief and loss, it'll leave you chilled to your bones. A second season, loosely adapting The Turn of the Screw, is also streaming.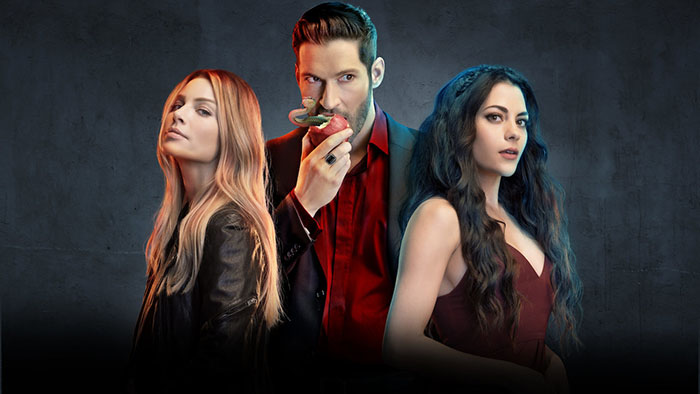 Lucifer originally aired three seasons on Fox, but in May 2019, the series returned for a fourth season on Netflix to continue the saga. The show follows Lucifer Morningstar, better known as the Devil, who grows bored and unhappy with his life in Hell. After resigning his throne and relinquishing his kingdom, he moves to Los Angeles, where he finds himself running a new nightclub known as Lux. When Lucifer becomes involved in a murder case with Detective Chloe Decker, he is subsequently invited to be a consultant to the LAPD, working behind the scenes on crimes. Though the show received mixed reviews when it first premiered, it has since developed a cult following, leading to Netflix reviving the show a month after cancellation. A sixth and final season is on the way.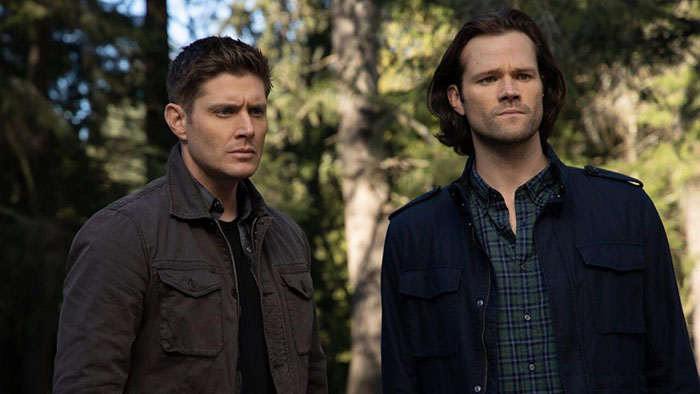 Supernatural is a mainstay in American television. Having premiered in 2005 on the WB, it is the longest-running fantasy-based television show in American history and the final remaining show that first aired on the WB, the predecessor to the CW (other shows, like Gilmore Girls and Reba, only lasted a year; Smallville lasted until 2011 and America's Next Top Model lasted through 2015). Originally designed with a story to be told over three seasons (later extended to five), the show has run for thirteen seasons and shows no sign of stopping anytime soon. The show follows the Winchester brothers, Sam (Jared Padalecki, Gilmore Girls) and Dean (Jensen Ackles), as they hunt ghosts, demons, and other evil beings from the paranormal world. The show has always been fairly well-received, and the fanbase is rabid for the show. It starts slow, but give it some time, and you'll find a fantastic serialized-procedural hybrid show to enjoy. And hey, if you decide the show isn't for you, the finale of season five is a great place to end.
The 50 Best Shows on Netflix Right Now [March 2021]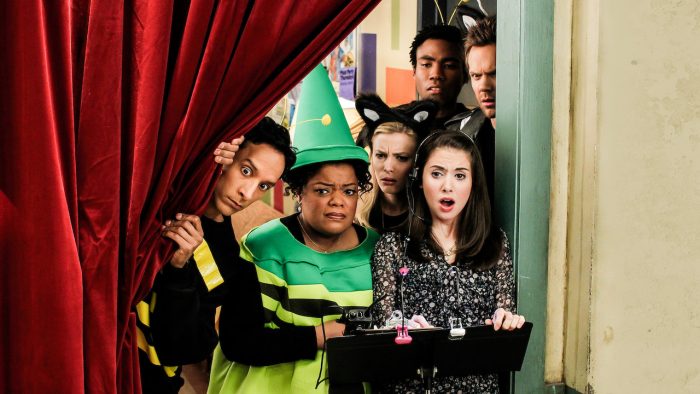 Before Dan Harmon went on to co-create Rick and Morty, he worked for five seasons on Community at NBC. And while his most recent creative efforts have been one of Adult Swim's most popular shows to date, Community—as critically-acclaimed as it is—continues to remain a cult hit. That might finally change with all six seasons of Community now streaming on Netflix. The show follows Jeff Winger (Joel McHale), a disgraced lawyer who returns to community college to actually finish his degree. There he meets a lovable gang of misfits (played by, in no particular order, Donald Glover, Chevy Chase, Yvette Nicole Brown, Alison Brie, Gillian Jacobs, and Danny Pudi), who slowly become the family he never had. Community might have aired the same night at The Office and Parks and Rec, but this is a much weirder show—one that can morph into an action movie, an espionage thriller, a David Fincher homage, a mockumentary, or even an animated Christmas special at will.
9

Avatar: The Last Airbender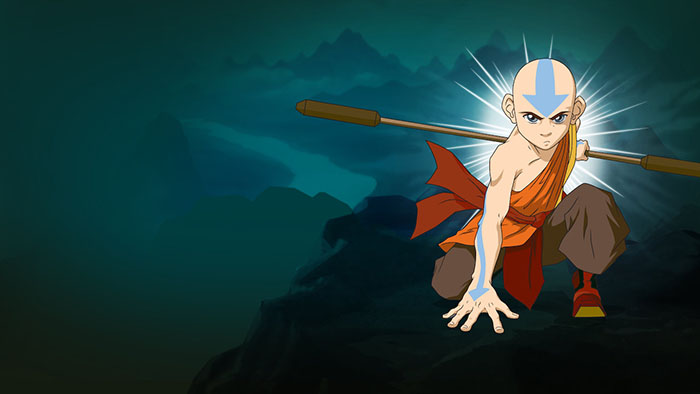 Two types of people exist: either you've already fallen in love with this show, or you haven't watched it yet. For those in the latter camp, do not let the Nickelodeon logo or the child-friendly tone of the first handle of episodes fool you—this is one of the best shows to ever air on TV, period, and a show perfect for all ages. Avatar is a fantasy set in a world of elemental magic, and tells the story of a young boy named Aang, who runs away from his home at an Air Temple after learning he's the reincarnation of the Avatar, master of all four elements. After getting lost in a storm, he reawakens 100 years later, only to learn that the Fire Nation has waged war against the rest of the world, and the hope of the free world rests in his hands.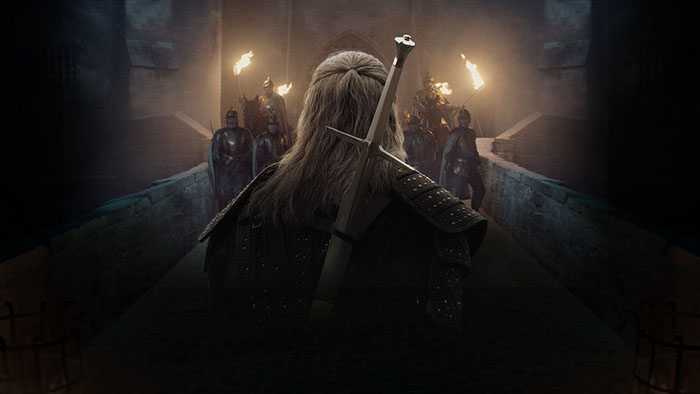 The Witcher didn't premiere on Netflix until the end of 2019, but it managed to become one of the most popular shows of the year in just two weeks. Based on the fantasy novel series of the same name (which also spawned a popular series of video games), The Witcher stars Henry Cavill as Geralt of Rivia, a monster hunter, or witcher, who works alone. Set in a medieval world on a landmass known as the Continent, The Witcher switches between the stories of Geralt, sorceress Yennefer of Vengerberg (Anya Chalotra), and princess Ciri (Freya Allan), who find their destinies tied together. The first season is based on The Last Wish and Sword of Destiny, two collections of short stories which precede the main Witcher saga. The first season explores formative events that shaped the three lead characters, prior to their first encounters with each other. In addition to an upcoming second season planned for this year, Netflix also plans to release an animated Witcher movie sometime soon.
7

The Umbrella Chronicles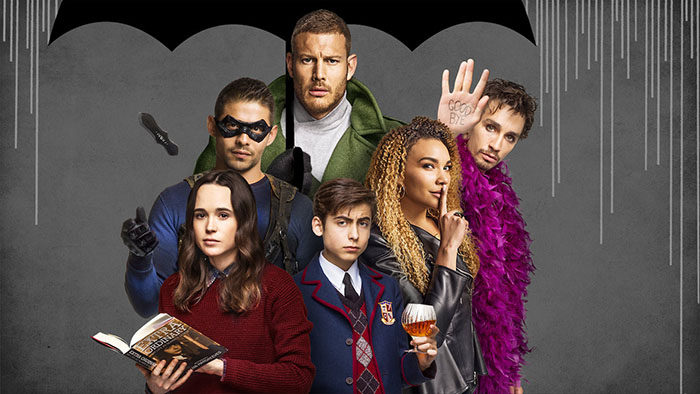 Based on the graphic novel series by Gerard Way, former lead singer of My Chemical Romance, The Umbrella Academy tells the story of a group of seven infants adopted from a group of 43, inexplicably born to random, unconnected women who showed no signs of pregnancy on a single day in 1989. Billionaire industrialist Sir Reginald Hargreeves takes the children and creates the Umbrella Academy, preparing his "children" to save the world. In their teenage years, though, the family fractures and the team disbands. Fast forward to the present time, when the six surviving members of the clan reunite upon the news of Hargreeves' passing. They work together to solve a mystery surrounding their father's death, but divergent personalities and abilities again pull the estranged family apart, and a global apocalypse is another imminent threat. Two seasons are streaming.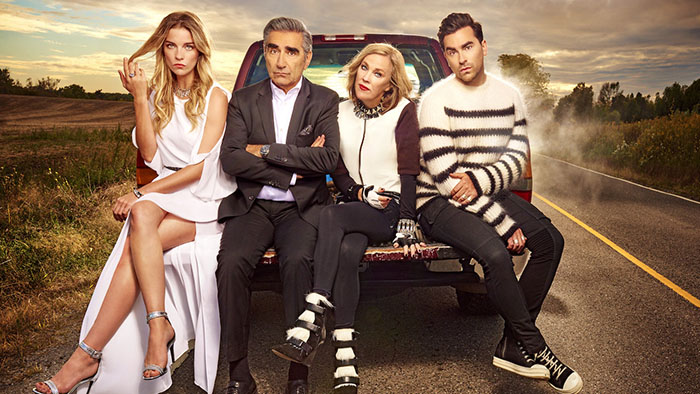 A cult hit that gained popularity thanks in part to Netflix, Schitt's Creek follows the Rose family, a wealthy clan that includes video store magnate Johnny (Eugene Levy), his wife and former soap opera actress Moira (Catherine O'Hara), and their adult children David and Alexis (Daniel Levy and Annie Murphy), who lose their fortune after being defrauded by their business manager. They are forced to rebuild their lives with their sole remaining asset: a small town named Schitt's Creek, which they had bought their son as a joke birthday gift back in 1991. The Roses relocate to Schitt's Creek, moving into two adjacent rooms in a run-down motel. As the family adjusts to their new lives, their well-to-do attitudes come into conflict with the more provincial residents of Schitt's Creek, including mayor Roland Schitt (Chris Elliott), his wife Jocelyn (Jenn Robertson), and the motel's manager, Stevie (Emily Hampshire).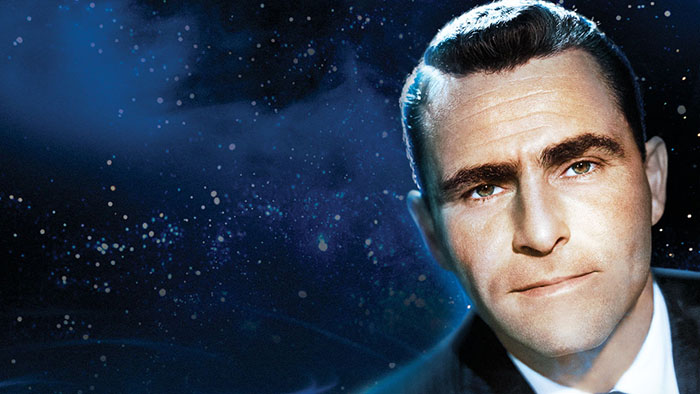 Are you a fan of Black Mirror? Found yourself interested in the anthology series where science-fiction is mixed with social commentary? If you're tired of waiting between seasons for new episodes of Charlie Brooker's nightmare dystopia, you should check out the series that directly inspired Black Mirror: The Twilight Zone. Ran on CBS from 1959 to 1964 in its original run, Rod Serling's The Twilight Zone served as a launchpad for dozens of aspiring actors and writers to cut their teeth working on nightmarish scenarios. Over 156 episodes, Rod Serling used science-fiction, fantasy, and psychological horror to tell stories about the human condition. It can be tough to decide where to start with this series, which has all but season four streaming on Netflix. Check out Serling's favorite episodes, "Time Enough at Last" and "The Invaders," if you're looking for an entryway into the show; "To Serve Man" and "It's a Good Life" are also excellent starting points. A new series has been commissioned by CBS for 2019, run by Get Out's Jordan Peele.
One of CBS's longest-running procedural dramas, Criminal Minds has aired for 14 full seasons on CBS, telling the story of the FBI's Behavioral Analysis Unit (BAU) based out of Quantico, Virginia. Unlike most crime shows, Criminal Minds focuses almost exclusively on the criminal rather than the crime, telling the story behind what they're doing and focusing on psychoanalyzing the criminal at hand. The series has a long history of rotating actors and characters, making it difficult to pin down the exact lead of the series. Actors featured in the show have included Mandy Patinkin, Thomas Gibson, A.J. Cook, Paget Brewster, Joe Mantegna, Jeanne Tripplehorn, Aisha Tyler, and many more. With more than 300 episodes under its belt, the show has plenty for new and old viewers alike, with the first twelve seasons currently streaming on Netflix. The fifteenth and final season wrapped up on CBS in 2020.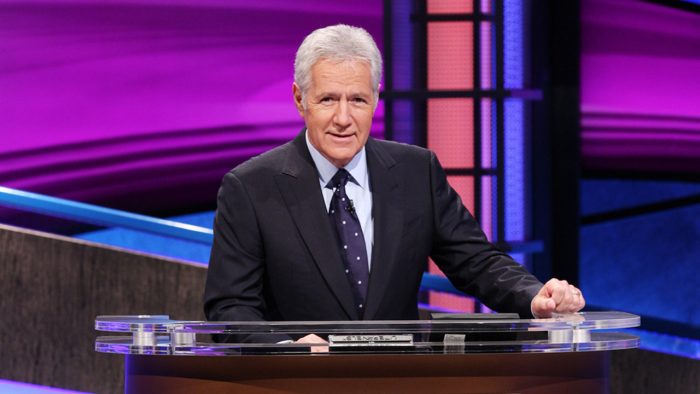 The ultimate quiz show has six collections streaming on Netflix, making it easy to get into the show for the first time or catch up on some old classics. For those not in the know, Jeopardy! uses a classic quiz show format, but with a new twist. Players are given answers from each topic on the board, while contestants answer in the form of a question. Jeopardy has been around in some form since 1964, but the show is best recognized with Alex Trebek as the host, who began hosting the show in 1984 and is credited with helping it become a phenomenon. Six collections, including four Champion Runs, a College Championship and Producer's Picks, are streaming on Netflix.
2

The Great British Baking Show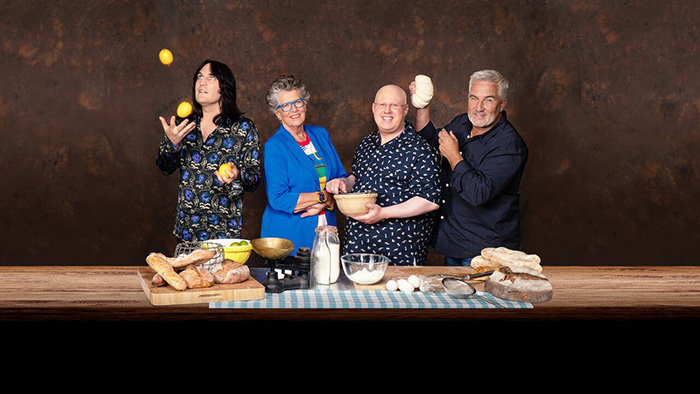 If you're a reality competition lover looking for something a little more relaxing, The Great British Baking Show (also known as Great British Bake Off in the UK) is the show for you. Twelve amateur bakers compete against each other with each new season, and that gives you plenty of time to fall in love with them—before being unceremoniously eliminated one by one. As the twelve bakers work on their cakes, breads, desserts, and dishes, the difficulty only increases with each round, and the judges—loveable Prue Leith and strict Paul Hollywood—are difficult to please. Make no mistake—this is a wholesome show, but it is immensely addicting.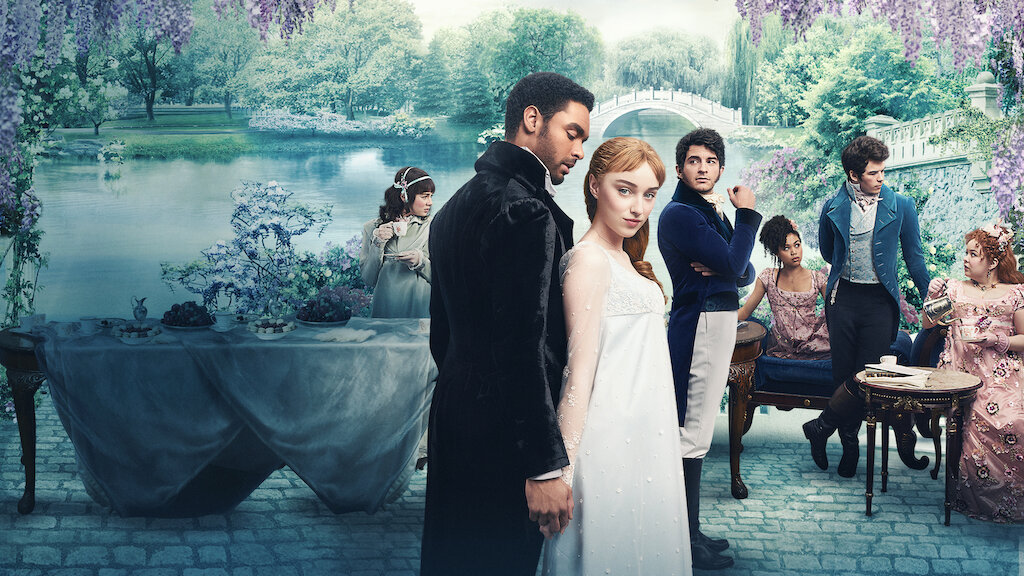 Shonda Rhimes is no newcomer to the world of making hit TV, but even she must've been surprised by the success of Bridgerton. Her first show as a producer working specifically for Netflix, Shondaland's expansion into period dramas gets off with a bang. Bridgerton follows the family of the same name, an aristocratic family in 19th century Britain. The oldest daughter,, Daphne, enters society in the favor of Queen Charlotte, but things get off to a rocky start when she meets Simon Bassett, the Duke of Hastings, who looks to stay single and avoid marriage altogether. With some exceptional actors and impeccible set design, Bridgerton is custom designed to be your next soapy binge. The show was renewed for a second season.
Disclaimer: Some pages on this site may include an affiliate link. This does not effect our editorial in any way.