Deregister iMessage Online
Apple has just released a new deregister iMessage tool that allows switching between iOS, Android, Windows and other smartphones easier than before. Apple did not announce this new feature, but it was reported on this Reddt forum, that the deregister iMessage online tool will help fix the disappearing iMessages for iPhone and iPad.
Users that want to deregister iMessage from their iPhone or iPad need to go to Apple Deregister iMessage Page, and enter your phone number and then you'll receive a confirmation code and enter that code to confirm your iMessage deregistration. If you still have your iPhone you need to transfer your SIM card to your iPhone, open Settings, select "Messages" and turn off iMessage using the toggle switch. If you are still dealing with undelivered text messages after following those steps, Apple has also added a support page for deregistering iMessage.
Follow other instructions here for iMessage help:
The new web-based tool arrives after Apple faced a lawsuit from Android users having undelivered text messages from other iPhone, iPad and iPod touch users still using iMessage. Below is an image of what the Apple Deregister iMessage Page looks like.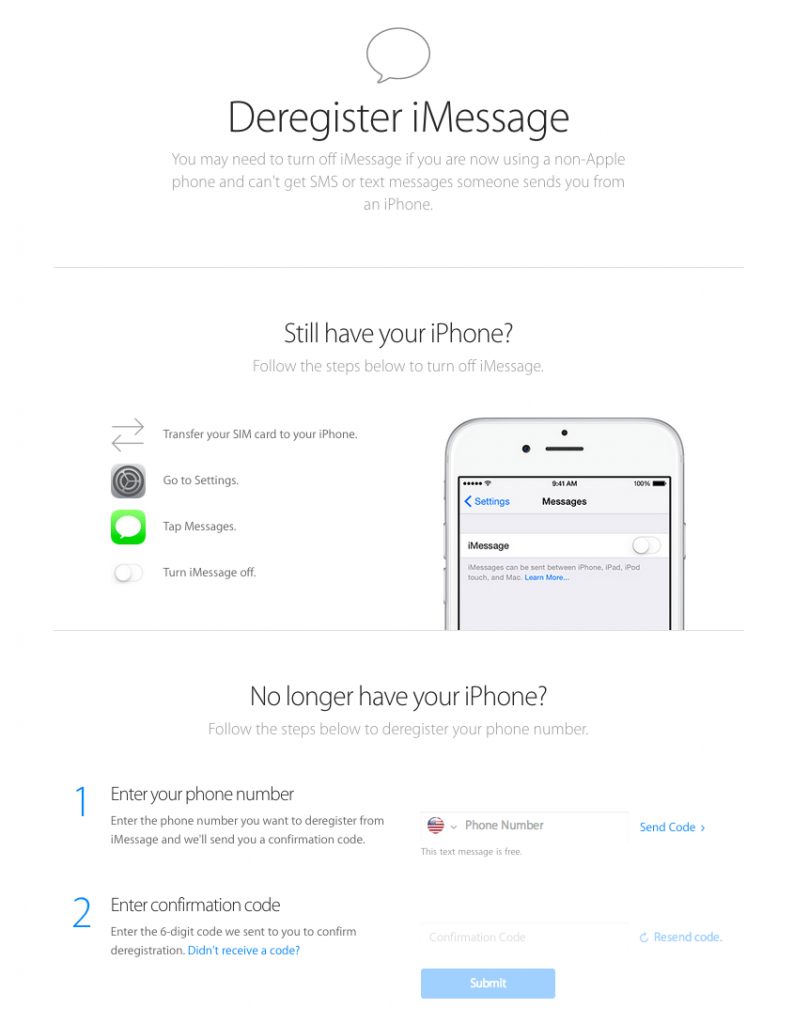 iMessage users first noticed the problem when iPhone users first signed up for iMessage during the introduction back in 2011. iMessage allows for iOS users to communicate with each other without using text message or cellular networks by using Wi-Fi and data networks to send messages. For iMessage to work correctly, Apple keeps track of a user's phone number so that when another iPhone user tries to send a message, it can shift to iMessage instead.
The issue that was common since 2011 seemed like Apple was continuing to route texts through iMessage even after users had moved on to other devices. Since iMessage is proprietary to Apple's platforms, users who switched away from iOS but didn't disable iMessage first would no longer be able to see messages sent from friends with Apple devices. Most users who experienced the problem only had one solution: they had to entirely deregister the old device from their Apple accounts.
It's unknown if the new iMessage deregistration tool by Apple will work as promised, but at least Apple is making progress in making the correct steps to fix issues that people are having with iMessage. Again, even though the solution to iMessage is several years late, hopefully it can be a great tool used for those people switching devices and now can prevent not receiving texts and iMessages with this new tool.
DoubleCheck Helps Avoid Sending Text Messages to The Wrong Person
Read Next