How To install Neptune Rising on Kodi 17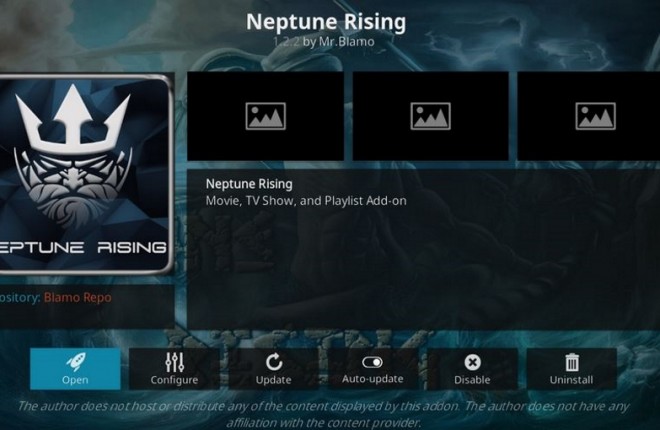 The Neptune Rising addon for Kodi is one of many that is well worth checking out. There is one thing you're never short of with Kodi and that is choice. Between No Limits, Covenant and Neptune Rising, it's hard to choose a permanent addon for my Kodi box. If you're the same, I'm about to make life more difficult with a quick overview and guide showing you how to install Neptune Rising on Kodi.
Neptune Rising is a fork of Covenant that has branched quite considerably. It has a similar look and feel but is also different enough to be a different entity altogether. If you're looking for more from Kodi, this is a good place to start.
Neptune Rising
Neptune Rising concentrates on movies and TV shows and does a great job or organizing everything logically. A neat interface and ocean-oriented skin also makes it worth checking out. Created by Mr. Blamo, Neptune Rising is a solid addon that works well and includes some content and channels other addons don't. Apparently this is because it uses a different scraper than others, but I have no experience in that department so will leave it alone. Either way, the content is superb.
The main menu is logically laid out and contains lots of categories to choose from. The usual Movies, TV Shows, Playlists, Music and so on along with Critters Corner, IMDB User Lists and some personal movie and TV show lists. It makes it easy to navigate and find your content as well as discover new stuff.
Dig into one of these categories and you see another bunch of them. For example, go into Movies and you will see Genres, Year, Actor, Oscar Winners, In Theaters and others. The other categories are the same. While this adds another layer to navigate, it also makes it easier to find something to watch.
Playlists is a neat feature and contains a bunch of lists from a range of genres. Currently they include Anime, Biker movies, Capers, Car Chases, Chick Flix, Kung Fu, Sci-Fi and a load of others.
One final thing that makes Neptune Rising shine is the search function. Most, if not all, Kodi addons have search but they tend to be a bit hit and miss. This one works very well indeed. Given the sheer volume of content available on the platform, that is just as well.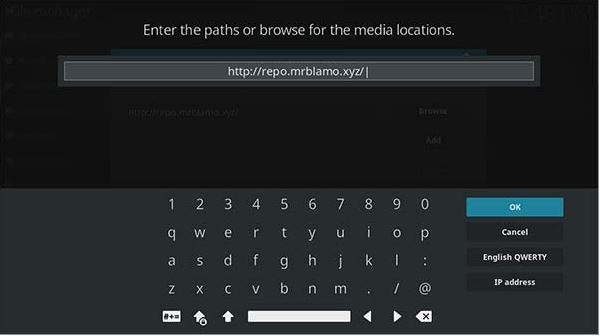 Install Neptune Rising on Kodi 17
Installing Neptune Rising on Kodi 17 is much the same as any other addon. If you haven't done it before, follow these instructions closely and you won't go wrong. First we need to enable files from unknown sources and then we can add the Mr. Blamo Repository and install Neptune Rising.
Start Kodi and open Settings (the gear icon).
Select Expert Mode and Addons.
Select Unknown Sources and toggle it to on.
Then we install Neptune Rising.
Go back to Settings and then select File Manager.
Select Add Source and then select the <None> box.
Enter 'http://repo.mrblamo.xyz/' and select OK.
Give it a name and select OK.
Navigate back to the Home screen.
Select Add-ons and select the open box icon in the top left.
Select Install from Zip File and the name you gave in Step 4.
Select repository.blamo-0.0.3.zip and allow it to install.
Select Install from Repository.
Select Blamo Repository, Video Add-ons, Neptune Rising and select Install.
Navigate back to the Home screen.
Select Add-ons, Video Add-ons and Neptune Rising.
You should now see the Neptune Rising interface. Once all the content has loaded you can search and browse to your heart's content!
If you have already tried installing Neptune Rising but keep seeing 'Installation Failed', you're using an old repository. The address changed a while ago to 'http://repo.mrblamo.xyz/' and if you use the old address you will see that error. Follow the process above, use the new URL and the repo should install and work seamlessly.
If the Mr. Blamo repo doesn't work for any reason, an alternative is http://lazykodi.com/. It also holds Neptune Rising and can install it in exactly the same way.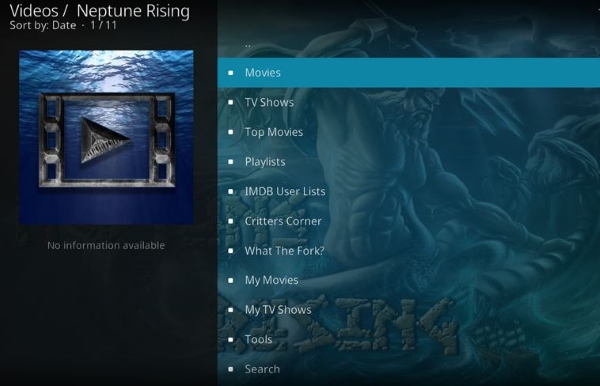 Use a VPN when using Neptune Rising
As always, I cannot finish a Kodi tutorial without recommending using a VPN. We do not condone copyright violation at all but neither do we condone data gathering by governments and ISPs. Kodi is not illegal. Watching content available on Kodi is not illegal. Using third-party addons with Kodi is not illegal. Watching copyrighted content through a third-party addon is illegal and if you think you might be tempted, be careful.
Even if you stick to legally available content, use a VPN. It protects all your internet traffic and prevents your habits being tracked by anyone. You would be amazed at what your internet searches and history can tell someone who knows how to interpret the information. You have been warned!
How and Why to Set Up an Offsite Backup for Your Mac
Read Next