The Best ChatGPT and AI Content Detector Tools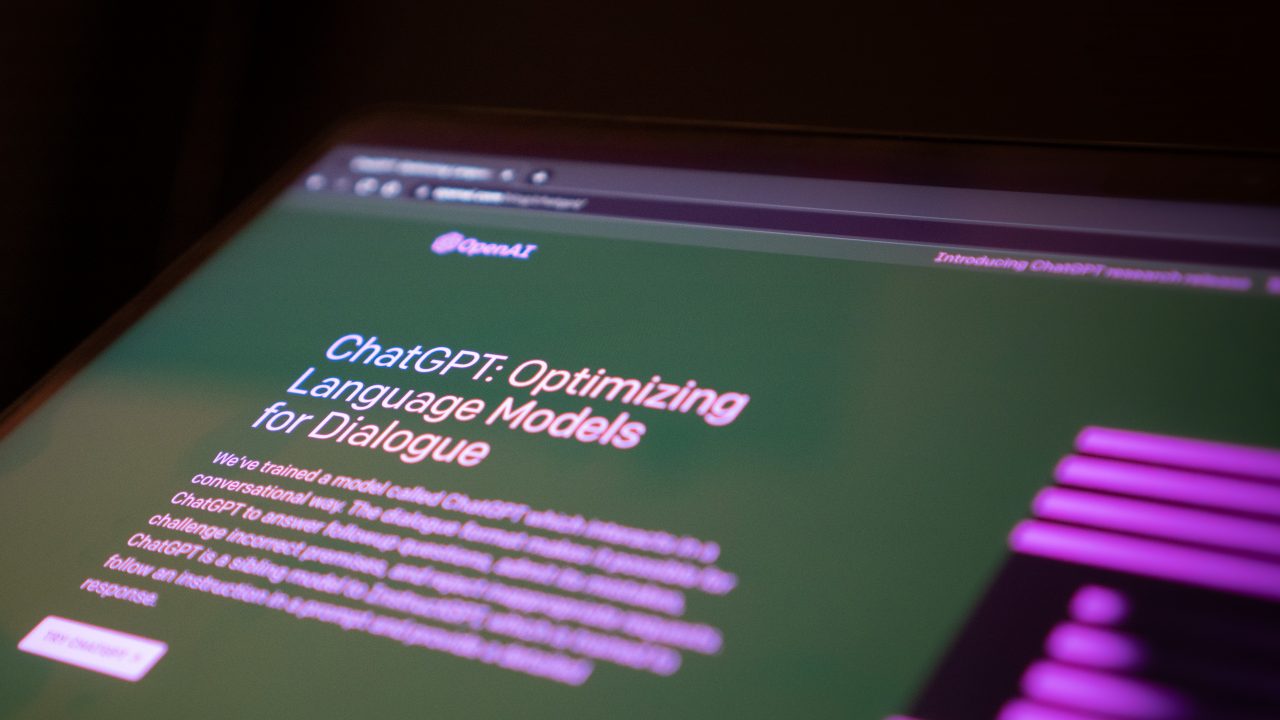 ChatGPT and other AI tools are a blessing for many. It can help you make your tasks lighter and become more productive. However, the content it generates isn't always accurate, and some people abuse them, resulting in plagiarism.
And so, as various AI tools gain popularity, it is important to use AI content detectors to prevent plagiarism. This guide will help you find the best ChatGPT and AI content detectors to save yourself from such embarrassment.
Why You Need ChatGPT and AI Content Detector Tools
The use of AI tools to create content is on the rise. While you can use ChatGPT and its alternatives to write emails and documents, using them for other important documents that require your personal touch is unethical. Plus, AI tools can end up plagiarizing content, which could put you in legal trouble.
This is where AI content detectors can help, as they can find and indicate plagiarized or auto-generated content. In turn, this can assure compliance and reduce legal risks.
Generating AI content is relatively easy, though you might occasionally face ChatGPT internal server errors. Despite that, many still like to use it, not knowing it affects the quality of the content they're trying to produce. With AI content detectors, you can remove low-quality or irrelevant information, providing a better experience for readers.
Additionally, platforms employing AI content detectors give consumers access to a more secure and reliable environment. As a result, you can promote a healthy community where users feel comfortable and confident in their interactions.
How AI Detector Tools Work
There are many ChatGPT and AI detector tools out there, with each taking a different approach to finding AI content. But, in general, an AI detector tool assesses the content by analyzing how predictable the phrase choices made within the text are.
A word of caution, though.
The Best ChatGPT and AI Content Detector Tools
ChatGPT and AI detectors are helpful for content moderation, fraud detection, and brand reputation protection. If you're looking for the best ChatGPT and AI content detector tools, we listed some of them to help.
Originality.AI
Originality.AI offers precise AI content recognition. Built by a team of AI experts and content marketing specialists, this tool also provides a plagiarism scanner feature. Unfortunately, this tool does not come for free. The good news is that it only costs $.01 per credit as of writing. With this, you can scan 100 words for AI detection and plagiarism.
Copyleaks

Copyleaks is well-known as a plagiarism detector tool. But did you know that it can also help you detect ChatGPT and AI content? It can tell you if it's human or AI-generated. This tool also gives a percentage estimate when you hover over a specific text within the content, showing how likely it is that a person or an AI tool created the text.
ZeroGPT

ZeroGPT is a free tool that you can also use for detecting ChatGPT or AI-generated content. Once you enter the content in the box provided, it can tell whether it is human-generated, AI-generated, or a combination of both. It also displays a percentage of how much AI content is in your text.
You can upload a document or text file, so you don't have to copy and paste texts. The best part of ZeroGPT is that it is free to use.
→ ZeroGPT
GPTZero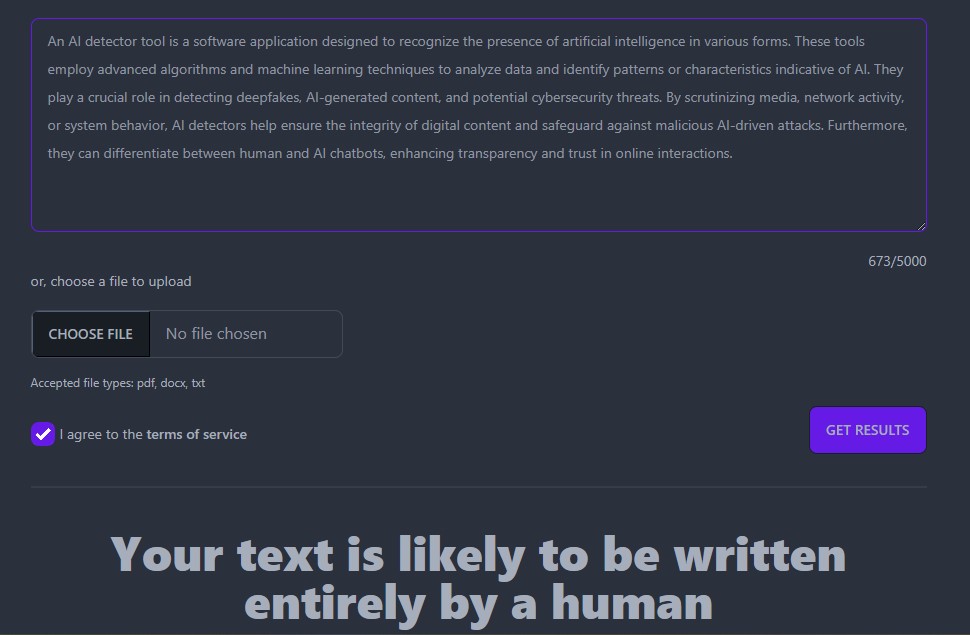 ZeroGPT is different from GPTZero. While both are AI detection tools, the latter claims that it has a higher accuracy rate in detecting AI-generated content. But, unlike ZeroGPT, GPTZero doesn't tell you the percentage of the AI content in your text. Instead, it highlights the sentences that it detects are AI written.
→ GPTZero
OpenAI Classifier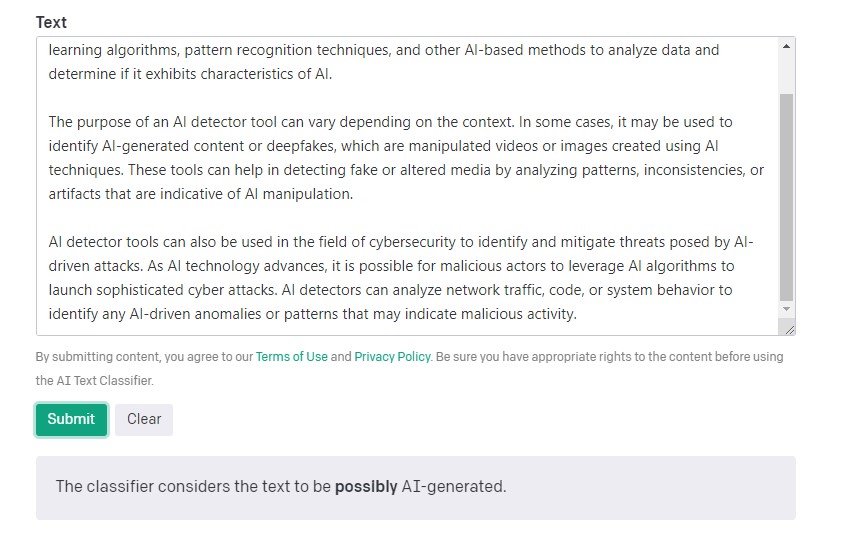 OpenAI Classifier is still under active development. However, it does a great job of detecting AI-generated content. Just like other tools, you must paste the text you want to analyze and press submit. After that, it will tell you if the content is possibly AI-generated or not.
AI Writing Check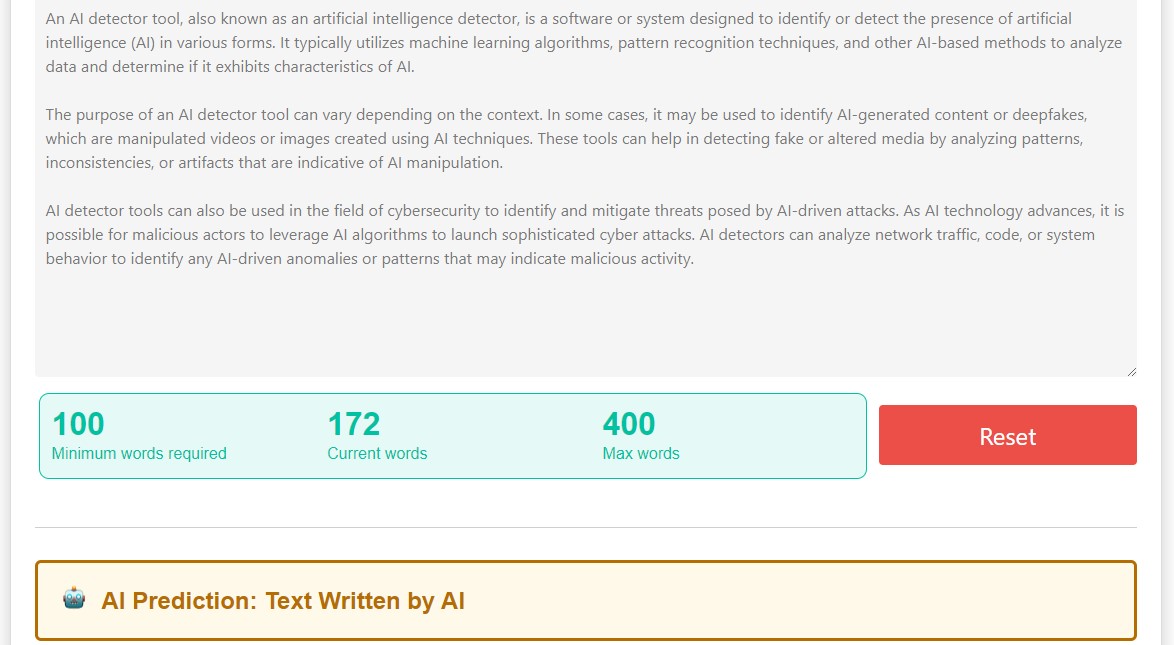 AI Writing Check caters mainly to educators who want to check their students' output. Unfortunately, you can only check for content with up to 400 words. If you need to check a longer text, you must separate the text into individual sections first. Other than that, it is still a great tool to consider. It's free to use too.
Hive Moderation's AI-Generated Content Detection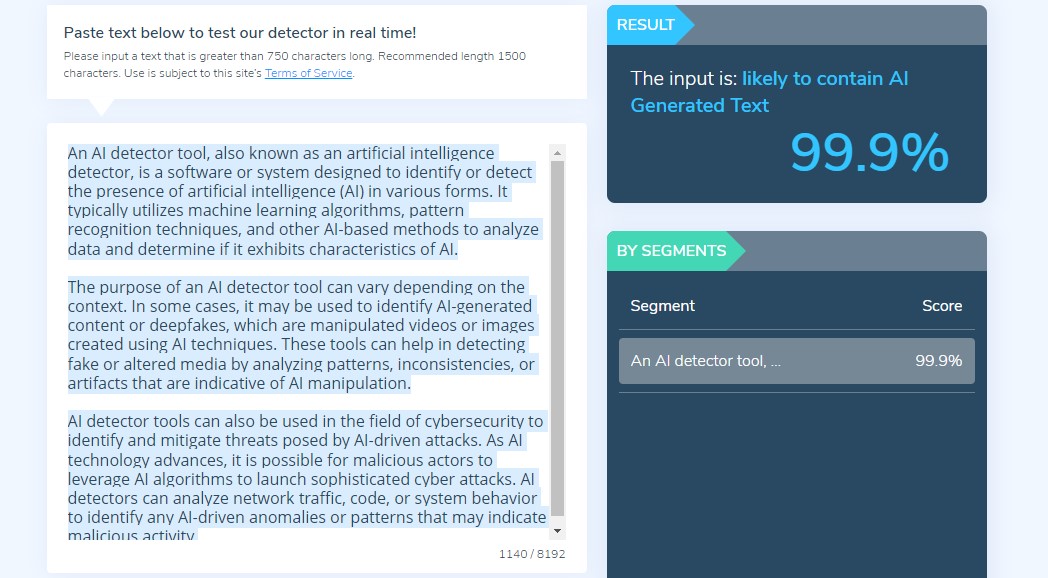 Hive Moderation's AI-Generated Content Detection is another excellent tool to consider if you're looking for a ChatGPT or AI content detector. Just like the other tools on this list, all you have to do is to paste your content in the text box provided, and it will tell you how many percent of that content is AI-generated.
But this tool stands out from the rest on this list because of its ability to scan images. With this, you can detect whether an image is AI-generated. Moreover, it provides a breakdown of the score.
→ Hive Moderation's AI-Generated Content Detection
Hugging Face's ChatGPT Detector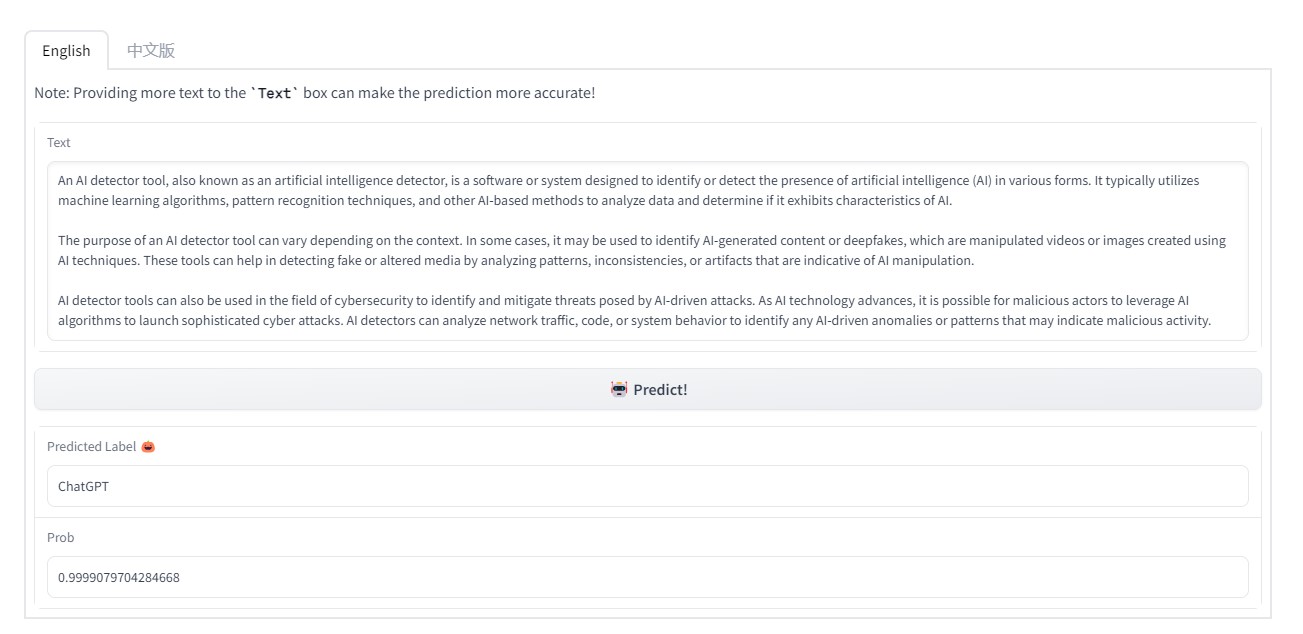 Hugging Face's ChatGPT Detector can identify the AI tool for generating the analyzed AI content. It also shows the likelihood of human content. Some weak points, though, is that it doesn't have any plagiarism checker or highlighting features. So, you can't tell which texts in the content are AI-generated.
Overall though, it's still a good tool to consider.
→ Hugging Face's ChatGPT Detector
Writer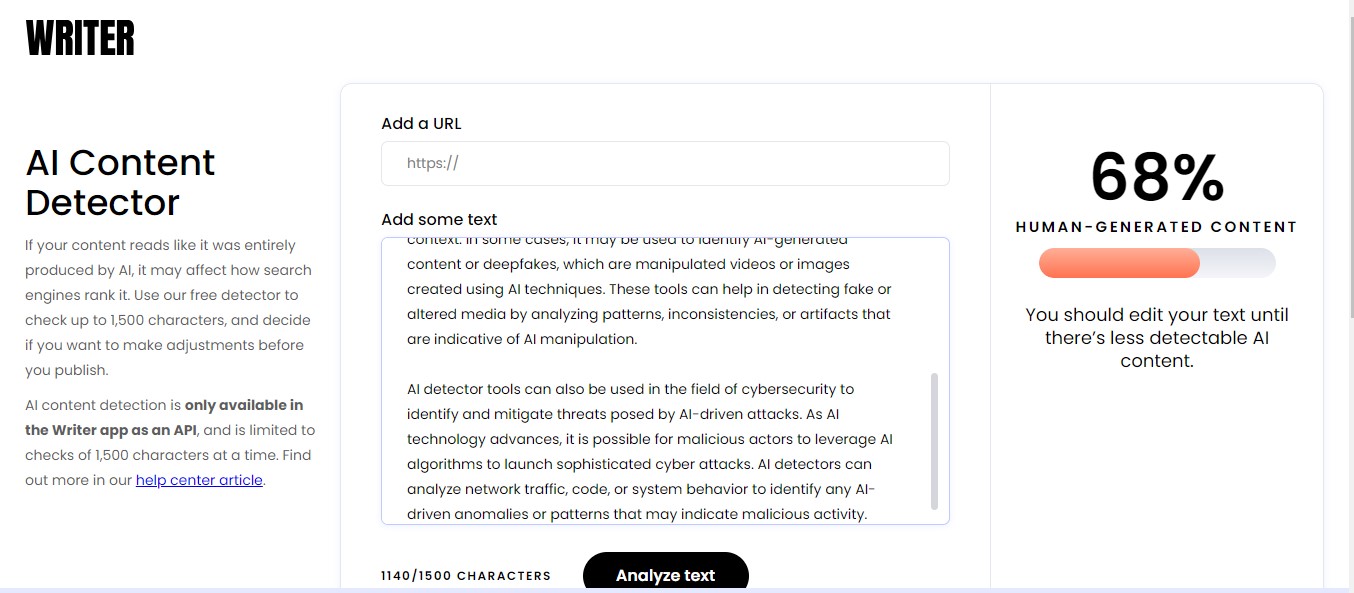 Writer can handle up to 1,500 characters of text. And you can use it for free. This tool shows how much percentage of your content is human-generated. Depending on that, it will suggest that you should edit your text to reduce the detectable AI content. This tool is different from the rest because it lets you input a URL to check too.
→ Writer
Ensure Quality
ChatGPT and AI tools sure are helpful in many ways. You can even use ChatGPT in Microsoft Excel to boost your productivity. However, abuse and misuse of such tools can also cause issues over time. Thus, checking them with ChatGPT and AI content detector tools is essential. With this list, you will surely find one that suits your needs best.
How to Automatically Save Conversations on Snapchat
Read Next