The Best Team Collaboration Software of 2022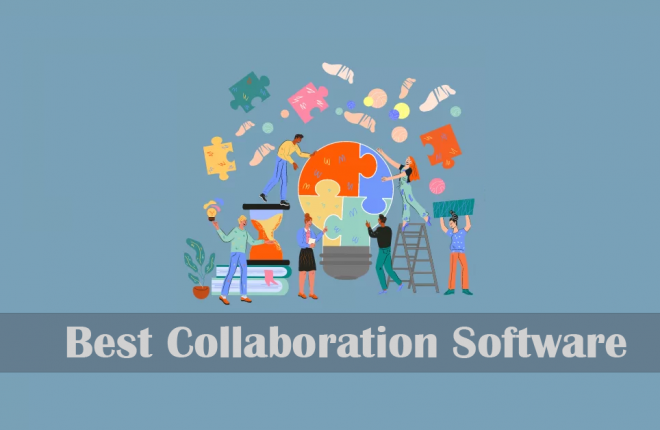 More people than ever are using collaborative tools. Businesses that depend heavily on permissions and are segregated in their operations run the risk of losing out on the greatest personnel.
Since the start of the pandemic, the use of collaboration tools has boomed. This helped many businesses to keep running even when nearly everyone is working from their homes. But, ever since collaboration tools were invented, they have already been providing a good platform for many teams to meet anywhere and manage tasks easily.
However, there are still companies that struggle with looking for the right platform for their teams, considering the number of collaborative tools today. It's understandable, though, as there is no one-size-fits-all software.
Even so, there are actually some that come with more helpful features for nearly every industry. If you can't still the right collaboration software for your team, we've compiled a quick list of the best ones for 2022. Nearly all of them are feature-packed and fit for almost any niche.
Todoist is the best to-do list app, working across all of your devices, tracking your productivity, and letting you nerd out on life organization and analysis. Todoist is really simple to use and offers apps for all popular platforms and devices.
Although the free version is excellent, purchasing the Pro level is unquestionably the best option. This is the software you need if you want to stay productive by managing your tasks either on your own or in conjunction with others.
Todoist is packed with features, but it never feels overly complicated, which is a large part of what makes it such a fantastically productive program. The interface's layout keeps things straightforward and light. It doesn't take long to learn how to use all of the app's essential features when you first start using it, including creating tasks, setting deadlines, adding comments, and marking completed tasks. Todoist, however, gains complexity and functionality as you use it more frequently.
The software is simple to configure. You start by making projects. You can distinguish between projects by color-coding them. Projects allow you to compartmentalize lists like a grocery shopping list, as well as your personal to-do list from your work-related duties. Additionally, you can make projects for one-time occasions, such as a checklist for purchasing or selling a home.
Asana is a fantastic collaboration tool that supports teams in managing various projects. Although it could seem confusing at first, its flexibility and extensive capabilities make the time and effort required to learn it well worth it.
Asana is a favorite of productivity advocates for good reason. It is a collaborative application that assists teams in keeping track of their work, including tasks, workflows, and various sorts of projects.
However, don't mistake it for a conventional, comprehensive project management platform, as it lacks capabilities like expense monitoring, budgeting, and resource management that you may anticipate in that kind of program. The finest program for managing tasks, workflows, and, yes, some types of projects is Asana. For teams who want more direction in setting up and using the app, it has lately added more structure and templates. It can bend to your will and is both graceful and flexible.
What makes it stand out this year is the new video messaging feature. With Asana's new Video Messaging tool, you can record a talking-head video of yourself demonstrating and explaining anything. Sharing that video with your team members can help you avoid having pointless meetings. Additionally, you can turn a video into an audio transcript to increase accessibility.
With Miro, you are given a vast array of tools to fill your online canvas. A special and motivational tool that makes it enjoyable to cooperate, discuss, and present your work is the end product.
Miro is a unique tool since it combines features from numerous distinct software categories into one. It combines diagramming, flowcharting, and presentation software with other features like mind mapping and video conferencing.
And it's a collective effort throughout. You can use it to sketch a concept or make a slideshow, either alone or with other people editing at the same time. With Miro, you can actually chat about how you're working while you're working or give a talk while showcasing your invention thanks to the built-in video and audio calling and screen sharing. Whether it's Asana cards or Vimeo films, you can display media that has been pulled in from other apps.
Miro sounds like a mishmash of ideas. In spite of that, it remains simple and easy to use, which makes it so remarkable.
However, you essentially need an internet connection in order to utilize Miro. There isn't much assistance when working offline. The app only allows you to access boards that are already open and loaded. While offline, you cannot create a new board or update an existing one.
Slack is a great team chat tool with lots of sophisticated features and a wealth of settings. Despite being the most expensive, it is one of the greatest. Slack is a great tool in many ways. Instead of using corporate email, users of this popular workplace messaging tool can communicate with coworkers more succinctly.
It is a good messaging app for hybrid and fully remote work situations because it can operate in real time and asynchronously. Additionally, Slack fosters a more lively environment than many other workplace communication tools, and the flexibility to finely tailor your app is a major selling point.
Despite the fact that many people enjoy Slack, there are some cons to it. It is more expensive than almost every other team chat tool available. Additionally, the program might be an overstimulating nightmare if you utilize it with its default settings. To keep Slack manageable, you must make numerous adjustments to preferences and settings.
The team must be on board before using Slack or any other workplace messaging service, and there may be a lengthy transition period. It must be used in an environment supported by organizational culture. It takes time for people to learn the ground rules of a situation. What platforms should your team use, and what kind of information should be shared? Which channels must be joined, and which can be skipped? There are various Slack tips, but there isn't just one method to use it.
One of the greatest services for project management is Teamwork, which has a robust feature set and simple UI. It's ideal for teams who manage client work because billing and invoicing are incorporated. A master's degree in project management can take two years to complete due to its complexity. It doesn't seem that difficult while using Teamwork, one of our top-rated project management software.
By providing team members with a simple interface and all the tools they require, this fantastic online platform greatly reduces the hassles associated with managing projects, all of their milestones, and all their assignments. It incorporates billing and invoicing, making it perfect for organizations that handle client business most frequently. Project managers and business owners may monitor employee time and workload, alert them when deadlines are at risk of being missed, bill clients for billable work, and do much more.
The app has a modern, clever design. It has a color theme that you can modify and is cheerful while still being professional. Also, the usage of space is suitable. All of this results in an aesthetically appealing app.
The navigation is quite simple. To view a list of projects, assign a task to a specific person, adjust a person's permission levels, add information to a task, generate a report, or start a timer to measure time spent on a task, you always know where to go.
The cost of project management software can run into the tens of thousands of dollars annually for teams. However, you don't need to spend so much to acquire the best project management app on a budget. Even the most strapped-for-cash teams may afford the superb Zoho Projects tool. While it doesn't contain every feature known to man, it does have a wide range of features.
For a monthly fee of $10 per person, the top grade of service includes time monitoring, resource management reporting, and project budget tracking. Although you can connect to other apps that offer those features, you don't get any invoicing or billing tools.
You need to visit the website and sign up for a plan in order to start using Zoho Projects. Each new account, as was already mentioned, begins with a free trial. The browser version of Zoho Projects performs best, but there are also mobile apps for Android and iOS that you can use to continue working even when you're not at your computer. However, there are no native desktop applications.
The website has a welcoming, modern appearance. If you are familiar with the majority of common internet applications, such as webmail, you should have no trouble navigating Zoho Projects in a matter of minutes. The site may be navigated quickly and easily without spending much time learning all of its extensive features. For small companies without an on-staff project manager, this usability and simplicity are essential.
The easiest database tool you'll ever use is probably Airtable. It makes it simple for you and your team to organize and collaborate on any type of information.
A relational database tool and online collaborative tool, Airtable is both. Before you dismiss it as uninteresting because it uses the word "database," be aware that Airtable is simple to use and has a ton of flexibility.
You can use it to organize and track inventories, manage tasks, arrange events, and much more. It stands out from other, more established database management systems thanks to its user-friendly interface, clear language, warm color schemes, and practical iconography. Additionally, it is incredibly configurable.
Apart from two key distinctions, Airtable and collaborative online spreadsheets have a lot in common. First, Airtable enables you manage databases rather than sheets; databases are more complicated than spreadsheets, for lack of a better term(Opens in a new window). Second, you don't need to be an Excel expert to utilize Airtable because it is much more user-friendly.
At its core, Airtable is an internet tool for collaborative database creation and editing. A database is nothing more than a collection of items arranged in one place. For instance, you may use Airtable to organize your work and update website articles. You may begin by compiling a database of all the articles on your website that require updating.
The fields for the article's name, URL, original author, publication date, due date for updates, and other information are included in the database records that you construct. After that, you could provide editors and writers access to the database so they could give themselves tasks. They could also perhaps check a box next to each database entry when they are finished amending an article.
LiquidPlanner is a powerful online tool for managing tasks, workloads, projects, and more. It can automatically and dynamically schedule work for your entire team even when circumstances change.
An incredibly sophisticated and potent project management tool is LiquidPlanner. It's also easier to use, but "easier" is a relative term following a significant revamp of both its code base and interface in 2021.
It still takes a lot of time to learn the program, set up projects, and — hopefully — one day master it. Although LiquidPlanner is categorized as project management software, it is capable of much more. It assists teams in scheduling and tracking not only work but also people, outside partners, and resources like equipment. The result is worth it if you dedicate yourself to understanding LiquidPlanner, especially for large firms managing numerous projects and big teams.
However, there isn't a general Help search bar in the LiquidPlanner UI, unlike in some other programs, and having one would be extremely helpful for an app of this complexity.
Best Google Chrome Extensions
Read Next