Skype 5.0 for iPhone is the Best Version Yet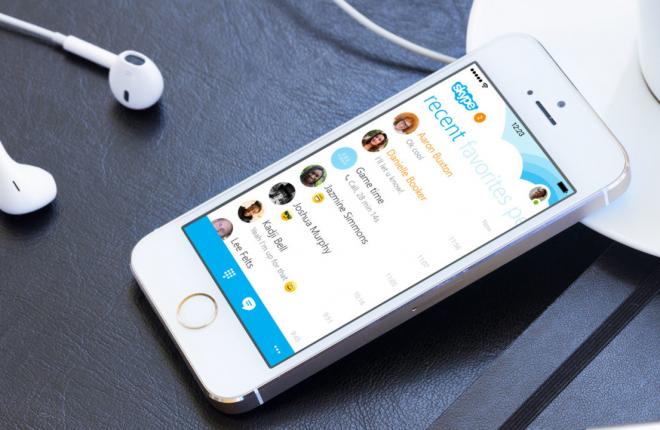 Microsoft's Skype team today is launching Skype 5.0 for iPhone, a complete ground-up rebuild of the video, audio, and chat communication app. We've spent some time with a pre-release version of the app and, as frequent Skype users, we were glad to see some pretty impressive performance improvements alongside a refreshed design.
With the new version, Microsoft is targeting three key attributes that differentiate Skype 5.0 from its predecessor: speed, navigation, and intelligence. We'll take a quick look at each of these areas vis-à-vis the currently shipping Skype 4.17.
Speed
Depending on how you use Skype, some of the changes in Skype 5.0 may not be important to all users. In terms of performance, however, everyone who launches the new app will notice the difference. On our test iPhone 5s, a cold launch of Skype 4.17 takes about 5 seconds, while a cold launch of Skype 5.0 takes just over 1 second. That's not huge for those who only use the app occasionally, but frequent Skype users will appreciate the improvement.
In terms of using the app, Skype 5.0 also feels noticeably snappier (cue the Safari jokes), with recent chats and contact information pages loading nearly instantly. Skype 4.17 was no slouch in these areas, but consistently felt a half second slower than its replacement.
Navigation
Related to the speed improvements is smoother navigation, which makes using the app faster and easier with just a swipe of a thumb or finger. Those who have used Skype on other platforms will instantly recognize the changes; Skype 5.0 brings the same modern interface to the iPhone that Microsoft has already introduced on Android and Windows Phone. Major sections are listed at the top of the app and can be changed with a swipe to the right or left. As a user swipes, an aesthetically pleasing cloud animation flows in the background, but disappears to make room for vertical scrolling.
Users can enter chats and calls with a tap, but quickly navigate back with a swipe. Couple this with the speed improvements mentioned above and you end up with a slick overall experience.
Perhaps best of all, group chats can now be started right from the mobile app itself, something that has been a frustrating omission in previous versions. iOS users could always participate in an existing group chat, but until now those groups had to be created on the desktop version of Skype (or one of the already-updated mobile versions on other platforms). With Skype 5.0, users need only to tap on the chat button and then select the desired participants from their contact list. A new Favorites list, one of the main navigation categories, also makes the process of contacting friends and family easier and faster.
Longtime Microsoft watchers will recognize the experience as distinctly Windows (although it's fair to say that this style of navigation dates back to the Zune), but the overall style, color palette, and "buttonless" selection points all fit nicely into the iOS 7 era of Apple's mobile design.
Intelligence
As we noted earlier, the look of Skype 5.0 for iPhone has already found a home in the Skype apps for Android and Windows Phone. By bringing this updated version to iOS, the Skype team is one step closer to unifying the Skype experience across the multitude of devices and platforms that users of the service access every day.
But a unified experience is more than looks, and this new version of Skype for iPhone introduces a smarter foundation, one built with the understanding that the average Skype user is likely accessing the service from more than one type of device.
For example, if you participate in a group chat on your desktop and later open the chat on your iPhone, the new app will sync your reading position in the chat and take you right to where you left off. Further, if you receive and clear a notification on one device, the notification will be automatically cleared on your other devices, so that you're not stuck re-reading notifications just because you switched devices.
Notifications are now also manageable on a per-chat basis, giving users the option to disable them for less important chats. This is a stark contrast to the all-or-nothing approach to notifications found in Skype 4.17.
The Future
Skype's refresh on the iPhone is not surprising in light of the current climate of mobile messaging apps and services. Once the biggest name in town, Skype now finds itself challenged by an increasingly capable Apple Messages app, Facebook's WhatsApp, Snapchat, and a multitude of smaller services, yet Skype 4.17 was built on a code base that was more than 4 years old. For perspective, that makes it about as old as iOS 4. As Skype's Eric Lin told us, "I can't even remember what iOS 4 looked like or did, that's how old it is."
And so Skype 5.0 isn't just a new version for the sake of a new version, it's a complete rebuild that will act as a foundation for the future of the service on iOS. In fact, the company is already looking ahead to iOS 8, and Skype 5.0's new code base will allow it to more quickly integrate the operating system's new features once it launches this fall.
Skype 5.0 for iPhone, alongside its counterparts on Android and Windows Phone, is also key to the company's goal of "putting conversations first." From the ability to start both individual and group chats right from the phone, to the ease of managing existing chats, to the overall smooth and fluid user experience, the new Skype is really about getting out of the way. As Mr. Lin characterized it, "we don't want people to launch Skype to use Skype, we want them to launch Skype because it's the best way to communicate with their friends, family, and colleagues."
And our experience with the new app has thus far shown that Microsoft's Skype team has largely succeeded in its mission. At TekRevue, we rely on Skype every day, and Skype 5.0 for iPhone is the best version yet. The only thing missing from the new version is support for SMS text messaging, which the company removed in order to simplify the code and experience. With a full-featured SMS and MMS experience in Apple's Messages, however, we can't say that we will miss the feature in Skype.
Those looking to try out the latest version of Skype for iPhone should be able to find version 5.0 hitting the iOS App Store shortly, although readers should note that the iPad-optimized version currently in the App Store is still version 4.17. The company promises that an iPad version of Skype 5.0 is on the way, with a release date "in the coming months."
Update [2014-06-16]: Many readers have asked about the ability to clear chat history, which is indeed missing from Skype 5.0. We asked a Skype spokesperson about the omission, and the company provided the following statement:
As with all versions of Skype, we will continue to update Skype for iPhone to provide the best possible experience for our users. We understand your concern regarding the disappearance of this feature and will be re-introducing it back into the app shortly. As always, please keep the feedback coming and help us create the best Skype experience for you.
Update 2 [2014-06-19]: Microsoft updated Skype to version 5.1 today. The ability to remove recent chats has returned (press and hold on the conversation in the "Recent" list to clear it), along with an option to edit sent messages (press and hold on the message in a chat to edit it). Users can now also add favorites directly from the "Favorites" screen on the hub, and the update notes cite VoiceOver improvements and general fixes.
Images in this article not captured by TekRevue were provided by Skype. The multi-device mockup is courtesy of MediaLoot.
Parallels Access Updated to Support iPhone and Android
Read Next