How To Watch the NFL on Kodi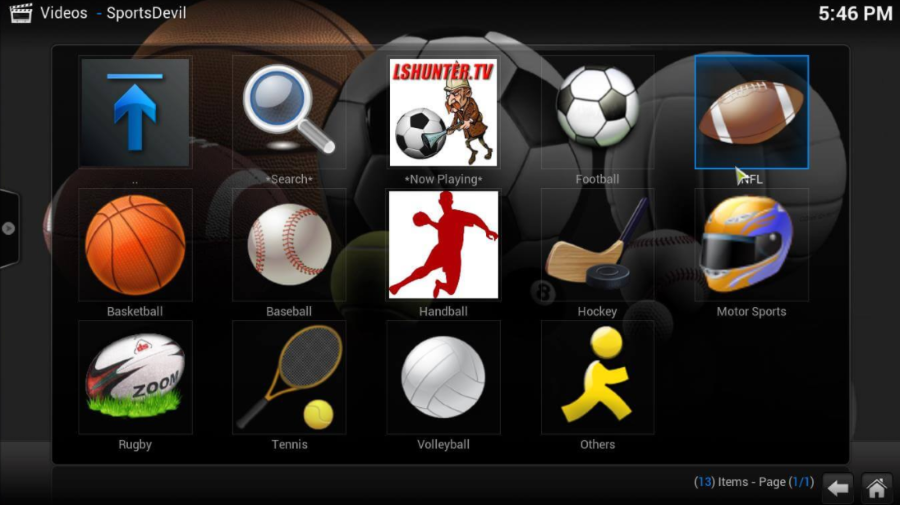 It's autumn once again, and that means we're deep into the football season once again. Though there's been a fair share of controversy around the NFL this year, it's still some of the best sports action you can find on television, making for an entertaining watch and a great time at the bar or with your local friends. If you can't make it to the arena to cheer on your team in person—or you leave out of town, where it can be difficult to watch your local team's games—it can be a disappointing time of year. Who wants to be away from the action and excitement of watching your team head towards the Superbowl when you have friends and family who get the opportunity? And while the NFL is more than ready to sell you NFL Game Pass, that doesn't allow you to watch regular season matches live. Meanwhile, NFL Sunday Ticket is only available through DirectTV, and NFL Mobile is only on Verizon phones. It can be a real pain to try to watch your favorite NFL games online when the experience is so fragmented, and that's why many users turn away from paying for streaming options through official means.
Luckily, if you're looking for a new way to stream your favorite team's games, we've got great news for you. Kodi, the most-popular open-source home theater software on the market, makes it easy to watch your favorite media from dozens of different sources. Originally launched over fifteen years ago as XBMC, Kodi has a fantastic interface, a great theming engine complete with tons of options, preferences, and appearances, and the ability to add applications from multiple sources using software repositories. This makes Kodi one of the most powerful media streaming applications available online, especially in a post-Windows Media Center world, and if you're looking for something with plenty of power behind it, Kodi is the app for you. The app is available on dozens of different platforms including Windows, macOS, iOS, Android, and even Raspberry Pi.
Once you get Kodi up and running, there's a whole platform of products and add-ons on the web that will allow you near-unlimited access to all sorts of content, both live and recorded, over the internet. While not all of these sources are considered legal—many of them could be considered piracy and potentially be breaking copyright laws—typically users who use a VPN won't have any issues with using Kodi over their network. And since Kodi is available on so many different platforms, it's easy to get access to your favorite games, both live and recorded, without having to pay extravagant fees to some big cable or satellite company. Let's take a look at how to use Kodi and some of the best NFL-related add-ons that will help you watch the game every Sunday, Monday, or Thursday.
Installing Kodi
As we mentioned above, Kodi is able to be installed on several different platforms, with some featuring far easier installation methods than others. On certain platforms, including Android and Windows 10, Kodi is actively available on each platform's app stores, with updates and features delivered directly through the platform of your choice. Android and Windows also have installation files for their devices, including a .exe file for Windows 10 and a .apk file for Android. That .apk file is useful for installing on platforms like Android TV and especially for installing onto platforms like Amazon's Fire Stick, where you can't get access to Kodi from directly in the Amazon Appstore but can install outside .apk files because the device is based directly on Android. We have a full list of instructions for installing Kodi to your Fire Stick here, and it's a pretty quick and easy installation compared to some other boxes on the market today.
Installing on MacOS is just as easy as installing any other app on the platform, though you'll need to download the .dmg file from Kodi's website to complete the installation, since it isn't available for download directly through the Mac App Store. Same goes for Linux, which has an installation file available on Kodi's website. As far as using Kodi on a platform like iOS, you'll have to jailbreak your device, something that isn't possible in newer devices thanks to increased security within newer versions of iOS. That doesn't mean that it's impossible; rather, it's simply difficult to jailbreak the device simply to use Kodi on your phone. You'd be better off buying something like Amazon's $150 10″ Fire HD 10 tablet, which has an excellent screen and solid speakers for the price and allows you to install Kodi using the same method used with the Fire Stick detailed above. As for Raspberry Pi, you'll have to consult the Kodi website proper for tips on installing on that platform.
You can find Kodi's Windows Store listing here, the Google Play Store listing here, and of course, Kodi's own Downloads page on their website here. On most platforms, installing Kodi is as easy as installing any other application, with little to no work to put in on your own time. On other platforms, you'll have to do some configuration like outlined above, but once you've set up the platform on your device, you're typically good to go on your end.
Add-ons That Allow You to Watch Kodi
If you're unfamiliar with Kodi, installing add-ons through the service can seem confusing or overly difficult, especially since Kodi doesn't include many installable add-ons by default. No, in order to install applications to use within Kodi, you have to use what are called "repositories," or repos, which act like app stores for Kodi with platforms sourced from the web. There are dozens, if not hundreds of repositories available on the web for use within Kodi, and it can be difficult to sort out which ones are worth your time. Here's our guide, with our top recommendation and some additional add-ons that you should absolutely check out. Not all of these apps are presented equally, and you should definitely try each of them out before deciding which is best for you.
Our Recommendation: SportsDevil
There are a surprising amount of Kodi addons that allow you to watch NFL streams, but none of them beat the flexibility and ease of access provided by SportsDevil. With live streams provided from channels like ESPN and Fox Sports, you're bound to find something to watch on the service, and although streams often don't go live until the start of the game, SportsDevil still consists of the easiest, most flexible way to watch the NFL and dozens of other posting events. Let's take a look at how to install SportsDevil on Kodi, so that you can stop bothering your friends or dealing with crowded bars on game day. Here's our full guide to getting SportsDevil up and running on Kodi.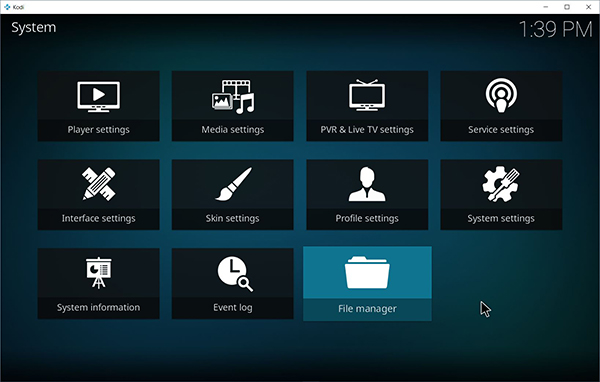 To install SportsDevil, you'll actually need a specific zip file from the creators of the application, rather than using a repository to install the platform. By staying independent of repositories, the creators of SportsDevil can more easily update their application in order to ensure that everything is up and running properly. Start by downloading the most updated zip file from here. This was first pushed out in August 2017, and we'll be sure to add additional downloadable files as they become available. If you've installed a repository, you'll know that you typically enter a URL location into the file browser provided by Kodi in order to download the application, but unlike that, we'll be adding a local folder location into Kodi to browse through. Start by opening up your file browser within Kodi by clicking on the Settings icon from the Kodi home screen, then select the File Browser from the bottom of the icon list.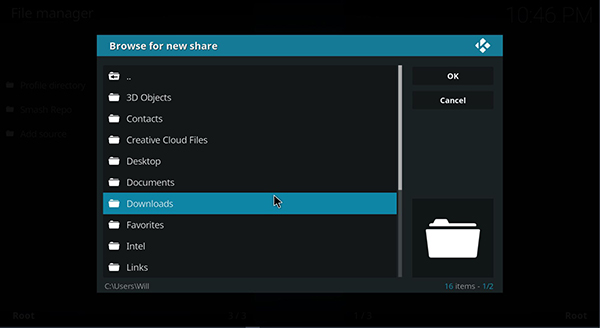 Once you're inside the file browser, double-click or tap on the "Add Source" menu to open up the source browser. This will allow you to add a new source for Kodi to use to find your zip files later on in the installation guide. Basically, we need to tell Kodi where that zip file you downloaded is located on your device. For most people, it'll be found inside your downloads folder, the location of which will change depending on which platform you're using. Some hardware sources, like the Fire Stick, may experience difficulties in using this method, though there's an alternate way to install SportsDevil on your platform that we'll mention down below.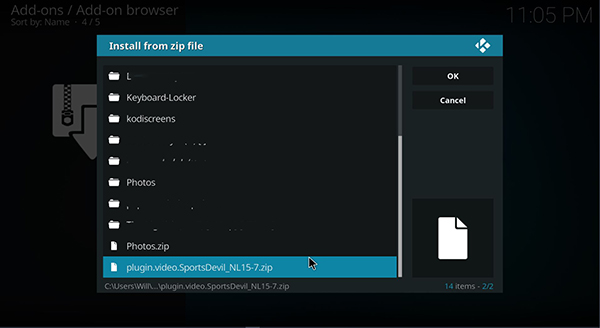 Back to the method at hand: once you've opened the "Add Source" menu, find the folder using the browse method and click okay. It's important to point out you aren't looking for the actual zip folder you downloaded, just the folder that contains the file. For example, if your browser saves all your content to your Downloads folder, that's the folder to add as a source to your device. Once you've done that, give your new source a name (or leave it at the default setting) and click out back to the main menu of Kodi. This time, select Add-ons from the main menu and enter the Add-on browser by clicking on the box icon. Select "Add from zip file" to open up the file browser from before, this time inside of the folder you selected earlier. If you haven't already enabled Installations from outside or unknown sources yet, Kodi will prompt you to do so. Select the SportsDevil zip file from your folder and wait for it to install.
Once you select the zip file inside your browser, you'll immediately see SportsDevil begin to install on your device, first installing all of the corresponding addons and additions before finally installing the actual application. Head back to the Kodi add-on menu and select SportsDevil from the list of add-ons on your Kodi device. Here, you'll see a ton of options inside of SportsDevil for which streams and videos to choose, including pre-broadcast games and live streams of ongoing action. It's important to note that SportsDevil spawned outside of the United States, so when you're browsing for a football game, you'll want to look for US-specific games and not "Football" in the folders. More often than not, clicking on a "football" stream will lead you directly to a soccer game, not what most US viewers will be expecting.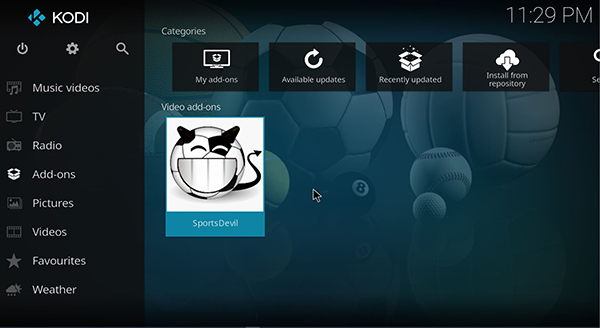 Regardless, the easiest way to find a stream is to use the Live TV or Live Sports folders and to browse through the sources available until you find the correct channel broadcasting your specific game. It can take some time to find the proper stream, so don't wait for the last second to find the correct stream for your favorite sports game. Instead, make sure that you've found the link prior to the game starting (typically, you can find the stream running during pregame). If a link is dead, you'll receive a "Content not available" warning. Occasionally, streams can be overpopulated and crash; stay vigilant and stay patient. Overall, we found SportsDevil to be imperfect, but a solid way in watching your favorite NFL games on Kodi. Don't let this one pass you by—it's a solid offering.
Finally, if you're using a device that can't use a normal file browser, like an Apple TV or an Amazon Fire Stick, you can still install SportsDevil by using the Colossus repo. Simply head back into your file browser and click "Add Source." Here, you'll have to add a new URL source to your instance of Kodi by selecting "Add URL source" inside this menu. Enter the following URL inside of your settings menu: "http://kod1help.esy.es/kod1″.From here, head into "Install from zip file" inside of the add-on browser, select Kod1 from your list of repos, select "Kodi Repos" from the list (it's fourth down), then select "Colossus Repo," and finally, install the zip file contained within this folder. This will install Colossus onto your device, where you can then install SportsDevil without the use of a file browser on your device.
Other Add-ons to Check Out
Of course, SportsDevil isn't the only add-on available for Kodi that lets you check out NFL games both live and on-demand. There are a ton of great services available for Kodi that let you watch games both live and on-demand. Some of these services require you to have a subscription or pay some form of fee to access the content, while other platforms are completely free of use. Below you'll find some of our other favorite picks for streaming NFL games straight to your Kodi television.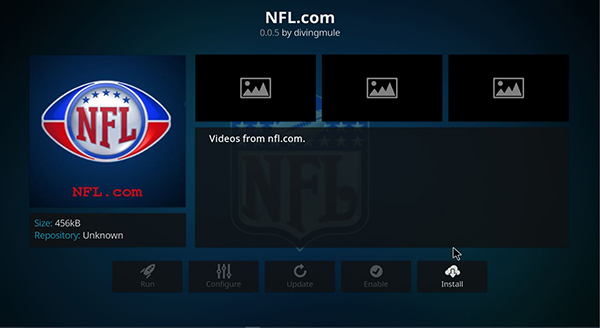 NFL.com: As weird as it may seem, the NFL has built their own add-on for Kodi, and it's available directly within Kodi's standard repository, meaning any user can download it without having to download any additional files or repositories. Just jump into the basic add-on market inside of Kodi, select "Video Add-ons" from the list, and find NFL.com under the N section of the list. While you won't be able to view live games from this menu, you can find plenty of supporting content, highlight reels, and more information on sports scores, your favorite teams, and more.
Channel PEAR: Channel PEAR is a collaborative, cloud-based media platform that features an incredibly supportive community that helps maintain live video feeds available for use around the world, including for channels like ESPN and other national affiliates. Like other streaming services, including SportsDevil, this allows you to watch your favorite channels while on the go or on your own television without having to pay for cable, though its legality can be questionable at best. Still, it's got some great community support behind it, so definitely do not count this one out.
SportsAccess: SportsAccess is another Kodi addon that shows NFL games streaming online, though thanks to the payment options, we don't think it's a viable option for most Kodi streamers. You need an account to use this app but that only takes a second here and then offers a huge amount of content. You do pay for it though and have to jump through a few security hoops to get access. Payment is only via Bitcoin which may alienate many users.
cCloud TV: cCloud TV is a streaming content app for Kodi that also happens to host video feeds from the NFL. It's not directly sports-oriented necessarily, but it does show footage from the channels that play games, including ESPN and NBC. There are hundreds of channels available through cCloud TV from all over the world making it a great option to use if you're looking for a great way to jump into the streaming game with the NFL without paying hundreds of dollars a year. Just note that it isn't quite as legal as some of the other options we have on here; make sure you have a VPN setup before using this app.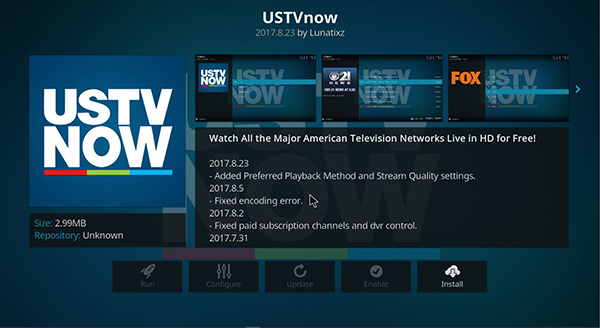 USTVNow Plus: File this one under another service provider that falls completely under legal use, USTVNow is a service designed for military men and women, along with basic cord cutters, that allow users to access basic television stations like CBS and Fox that often broadcast specific football games throughout the United States on Sundays and on weeknights when a game is occurring. One major problem with this relates to how these games are often presented locally, with USTVNow unable to present users with a local feed from their own station. Instead, you're stuck with a feed from Harrisburg, PA, the capital city of Pennsylvania which likely broadcasts Philadelphia Flyers games on their local channels. Still, this is better than nothing, especially for a free app, and users can even pay a monthly fee to gain access to cable channels. USTVNow is available in the basic Kodi Video Add-on store.
Castaway: Castaway doesn't always show live games but is a replay specialist. It's an older Kodi addon and sometimes features live streams and other times doesn't. When it doesn't, there will be lots of replays available to keep you satisfied. That said, most of their streams consist of torrenting options and therefore may not apply to users looking to take advantage of live streams of their favorite games. If you happen to be away from the TV during the Big Game though, it's easy to find a streaming option on Castaway the next day. You can find Castaway hosted on Github here; it used to be hosted on Fusion, but due to the copyright strikes against TVAddons, it's no longer available for download on that platform.
One Last Note
Finally, as always, it's worth noting that these streams often violate copyright law in the United States and can go down at anytime. It's why we'd also like to bring our reader's attention to the NFL stream community on Reddit, which hosts direct links to the NFL games of your choice that you can view directly inside your browser. While their subreddit seems empty at first glance, pop in on any sort of Sunday afternoon to see the game list populated with links and streams for viewers just like yourself. Not everyone wants to crowd around a computer to watch the game on a web browser when you can use Kodi on your television, but it's worth it if only for the additional coverage you can get if you're having trouble finding your game inside SportsDevil or the Kodi add-on of your choice.
***
It's unfortunate that, despite living in the year 2017 where it seems every movie, television show, and song can be available to watch at any time for a small monthly fee, sports behemoths like the NFL and other companies make it massively difficult to watch any sort of content without jumping through hoops and paying $20 or $30 bucks a month on top of your already-high cable or internet bill. Luckily, Kodi can help take care of your NFL streams through the 2017-2018 season, and can even make something like the Super Bowl a cinch when watching online—something that isn't exactly known for being easy. So sit back, grab a drink, and relax, because with Kodi and some of your favorite media add-ons, you won't miss a minute of the action.
How To Install Covenant on Kodi
Read Next