How to Create a WhatsApp Poll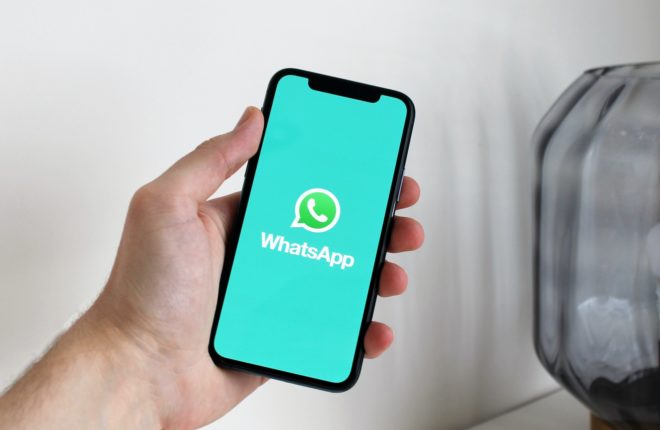 Like considering opinions before making a decision? A WhatsApp poll is an engaging way to seek opinions from friends and family without wasting time. It is also an effective choice to make a harmonious decision for a group based on majority preference. You don't need to put your hands on any complicated WhatsApp tips and tricks to use this feature. Instead, you can create a poll in any WhatsApp conversation with multiple answers to allow participants to choose their preferred option.
Below is everything you need to know about creating a poll on WhatsApp.
What to Know About Creating Polls in WhatsApp
Before you start creating polls in WhatsApp, below are a few things you should keep in mind.
WhatsApp lets you create polls in both 1-to-1 and group chats.
Each poll can have up to 12 options. You can take a look at responses to come up with a final decision.
By default, WhatsApp lets you select only one option in a poll. However, you can change this behavior to select multiple options.
You will get a notification from WhatsApp for the votes, though it will be limited to one per opinion.
How to Create a WhatsApp Poll on Android and iPhone
Creating a well-thought WhatsApp poll will only take you a few minutes. Here are the steps you can follow to create it:
Launch WhatsApp from your home screen or app drawer and open the chat in which you want to create a poll.
Tap on the paper clip icon on the right side of the text box on an Android phone. If you are using an iPhone, tap on the file option.

From the popup menu, select Poll option.

On the Create Poll screen, type your question in the Question field.
Once done, type the options for your question in the Options section.

If you want the users to choose multiple answers, turn on the Allow multiple answers toggle.

Tap the send icon at the screen's bottom right.

Once sent, your poll appears in the respective group chat window, and all group participants can vote for their desired option(s). Also, you will receive a WhatsApp notification whenever someone votes for an option.
How to Create a Poll on WhatsApp From Your Desktop or Browser
Creating a WhatsApp poll on your web browser is as easy as creating it on a smartphone. Simply follow the below steps.
Open WhatsApp Web in a new tab on your browser and log in to WhatsApp.
Open the chat window in which you want to send a poll.
Click on the (+) icon on the typing field's left side.

Select the Poll option from the popup list.
Type your question in the Question field on the Create Poll screen.
Next, type the options for your question in the Options section.
Turn on the Allow multiple answers toggle if you want them to choose multiple answers.
Tap the send icon at the bottom right of the screen to share your Poll in the WhatsApp chat.

How to Track Your WhatApp Poll
Knowing your WhatsApp poll responses and keeping track of votes is easy. All you need to do is to tap the View votes option at the bottom of your poll. You can find all the poll responses under the Poll Details section. It is also possible to see who voted for which option in a WhatsApp poll.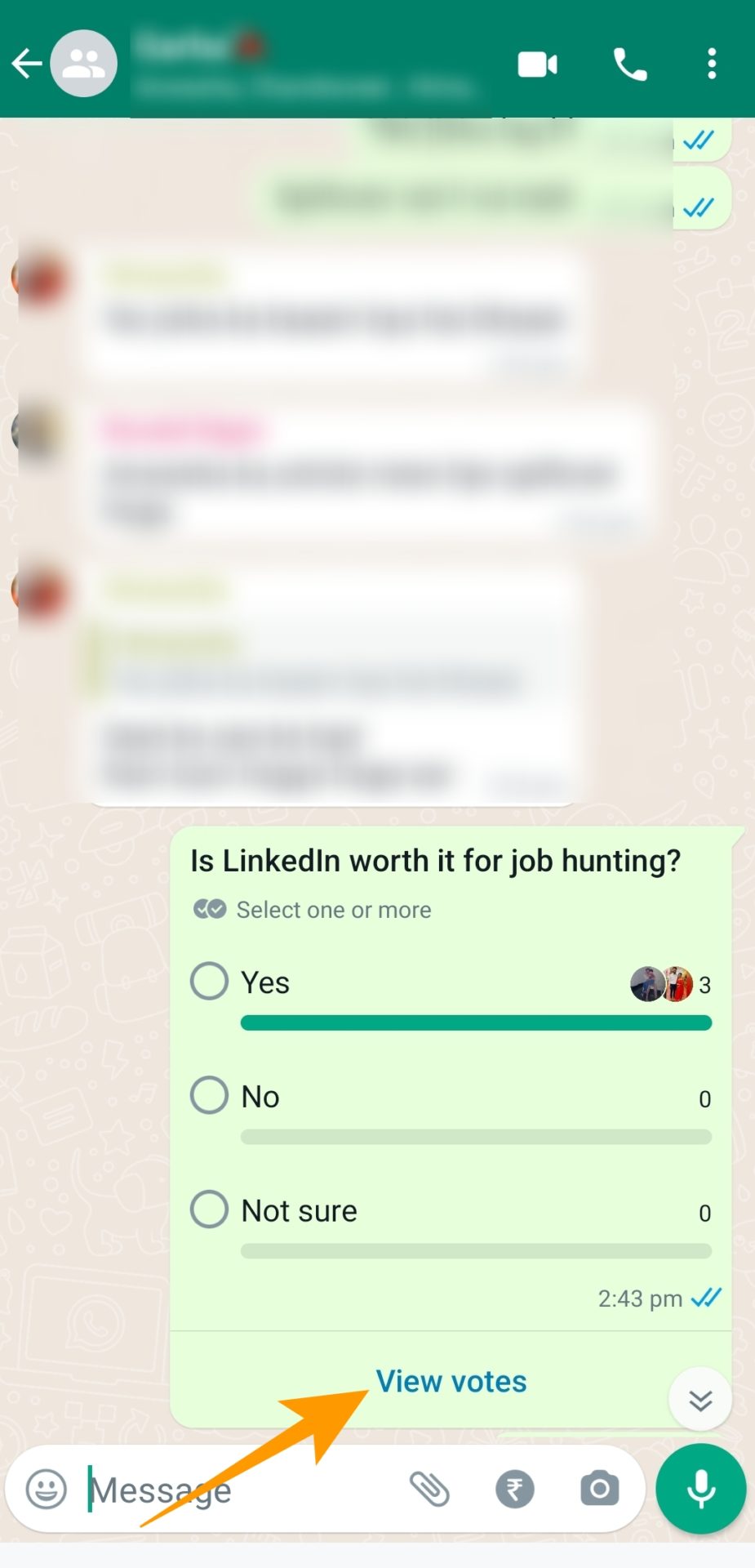 If you want to track the responses of any past poll, you can type the poll question or its keyword in the search bar. You can filter the search results by tapping Polls under the search bar. Once you find the poll in a respective chat, you can view responses under the Poll Details section of that poll.
How to Use WhatsApp Poll in Your Routine Life
As stated earlier, a WhatsApp poll can help you ask for opinions while making decisions for a group with questions like "Which movie should you all watch on a movie night?" or "Which party theme to choose for a birthday celebration?" or so.
While a WhatsApp poll is an excellent option for a larger group to decide on something, it can be used to make interesting observations. For example, if you are interested in customer behavior, you can create a poll to know users' opinions about a product or ask about their experience with a particular service. This way, you can leverage polls to make observations with responses through a WhatsApp group with 100 participants.

You can also use WhatsApp polls for fun and go with engaging questions like "Which household chore do you want to avoid for your entire life?" or "Which is your favorite music genre?" Such polls can be a conversation starter and an icebreaker for a larger group of people.
Do remember that while you can edit sent messages on WhatsApp, it is not possible to make modifications to a poll after it has been created.
WhatsApp Polls Can Help Make Group Decisions Easier
WhatsApp has evolved with multiple functionalities after its acquisition by Meta, such as hiding your WhatsApp chats, making payments, and more. Taking about the WhatsApp poll in particular, the feature allows you to interact with your family and friends in a fun way and make decisions collectively for a group.
Given the easy creation process, you can create a poll within a few minutes and use it for personal and work purposes. So, begin creating your poll now and watch responses pouring in.
FAQs
Q: How do I send a poll to multiple contacts on WhatsApp?
A: WhatsApp doesn't allow you to copy and send a poll from one chat to another. So, the only way to send a poll to multiple contacts is to create it individually for each chat and send it.
Q: How to fix the WhatsApp poll not showing?
A: You can look at the group setting to fix the WhatsApp poll not showing. If the group setting is "Only Group Admins", you cannot send anything to the group, including the Poll. However, if that is not an issue, you can also try clearing the cache to remove saved settings and temporary files.
Q: Can the WhatsApp poll have multiple answers?
A: Yes, WhatsApp polls can have multiple answers. Before sending the poll, ensure the option "Allow multiple answers" is toggled on.
How To Find and Use Snapchat's Anime AI Lens
Read Next