How to Move Your Netflix Profile to a New or Existing Account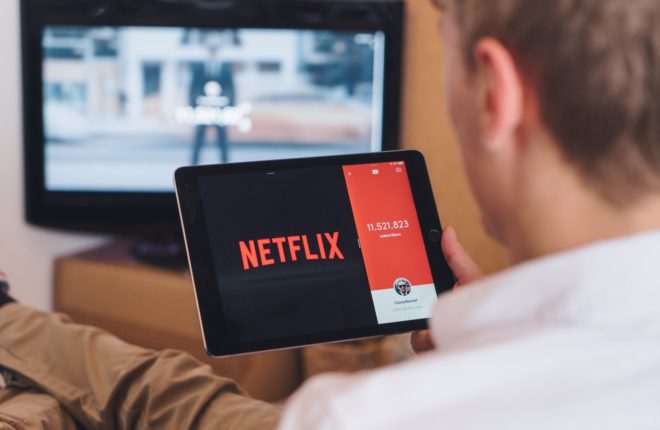 With Netflix cracking down on password sharing, gone are the days when you could share your account with your friends and family. Now, if you are finally ready to pay for your own Netflix account, you may be dreading the fact that you'll lose access to your existing watch history and other details. Thankfully, Netflix lets you transfer your profile from one account to another, making your life easier. Follow this guide to learn more.
When you move your Netflix profile from one account to another, it will move your watch history, game saves, recommendations, and more to the new account. So, if you have finally managed to take some time out from watching amazing shows on Netflix, move your profile to a new account before Netflix cracks down on your existing account due to password sharing.
How to Enable Profile Transfers on Netflix
Before you can transfer profiles on Netflix, you'll have to turn on the feature. This is only possible from Netflix on the web, as the option is not available on the mobile or tablet apps.
Open Netflix on your browser and log into your primary profile.
Hover over your profile photo at the top right.
Click Account.
Scroll to the bottom and click Turn on profile transfers to enable the feature.

Click Allow or Turn Off Profile Transfer, depending on your current setting.


You can do this as often as you want, so don't worry about limits. However, you need to wait 2 days after enabling profile transfers before you can actually do the migration. If you want to do it instantly, open the email that your Netflix is tied to. Find the email from Netflix about profile transfers and click on the Enable instantly option.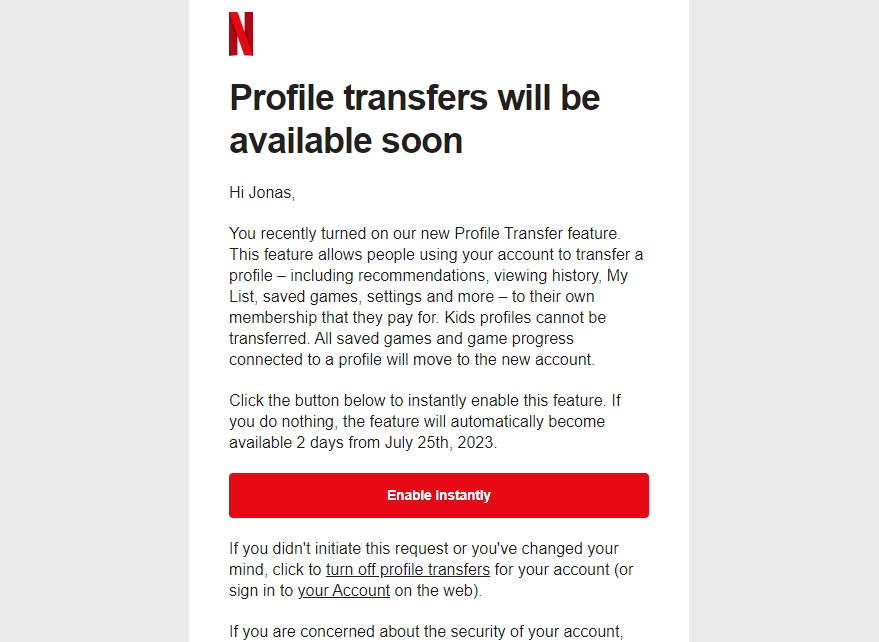 You do not need to enable profile transfers on the Netflix account to which you are migrating your profile to.
How to Transfer Your Netflix Profile to a New or Existing Account
Before you transfer your Netflix profile to a new account, you must know about the following pre-requisites:
The profile is on an active Netflix account.
It is not a

Kid's

profile.
PIN protection is disabled (if it has a PIN, remove it and then transfer).
No email address should be attached to the profile, i.e., you cannot transfer the primary profile.
If you have that all covered, here's what you must do next.
Open Netflix and log into your primary profile.
Hover over your profile photo at the top right.
Click Transfer Profile.


Click Start Profile Transfer.
Toggle A New Account if the profile is used to set up a new account. If it's being transferred to an existing account, toggle An Existing Account.


Click Next.
Input the email and password of the new account.
Click Next.


Confirm the transfer.
Your profile will then automatically appear on the other Netflix account. However, your existing profile will remain as is, so you'll have to manually delete it from your old Netflix account.
Netflix Making Creating New Accounts Easier
This simple feature from Netflix makes it easy to create a new account when your existing account is cracked down upon for password sharing. The process might be lengthy and complex, but it's much better than starting Netflix anew without any of your preferences saved. Alternatively, you can clear your Netflix viewing history and delete your current Netflix account to start afresh.
FAQs
Q. Can I delete transferred Netflix profiles?
A. Only the account where the profile is transferred to can delete it. Even though transferred, the profile is still available under the Manage profiles screen and needs to be deleted manually.
Q. What data will be shared when transferring profiles on Netflix?
A. According to Netflix, the data shared will be recommendations, viewing history, My List, game saves, settings, and more.
Q. Can I transfer my profile to a new account on Netflix?
A. Yes, you can use the profile to start a new account. It is useful for those who were sharing the password with others and now want to have their personal account.
Q. What happens to the profile on the original Netflix account?
A. The profile connected with the original Netflix account stays and cannot be transferred. You'll have to manually delete your old profile.
How to Manage Your Instagram Notifications
Read Next