Google Nest Hub vs. Amazon Echo Show: Which Should You Pick?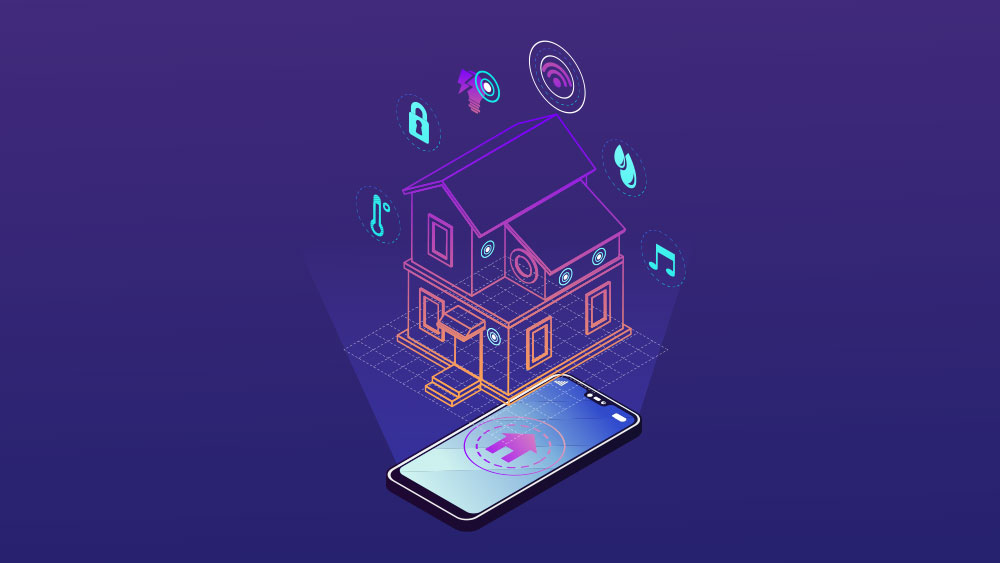 In recent months, smart screens have become more and more appealing to the regular consumer. With the number of smart household devices on the rise, a Smart Home Hub such as Google Nest or Amazon Echo Show is vital to keep things under control.
These two devices are currently the most popular on the market, and if you want to get your smart screen, you should probably decide between the two.
However, which one is better? This article will analyze the most important aspects of both and hopefully, help you reach a verdict.
Overall Design
The first version of the Echo Show was notably different and far less attractive than the most recent, Echo Show 8. However, it still has some downsides that make it a worse choice than Google Nest Hub and Home hub devices.
Most notably, Echo Show 8 is still bulkier than it's Google counterpart. The speaker takes up much more countertop space than Google Nest Hub despite being smaller. That said, Nest Hub has a 7" LCD screen with a resolution of 1,024 x 600. On the other hand, Echo Show 8 has a 5.5" screen with only 960×480 resolution.
Still, Echo Show comes in both black and white colors (Google Nest is white), so it may blend into various interiors better. But overall, those looking for a clearer and bigger picture will certainly pick Google Nest Hub over the Echo Show.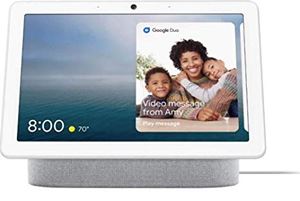 Sound Quality and Voice Commands
Google Home Hub has only one speaker, while Echo Show has two (hence the "bulkiness"). The sound quality of Google Home Hub is decent enough if you want to play timid background music and listen to the news. The speaker lacks a good bass and the range is fairly limited.
However, if you like to blast your favorite songs, you may enjoy Echo Show's sound much more. On top of that, you can merge the device with other Amazon speakers (and some third-party speakers) in your home and create a small home sound system.
When it comes to the microphone, Echo Show takes the cake. It has eight microphones with increased sensitivity, which is a lot more compared to the Nest Hub (only two speakers). This should make it easier for Amazon's speaker to register your voice commands in unfavorable situations. For example, if the environment is loud or if you're too far away.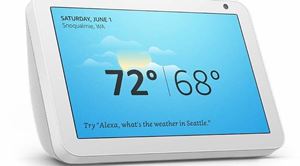 Smart Home Control
Both devices should be the centerpiece of your smart home network. From that aspect, they have similar connectivity features. They can link with other smart devices (alarms, cameras, lights, speakers) and you can control them with your voice via the virtual assistant.
Therefore, when it comes to home control, the result between the two is basically a tie. The most important thing to consider here is other devices that you'll link. For example, if you already have some Google smart gadgets (e.g. Nest Camera), it's better to go with Google Nest Hub. On the contrary, if you have the Amazon Echo Dot speaker, it's better to go with Echo Show.
Features
The Amazon Echo Show has more than 80,000 Alexa skills that you can install on the device. You can do a bunch of things, from listening to local news to watching your favorite TV shows or playing games.
You can easily play music from a plethora of streaming platforms and enjoy crisp sound on strong, high-quality speakers. It ties to your Amazon account so your Amazon Music, Photos, and books will all be available on the device.
However, Google Nest Hub is no pushover. It has a bunch of apps that are connected with Google Home hub and other Google tools.
You can control your Chromecast device, check Google Maps, check your email, and even connect with other Google devices such as Google Pixel. The Nest Hub will automatically sync your Google accounts and you can easily transfer files and photos from your smartphone to the Hub.
The camera makes a huge difference between the two. Google Nest Hub doesn't have one, while Echo Show 8 has a small, frontal camera. If you want to perform video calls with your Smart Home device, then Amazon's device is the way to go.
Price
Unfortunately, it's not easy to judge Smart Home devices such as these two by their price. The main issue is that they both require plenty of other smart devices to work properly, so when you gather all you need, the gap in price can be much bigger than you think.
Still, there's not much difference in price between the two. Google Home Hub is around $120, with Echo Show being about $130. In the end, your decision should depend on more important factors.
So, Which One Is Better?
As you see, there are plenty of positives with both of these devices, however, there are some downsides, too. It all depends on your preferences. If you want a clear sound and a good microphone with a camera, you may want the Echo Show.
On the other hand, Nest Hub is aesthetically appealing, and a focal point to all your Google smart devices. It also has a better and larger display.
In your opinion, which one is better? Leave your opinion in the comments section below.
How to Enable Parental Controls on Your Chromebook
Read Next