How To Fake Your Location in Google Chrome
There are a few reasons why you might want to fake your location in Google Chrome. You may want to access geolocked news or web content. You may want to get directions or other location information from Google Maps without having to reset the location every time you go to get them. Or you might want to get access to a YouTube video or streaming service provider not available in your area.
Also see our article What is the Best VPN Service?
Whatever your reason for wanting to set a different location in Chrome, there are many ways you can do so.
Location Tracking on the Web
Depending on what device you are using – mobile or desktop – there are a few ways your location can be identified. Whenever you see a little alert in your browser that says "xxxx.com wants to know your location" or words to that effect, that's the HTML 5 Geolocation API being used. Fortunately, you have to opt in, so you have some control over whether or not the website can see your location.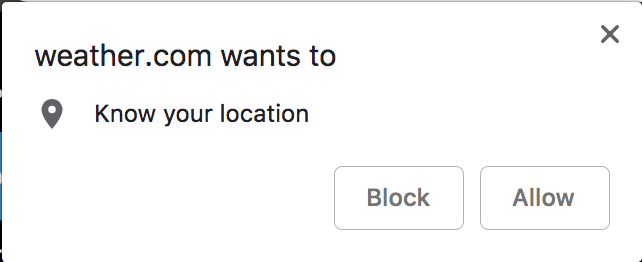 Clicking "Block" on this popup every time can be annoying. To turn off location sharing in Google Chrome, and to permanently block this popup, follow these steps:
Click the menu icon to the right of the toolbar. It's a row of three vertical dots.
From the drop-down, click "Settings."
Scroll down to "Content Settings" and click it.
Click "Location."
Toggle the "Ask before accessing" button.
Now, websites will not be able to access your location. If you're on mobile, however, most browsers have access to your IP address by default. You have no choice over your IP address being used to locate you. For GPS data, though, you can either refuse app access to leave GPS turned off altogether.
If you're not sure whether or not your browser knowing your location is important, click here to see just how well your device can track your location. Allow the app to access location data, and your position should appear in the map in the center of the screen.
Fake your location in Google Chrome
Another option to disallow websites from seeing your location is to fake it. Faking your location in Chrome will not allow you to access Hulu from outside the U.S., but it will allow you to see regional news or static web content you would not normally be able to see. If you want to access geolocked websites, you will need to use the VPN method explained below.
You can fake your location in the browser itself, or you can use a VPN. Faking in Chrome is temporary, and you will have to do this each time you open a new browser session. But it gets the job done. To fake your location in Google Chrome desktop.
Go to this website and copy a random set of coordinates. Drag the red icon anywhere, and the Lat and Long will appear in the box above it.
Open Google Chrome on your device.
Press Alt + Shift + I to access Developer Tools.
Select the three dot menu icon in the top right of the pane.
Scroll to "More Tools" and select "Sensors."
Change Geolocation to "Custom location…"
Add the Lat and Long coordinates you copied earlier into the boxes underneath Geolocation.
Reload the web page.

You can test the settings by opening up Google Maps. Rather than showing your home or last known location, it should zero in on the position marked by those coordinates you set. You cannot set this permanently, and will have to perform the above steps for every new browser session you open. Otherwise, it works like a charm.
Faking your location in Google Chrome is simple and will work for most things you might want to do online. You can use the same principle if you use Firefox, Opera or other major browser too. The menu syntax might differ a little, but you should be able to figure it out.
Fake your location with a VPN
By far the best way to fake your location is to use a VPN. Not only is it a permanent solution, but it also has the added benefit of encrypting all web traffic and preventing government and ISP surveillance. A good VPN costs money, but they are usually only a few dollars a month.
For a full tutorial on how to fake your location with a VPN, read "'Content unavailable in your location' – What To Do". It discusses VPNs, what to look for, how much you should pay and how to set one up.
Most reliable VPN providers will offer mobile apps as well as desktop apps. This means you can use the same VPN account no matter what device you are using at the time. While faking your location in Chrome is effective for accessing web content, it will not allow you to view Hulu or other streaming services outside their areas of operation. For that, you will need a VPN.
Know of any other ways to fake your location in Google Chrome? Tell us about them below if you do!