The Best Sites to Resize Images Online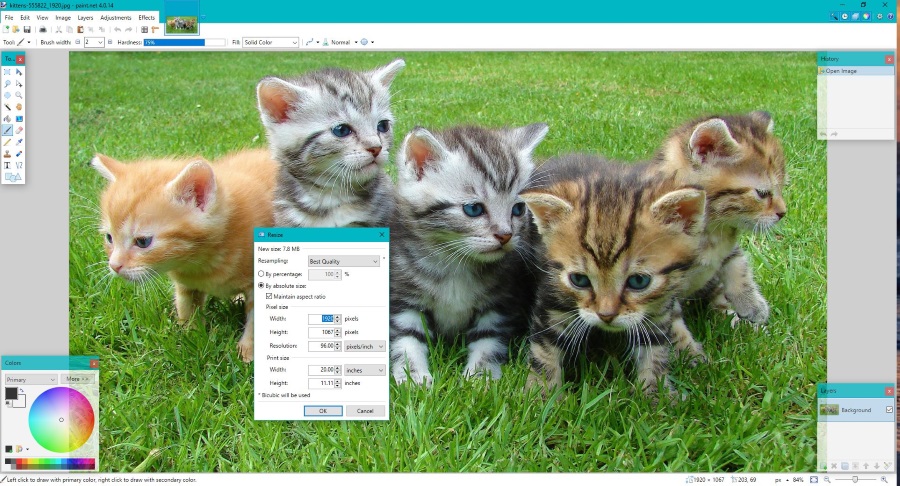 If you need to manipulate images, you can either buy or download an image editing tool or do it online. If you only occasionally need to manipulate images, there are online tools that can do it with ease. It is the latter we are going to discuss today as I list the best online tools to resize images.
A picture paints a thousand words or so the saying goes. That's why every website and blog contains at least a few decent images. They can illustrate a point in a second where it might take those thousand words all day to get across. They also add color, interest and a little beauty to a page.
Online image resizing tools vary in quality and effectiveness but I have tested as many as I can to see which ones deliver on their promises. Here is what I found.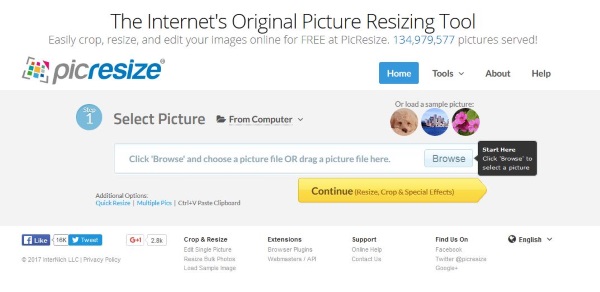 PicResize
PicResize is simple and effective. The site allows you to manually upload or drag and drop. You can then crop, resize and add effects as you need. The processing is fast and pretty effective with the end result being of good quality and certainly to web standards.
As well as single pic resizing, PicResize allows you to bulk resize if you need it and also offers a browser extension if you think you'll use it more than once. The site is easy to use, can take images from your computer, from a URL or from cloud storage and gets the job done.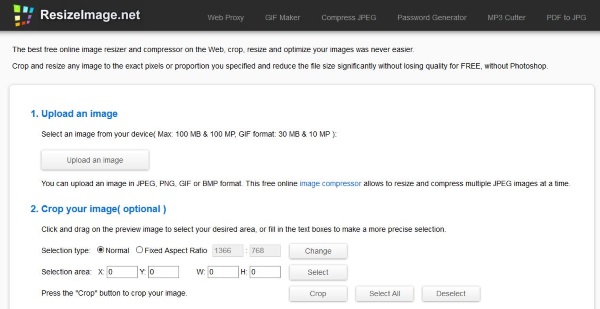 Resizeimage.net
Resizeimage.net does exactly what it says. It enables you to resize your images by uploading them from your computer onto the site. This one differs from PicResize as it offers many more options for resizing including the ability to specify the exact dimensions. You can also rotate, crop, change the format and optimize the image for the web or for best quality.
The site also offers the option to make Gifs, resize MP3 files, convert PDF files to JPEG and compress JPEG files.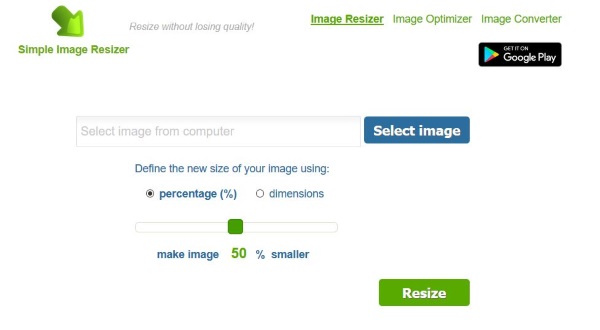 Simple Image Resizer
Simple Image Resizer is another self-explanatory website that allows you to resize images online. This site is much more simple than the others and just offers the ability to upload an image and resize it by percentage or by dimensions. It works fast and provides almost lossless image resizing of even the most detailed pictures.
The site is barebones but works very efficiently. It also offers image optimization and image conversion too. Both of which work credibly well.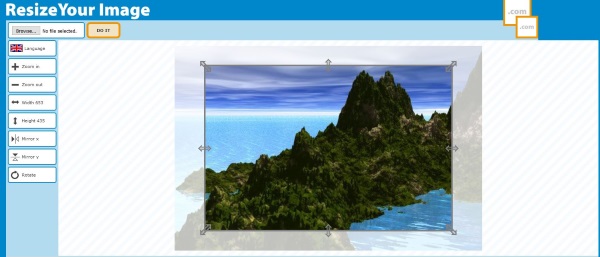 Resize Your Image
Resize Your Image has a good looking website that makes resizing simple. It has a neat drag and drop demo image in the center of the page showing you just how easy the site is to use. Upload your own image on the left and then manipulate it using the controls in the left menu.
The resizing tool is fluid, allowing infinite resizing. You also have the opportunity to mirror, flip, rotate and zoom in and out. Of all of the online tools to resize images so far, this is the slickest.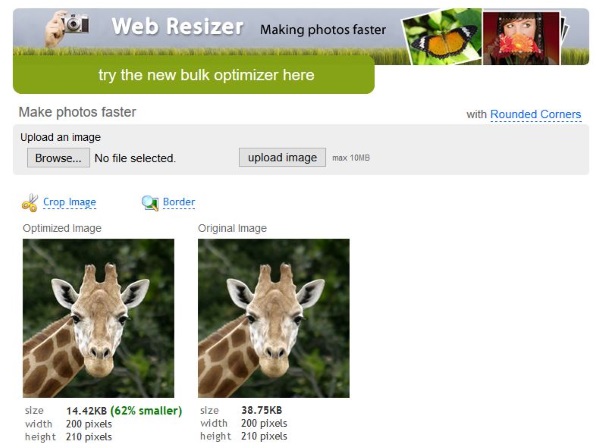 Web Resizer
Web Resizer is a simple online tool that allows you to resize single or multiple images. Just upload an image from your computer, select the size, rotate, sharpen, set the image quality and go from there. You have the option to change color tint, contrast, saturation and add border effects too if you like.
Once configured, just hit Apply Changes and your image will be saved and ready to download. Fast, simple, effective.
iPiccy
iPiccy is another image resizing tool that keeps things straightforward. The UI is super-simple, with an uploader that lets you upload a single or multiple images. You can then create a collage, create a design or simply compress and resize. iPiccy is unique in that it can also take webcam shots and upload them to the site for manipulation too.
iPiccy allows quite a bit of creativity around your images and while it doesn't have compression or anything like that, if you're feeling creative you could easily lose an hour or two on here.

Fotor
Fotor is quite an advanced tool to resize images. It not only resize, it can crop, rotate, add effects, fine tune, change color and so much more. The site offers the appearance of a canvas with multiple menus on the left. Select your tool of choice, drag your cursor across your image to apply the effect and go from there. Select Import on the right to upload your own or practice on a stock photo first.
The main site is free to use but if you like what you see and want access to more advanced tools and effects, there is a premium version too.
If you need to manipulate images for the web and don't want a dedicated program on your computer, any of these online tools will get the job done. Got any other sites to suggest? Tell us about them below if you do!
How to create a system image of your current Windows 10 state
Read Next