Will Netflix or Amazon Prime Pick Up Great News for Season 3?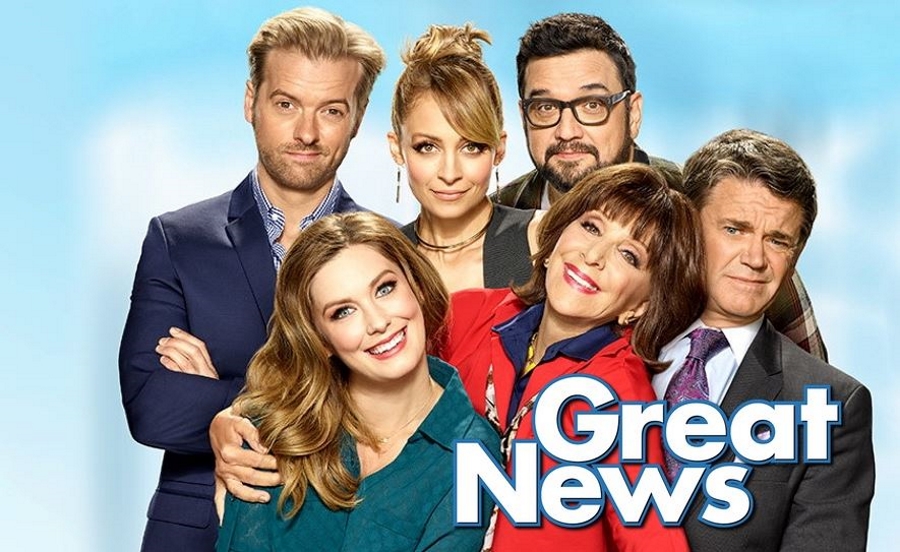 Will Netflix pick up Great News for season 3? After taking the rights to show it internationally as a Netflix Original, this NBC TV series seems to have come to a close. But is there more great news for Great News?
The show ran for two seasons on NBC before they broke their own news that there wouldn't be a third. But is that it? Is this show something Netflix would pick up and continue?
Great News divided opinion when it was first released. The smart, incisive comedy drew criticism for being a remodeled 30 Rock combined with The Office and that criticism wasn't entirely unwarranted. But you could say that any show is influenced by this other show or that other series. There is no such thing as a truly original story right now. What Great News is, is a smart, timely comedy about a mom and daughter trying to work out their relationship while working at the same TV station.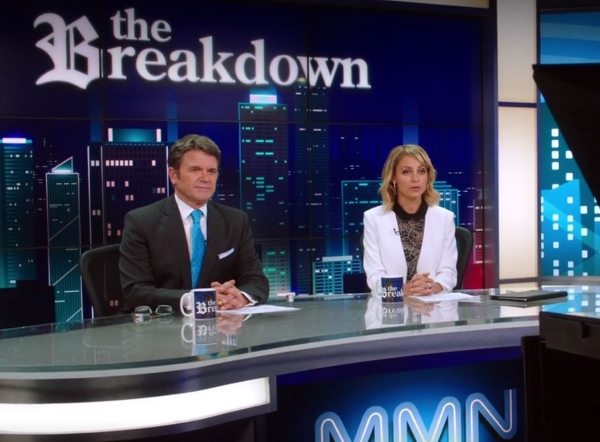 Great News TV series
Great News is based around a TV station and a mother-daughter relationship. The daughter works on an afternoon program called The Breakout and her mom joins the station as an intern. Cue the usual situations where child is embarrassed by her mom being around or being undermined with motherly wisdom.
The cast is good and the script is smart. Great News stars Briga Heelan as Katie Wendelson, Andrea Martin as Carol Wendelson, Adam Campbell as Greg Walsh, Nicole Richie as Portia Scott-Griffith, Horatio Sanz as Justin and John Michael Higgins as Chuck Pierce. It's a good cast more than up to the task of carrying the show.
The script was clever and any child who has a parent that doesn't fully understand boundaries or who has had difficulty letting go or not interfering will relate immediately. The rest of us have to work a little harder to get the show but it is more than worth the effort.
The first series of Great News does get off to a shaky start with patience required to see through those early show nerves to get to the real story. Some of the script was a little awkward and some of it was way over the top and a little silly. However, it is well worth the investment and by episode 3 or 4 you will be adding it to your list. At only 22 minutes, the episodes aren't long but they are long enough to illicit an amused chortle if not outright laughter.
Why did NBC cancel Great News?
It has been a tough few months for TV shows of all kinds on all networks. Some unlikely shows have been canned and some unlikely shows commissioned for more episodes. Were I a showrunner or actor, I would be making sure my resume was well polished as this is not a time to be resting on laurels!
So why did NBC cancel Great News? Viewing figures I guess. Season one wasn't great for numbers but season 2 barely managed 3 million viewers. Apparently, that was a drop of 11% on season 1. While the show soon gathered something of a cult following, that is no longer enough for the networks to continue producing a show.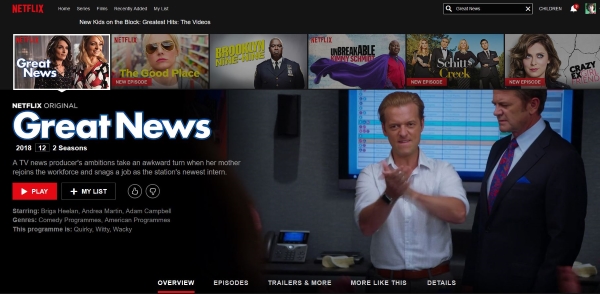 Will Netflix pick up Great News?
Netflix has picked up Great News. To show the first two seasons internationally anyway. It will be shown in all Netflix territories as a Netflix Original for the next few months so you can catch up if you didn't catch it first time round.
What about a series 3?
For once I think Netflix creating a series 3 of Great News is a good possibility. Firstly, the company only buys the rights to a show that is currently running. They then get all subsequent series to stream as part of that agreement. Secondly, NBC does pretty well with comedies. Friends and The Office did well elsewhere and translated across the world. While The Office was actually a reproduction of a British show, NBC remade it in our own image and went with it.
Both of those reasons mean there is a good chance Netflix will pick up Great News for a season 3. It isn't guaranteed though as American humor doesn't always translate well so international .
One more thing, picked up by someone else I asked about Netflix and Great News. Netflix bought the rights to the Unbreakable Kimmy Schmidt which was canned by NBC and continued by Netflix. Both also have Tina Fey as the producer. That tells us nothing on its own, but as part of the bigger picture, I think these elements could mean we get to see more of this show.
What do you think? Did you like Great News? Want to see more? Think Netflix will pick it up? Tell us your thoughts below!
How To Fix OnePlus 5 Back Button Not Working
Read Next