How to Make Money From YouTube Shorts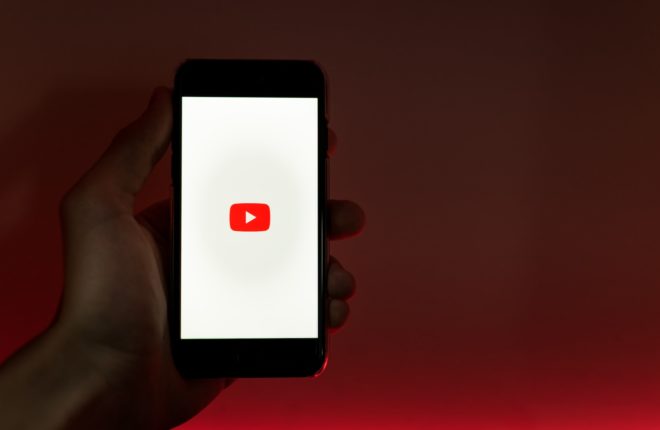 YouTube Shorts debuted in 2020 to capitalize on the short video trend. Shorts have become hugely popular since then. So, what if you enjoy making YouTube Shorts? How can you make money off YouTube Shorts? What is YouTube's monetization policy for Shorts? Are you eligible for its monetization program? Keep reading to know the answers to all your questions.
Understanding YouTube Shorts Monetization Policy
With the booming popularity of YouTube Shorts, the platform developed a new revenue-sharing model for YouTube Shorts by replacing the YouTube Shorts Fund. The YouTube Shorts monetization policy guards this monetization program. This revenue-sharing model is similar to how you make money from YouTube videos.

This policy highlights the importance of following YouTube channel monetization policy and community guidelines while creating content for the platform. The creators who want to get started with Shorts monetization also need to accept the YouTube Shorts monetization module and adhere to the advertiser-friendly content guidelines to become eligible for the monetization program.
How YouTube Shorts Monetization Works
Shorts monetization works a bit differently than traditional YouTube content monetization. For Shorts, the total revenue generated is pooled together. This collected revenue gets shared with the creator pool, and the rest is allocated for music licensing costs. But why is there a need to provide for music licensing costs, you ask?

That is because most music tracks are protected by copyright, and licensing cost needs to be paid to use such music. So, the Shorts ad revenue is shared with the creator pool and music partners based on the music tracks used in the shorts. With this understanding, let's look at how the revenue is shared among the creators.
The creator pool comprises all monetizing creators, and revenue is shared with these creators based on their total Shorts views. So, instead of rewarding the creators who earn an ad view next to their Short, the revenue is distributed among all the monetizing creators for contributing to the overall Shorts experience of the users.
How to Get Started With Shorts Monetization Program
Suppose you are already a part of the YouTube Partner Program. In that case, you can start with YouTube Shorts monetization by acknowledging the YouTube Short monetizing agreement, which you will find in the Earn tab of YouTube Studio.

If you are not a part of the YouTube Partner Program, you must ensure that you meet the minimum views requirement to sign up for the Partner Program and become eligible for Watch Page Ads and Shorts Feed Ads Monetization. The eligibility requirement to sign up for the Partner program can be found in the Earn tab of your YouTube Creator Dashboard, which looks something like this!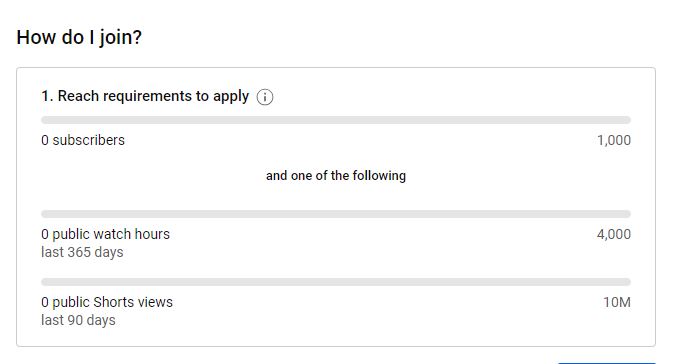 To break it down for better understanding, you need the following:
Have at least 1,000 YouTube subscribers.
Need to achieve either 4,000 watch hours in the last 365 days or 10 million Short views in the last 90 days.
If you fulfill these requirements, you can sign up for the Partner Program and start earning. So, once you start accumulating views, you can track your progress In the Earn tab of your creator dashboard.
How Much Money Can You Make From YouTube Shorts?
While YouTube creators earn a fair amount for long-form videos, Shorts creators are paid less. It is estimated that Shorts creators earn about $0.07 for every thousand views, which is way less than the $0.18 per view for long-form videos.

So yes, solely relying on YouTube Shorts to earn money as a creator may not be a good idea. If you deleted your YouTube account, consider starting all over again with quality long-form content to increase your earnings.
How to Make Money From YouTube Shorts
Your YouTube Shorts earnings can be fairly less as compared to long-form videos, but luckily there are other ways in which you can monetize YouTube Shorts.
1. Sponsorships and Brand collaborations
Creating sponsored content is one way to monetize Shorts. You can get started with creating sponsored content by signing up with sponsorship websites or reaching out to brands directly for sponsorships.
The other way out is to get paid by brands for collaborations. However, the payment you receive for sponsored content can also vary depending on how popular your YouTube channel is and how many views your Shorts garner in general.
2. Signup for Affiliate Programs
You can also leverage affiliate marketing to earn from product promotions. All you need to do is, join an affiliate network or signup with a brand that invites affiliates. Once you sign up, begin creating content reviewing their products to your audience and share product links with your audience.
You can use pinned comments to share product links with your audience to find the product, and whenever someone buys from your link, you get paid.
3. Sell Your Own Product
As a YouTube creator, you may struggle to manufacture your own product, but you can definitely buy stuff from your local market and sell it to your audience with your profit margin. This product can be anything you can create content about.

For example, if you create a lot of content around artwork, you can pick some unique ones from the market and pitch them for sale to your audience.
Earn Money For Your Hard Work
Over the past few years, short-form videos have gained massive popularity on social media, and YouTube Shorts is one of them. However, Shorts is still not liked by users who prefer YouTube for its long-form content. If you are in the same boat, you may want to disable YouTube Shorts.
Irrespective of that, Shorts is here to stay, and with Shorts monetization, YouTube allows creators to earn through their content. Although you may not be able to earn much through the short-form videos, you can always try out other ways to monetize your Shorts and earn a decent passive income.
FAQs
Q. How to monetize YouTube videos?
A. To monetize YouTube, you need to sign up for the YouTube Partner Program. However, before you do that, you need to check your eligibility for the program.
Q. Can I monetize YouTube Shorts without 1000 subscribers?
A. No, you cannot monetize YouTube Shorts without 1000 subscribers. In addition to 1,000 subscribers, you must garner 10 Million Short views in the last 90 days or achieve 4,000 watch hours in the last 365 days.
Q. How much do YouTube Shorts pay for 10k views?
On average, creators earn about $0.07 for every thousand views. So, for 10k views, you can earn about $0.70 on average.
How To Remove/Delete All Followers on Instagram
Read Next